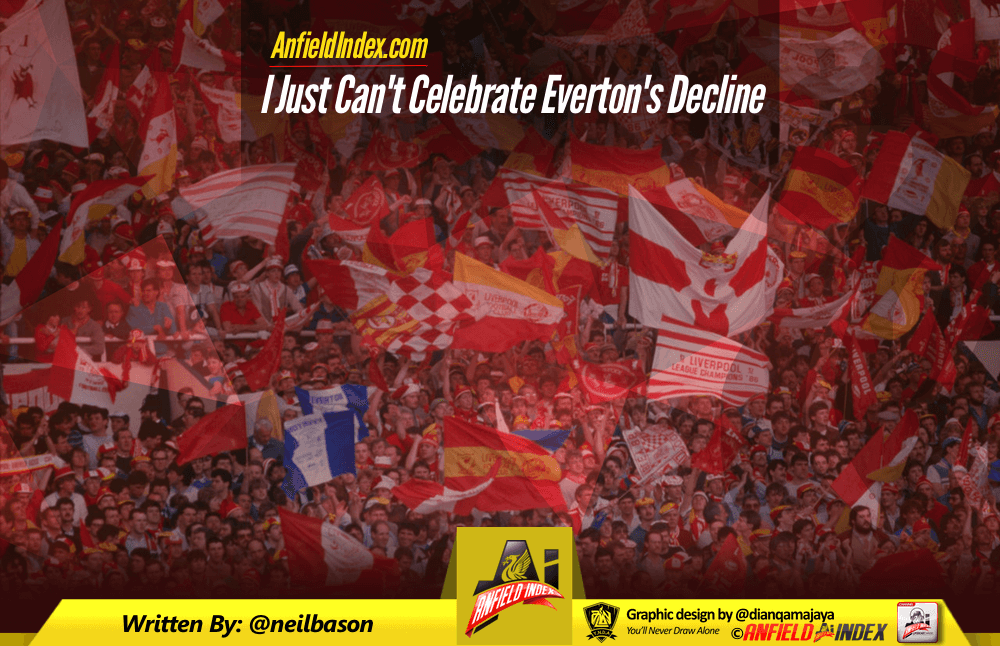 I Just Can't Celebrate Everton's Decline

Liverpool are magic, Everton are tragic, tra la la la, tra la la la…
Those words rained down from the Kop last Wednesday as Everton limped to a humiliating defeat at the hands of Liverpool. Four – nil, could have been eight, should have been really.
And yet as a Liverpool fan watching on, it was something of an odd experience. I roared as Divock Origi opened the scoring and leapt with delight when Sakho made it two, but then it all went a bit weird for me. I joyously celebrated the goals from Sturridge and Coutinho of course, but it was just too easy and I actually felt a little sorry for the Evertonians watching their side curl up and die on the turf of their fiercest rivals. What the hell is wrong with me?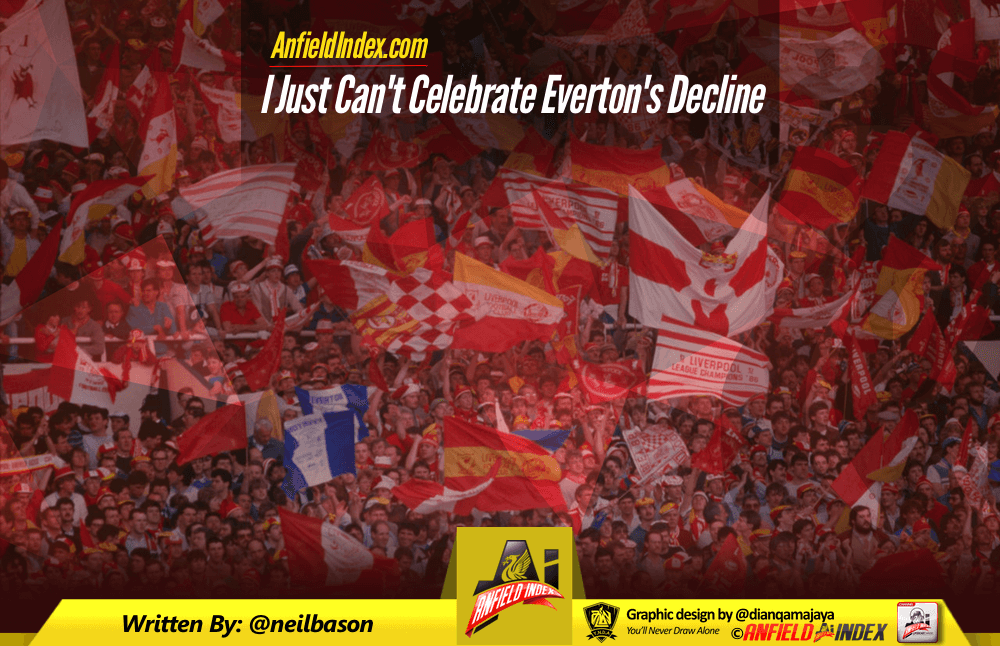 Passionate blues forced to watch their players dragging their half-arsed arses around to the chants of olé as Liverpool passed them to death in the dying embers of a game they had long since lost, epitomised what had been an evening of almost relentless one way traffic.
The seeming lack of fight in the Everton players was glaringly apparent. Given this was the derby and that their manager is currently on the ropes only served to amplify the absent spirit. For the fans in blue watching from the stands it must have been frustrating and painful to endure. But even as a Liverpool fan I thought it was a sad sight, because as a red I firmly believe we need a good Everton side scrapping away with us, and what I saw last Wednesday was the worst derby display I've ever witnessed.
Going into these games is a tense affair. Those sickening nerves in the stomach are part and parcel of these generally bruising encounters. One set of fans gets to lord it until the next encounter when those same nerves kick in again. But this time, I'd say after roughly ten minutes of the game, I found myself watching from a place of almost total calm. From early on I had no doubt that, should we hit the back of the net, we'd win because Everton looked a shadow of the side that normally turns up ready for a scrap. Two teams a short walk apart in the city, but worlds away on the pitch. The resurgence of Liverpool in combination with the sliding fortunes of Everton made for a match that felt absolutely nothing like a Merseyside derby. And I found myself missing the tension.
When Merseyside ruled the league it was a great time. I enjoyed the fact that Everton were the side pushing us, but loved that every game brought a beautiful roller coaster ride of joy and pain, for me it's what makes football so special. Everton at the moment are a side with problems. Lost trust in the manager, and players potentially off come the summer spells trouble. As strange as it might sound, as a Liverpool fan I hope they turn things around quickly. I write this prior to their FA Cup clash with Man Utd, but I'll be happy to see them ditch the Mancs from the competition and at least make the final, before losing it of course. Or winning it and then having the shadow of the UEFA Cup cast over the triumph as we bring that home, yeah, that would work.
I'm probably in the minority here, and although born in Liverpool, from age six I grew up much nearer Manchester and surrounded by that cities' red brigade. This has undoubtedly determined where my real hatred for any club lies. I have a deep dislike of Everton, but I hate Man Utd. I've no doubt that for those in Liverpool, living and working side by side with Everton fans, the demolition job we did on them last midweek must have been beautiful. But for me, I hope I don't see too many more Merseyside derbies where one side shows such little fight. I hope Everton find their feet and as we rise with Klopp I hope they can follow, always a few steps back.
Next time bring me the tension, bring me the pain and bring me the joy. Because it's the thing I hate and the thing I love the most.