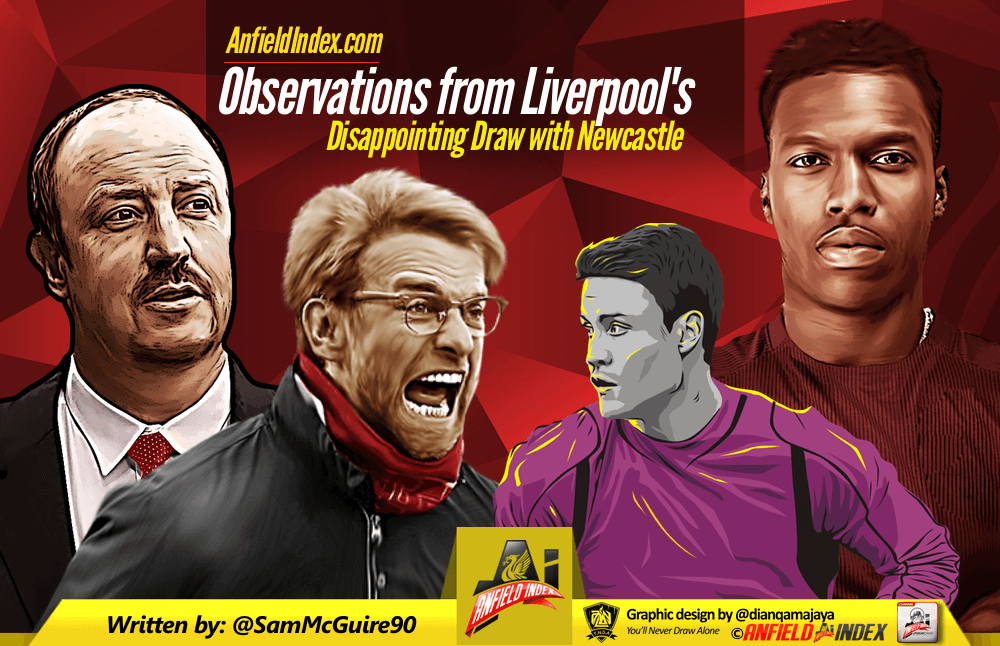 Observations from Liverpool's disappointing draw with Newcastle

Rafa was back at Anfield and the jovial Liverpool crowd had lots to cheer about in the first half. Goals from Daniel Sturridge and Adam Lallana saw the Reds go in at half-time two goals to the good. However, the Jekyll and Hyde performances in the Premier League continued as Liverpool once again ceded a 2-0 lead to inferior opponents and all put waved goodbye to their chances of finishing in a Champions League position.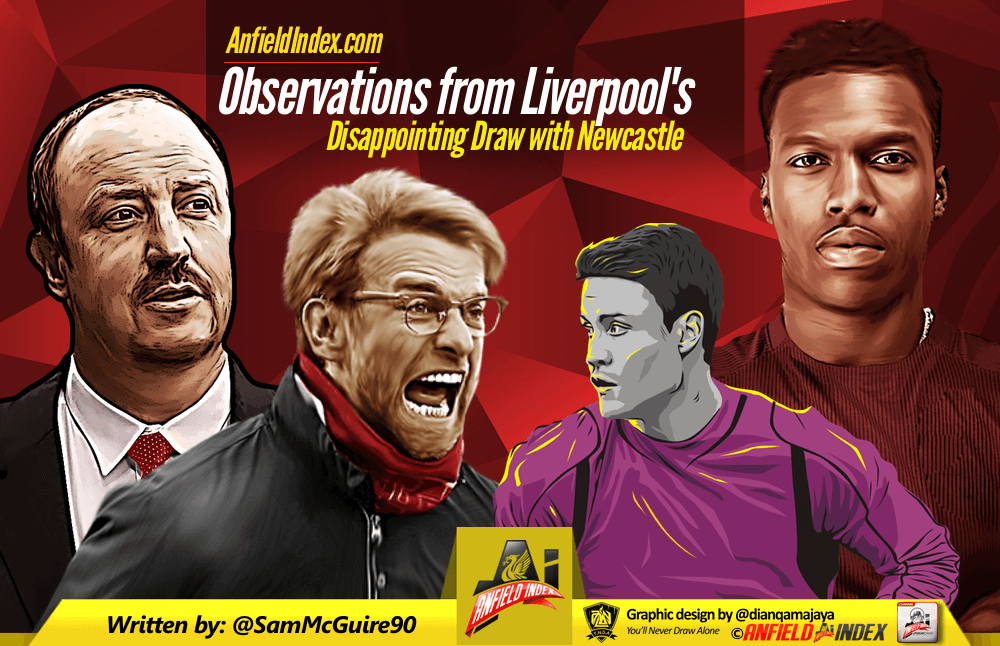 Daniel Sturridge showed once again that he is a world class striker. The phrases world class is banded about freely these days but few truly deserve that tag. It's hard to ignore Sturridge's record and there's an argument he is a genuinely world class talent. Five goals in his last six games and an assist in the game he didn't score in. He could be the difference between Liverpool playing Europa League football or Champions League football next season.
Alberto Moreno polishing up his final ball. The Spanish full-back rounded off an impressive first-half with two assists. The much maligned defender has put in a solid run of performances lately and looks to be a lot more comfortable now in a much more balanced Liverpool side. The two assists today took his tally to 7 assists this season. His decision making in the final third looks much better these days and you can see him finishing the season with a few more assists next to his name.
Liverpool in the first half. In six of the last eight Premier League games Liverpool have scored two goals in the first half of a game. It's like 13/14 all over again but less frantic. Sadly Liverpool haven't converted all of these good starts into wins but it's an encouraging stat. If Liverpool can show the ruthless streak in the second half like they do in the first half then we're onto a winner.
Simon Mignolet problem. Mignolet had nothing to do against Everton and nothing to do in the first half against Newcastle. His blunder, coming for the ball and getting nowhere near it allowing Cisse to score, got Newcastle back into the game out of literally nothing. An elite keeper concentrates for the entire 90 minutes and it's this that separates them from the good ones. Mignolet is the latter, and it's hard to build on sinking sand.
Bottling it again. Liverpool have supposedly lost 21 points from winning positions this season. Only Everton have dropped more points this season after being ahead. Fans will look back at the of the season and rue the dropped points against Sunderland, Newcastle and the defeat to Southampton. Two nil leads in all of those games, a possible nine points available and yet the Reds walked away with a mere two points.