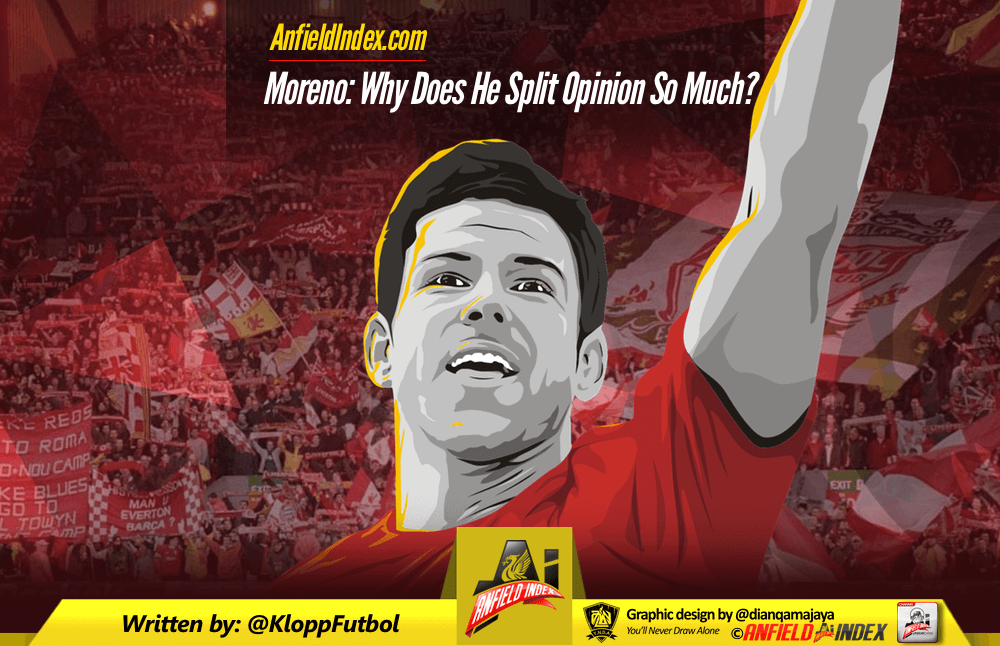 Moreno: Why Does He Split Opinion So Much?
After another significant bottle job by this very fragile Liverpool team against Newcastle United, there is definitely reasons to be concerned about our defence. Once again from leading 2-0 at half time, this side managed to surrender by the full-time whistle, and one player seemed to have a game of two halves. Alberto Moreno summed up his season in this particular 90 minutes by not performing at the back but once again being a great outlet going forward. Moreno managed to bag himself two assists in the first half and took his tally to seven for the season, ironically above Coutinho in these rankings.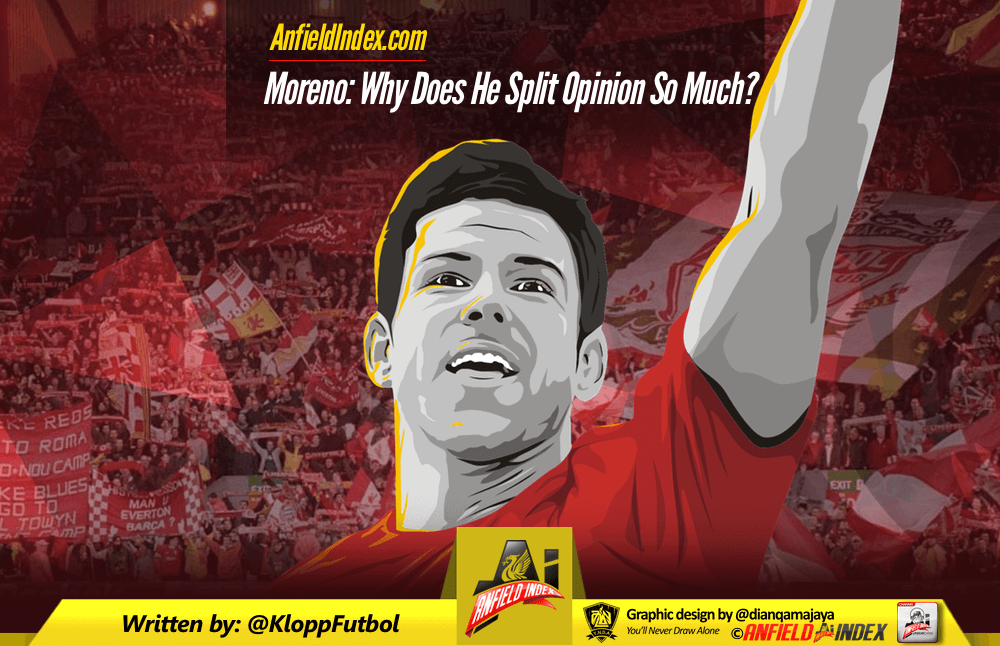 It almost proves that the assist ranking should almost be forgotten in terms of proving how creative an individual is in a side. We all know that Coutinho is our most creative outlet but Moreno seems to have more assists so far. There is, of course, the chance to look at chances created too and Coutinho streaks ahead of Moreno in that column. But this is not a Moreno vs Coutinho piece, it is on why he splits opinion. Many believe that Liverpool should be targeting a left-back in the summer as Moreno is our only option there at the moment. It is a question of whether this left-back should replace Moreno in our first team or be a back-up.

The question is what are we looking for in a left-back? Are we looking for the kind of player who wants to overlap all of the time and actually has the end product to find a team mate?  Moreno is perfect for this kind of game. With Coutinho normally being played out from the left this kind of role is suited to Moreno's game. The Brazilian tends to drift inside and looks to influence play through that route. With Moreno going on the overlap this has created a lot of problems for teams so far this season. Or, are we looking for somebody a little more defensively minded?
But this goes both ways, unfortunately. In that game against Borussia Dortmund, we saw what would happen if a team-mate fails to find him then we are left exposed. Coutinho was robbed by Dortmund and within seconds, they were up the other end and found themselves 2-0 up. If Moreno wasn't so forward thinking then perhaps he would have been there to cover Coutinho and the counterattack would have been a non-starter. He has also found himself dominated by stronger players and is a massive liability from crosses too. His inability to be aware of his surroundings generally allows players to come from behind him and nip in front to get something on target. Even today when defending against Andros Townsend he seemed to struggle on whether to close him down. Townsend isn't exactly Neymar so it should have been far easier for the Spaniard to deal with his threat. Joe Allen looked exhausted by half-time because he spent so much time covering for Moreno after Townsend skinned him again.
You would assume that Klopp would target a more well rounded left-back for next season to at least challenge Moreno. Against the smaller teams or when chasing a game Moreno is a really good option for us but because of his positivity, he leaves us open at the back. Mamadou Sakho often has to step out of his centre-back role to take out the winger and allow Moreno to fall back into defence. It is nothing to do with Moreno not trying to get back either, no Liverpool fan would doubt his work rate, it is the fact that he leaves himself with too much to do when tracking back. Klopp is no doubt encouraging Moreno to go forward but if he exercised a little more caution then there would be fewer goals conceded from his flank.