Sidelined defender Mamadou Sakho is facing a nervous 24 hours after UEFA gave Liverpool notification on Friday that the central defender had tested positive for a banned substance after the Europa League fixture versus Manchester United on March 17th. A decision, by Europe's governing body, is set to be announced on Tuesday (April 26th).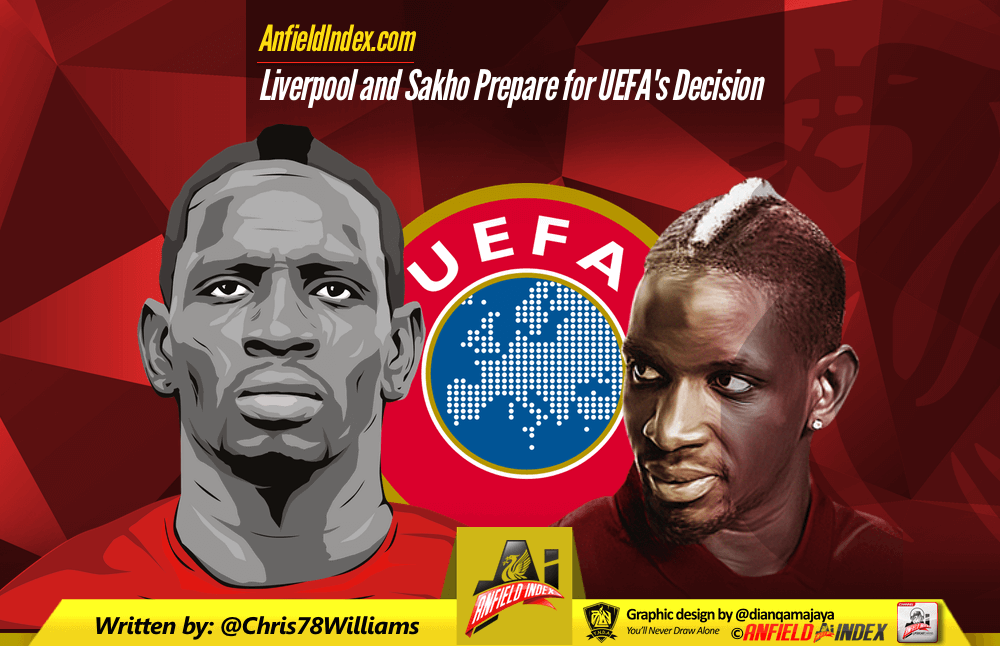 Whilst the exact details are still unknown, Sakho is understood to have taken a dietary supplement that he bought to primarily burn excess fat. Liverpool FC guidelines state that all dietary supplements not prescribed by the Club Doctor must be submitted for World Anti-Doping Agency (WADA) Prohibited List referencing; it appears Sakho may not have adhered to this club requirement.

Supplement retailers have a tendency to only list partial ingredients and in most cases these partial ingredients appear not to contravene WADA regulations. However, only two weeks ago WADA released communications about its concerns around fat burners, which may contain derivatives of Phenethylamine and in some cases Oxilofrine; both of which appear on the 2016 Prohibited List as "Prohibited Substances Prohibited In-Competition".
UEFA's own guidelines to players' clearly stipulate that "It is each player's personal responsibility to ensure that no prohibited substance enters his body.." with clear guidance if substances are found "..it is not necessary that intent, fault, negligence or knowing use on the player's part be demonstrated in order to establish an anti-doping rule violation for use of a prohibited substance or prohibited method" – In short there is little mitigation a player can submit to UEFA if a banned substance is found in any sample of urine given; a plea of ignorance will fall on deaf ears within the governing body.
If Sakho has knowingly, or unknowingly, purchased a substance with an additive listed as prohibited by WADA he can expect a lengthy ban; anywhere between 6 and 24 months is plausible with a higher end sanction available to UEFA if they consider the substance to be performing enhancing.
Advertising literature for the best selling fat burners list the product's burning effects coupled with improved focus and increased energy levels; the latter two listed have associated benefits of Phenethylamine and Oxilofrine; raised as a concern by the World Anti-Doping Agency.
In 2013 Jamaican sprinters Asafa Powell and Sherone Simpson were banned for 18 months for using fat burners that contained Oxilofrine; however, this was later reduced to six months by the Court of Arbitration for Sport after the duo presented evidence that they were unaware the supplements contained any prohibited substances.
Premier League players are consistently given advice to only take dietary supplements listed on the Informed Sports Register of Approved Brands. The Informed Sports list contains eight approved fat burners and pre-workout formulas, the brand that Sakho is thought to have taken does not appear on the register of approved brands.
Sakho has recently cemented his status within the Liverpool fan base with exceptional performances in both the Premier League and Europe. He has also thrown himself fully into life in Liverpool by frequently volunteering within local charities and also teaching French in schools as part of the club's community work.
In the short term, Sakho's Liverpool career looks to be on hold at best with a release at worst; should UEFA find him guilty of using a prohibited substance Liverpool would have the option of releasing the player due to his failure to disclose the supplement to club medical staff. At the very worst, a 24 month layoff from football is possible but with a more realistic prospect of a 12 month suspension looming Sakho's time within the English game may be coming to a sad unexpected conclusion.