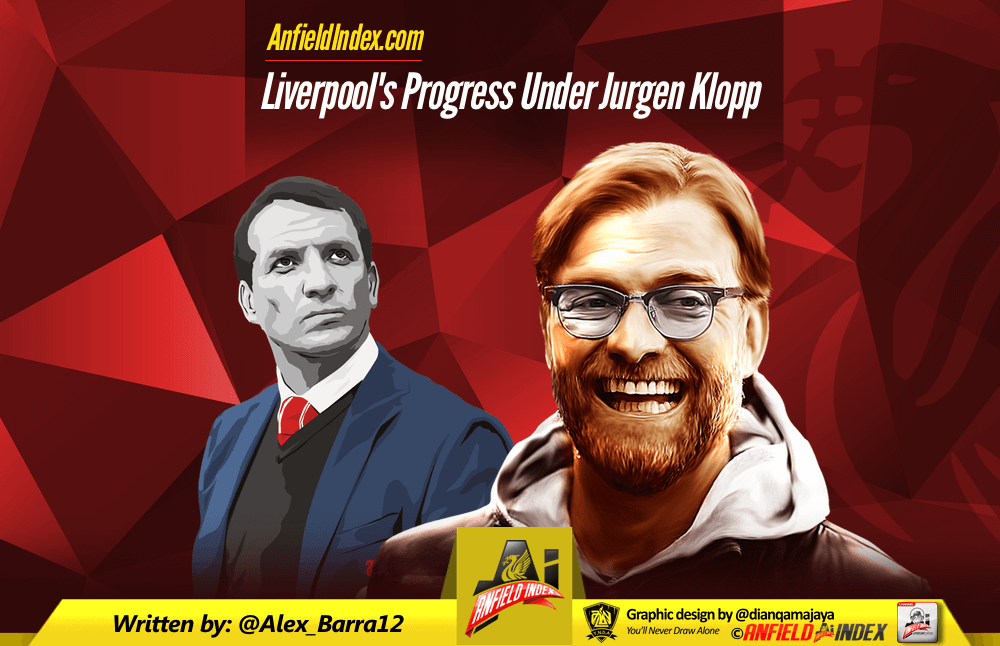 Liverpool's Progress Under Jurgen Klopp

It was a time of conflict, of separation and fissures growing ever fractured by the day. If ever there were an embodiment of how a sinking ship can simply initiate a cold depression, it was Liverpool under Brendan Rodgers.
Steven Gerrard was a club legend. Yet even his influence, his special goals, the undying embers that burned in his eyes, were beginning to fade along with any hope of Liverpool recapturing that wonder of 2013/14. Manchester City – by extension Chelsea, who derailed that wonder – had seen to it that Brendan would only go downhill; getting so close, nearly achieving that goal; it only reinforced Brendan's ego and caused him to begin his own downfall. A chain of events was set in place that led to that day, in ___ when Liverpool crossed Goodison Park and scored early.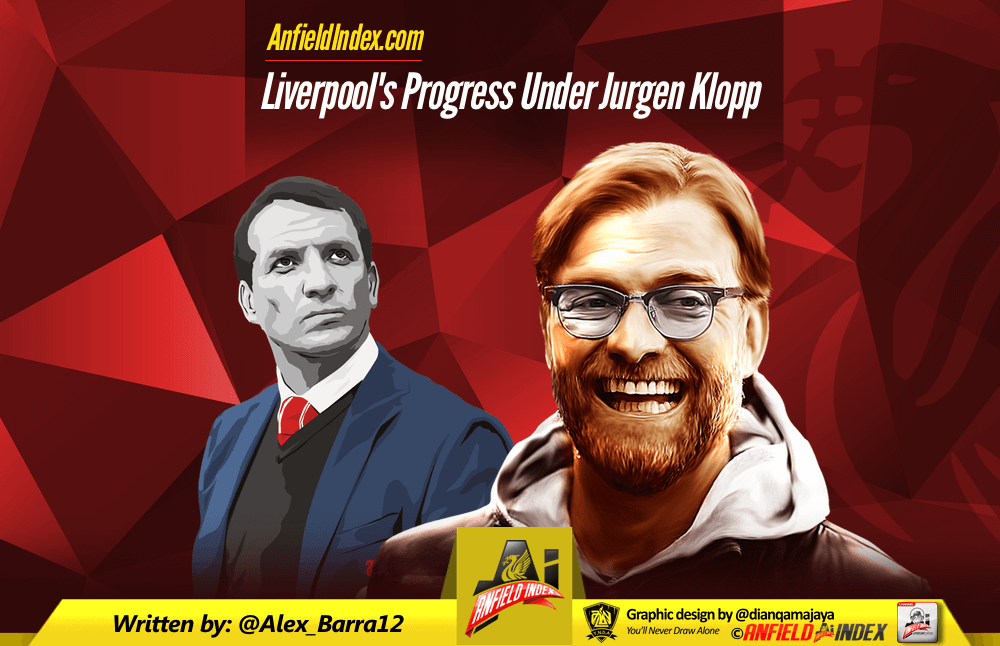 In what typified the Rodgers' Liverpool era, they couldn't hang onto a result that might've changed things. A result which may have swung some favour back into the manager's favour, the manager who brought us so close.
Though, inevitable and definite as it may seem, Brendan Rodgers' fate was sealed when Dwight Gayle's third soared into that net at Selhurst Park.
Promising signs; Firmino, Coutinho, Sturridge, were all stunted by doubt. Why would they remain at a football club so steadfast in its rut? What would Liverpool's image become? Those Anfield days…they were a world away.
Even Europe was a fading light. Istbanbul seemed to be fading into the darkness every passing minute.
Perhaps the optimism is what kills you. Maybe, you know, nine times out of ten, that optimism that Liverpool transcends normality, that its status as a football club is everlasting, that'll leave you in a frustrated, angry mess as you relinquish any hope of a January signing, or any chance of leaving Wembley; or the Premier League, with anything other than an empty feeling. Maybe it's as demoralising as something could possibly be to inject all of your hope into a football club only to see it disappoint you.
But that one time. When the hope is realised. When you see Jürgen Klopp laughing in his red hat and suave glasses. That's magical.
When you travel to Anfield, a revitalised famous European atmosphere descending on a pitch steeped in that said atmosphere, and see the travelling yellow and black opposite you, that's when the hope sets in. That's when you realise that you're where you want to be, but even that isn't enough. When you sit back at home, five AM on a freezing Australian morning, ready to see titans clash and your team pull off the spectacular, you don't really grasp what the word spectacular is. You don't think about how magical the realisation might actually be.
Then Dejan Lovren's header soars into the bulging next, behind it the Kop erupts with the passion of ten years. Ten long years since the last proper taste of European magic.
That magic is indescribable.
When Everton cross the very same park Liverpool did – with equal dread and frustration – and the dramatic shift has occurred, it's a different feeling. Pleasurable, perhaps, for those who live with the derby every single day. But please is derived from a very different feeling altogether; not rivalry.
Hope.
Because going from 12th to 7th isn't the greatest upturn in the world, granted. A Europa league semi-final, that's impressive, but nothing's concrete, nothing's material. It's a great achievement, especially when you look at the journey, but the achievement itself isn't what causes the hope.
No, the hope comes from looking back to last season and seeing the side that went out on a European night in Anfield, and had to win. Were desperate to win. Needed that win more than anything. Seeing a side filled with names such as Rickie Lambert and Jose Enrique. Seeing Lazar Markovic and Alberto Moreno have to come on to raise Liverpool's game. Seeing the complete tactical ineptitude on the sidelines as Liverpool were bullied by a Swiss team who only needed a draw.
Hope comes from looking at Jürgen Klopp fist pump on the sideline, in a sheer state of disbelief, as you, in your home, knock over the couch and scream louder than you've screamed in a long time in sheer delirium, knowing you've just witnessed something very special. Hope comes from battering Everton 4-0 and knowing you should've had ten. Hope comes from seeing Mario Götze be coy in an interview when asked about Liverpool, a question he wouldn't even have been asked this time last year.
Progress breeds hope. The name Liverpool breeds hope, healthy or otherwise, it breeds hope.
Gone are the days of despair and depression. Gone are the fickle debates over whether a boss who lost 6-1 to Stoke on the final day of the Premier League season deserves another season. The day is coming; of a Semi-Final at Anfield, of the fields of Anfield road lit up with a sea of Red, of a summer full of prosperity and promise. Though similar results against Newcastle reflect just how far the club, the team, the supporters, still have to go, the promise remains the same. The progress is palpable in the air, visible in the spirit of Liverpool fans worldwide.
Nigh are the days of Jürgen Klopp's Liverpool.