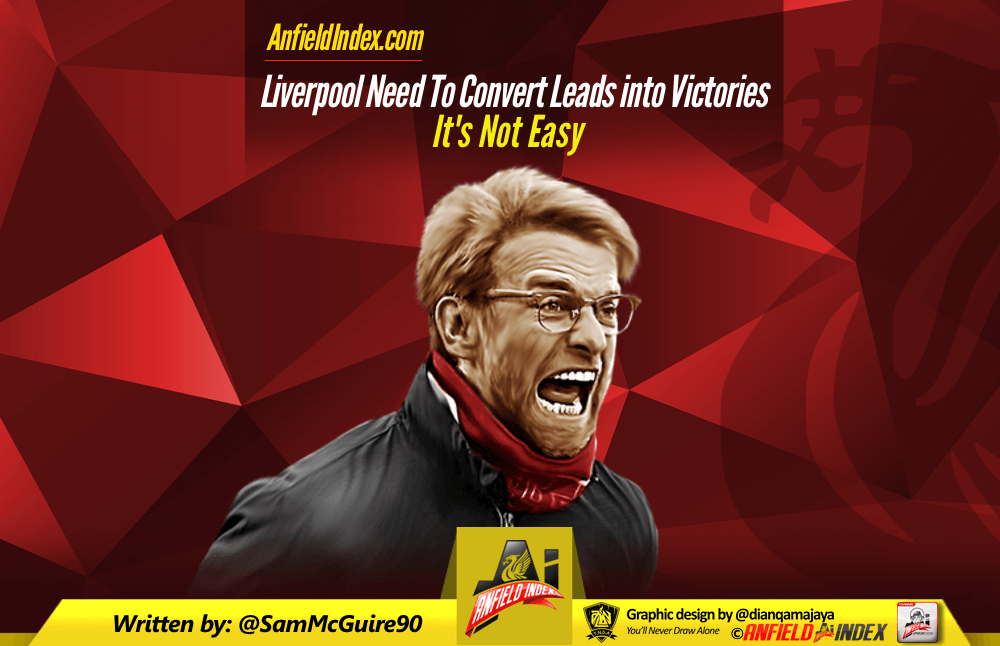 Liverpool Need To Convert Leads into Victories - It's Not Easy

If it happens once you can pass it off as being normal. You're told that It happens to everybody and not to worry about it. You nod in agreement at the reassurance being offered.
If the same problem continuously happens then you have two choices; bury your head, pretend it's normal and carry on nodding or actually acknowledge there's an issue and look to rectify it.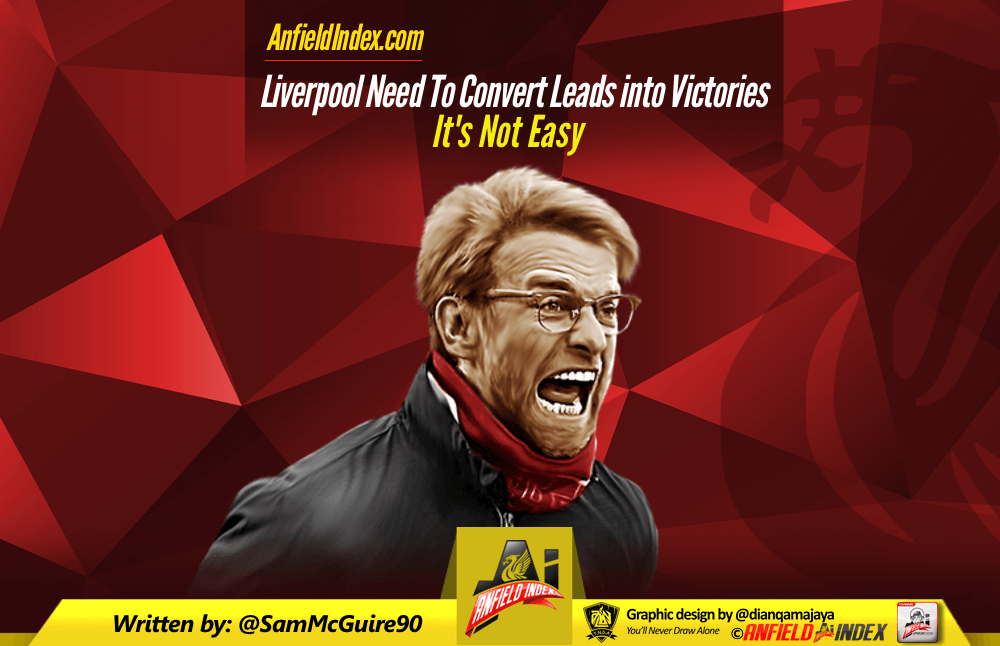 Liverpool have a few problems, too many to state and if you attempted to look at them it's like going down the rabbit hole, but one of which is keeping the lead. It's been a season long issue but instead of accepting it fans have crammed it all in a closet, casually swept it under the rug or simply look the other way.
All teams drop points from losing positions. It's normal. The extent at which Liverpool do so is what's alarming.
Opta state Liverpool have dropped the most points in the Premier League from leading positions this season. Twenty-two points in total. If the Reds had managed to see out those matches for maximum points then they'd currently have 78 points, two points ahead of Leicester with a game in hand. Even if the team had managed to take 10 points from those games they'd be a point clear in third with a game in hand. There are plenty of ifs and buts in football but given the rollercoaster season we've seen unfold you've got to be kicking yourself looking back at who we've actually dropped points against.
| | | |
| --- | --- | --- |
| Team | Final Scoreline | Dropped Points |
| Norwich | 1-1 | 2 |
| Everton | 1-1 | 2 |
| Palace | 1-2 | 3 |
| West Bromich Albion | 2-2 | 2 |
| Arsenal | 3-3 | 2 |
| Sunderland | 2-2 | 2 |
| Southampton | 2-3 | 3 |
| Spurs | 1-1 | 2 |
| Newcastle | 2-2 | 2 |
| Southampton | 1-1 | 2 |
Liverpool are dropping points to inferior teams. Only three of these nine sides are in the top half of the table. Four of the bottom five teams in the Premier League table are in the above table. To put it into context if Sunderland and Newcastle join Aston Villa in getting relegated from the 18 points on offer from the relegated teams Liverpool would have taken only 11.
What's worse is Liverpool have were leading 2-0 in three of these matches and only have two points to show for their efforts. Two of these games were against teams that could potentially go down.
They've been rightly praised for the resilience that they've shown under Jurgen Klopp, coming from behind in a lot of games to take points, even in a few of the above games they've done that. If you can't convert leads into victories though it's a wasted effort. A salesman with a lot of leads and no sales isn't a good salesman.
However such inconsistency can't be ignored. Liverpool seem to have a problem controlling games. As soon as they sit a little they look like they're finely balanced on stilts. Bournemouth was another example of this when a comfortable 2-0 half-time lead ended with a nervy 2-1 victory. When there's nothing to chase Liverpool look a little unsure, a little hesitant and a little bereft of leadership.
This problem isn't just exclusive to the Premier League either. Liverpool lost leads to Bordeaux, FC Sion and Dortmund in the Europa League as well as Carlisle in the League Cup. It would be easy to lambast the players, call them mentally weak and inexperienced but these are the same ones that have come from behind to beat Chelsea away at Stamford Bridge, come from a goal behind at Old Trafford and come back against Dortmund twice.
It's almost like a Hulk like Liverpool side. You only really see passion, experience and hunger when this side is up against it. When it's angry. When it's instinctive this squad shows what it's capable of. Emotional football gets the best out of these players but you can't play that way for 50/60 games a season. There needs to be some sort of control. There needs to be experienced heads helping with game management on the field. Instead of taking a 30 yard shot you need a player to keep hold of the ball and waste a bit of time.
There's not a quick fix for this problem. It's about finding balance and it's not as easy as replacing one player with an experienced one. It's a bit like a game of jenga; remove the wrong piece and it all comes tumbling down. It's a peculiar problem to have but one that Klopp will definitely look to correct over the summer.