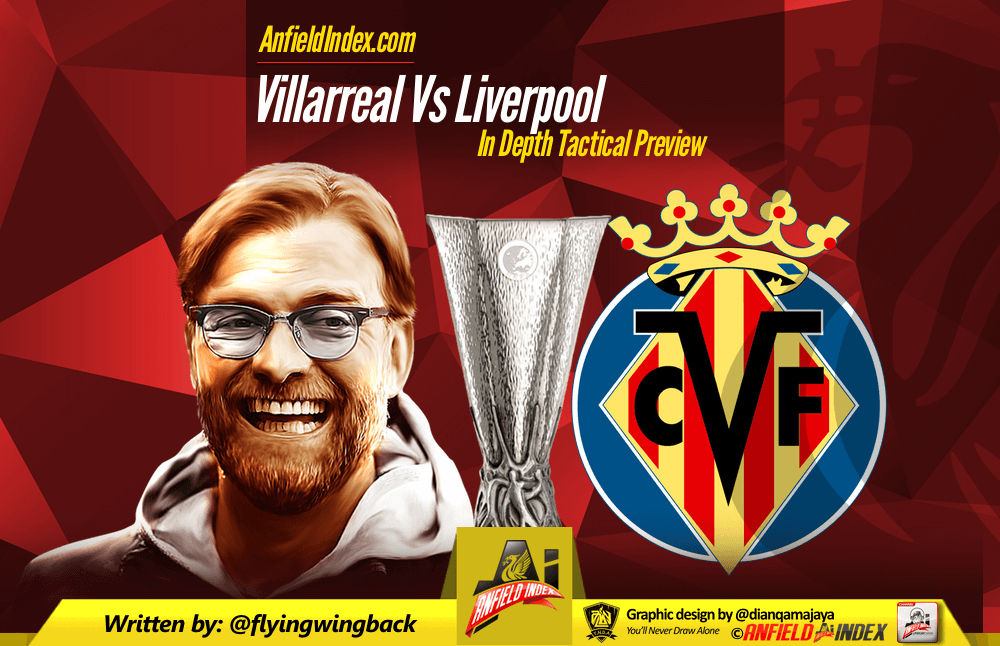 Villarreal Vs. Liverpool | In-Depth Tactical Preview
Based in the tiny City of Vila-Real in the Comunitat Valenciana on the East Coast of Spain, Villarreal have arguably been the 21st century's biggest football over-achievers. With a stadium that could fit half the city's population, the club captivated the football world back in 2006 when they reached the Champions League semi-final with a team including the likes of Senna, Riquelme and Forlan. The Yellow Submarine, as they're known in Spain (I imagine to the delight of British tabloid journos looking for a cheap Liverpool/Beatles pun), were relegated in the 2011/12 season and endured a poor start to the 2012/13 season before appointing Marcelino as manager in January 2013. Marcelino led them from seventh to automatic promotion, and they've gone from strength to strength since.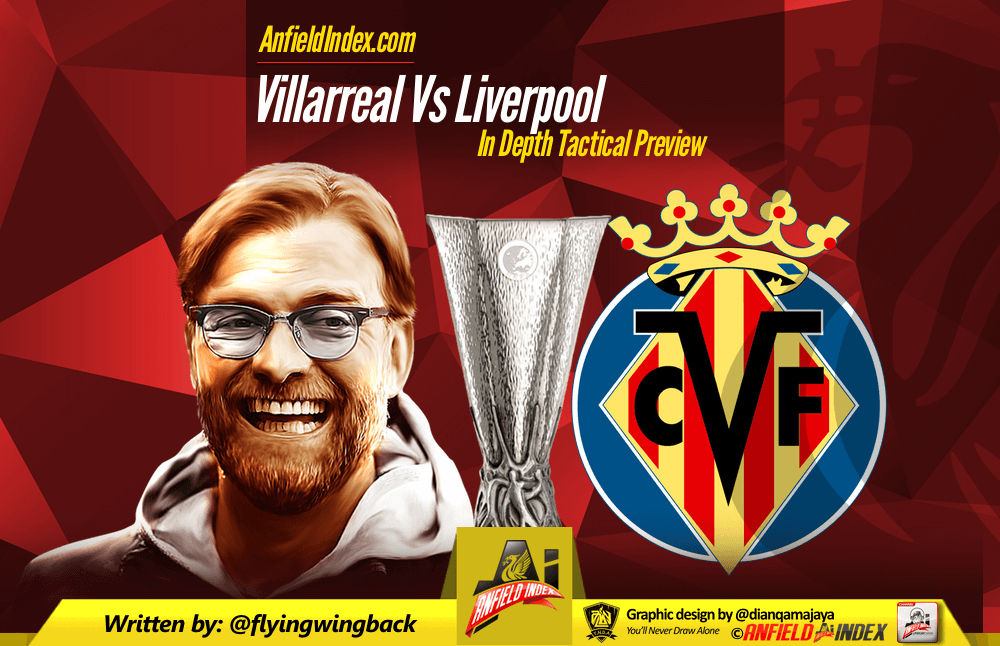 Villarreal are a comfortable fourth in La Liga and have beaten Napoli, Bayer Leverkusen and Sparta Prague to reach the semi-final of the Europa League. They're similar to Atletico Madrid in terms of their modest transfer budget and defensive prowess, having conceded only 31 goals from 35 matches in the league this season. This analysis will look at how they are so defensively sound, their attacking strategy, and how Liverpool can beat them.

Defensive play
Villarreal play in a 4-4-2 position-orientated defensive shape. They will press the opposition when the goalkeeper has the ball at feet and looks to play short. Unlike other defensive phases, Villarreal choose to press in the final quarter of the pitch as it is easier to restrict the ball-players' options.
The above sequence of images shows how Villarreal use their two centre-forwards and winger to operate an option-orientated press in this area of the field, with Bakambu finally putting pressure on the goalkeeper, forcing him to play long and out for a Villarreal throw-in. They use body shape and cover shadows intelligently in this phase. One weakness, however of this final quarter press is that the centre-midfielders are far deeper than the centre-forwards, so if the opposition can manage to play it past the centre forwards, Villarreal are put on the back foot and space behind their back four could potentially be penetrated.
When the opposition centre-backs have the ball in the second quarter of the pitch, Villarreal's centre forwards sit off. Instead going into written detail about their defensive play, below is a video I made which sums up Villarreal's defensive play.
What sets them apart from most teams is that they use position-orientated defensive system. Whereas many teams would operate a man-orientated zonal marking system, wherby they would each be in charge of covering zones, although would move close to an opposition player entering their zone, Villarreal's players' only positional reference is their teammates, and a set are they know they will be occupying when the ball is in a certain area (subject to situational variables, of course). They will only move tight to an opposition player when they receive the ball, or look like an immediate passing option to the ball-carrier. A benefit of this is that they'll keep defensive organisation and compactness at all times, however a position-orientated system can sometimes be vulnerable against a team that uses heavy overloads.
As shown in the video, Villarreal's wingers very rarely defend deep in their own-half as the full-backs close down in wide areas while the central midfielders fill in the central space. This makes Villarreal's shape very effective in attacking transition as they often have 4v4 on the break. This is shown below:
They are very, very good at moving to create space and chances when running towards the opposition goal. Notice Bakambu's near-post run to open up the lane for the pass to Castillejo, who has space to find set himself and find the bottom corner.
Similar to Atletico Madrid, they are a threat in attacking transition and most of their attacking play is very transition-like (fast, vertical passes up the field). Their tendency to always play the first pass forward, usually a long pass too, makes them fairly resistant to counterpressing which is something that will worry Jürgen Klopp.
Attacking Play
As I have mentioned, Villarreal look to play direct football with the ball. This doesn't mean hoofed balls up to a target man, but nuanced moves with quick, vertical passes coupled with intelligent movement to open spaces for the ball to be played behind the defensive line.
In their own half, Villarreal will either play wide to their fullbacks and up the pitch in the halfspaces/flanks using said vertical passing and movement, or look for long, diagonal passes from the centre backs to the wingers:
Dropping movements from Soldado are common, the aim for Villarreal is always to make space for, and execute, passes in behind the lines either on the ground or in the air for attackers to chase on to.
The centre-backs' good passing ability is important in a direct passing system such as theirs. Also, with wingers maintaining width high up the pitch at all times, long switches of play are an outlet for Villarreal.
The wingers often move into the halfspaces when Villarreal get the ball in the opposition's half while the full-backs push up out wide.
Bayer Leverkusen show here that you can't push up and leave space behind your defensive line against Villarreal until you are settled in possession. This may be something Klopp has to think about. The wingers' wide positioning stretches Leverkusen's back four, leaving Bakambu and Soldado 2v2 against Leverkusen's centre-backs.
When the fullbacks make their way up the pitch in settled possession against a retreated defence, the wingers are deeper in the halfspaces and the centre midfielders are around 25-yards from goal in the centre. The full-backs look to cross it in to take advantage of the physicality and aerial prowess of Bakambu and Soldado, while the four deeper Villarreal players mean there is a high chance that they will regain the ball if it is cleared.
This width from the wingers is key for Villarreal as it opens passing lanes for passes to be played through to Cedric Bakambu. The 25 year-old is a strong, fast striker who is a lethal finisher in one-on-one situations. He currently has 9 goals in the Europa League, thriving against higher defensive lines and in quicker-paced matches compared to those he encounters in La Liga. His side's main point of attack are passes over the top of the opposition defence to him.
Again, above we can see clever movement  and threat on the break from Villarreal. It's from Castillejo this time whose run leaves Bakambu isolated with the opposition centre back in the centre of the penalty area. Bakambu will win these 1v1 duels against a less physical centre-back such as Dejan Lovren.
Villarreal also use their width to create a lot of chances with crosses that find their way to other side of the penalty area, as well as passes across the front of the opposition defence to the opposite side of the field.
Bakambu usually stays on the last line, looking for runs in behind while the other forward drops into the space in between the lines to receive passes and possibly pull the centre-back out of the defensive line. Below, it is Adrian who takes up this role. The video also shows Bakambu's ability to find space along the defensive line as well as his fantastic finishing.
When Villarreal lose the ball, they are often quite comfortable in defensive transition. They will usually counterpress with one or two players going towards the ball while others move tight to the ball-players' immediate options. As they normally go straight to goal in possession, their fullbacks are redundant in attack for most of the game, especially in away matches. This means, when they lose the ball, they have a back four and at least one deep midfielder to deal with a potential counter attack. Having said this, the below touchmaps show that their fullbacks take more touches higher up the pitch when at home (red) than in away matches (blue).
How to beat them
With their organised 4-4-2 defensive block that purposefully blocks passes through the centre of the pitch, it is very difficult to penetrate them through the middle. You must exploit their vulnerabilities out wide. Their tendency to push their winger up to prevent passes through the halfspace, as is shown in the defensive video earlier in the article, can leave their fullback stranded and in two minds. When you get high up the pitch in wide areas, teams can create chances versus Villarreal by making a 2v2 situation out wide, and loading the centre of the penalty area with three or four men.
Above, Sevilla are bringing their wingers in the halfspace while their fullbacks are wide, forcing Villarreal's fullbacks up the pitch and leaving space in behind. Rayo scored a goal against Villarreal in a very similar situation to the one above. Also, when Villarreal's central midfielders are defending deep in the penalty area as the fullback engages in wide areas it leaves a lot of space on the edge of the box for the opposition to gather a clearance and create a shooting opportunity.
Another way to score against them is to be quick and direct in attacking transition when their fullbacks are advanced. When their fullbacks are high up the field, they will often take part in the counterpress instead of retreating. They are often left with only both the centre backs behind while the rest of the team is advanced. If you can break through the counterpress with quick forward passes, then you can find space behind. Having Origi unavailable is a blow for Liverpool for this reason. The video below shows this in action:
The main ways to make sure you don't concede against them is not to play too high a defensive line without having pressure on the ball, and to protect yourselves against their counter-attacks.
Real Madrid restricted Villarreal to only one good chance all match by dominating possession and making sure all their attacks finished with a shot on goal or the ball going out of play. They made sure they didn't lose the ball in key midfield areas.
Sevilla use La Salida Lavolpiana, in which one of the holding midfielders moves inbetween the centre-backs during possession. Unlike many teams, Sevilla do this while also keeping a pivot in front of the situational back three that is created, giving them a 3-1-4-2 shape (the CAM joined the CF up front and the wingers moved deeper and in the halfspaces). The below video shows Sevilla's use of Banega in front of the situational back three to slow down the counter attack and give time for their fullbacks to retreat.
Conclusion
Villarreal are a very defensively disciplined and organised team who use quick, vertical passes to find space in behind the opposition's defence. In many ways, their use of 4-4-2 being one of them, they are fairly similar in approach to what some would call the "traditional English game". They are certainly in the same category as Atletico Madrid and Leicester in terms of their style of play. If Liverpool are less chaotic than usual in defending Villarreal's fast-paced attacks and exploit Villarreal's weaknesses in wide areas well, with Nathaniel Clyne possibly being a key player, then there is no reason why The Reds cannot reach their first European final since they lost to Milan in Athens in 2007.