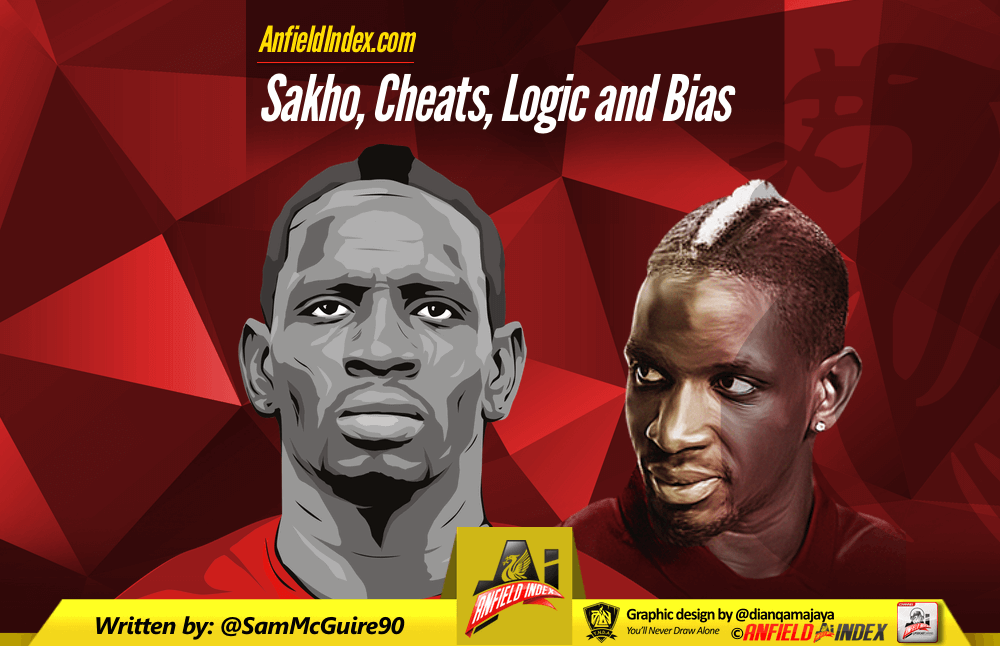 Sakho, Cheats, Logic and Bias
Mamadou Sakho divides opinion. The Frenchman has done so ever since his move from Paris Saint-Germain in the Summer of 2013. His first season with the Reds was hit and miss. He shared the left centre-back berth with Daniel Agger. Both players struggled with injuries so it was a sort of timeshare role.
Many fans appreciated his talents whereas others weren't comfortable with his unconventional style. I'm a Sakho fan but even I hold my breath sometimes when I see him doing a drag-back when he's the last man thirty yards away from our own goal. People made their minds up about Sakho early on and many have stuck with that opinion ever since. Call it what you will – an agenda or a narrative – but there's bias when it comes to all players and that's undeniable.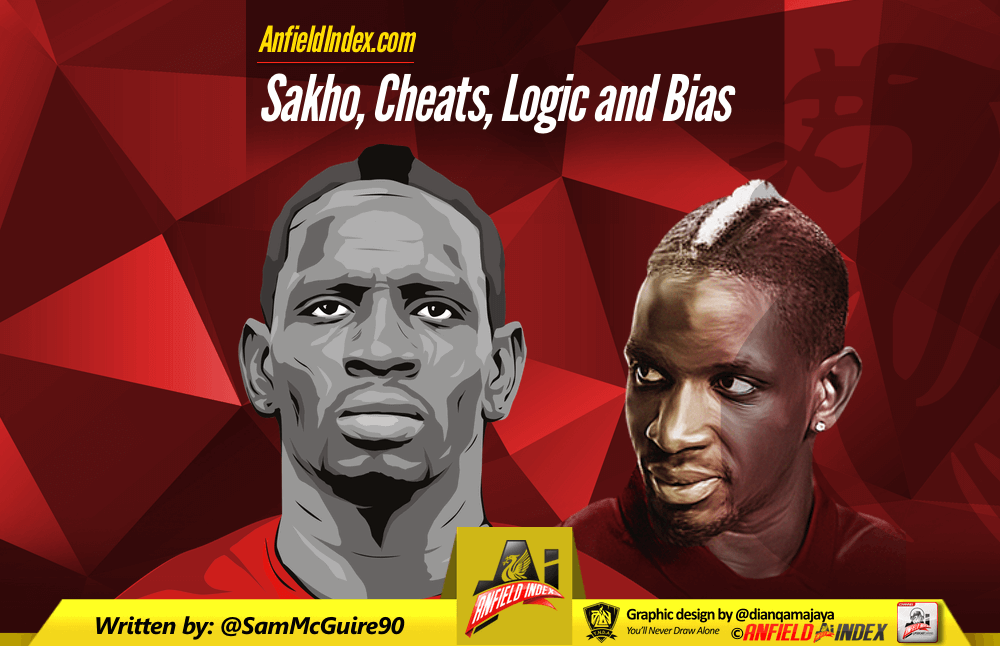 In some instances you hope common sense will prevail and that an agenda towards a player will be put aside. In the wake of the Sakho news about the player failing a drugs test, Twitter was once again divided. Football extremists. People giving an opinion on something they know nothing about.
You have some people basing their 'definitely guilty' narrative on what newspapers have reported. The same newspapers who months prior has stated Sakho was in the best shape of his life. Take what they say with a pinch of salt. The most vocal of these fans are ones that weren't convinced by him as a player. The brigade that will say his 'form' was down to performing enhancing drugs.
Opposing those you had people reeling off Sakho's CV. What he does in the local community and what he does for those less fortunate than he is. Just because he's a good human being doesn't mean he's a cheat. It's a bit like when neighbours of serial killers are interviewed and the generic response is usually "he seemed like such a nice person". If it comes to light that he is a 'cheat' it doesn't detract from what he's done in the past. Sakho the player is different from Sakho the human.
You'll often hear about how footballers are paid so much money so shouldn't be stupid, but that in itself is a stupid statement. Money doesn't equate to brains. Politicians get paid a fortune and are continuously involved in scandals. The same can be said for bankers. At the end of the day we're all just humans and humans aren't perfect.
The public see football players as robots. The money as their disposal should mean they're all perfectly happy. They're never stressed and their life is quixotic. It's amazing that very few have heard the Sakho news and thought 'what if he has a weight issue'. Plenty of people struggle with their weight, it's not a just a physical issue but a mental one. Football is as much as about being physically prepared as it is mentally. It's easy to forget that. It's easy to just think these players are stupid instead of actually looking a little deeper. That's an entirely different subject though.
What really is bizarre is those fans wanting Sakho to be sacked despite knowing nothing more than what's been reported. Nothing like being innocent until proven guilty, right? Apparently cheats shouldn't wear the red of Liverpool.
This is where people come across as a little hypocritical.
You can't be calling for Sakho to be sacked whilst saying you'd select Kolo Toure in the semi-final against Villarreal. Kolo was banned for failing a drugs test. Kolo 'cheated' and yet these fans are happy for him to play for the club.
"It was before he played for Liverpool and he served his ban."
What's the difference in Sakho serving a ban and then coming back from it to appear for Liverpool again other than the fact the incident occurred when he was at the club and not before?
Plenty of football players cheat in a variety of ways.
Luis Suarez prevented Ghana from scoring in the World Cup when he used his hands to punch the ball off the line. That's cheating. He had a nibble of a few players and although that's not blatantly cheating it is gaining an unfair advantage on the opposition so in some twisted way it is cheating. There weren't many complaining when he was playing for Liverpool despite his sordid past as a cheat.
Many players exaggerate any slight contact in football. No matter how funny it is at the time at the end of the day it's cheating. Diving to win a penalty is often described as 'clever' but again let's not get technical, it's cheating. The list is literally endless.
Is there a cheat severity scale or is this not all a little silly?
You can't condone one type of cheat while not kicking up a fuss about another. At the end of the day cheating is cheating and if you don't want a cheat wearing a Liverpool shirt then you're in trouble as honest players are nearing extinction these days.