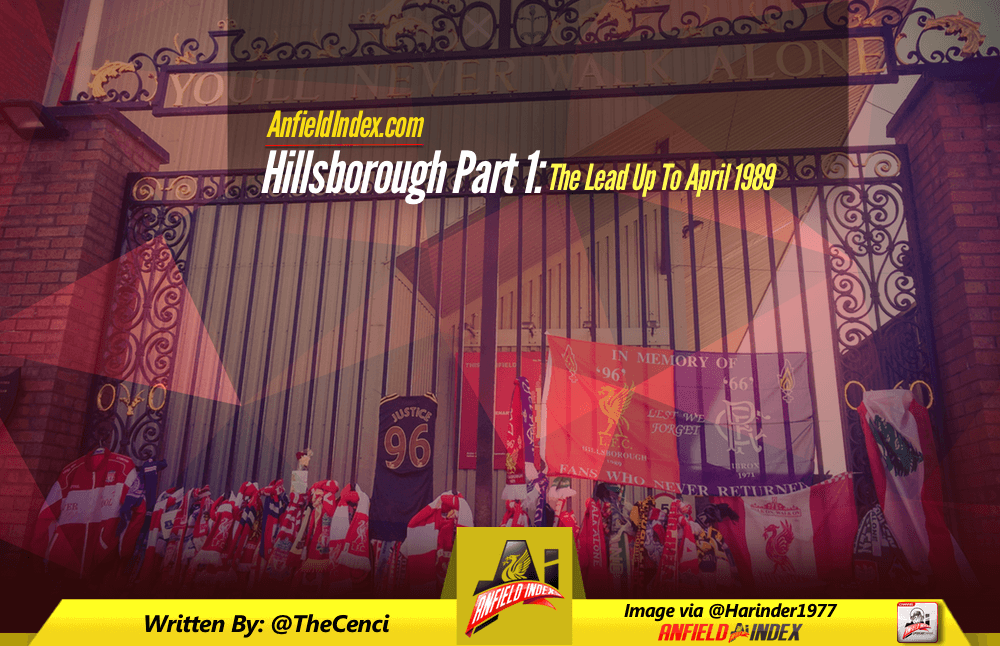 Hillsborough Part 1: The Lead Up To April 1989
Sometimes we take things for granted.
Being a Liverpool fan means that you naturally adopt certain causes and prejudices. For example, there's an inbuilt dislike of Everton and Man United. This has been with us for ages and even when there's the occasional ceasefire it's always there. Then there's the more modern rivalry (that, I'll admit, I can't be doing with). Chelsea and City can be added to that list even if they are fleeting foes. After all, Blackburn Rovers won the League in 1995 and we didn't make up songs about them. Must be my age.
There are also things you adopt as your own. Things with which you identify and become part of. The Liver bird chewing whatever it is it's chewing, the colour red and the love of the Kop. All of these things come as part of the deal. You support Liverpool and these things come as part of the package.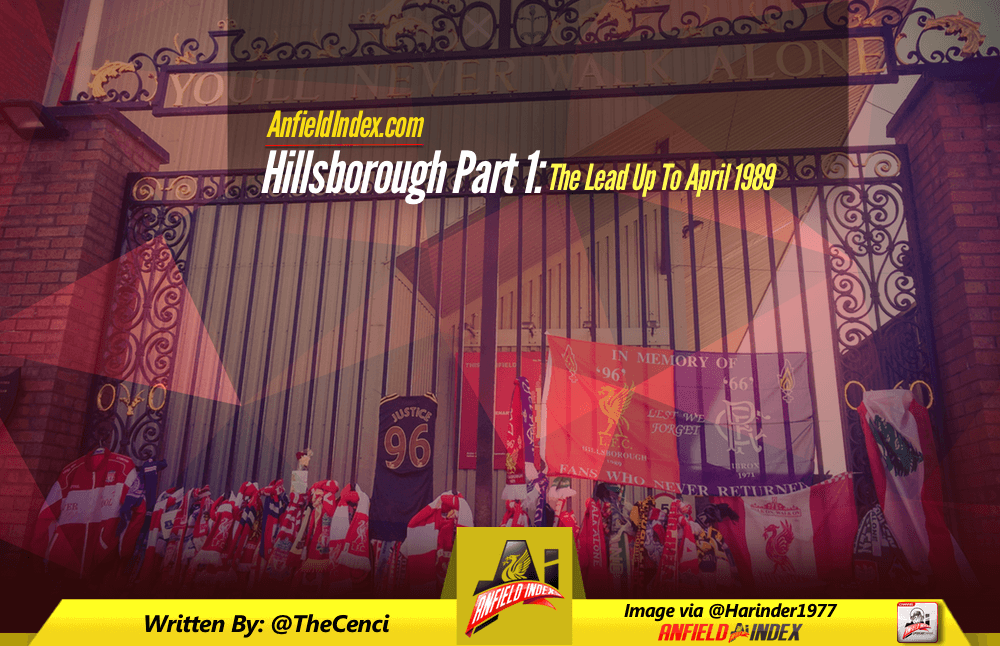 Then there's the hashtags. YNWA is, of course, our anthem. A glorious song which speaks of never facing life's strife alone while you have an LFC friend nearby. You'll always have someone with you. It's also meant to scare the life out of the opposition too when pelted full blast from a shaking stand. Again, this is an easy one to take on board. We all recognise You'll Never Walk Alone.
But what about #JFT96?
I once had a boss who told me that while stupid questions were never welcome in his office, ignorance – used in its truest sense – was never a crime. Ignorance doesn't mean stupidity although it's often misused as such. Rather it's a state of not being aware of something. It can be dispelled by a simple, if a little embarrassing, question. Hence, my boss would be happy to explain the complicated vicissitudes of eLearning Credits used by schools in the early part of the last decade, but never by my asking what day the Education Guardian came out. I was working for The Guardian at the time.
(It was a Tuesday)
Sometimes it's okay to say 'I don't understand.'
I say this because I've often wondered how people can understand what happened at Hillsborough without being aware of the culture of the age, the backdrop to the disaster, or geographically close to it. It's perfectly forgivable to raise your hand and ask why something is as it is. Sometimes, necessarily at times, #JFT96 is merely a hashtag to end an email or tweet.
And you know what? I'm fine with that. Not everyone has the time or stomach to read Professor Phil Scraton's Hillsborough: The Truth or the 450,000 pages of the 2012 Hillsborough Independent Panel report. They just know that 96 people were unlawfully killed and the police were to blame. That sentence meets the case, yes, but there's so much more to it than that.
If you're puffing out your cheeks at my patronising impertinence then feel free to get on with what you were doing. Maybe this isn't for you. However, I'd like to think it's for someone. Maybe someone who finds it all a bit much to take in and has been too scared to ask.
Of course, this is just my view. I'm no expert. I can't stress that enough. I'm just a Liverpool fan who was around at the time.
Anyway, if you're still here, let's start with 1989.
In April 1989 I was at my first year at Polytechnic in London. Polys are now gathered unto God but they were basically universities without the grandiose name. They were for people like me who had okay 'A 'Level results but not sufficient to gain entry to the universities. It occurs to me that I may have to explain A Levels too but we're getting away from the point.
I was 20 and living away from Liverpool for the first time, having moved down to London the previous October. I'd gone from attending regular Liverpool games to hardly any save for the Anfield trip when I was back home. It was easier to see Liverpool then as you could pay on the gate and didn't need a bank loan to get in, a loyalty ticket scheme or any such nonsense. If you were at a loose end you could go to Anfield, queue up next to policeman, a police horse and police horse shirt and watch the Champions of England for the price of a pint today.
This changed in the 1989-90 season when the Kop went all-ticket. For one game that season I was home and able to get to a midweek game. Anfield under the floodlights is a different fish to a 3pm kick off so I was keen to renew my acquaintance. The thing is I hadn't realised that I needed a ticket to get in so I cut an abject figure, standing frustrated at the gates. Suddenly, a man came over to me and told me that he had to work and couldn't stay for the game. I could have his ticket for face value. £2.50 ladies and gentlemen. The game was Liverpool 9 Crystal Palace 0. I often think of him.
These were the days when football arrived on TV only on Saturday nights with Match of the Day and the odd late midweek highlights programme. The BBC had a show called Sportsnight which would feature the odd Division One game as well as Ice Skating and Show Jumping from Hickstead – usually voiced by the same commentator regardless of sport. I still miss it.
The point is that to watch Liverpool you had to either be there in the ground or hope we were the main game on Match of the Day. League Cup coverage was reduced to the score being read out at the arse end of the news as the BBC were never bothered by the competition so ITV took it over in the 1990s. There was the radio too. Radio 2, in fact. It was the main station as Radio 5 wasn't born back then.
Anyway, the match going Liverpool fans in the late 80s had the choice of standing on the Kop or sitting in the other three stands while the away end was a terrace by the Kemlyn/Annie Road corner flag – the other side of the Annie Road from where they currently sit.
The Kop was crowded and generally good-natured unless Terry Butcher and Peter Shilton played. They got some terrible stick. Reminding Shilton, the England goalkeeper, of his sexual misdemeanours whenever he got the ball was great fun. Somewhere, a man of my age has just shouted 'Tiiiiiiiiiiiiiiiiiiiiiiiiiiina' at the screen. He'll know why.
Away games were much different from today. Firstly, we genuinely felt like we were taking an army to a rival city as well as coming for the three points. Supporting Liverpool in foreign climes was a statement. We're here now and we're going to show you what footballing superiority looks like. And not just that. We'll show you how to sing, how to dress, how to act. We're here now. Ignore us at your peril. Obviously, I was younger back then but felt a curious excitement at singing the name of my club and city at hostile terraces who would occasionally want to meet us outside to discuss our attendance.
Was fighting a thing back then? Yes, it was. It would be stupid to deny it, but it was mostly confined to those who fancied it. 'Scarfers' or normal football fans would be unlucky if they were caught up in it. In any case, Anfield was generally safe enough but games in Manchester were fraught were danger. The 1985 semi-final with United, played at the neutral ground of Goodison Park, was a vicious affair. The 1988 Anfield league game – an Easter 3-3 was pretty hostile too but nothing comes close to that day at Everton. Everything increased by 10% that day.
Being beaten up or 'ran' by rival fans was a regular occurrence. If it wasn't your thing you could get away easily enough. There was, however, violence elsewhere in the country. Millwall had rioted at Luton Town a few years earlier and a few United and West Ham fans were jailed for violence on a cross channel ferry in 1986. England fans behaviour at the 1980 European Championships was still in the public consciousness too so it was seen as a national problem.
Then came Heysel.
We're often reminded that 39 fans died at the 1985 European Cup final and told that we ignore our part in those deaths. I think that's true to some extent. We were guilty then even with the extenuating circumstances taken into consideration. People shouldn't die at football matches. That said, every 'What about Heysel?' shout is born of the worst type of ignorance. Little is made of the fact that 26 Liverpool fans were charged with manslaughter after Heysel– the only charge that could lead to extradition back then – and that 11 served prison sentences. The prison sentences may not have been long but even these were extended upon appeal by the Belgian prosecutors.
I'm not making excuses for Heysel but would like to point out that three authority figures were also charged – the head of the Belgian F.A. who had allowed Juventus fans to purchase tickets in the Liverpool end, and two police captains in charge of security. Not all wrongs were fan led.
No, I'm not making excuses for that day and then I don't think many of us from back then do. Yes, the stadium was falling apart but nothing supports pre-emptive attacks on Italian fans just because of the violence inflected upon them a year earlier in Rome at the 1984 European Cup final. People died and we should talk about it more for the right reasons.
Mud sticks. Following Hillsborough the UEFA President Jacques Georges blamed it on hooliganism, describing us as 'beasts'. He didn't bother to look into the reasons for the disaster and he wasn't alone. He made a jump from one to the other.
Thatcher (I refuse to give her the respect of a Christian name) supported the ban in Europe for all teams – not just Liverpool. Hooliganism, even though hardly any of us were involved in fighting, was a national problem. A national disease. A narrative was formed.
There was a marked difference in the opening weeks of the 1985-6 season in the weeks following Heysel. Police at away grounds were more heavy-handed than usual. Searches became more thorough and God help you if you complained. You didn't deserve dignity. You deserved nothing. You liked football, you liked violence. Your club was responsible for a country wide European ban. You did this. Thatcher was keen to bring in identity cards for football fans – a policy that was applauded in some quarters, notably Luton whose chairman was a Conservative MP.
Liverpool had two other factors which contributed to the problem. Firstly, we were a hard left wing city. In 1981 the Liverpool ward of Toxteth rioted as racial tensions between the Afro-Caribbean communities increased. That was my first year at secondary school, which was in the shadows of the Anglican Cathedral. Toxteth begins the other side of that vast building. I went from a naïve 11 year old to seeing burned out cars. Talk about growing up fast. A year earlier my Dad was made redundant by Liverpool Docks so the antagonism against Thatcher was already keenly felt in my house. Following the riots, the government discussed leaving Liverpool to 'a managed decline'.
In 1982 the Liverpool District Labour Party adopted Trotskyist polices to govern the city. The slogan 'Better to break the law than break the poor' – previously used by an East London council sixty years earlier was used on banners. They accused the Government of stealing £30m from the city of Liverpool to be used elsewhere. Gloves were off. Liverpool v England.
The second factor was the general denigration of Scousers. As unemployment was high and people had to find less than legal ways to make ends meet (See The Boys from The Black Stuff on You Tube) the stereotyping of Scousers as workshy thieves became the image of the city. I've lost count of the amount of times well-meaning people have jokingly hid their wallets or asked if I steal hubcaps from cars when they find which city I'm from. Of course, if you frown at this you're accused of not being able to take a joke. 'Where's your famous sense of humour?'
So, what of 1989? Well, Liverpool are the best team in the country with one of the finest sides in our history. We've just walked the League and nearly took another League and Cup double before Wimbledon spoiled the party. In 1989 we were doing well again, fighting a resurgent Arsenal for the title and in another FA Cup semi-final. A year earlier we again faced Nottingham Forest at Hillsborough at the same stage and won 2-1. There were crushes on the Leppings Lane end that day too.
Yes, we had a team that was the envy of the League but we had Heysel on our hands and the city itself was an enemy of the government. A UEFA authority figure had painted us as beasts and the supporters themselves were treated as criminals for the crime of wanting to watch our lads. We had been condemned as unemployed and unemployable villains around the country. We were brash, argumentative and a people worth avoiding. We were the lowest of the low obsessed with a sport that the government actively despised.
Then came 15th April 1989.