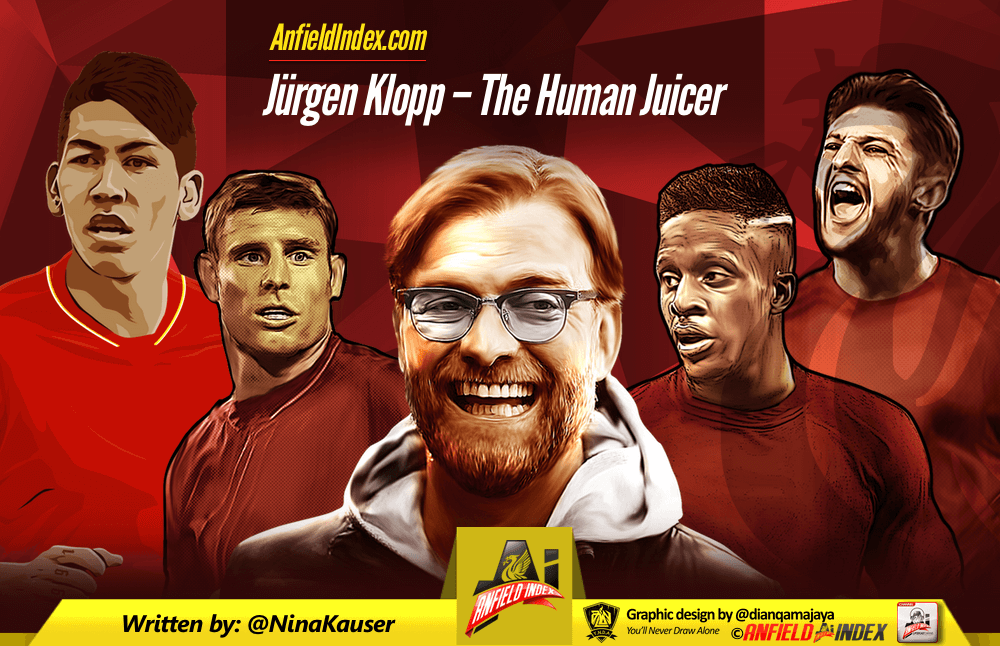 Jürgen Klopp – The Human Juicer

The Liverpool boss is having a positive impact on the fans; even the doubters are slowly but surely being converted into believers. Some fans have even likened to him to football's equivalent of a messiah figure, here to steer Liverpool Football Club out of the dark times and restore this great club back to its former glory. Great shout but too generic and obvious for my liking. If I could compare Jürgen to anyone or anything, it would be *Drum Roll*……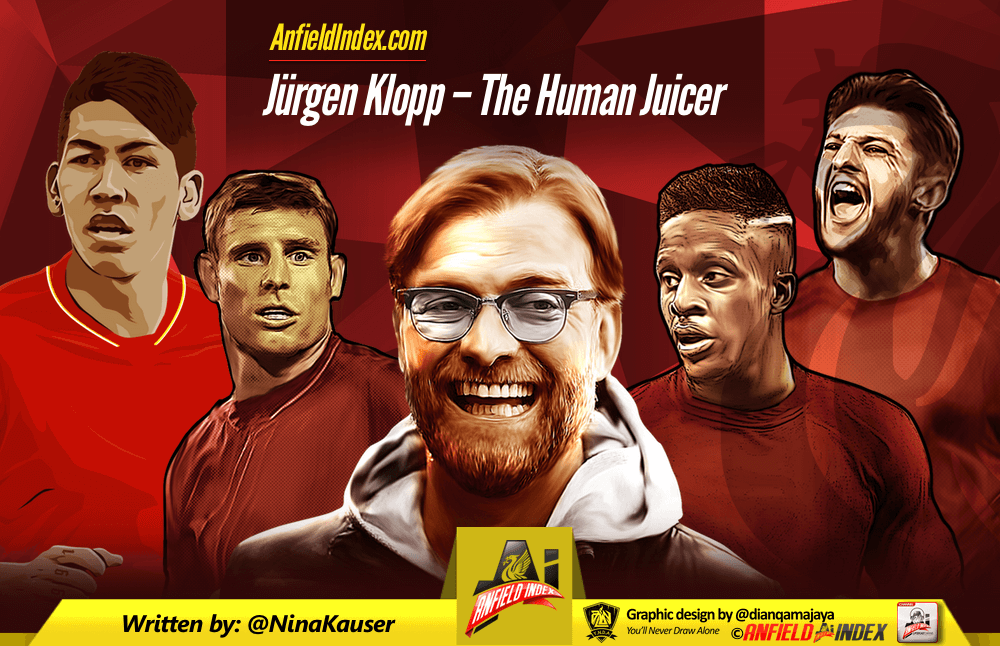 A Juicer, you know, the electric appliance we use to extract juice out of fruit and vegetables when we're trying to kick-start the healthy eating regime and need a detox. That's exactly what Klopp is to Liverpool FC but in human form. He's come to Liverpool, inherited a team that looked out of shape, fatigued and de-motivated, not to forget the toxic fan base that was thrown in for good measure. It would have been an uphill battle for most but Klopp likes a challenge and six months into his reign you can see positive results already.
His man management and motivation skills have got the best out of every player, squeezing every ounce of goodness out of this squad as they all attempt to secure their futures at the club. Even the players out of favour with the supporters such as Lallana and Lovren have all put in great shifts and shown signs of improvements under Klopp; granted, these said players may not be the long-term solution for the club but they're putting their case forward and silencing a few critics along the way.
However, a few players are beyond Klopp's help. There are a few players that are well past their sell by date or rotten fruits if you will. Players such as Skrtel and Benteke spring to mind amongst a few others, and after that horrendous second half display against Southampton, the writing is on the wall for those said players. You can't conjure up a healthy concoction with this lot; all they do is leave a bitter taste in your mouth and the inevitable projectile vomiting.
It's not just the players Klopp has been blitzing, the whole atmosphere at Anfield has a new lease of life and energy levels have hit new heights. Even those lethargic fans that threw in the towel at eighty minutes and would leave early to beat the traffic or to get down to the pub have stuck around because now you'd have to be a fool to miss a Lovren injury-time winner, right?
Klopp has been in charge of Liverpool for seven months and within that time he's reached a Capital Cup final and a final of the Europa League with a squad that he inherited. A year ago, you couldn't have seen this turn around with a majority of the players. Hand on heart did anyone think Lovren would ever come good in a red shirt last season? You could argue Klopp has quality players in the likes of Can, Firmino, Allen and Coutinho but those are his super foods, where he gets his energy sources from and even they struggled in parts under the previous manager.
Take last night as an example, so many feeling that we might not do it before the game and Jurgen manages to get that extra out of every single player, I don't think there was a poor performance from anyone against Villarreal at Anfield. The supporters at the end of the game also acknowledged Jurgen as shown in the video below!
— GaGs (@GagsTandon) May 5, 2016
However, it's not been all rosy under Klopp and there have been some disappointing results under the German in the domestic league but they're the equivalent of going into relapse or falling off the wagon, or even a cheat day we've all been guilty of them and despite this there's still a feel-good factor surrounding the club. The fans see the progress and they know that Jürgen still has plenty of work to do but once he dabbles into that transfer window Liverpool might have that bikini body they've so long desired. Watch. This. Space!