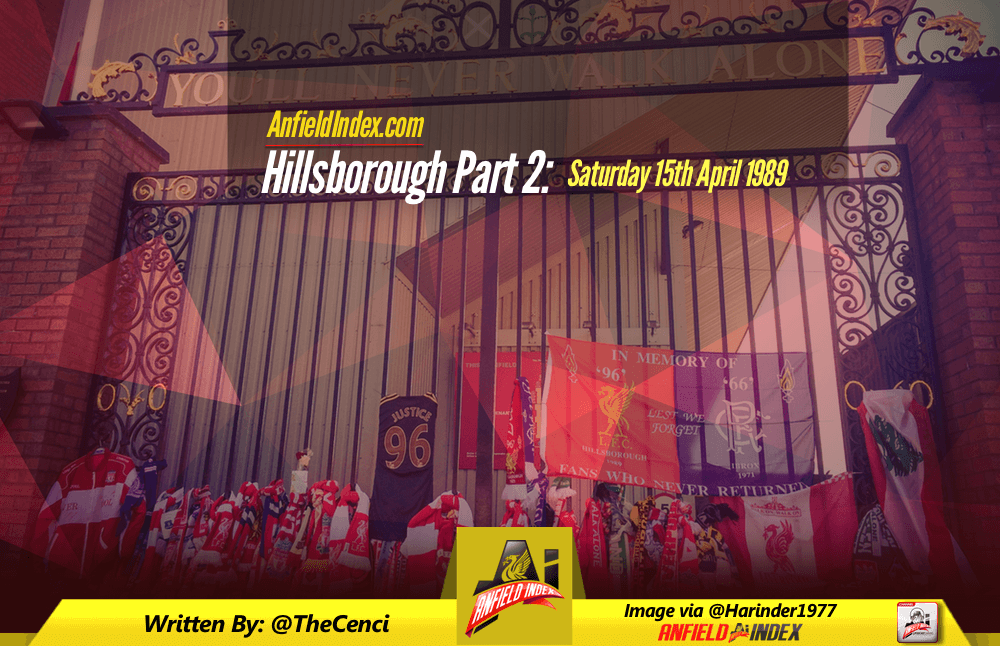 Hillsborough Part 2: Saturday 15th April 1989

Saturday 15th April 1989 was a sunny day.
I was living in a Halls of Residence cinderblock corridor of a room in South East London at the time, just about to complete my first year at Poly. I couldn't afford the return train fare to Sheffield it being late in the term and what with my student grant running low; so I decided to give the game a miss.
My friend Fiona was going though. She was a friend of my sister who I'd met at our sixth form college and subsequently became my friend too. We went to home games together for a couple of years until I moved to London. She would send me a programme for certain games for my collection from time to time, which was a lovely gesture as it meant I was still in touch with home and the match. I still have those programmes today.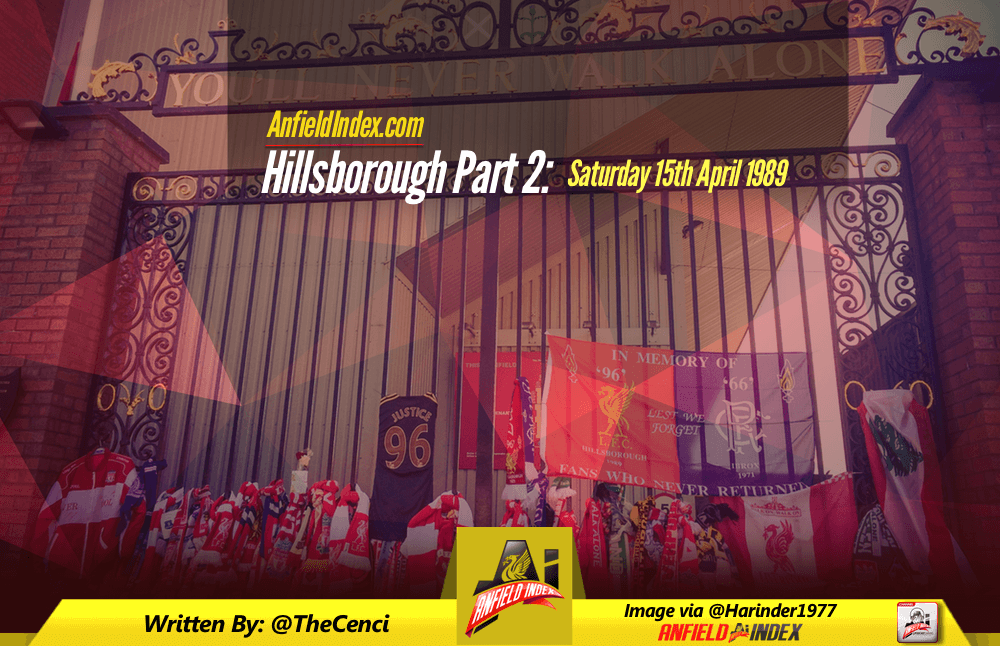 The plan that day was a simple one. My mate Matt and I would go to an animal rights march in the morning, somewhere near the Walworth Road, before getting the train back to Halls whereupon we would go to our separate rooms and listen to the semi-final on the radio. That sounds odd today, doesn't it? Listening to the match on the radio. A Saturday 3pm kick off for such an enormous game and it not being on television? It sounds like it was a lifetime ago but it really wasn't. Of course, there was no such thing as internet streams then either. Not much of an internet for that matter.
Another mate, Alan, lived on the floor above me and he planned to come to my room to listen to the match. He'd been in my year at school too though we barely knew each other then. We'd bumped into each other in the corridor and played the 'Jesus, is that you?' game. If you find yourself in a strange town, as Paul Weller once nearly remarked, you stick with the lads who share your accent.
The game was the main event of the day. Everton were playing their semi-final against Norwich at Villa Park so there was a chance that my first summer in London would coincide with an all Merseyside cup final. My family are predominantly Blues so I wondered if any of them would be happy to sleep in my cell of a room if they planned to make a weekend of it. We had to beat a very good Forest side though. They were one of only two teams who had beaten us in the League the year before so this would be no walkover.
Gary Gillespie was out, I remember that, but we were pretty much at full strength. There was another cup final on the horizon and we wouldn't let the Wimbledon final happen again. No chance. Another League/Cup double was on the cards.
Peter Beardsley hit the bar early on, drawing a large 'Oh, from the crowd'. Then the radio went silent. Peter Jones, the radio commentator that day, told us that people were on the pitch. No one knew why.
Crowd trouble seemed the obvious answer but it confused me. Maybe some Forest lads had got into our end and were being kicked out. That happened a few times at home United games but this didn't seem likely. We had no particular beef with Forest since the late 1970s though that city's conduct in the Miners' Strike of 1984 made many of us turn our noses up at them and their manager. No, this didn't make sense. Heysel was still fresh in the memory so many jumped to erroneous conclusions.
Confusion reigned for a few minutes before the game was abandoned. I'm not proud of this but at the time I was furious. I'd looked forward to this game since we'd battered Brentford at home in the Sixth Round a month earlier and now it had been called off. Don't forget, I wasn't seeing pictures – just listening to a man's interpretation on the radio. We had no idea that anything like this could happen.
Then the reports came in. People were being carried off on makeshift stretchers made from advertising hoardings. A sole ambulance sounded its alarm in the distance. Yes, an ambulance was on the pitch. Peter Jones from Radio 2 said 'There are unconfirmed reports of five dead and many more seriously injured.'
Five dead? How? The only thing it could be was that terracing. My mind flew to my only ever visit there where I spent the game facing the corner flag because there was no room to turn my body, only my head. That couldn't kill people though. This was a semi-final. There'd be precautions. Football matches were always pretty grim. We were always shoved into corners with poor views, hemmed in like sardines, but no one died. What was going on here?
It was then that Alan knocked on my door. He excitedly asked what the score was.
We sat in silence for the next hour.
My secondary thoughts then were defensive. I knew the club were going to get it in the neck for it. The radio interviewed a doctor who had helped on the pitch. He said that there wasn't a defibrillator in the ground. Not one. Just think about that for a minute. 40,000 people in the ground and not one defib. Utter madness. He also said that the oxygen cylinders were empty. Does this sound like a safe ground selected by the guardians of the game?
I found that interview this week and was surprised at how much of it I remembered. The man said that the facilities were a disgrace. They were still lifting bodies off the pitch at that point but someone – a medical expert – had already called it.
But I knew it wouldn't matter. These were Liverpool fans. We were responsible for Heysel. We were guilty before the ground was cleared regardless of the facts.
My primary concern was, of course, Fiona. There were no mobiles then and the only phones in Halls were the three payphones in the entrance of the building and you could never get on them. Ordinarily, people would phone home using a 10p piece and then expect their parents to call them back for hours on end. I spent much of that year sitting on the steps, staring out someone who was saying hello to the family dog.
I went down there and found one free. I called my Dad to remind him that I wasn't at the game so was fine, but could someone check in on Fiona's parents to see if anyone had any news. My sister had already called them. No news. I'd call back in an hour. I don't remember the rest of the afternoon save for feeling numb.
I went out with my mates to the student bar. No one was in any rush to watch the Everton game on Match of the Day. By then I knew that Fiona was okay and had managed to get out of the ground, albeit scared and with a broken rib. When the FA Cup Final was played a month later she sat in her room away from the TV and cried. She doesn't go to many games now but I thank God or whatever deity is going that she made it out alive. I saw her a few weeks ago. A few weeks after the game she posted the match-day programme that she'd kept in her inside pocket. It was creased to hell, obviously.
I'd no idea how she got home. I later heard that my uncle had got into his van and drove from Liverpool to Sheffield to bring people back. I've never asked him about it.
The next day was a hangover. The papers were full of pictures of squashed up faces against the railings. I didn't buy one and I didn't watch the coverage. I still haven't.
My sister was still at our college in Liverpool. They held a minute's silence there. I wanted to go home but couldn't quite face it all. I still don't know why. I don't deal with emotion well, to be honest, and even though I'm fairly sure my family would have wanted to see me being as I've been obsessed with Liverpool for most of my life and would be affected by it all, I just couldn't go. Maybe that's cowardice. I don't really care. It was just impossible to go home.
Everyone I knew who was there survived. I often wonder if that number – those 95 people as it was at the time – would be higher had I the train fare to Sheffield that day. Would my body being in there have led to more deaths? A stupid thought, of course, but one that often comes back to me.
Liverpool played again. Firstly the friendly at Celtic and then, fittingly, the Goodison derby. It ended 0-0 and probably cost us the league but no one cared. Then they replayed the game at Old Trafford and John Aldridge ruffled Brian Laws' hair after his own goal. I didn't like that. It was unnecessary, but this was a man who had been at countless funerals over the last few weeks so maybe it was a release of some sort. Anyway, we were in the final – the final we all wanted. Everton.
I managed to get a ticket from Alan. It was in the Everton end but I knew it would be fine. It began with a minute's silence. All you could hear was the whirring of the helicopters circling the ground as 82,000 people bowed their heads.
The game didn't really mean anything until it kicked off. You know what happened. Aldridge scored in four minutes and football returned to me again. That match mattered. For weeks there had been an argument that it shouldn't be contested in memory of those who were unlawfully killed. Un-fucking-lawfully killed. The players decided to go ahead and I felt a little better that we were on the pitch again.
The Sun ran their headline a few days after the disaster, accusing us of robbing corpses and pissing on them. We were also accused of stopping the brave police force from rescuing the fallen. Kelvin MacKenzie later claimed that he was briefed by an MP who knew 'the truth' so he went with it to the apparent horror of his editorial team. This week he claimed that a press agency was to blame. He apologised when the paper did in 2003 only to later claim that he stood by his original view. This week he changed his mind again and blamed the police. Whichever way the wind blows.
The Sun headline didn't register with me much at the time. Being in London and of average intelligence I wouldn't read it anyway. I'm not sure I even knew about it for a week or so. It was only when I went home that I realised the significance. I was used to being treated poorly, being a match-going Liverpool fan with a strong (it was then) Scouse accent. We had the link with Heysel, but this attack wasn't just aimed at me but at grieving parents who not only had to deal with the loss of loved ones, but had now been pilloried by a faceless and powerful organisation. What's more, the police were already rolling out their own vile version of events – speaking of drunken fans pushing through gates to get in.
The truth is less prosaic. Fans were ushered through a tunnel and into the central standing pens behind the goal. As you walked through that tunnel the stand declines steeply so you are unable to see how full it is at the front until you are in it. The deployment of police and stewards at the entrance of the tunnels would have resulted in the danger being spotted and fans being led to the less busy outer pens near the corner flags. No such staff we deployed. People walked into a packed pen thinking it was safe. Ninety-six of them died of compressive asphyxia.
The man in charge of the day, David Duckenfield, later said that he 'froze' when he realised what had happened. It was his first game as a Match Commander – the F.A Cup semi-final – and at a ground that was already known to be unsafe. Duckenfield later added to the cock and bull story about drunken, ticketless fans storming the gates to protect his worthless hide. He later retracted that story but, as football fans were the 'enemy within,' people were buying. All they needed was a solid police story backed up by a compliant media with links to the government. The Sun did their part.
Kelvin MacKenzie was a pimp – a lightning conductor to aid the cover up by South Yorkshire Police and his political cronies. He was a valuable tool – and I do emphasise that word – for an authority that was keen to shift the blame. The narrative was clear. Blame the fans. He may be vilified now, but the BBC still employ him and, he is allowed to write a hate-filled column for that fatuous rag. There is no punishment for him. He revels in it. What a waste of a life.
But he was merely a smokescreen. He was the protector rather than the men with blood on their hands.
Years later a memo from the time of the aftermath from the Cabinet Office suggested that some measure of culpability had to be recognised. Underneath, handwritten, was a sentence from the Prime Minister – Thatcher herself – that this was not to be done as it would blame the police. The police could never be blamed.
When she died people frowned at the people of Liverpool celebrating her demise. This is only one reason why.
It's important to know that not everyone fell for the government/police/Sun cover up and it was not just those associated with Liverpool who saw the truth. In 1981 Tottenham played Wolves at Hillsborough in the semi-final and was a 'near miss'. For years they'd called it a death trap. The cover of the excellent UK publication 'When Saturday Comes' featured a front page where all parties denied the blame only to show a terrace with a speech bubble saying 'it must be our fault again.'
I'll come on to the cover up in the next section but I want to devote some words to the FA. They set the ball in motion for the crimes of Hillsborough yet are still unchallenged. They cannot be tried as there was no charge of corporate manslaughter back then.
When the cup draw was made Liverpool's Club Secretary Peter Robinson, mindful of the problems with the 1988 semi-final, suggested to the then F.A Chief Executive Graeme Kelly that the game be moved to Old Trafford. The request was ignored. He then asked that, given the average attendance of both clubs, that the ends be switched so Liverpool could take the Kop end opposite the Leppings Lane. Graeme Kelly ignored this too.
Sheffield Wednesday's ground, Hillsborough, was substandard. Wednesday were not even in the top division, but Kelly wanted to share the glory of the semi-final around the league. He ended up doing the opposite. The word 'Hillsborough' now means more than being the home of Sheffield Wednesday.
The Leppings End of the ground did not have a safety certificate and hadn't done since 1979 and despite the broken limbs in 1981 and complaints in the 1987 semi between Coventry and Leeds United; the F.A saw no issue with selecting the venue again. You treat animals like animals after all.
The 15th April wasn't the full disaster. The dead, their families and the injured suffered horribly that day, but thanks to a cover up of Watergate proportions, they were made to suffer for the next quarter of a century thanks to a concerted effort to divert attention away from the criminals of the day. They were vilified, laughed at by today's Prime Minister and denied fresh enquiries. Even when the Conservative Party lost the 1997 General Election their replacements looked another way, despite over 450,000 documents telling the truth being available. This is the second part of the Hillsborough Disaster.