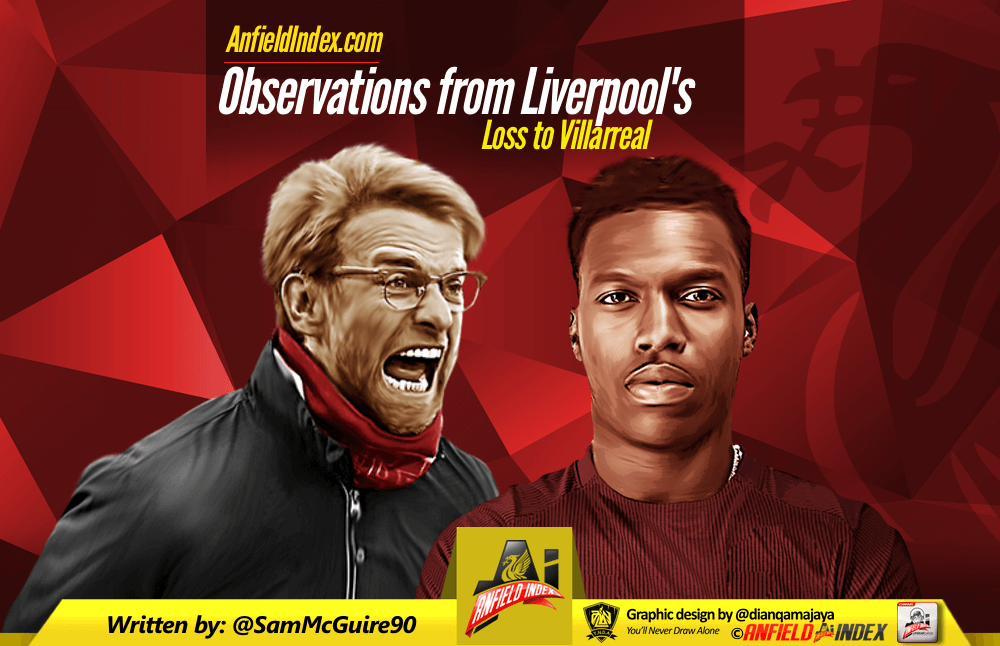 Observations from Liverpool's loss to Villarreal

It was almost the perfect European away leg.
Jurgen Klopp sent his Reds out with a game plan and they were so close to executing it to full effect. It was a disciplined Liverpool side. It wasn't a boxing match like the Dortmund tie were both teams went at it blow for blow. This was more of a chess match. Each move carefully thought out. Whoever blinked first would lose.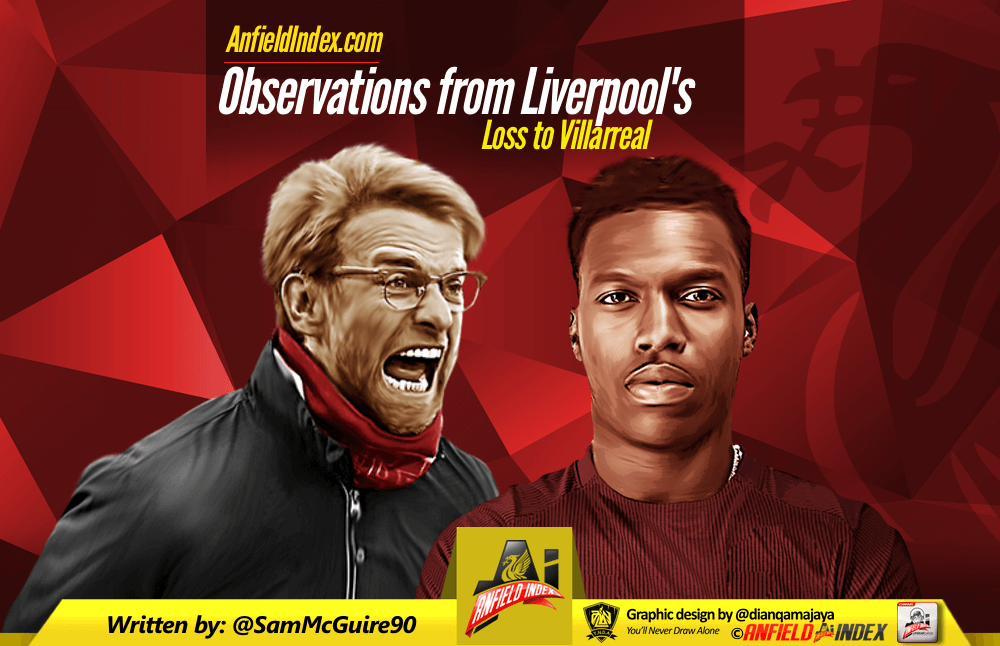 Unfortunately for Liverpool about half of their team blinked simultaneously and Villarreal were able to take advantage of this, in added time, and take a 1-0 lead into the Anfield leg next week. Did they deserve it? Probably not. Did they take their chance? Emphatically.
It was a bitter defeat to take. All defeats are but losing in added time always seems to knock the wind out of you. It's basically a kick in the balls. Mass hysteria online followed as you'd expect with few people looking at the bigger picture. Liverpool went to a side who had beat Real Madrid, Atletico, Bayer Leverkusen and Napoli and only lost 1-0 despite fielding a decimated side. No Mamdou Sakho, Emre Can, Divock Orig or Jordan Henderson and Daniel Sturridge didn't start having played the entire 90 minutes on Saturday. Those four are arguably guaranteed starters.
Liverpool gave a good account of themselves given the circumstances yet how some are carrying on; on social media you'd think we'd just lost to a Conference side.
Jurgen Klopp is the boss. Klopp is going into matches with tactics in mind and he's selecting the team based on that. He's not the sort to pick players on reputation or show favouritism and make them fit into a disjointed and unbalanced XI. It's a trait that's got us to where we are yet some fans still question his selections? Daniel Sturridge is our best striker, there's no doubting that, but it doesn't mean he's the best striker for the team that Klopp picks. It's simple. Let him do what he's doing.
Liverpool desperately need a controlling midfielder. In recent weeks the side have used James Milner in a midfield two and he's had a torrid time defensively. Lucas in a midfield two seems to struggle just as much. With so many injuries Klopp's hand was forced and to add balance to the midfield, something needed against Villarreal who are always eager to counter, Liverpool lined up with a midfield three.
This move meant the team sacrificed an offensive player. In this case Sturridge missed out. In the Summer window Liverpool need to address the issue of controlling the midfield with just two players. Whenever Liverpool play the two man midfield now it's all a little fragile and much of the workload seems to fall on an individual.
Villarreal's two man midfield had balance and did a good job against the three of Liverpool's. When's the last time a Liverpool two really held their own against a three?
Daniel Sturridge hysteria. It's unnecessary. People need to understand that Klopp still doesn't have the players he wants. As things stand his trusted tactics seem to use a much more mobile forward in big games but come Summer he may sign players who would accommodate for Sturridge's inclusion from the off. Perhaps a better balanced midfield allows Sturridge to start? Writing off his time at the club is premature.