The blame game is funny. Liverpool lose and it's almost like some fans go out of their way to criticise a player they dislike even if their only at 10% fault for the goal that lost the Reds the match. Narrow minded doesn't do it justice. Like a bull locked on to a red flag, they'll carry on after it no matter what or how many obstacles you put in their path.
It's a bit of a self destructive trait. It really highlights the fact you have a clear agenda when it comes to a player and that you're a bit of an ostrich.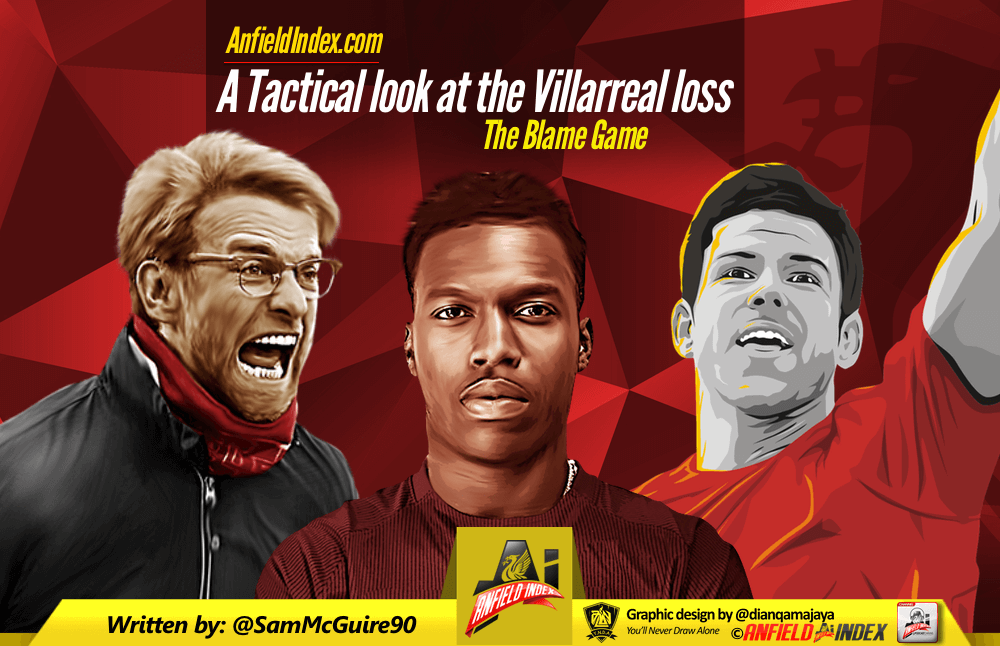 The reaction to the defeat to Villarreal is a peculiar one. Given the circumstances a 1-0 loss away to a side that's registered wins over Real Madrid, Atletico Madrid, Napoli and Bayer Leverkusen with a depleted side isn't the worst result imaginable. Perspective is needed. If you're away from home in Europe without the spine of your team it's going to be an uphill struggle but Liverpool did a professional job and a 1-0 loss was unfortunate.
Looking on social media you wouldn't know.
Well followed accounts saying Liverpool played shit. A narrative, started by the media, was evident in regards to how Klopp was treating Daniel Sturridge and how the German got it wrong on the night. Unwarranted criticism of certain players. It's a bit of a mess. But that's the normal sort of aftermath following on from a Liverpool loss.
First up the Daniel Sturridge issue. Fans seem convinced had the striker started Liverpool would have scored. There's no way to disprove. However would Liverpool have been so defensively good as a team has he started? There's a stat going round that Roberto Firmino, striker for the evening, won the ball back ten (10) times on the night. He was fairly influential off of the ball in second half as Liverpool seemed pretty controlling. Would Sturridge have offered that? He'd have changed the complexion of the game entirely. He's by no means lazy but is his defensive work as good as Firmino's?
Another aspect that should be considered is had Klopp attacked from the off and went with a 4231 formation as many wanted, then Liverpool would have been exposed and vulnerable to the counter for the entire game. Real Madrid arrived at the El Madrigal looking to attack and with their vast array of talent walked away with a loss. You can't go in all guns blazing, especially when you're already down to the bare minimum with so many injuries. A considered approach was neccesary and that's exactly what Klopp gave us.
Had it not been for that massive brain fart in injury time it would have been a good result.
Alberto Moreno.
People often accuse me of over analysing matches and goals but the Irony is when these same people are criticising Moreno they go to some extreme lengths to do so. They ignore the obvious. If Moreno is advanced in the dying stages of the game they'll hone in on that and mention it as opposed to acknowledging the fact the entire team are advanced and Moreno isn't sticking out like a sore thumb.
Don't get me wrong, if Moreno had a brain he'd be deadly. He's by no means perfect but if you went off what's written by many on social media you'd assume he was a Sunday League player. It's easy to understand why fans don't like or trust Moreno but some of the criticism levelled towards him is nothing more than lazy.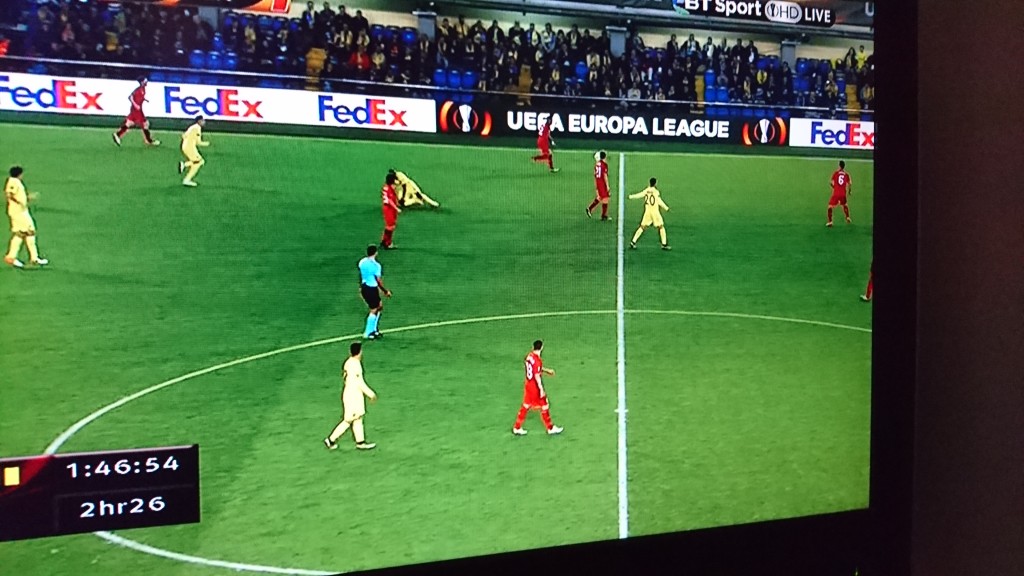 As Liverpool started to control the game they changed the system in defence. Instead of it being a 41 sort of formation it was one fans witnessed earlier on in Klopp's reign. It was more of a 23 system with both full-backs pushing on so as to make a three alongside Lucas ahead of the two centre-backs. Then as the full-backs pushed on Lucas would drop between Dejan Lovren and Kolo Toure to make a back three at times.
It's a tweak that in theory means the full-backs are able to support the attack much quicker and the 'wide' players are able to move central and overload that area knowing there will still be width coming from the full-backs. It's only a 20 yard different in starting position but it has an impact on the attack.
If Moreno was really out of position as many like to imply why would Clyne almost be mirroring Moreno's position? Instead of it being an individual error is it not a team tactic? On top of that for large parts Moreno was deeper than Clyne.
The Goal
The goal that Liverpool conceded to lose the game arrived after a collective of individual errors.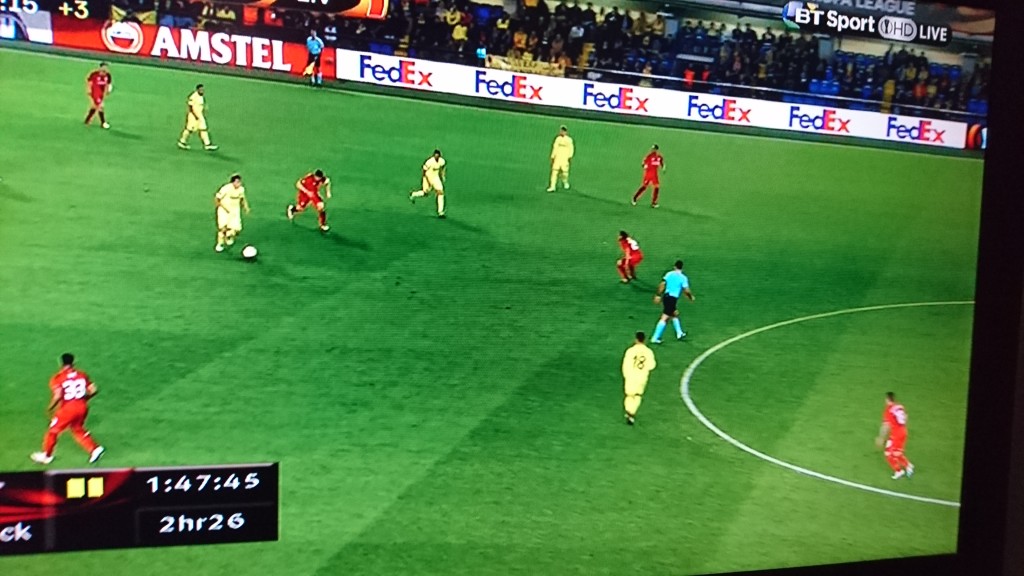 As so often happens with Milner when central he presses by himself and breaks the shape of the team. Whether that's because he's not thinking or because the rest of the team didn't respond to the trigger is up for debate. Originally Milner was to the right of Allen. The Welshman then moves over to cover him but the quick pass from Villarreal leaves him in no man's land as they pass the ball to Suarez.
Had Milner not gone to press Allen wouldn't have shifted to the right and he may have been able to cover Suarez who had drifted in field.  Ideally Allen would be to the left of the referee in this still and Milner would be where Allen is.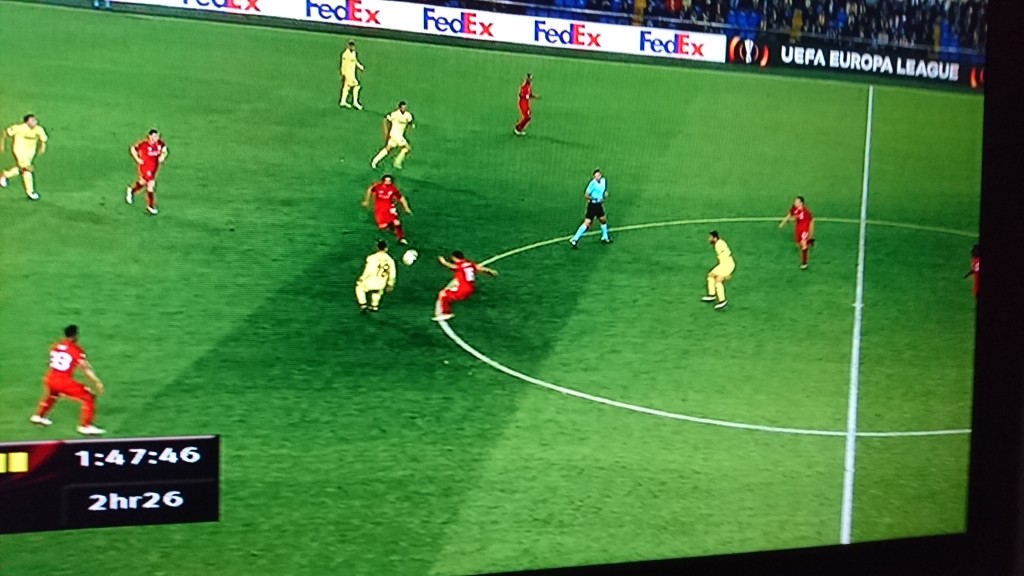 Liverpool's midfield is taken out of the game completely and Alberto Moreno tries to stop Suarez being able to pick the ball up and turn. When Klopp was appointed there was a lot of talk about gegenpressing. Pressing the ball after losing it in the hope of two things – 1) you win the ball back in a good position to start an attack or 2) you stop the team from being able to counter attack.
Had Suarez picked the ball up and freely turned on it then Villarreal would've had four quick players running into the Liverpool half with only Moreno, Kolo, Lovren and Lucas back.
Moreno shouldn't dive in there like he does but there is logic behind him attempting to make such an interception.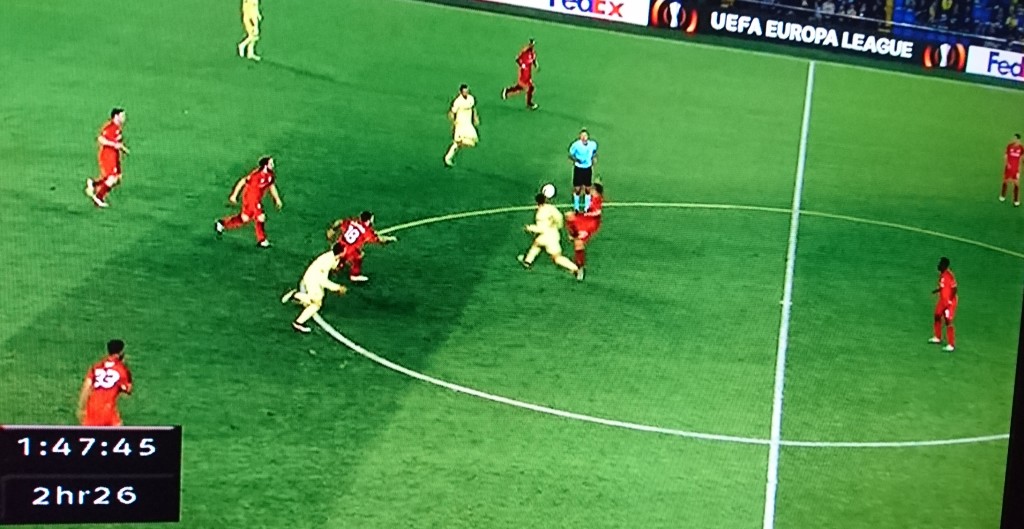 Lucas'/Milner's error is next up. The ball played to the Villarreal player isn't the best but Lucas' decision to attempt to shut him down makes the decision to flick the ball on instantly an easy one. Had he stayed where he initially was he then Bruno, who receives the headed pass wouldn't have had all of that space to run into.
However, had Milner tracked his man, Bruno, the Villarreal captain wouldn't have had the time or the space to pick out the early pass. Why Milner is so central in the still is a little confusing give he should be in the right centre-midfield role.
It was a poor goal to concede and one that could've been easily rectified. Blaming it solely on an individual is petty when it's clear a number of players could've done much better. Fans need to stop making it about individuals and more about the team.