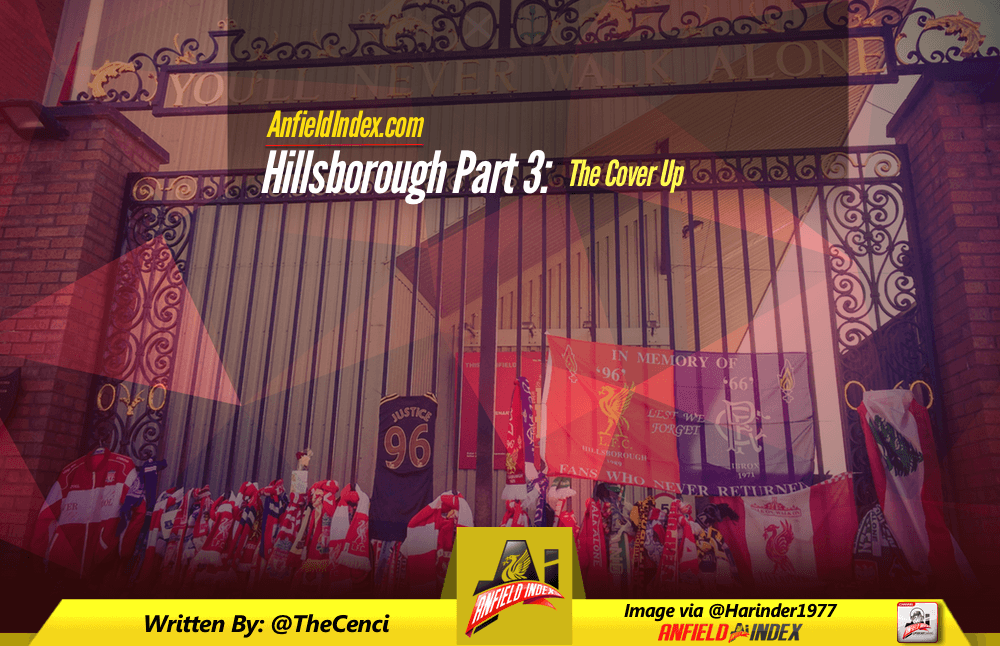 Hillsborough Part Three: The Cover Up

'If it wasn't for the Scousers we could stand.'
In January 1990, a mere eight months after the Hillsborough disaster, Lord Justice Taylor published his findings in what became known as The Taylor Report. The two headlines, as it were, were plain and simple. Firstly, the disaster was caused by a lack of police control and a dereliction of responsibility. Fans had nothing to do with it at all. Secondly, it recommended that football stadia become all-seater and thus abolished the long history of standing at the match. Old Trafford and Highbury were among the first to convert their larger standing terraces – the Stretford End and the North Bank – to seated areas. We followed at the end of the 1993 season. The Kop was no more.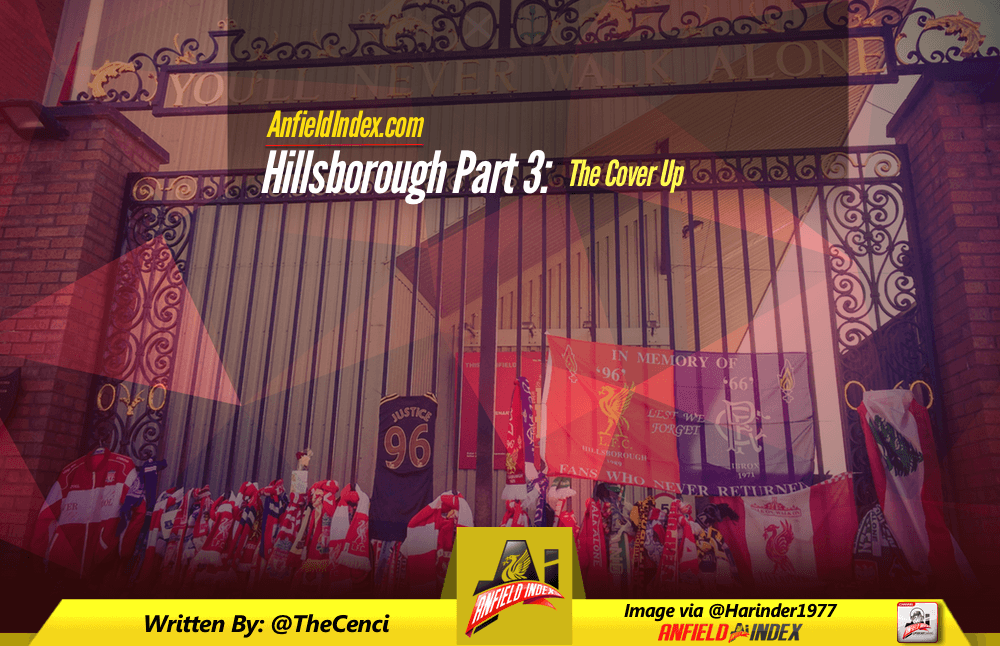 One ground that was changed immediately was Hillsborough itself. The area was sealed off as it were under investigation and one wall had been damaged due to the overcrowding and aftermath. The then Sheffield Wednesday chairman, Bert McGee, wrote to the FA with claims of compensation as the attendance was reduced, staff morale was low and, obviously, there was a need for more police. Sheffield Wednesday played a home game with Middlesbrough not long after the disaster and the away section had been reduced. He ended his letter 'I am not the kind of chairman who will latch on to every opportunity to secure a monetary advantage from our industry no matter how, but I do wonder whether or not in these tragic circumstances the FA can help Sheffield Wednesday.' Maybe this was a reasonable request but given the state of the ground with no safety certificate with families grieving because of the ground's shortcomings it was crass to say the least. I don't recall Mr. McGee refusing to let his ground be used for a semi-final because it was demonstrably unsafe.
As much as the report exonerated the supporters, the mud flung by the media still stuck. Not many rival fans/haters sat down to read the report and those that did simply ignored it. 'The Scousers brought it on themselves.'
Four months later, Dr Stefan Popper, the South Yorkshire coroner held his inquest to determine how the fans died. The West Midlands Police – the body put in charge of the enquiry- read out each victim's names along with their blood-alcohol level even those that were zero. Come August the Director of Public Prosecutions, Allan Green, announced that there would be no criminal prosecutions towards any person or public body due to a lack of evidence. There were actually 450,000 pages of evidence that was somehow ignored.
450,000 pages.
Popper's landmark statement was that all the victims were dead by 3.15pm so any inquiry into the emergency services after that time was deemed inadmissible. It was the cut-off point and meant, between himself and the DPP, no one would be prosecuted or even investigated. Kevin Williams, son of the campaigner Anne Williams, had a pulse at 3.40pm and asked for his Mum before dying at 4pm. Inadmissible. In 2012 it was revealed that not only were some of the 96 still alive after the cut-off point, but 'up to 41' could have survived had the emergency provision been up to scratch. It was later revealed that Kevin Williams' life was the most saveable. Still, Popper and Green had spoken. The reason for death was given as 'traumatic asphyxiation' and the verdict was 'accidental death'. No one would be so much as interrogated. As far as they were concerned, the matter was closed. The families would have to get over it.
They didn't.
The whole verdict and subsequent lack of blame looked like collusion and these were a group of people who were unlikely to sit back and take it. Within months they congregated and decided to take on the authorities. The police, the courts, the media and, yes, the Thatcherite government. Later this would include the Blairite government. A tall order.
Firstly, they contacted other coroners and medical experts to see if the cut-off point was at least challengeable. It was. The families of six victims petitioned the Attorney General with a view to securing a new, and fairer, inquest. They were dismissed as 'not being in the interest of justice' which was true albeit from the other side of the power divide. They certainly had no interest in justice. Undeterred the families carried on for another two years.
In November 1994 Anne Williams managed to secure a Parliamentary debate after fresh evidence came to light. An ambulance driver came forward and said that he'd managed to make it onto the pitch by 3.35pm, once he'd broken through a cordon of police officers. The authorities had denied this as it would have shown that people were still receiving aid well after the cut-off point determined by Dr Popper. Furthermore, there was television evidence to show that he was there. Other people came forward, including the Special WPC who heard Kevin say 'Mum' shortly before he died at 4pm. This was in direct contradiction to the Popper inquest. A concrete fact backed up with video. Furthermore, the ambulance driver was never called to the original inquest despite, or possibly due to, being able to refute Popper's claims.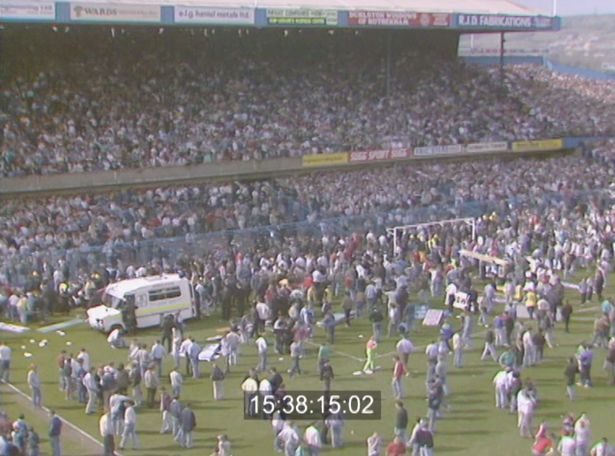 Picture via Liverpool Echo
The Attorney General refused a new inquest.
1997 saw the end of an eighteen year Conservative term of office. 'New' Labour swept to power and there was an air of hope and expectancy. They knew that the families were right. They knew they had been besmirched by a government and media while having more than enough evidence for a new inquiry. Home Secretary Jack Straw appointed Lord Justice Stuart-Smith to examine the affair.
Here was a chance to achieve justice through a sympathetic government. Stuart-Smith turned up in Liverpool to meet the families. He asked one man
'Have you got a few of your people here or are they like the Liverpool fans, turn at the last minute?'
He would go on to say that there was nothing significant in his findings and Straw turned down the appeal.
Nothing significant.
450,000 pages.
Would you give up now? This was eight years after the event and they were having the door shut in their faces time and again. They were being told to 'just let it go.'
The next course open to them was a private prosecution. In 1998 they brought David Duckenfield to court along with Superintendent Bernard Murray. Murray was found not guilty of manslaughter and the jury were unable to reach a verdict about Duckenfield – a man who later admitted to lying. The judge ruled out the option of a retrial.
Let's move to 2006. The disaster now lay 17 years in the past and all hope looked lost. Anne Williams had a third appeal turned down but found a fresh body to address – the European Court of Human Rights. She petitioned them to have her case heard. Three years later, she was told that she should have lodged her appeal in the months following Stuart-Smith's examination of the evidence and that she had ran out of time. They took three years to come to that conclusion.
One hand washes the other.
Then, something changed.
At the twentieth anniversary memorial service at Anfield, Andy Burnham MP gave a speech in front of the Kop. He was passing on the thoughts of the Prime Minister, stating that the 96 will never be forgotten, when a lone voice shouted 'Justice!' The video is on YouTube and it's hard to say whether it was a general shout or an answer to what the Prime Minister could do with his thoughts. They didn't want condolences. They wanted justice. Soon the Kop stood up and sang 'Justice for the 96.' Burnham bowed his head, clearly in agreement. I can't watch that footage without tears. It was the voice of a group of people who were sick of being fobbed off by an uncaring government. It was tired of being paid lip service time and again when real justice and sympathy were denied them. They wanted the truth to be known.
You know what happened next. Andy Burnham persuaded Gordon Brown to release   all of the Hillsborough documents so they might be examined by an independent panel. Finally, a government had agreed to take a new look. It took twenty years.
I was working in exhibition sales in September 2012 and was 'onsite' at the N.E.C Birmingham when the news broke about the Hillsborough Independent Panel's findings. I was sat in a bar with my mate Guy, a fellow Scouser, after a long day and with many miles walked. We just wanted a quiet pint and something to eat before doing it all again the following day. We both wanted to drive back to Liverpool and – celebrate seems the wrong word, somehow- do something. We didn't know what. Just something. We wanted to be home with our people.
I could understand why people were jubilant. I wasn't though. I looked at my Facebook entry for that day recently. It simply read 'Bastards'. I wasn't ecstatic. I was furious. They knew. They'd always known. They denied hearing after hearing citing a lack of evidence that was under their noses all of the time.
The true findings were horrific. As many as half of the victims could have survived with adequate medical attention. 164 witness statements had been altered, the majority of which had had criticisms of the South Yorkshire Police inexplicably redacted. Perhaps the most sickening detail in all of those pages was that children were given blood alcohol tests. Children. Furthermore, the national police database had been used to run checks on the victims in order to 'impugn their reputation'.
Irvine Patnick MP, the man who had passed on erroneous information from the police to the media died shortly after the findings.
Then came the apologies. David Cameron, who had earlier said that the search for justice was akin to ' a blind man, in a dark room, looking for a black cat that isn't there,' Sheffield Wednesday FC, Kelvin MacKenzie (later refuted) and, finally, finally, finally, the F.A. None of those apologies meant a thing to me. Those who were there did nothing to change what happened and admit culpability. Those who came after protected those who came before.
Tuesday's verdict means that the Crown Prosecution Service must decide about criminal charges. The fight goes on, but now, at last and forever, it can be acknowledged that the people who died were unlawfully killed. No accidental deaths, Dr Popper. Killed.
Those who fought so long for justice have found it. Those who were negligent in their duties, who lied, who covered up, who smeared reputations and who fought for decades to withhold the basic right of equality and justice have now been identified and must be made accountable. This isn't the end of Hillsborough.
Finally, the families can rest. They overcame hardship, slammed doors and a system which denied them everything yet still won their day. It took too long and not all of them survived those years, but what they have achieved is incredible. Simply incredible.
Hillsborough was never about football. What happened in that ground that day could have happened to anyone. The horrors of that day are not limited to the deaths of innocents. It includes the demonstrable fact that those in power, those with much to lose, covered their backs through institutionalised lying and covering up. One hand washed the other, be it from police to Prime Minister through courts and media. They did this and they nearly got away with it.
Accountability must come next.
Justice and accountability for the 96.
Karl Coppack