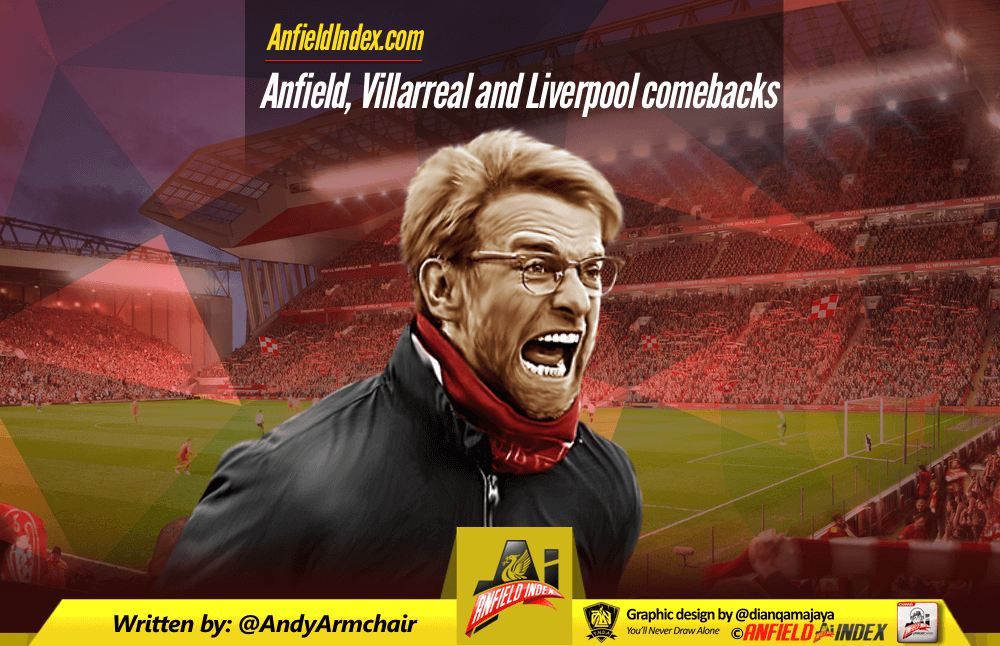 Anfield, Villarreal and Liverpool comebacks
Liverpool's Europa League semi-final first leg was less party and more party poopers, where losing an injury time goal felt like a kick in the guts. Disappointing? Yes. End of the world? No. Some of the response it invoked on good old social media was disproportionate to say the least. Have some people forgotten the less than care-free route we've travelled to even get this far?
It was not a great match to watch, actually it was pretty stagnate and at times was almost reminiscent of some performances away from home in Europe under Rafa Benitez. Rafa was not concerned by aesthetics; European away matches were usually about keeping it tight and turn on the style at home. Of course, Rafa had a better defence and midfield to work with than what Jürgen Klopp currently has at his disposal and pre-seasons to drill and organise them into his system.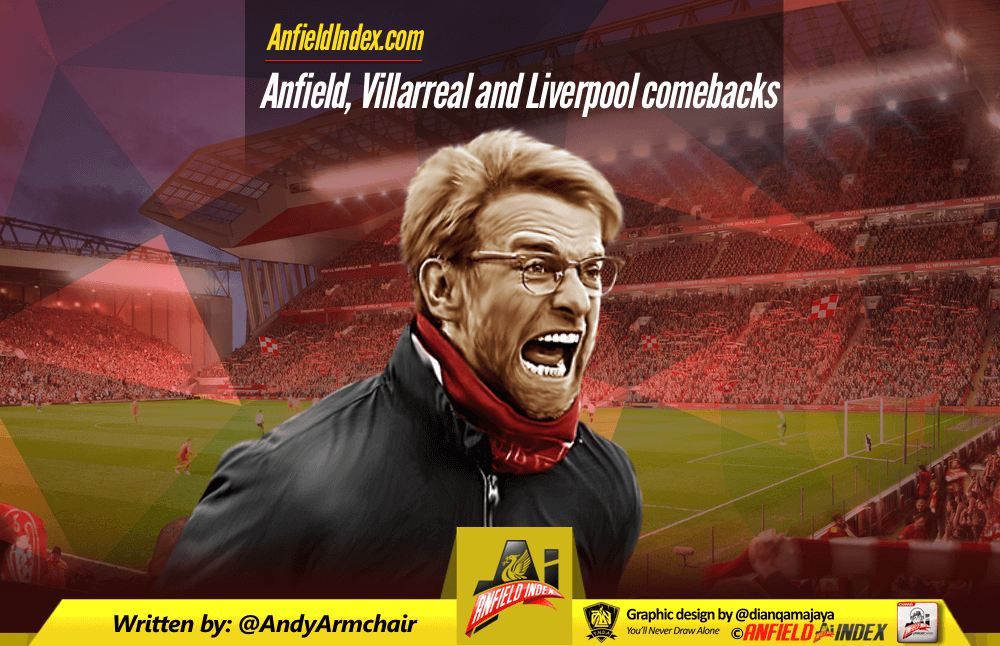 As a consequence, Klopp is making the best of what he's inherited for now and game plans will not always be executed quite how he wants until he has more of the players that can deliver what he expects. Be that the flow of attacking moves, defensive structure or the pressing system he favours. We have it in patches, but not to the degree or consistently enough to fully implement what he was achieving by his third season at Dortmund.
One thing that has started to change is the mentality and belief within the squad. A deficit no longer means a likely crumbling of confidence because the comeback is back on the menu.


Above are the stats covering games in which the opposition scored first and just how many of them Liverpool came back to win. The difference in figures may not seem significant at first glance, but it is an indication that things are changing. With much the same squad last season, opponents took the lead on 11 occasions in the Premier League and Liverpool only came back to win 1 of those games. That's right, only once. With predominantly the same players, that same mentality persisted at the beginning of this season. Losing the lead meant a win was highly unlikely, the players knew it and the fans knew it. It's the wrong type of expectation. It's what Klopp what talking about when he spoke of turning doubters into believers. The players needed the transformation as much as fans, probably more.
There's still work to do, the goal conceded was evidence of that. Alberto Moreno has been getting the majority of blame for it and whilst he certainly played his part in it, he wasn't the only one culpable. Yes, he was way out of position and could've done much better getting back, but the entire midfield were also caught hopelessly on their heels. There was also the breakdown between Kolo Toure and Dejan Lovren that saw Lovren step up as Toure retreated and then saw Toure get caught in two minds when the opportunity was there to deal with the through ball. Finally, the lack of tracking back with runners was disappointing; it was a disappointing goal to concede for multiple reasons. Truly, it was a collection of errors at the worst possible time and one that can't be repeated in the second leg.
Klopp received criticism for his approach, selections and substitutions, most notably for the omission of Daniel Sturridge from the starting line-up and failure to bring him on. Personally, I'd prefer Sturridge on the pitch, but did suspect we would use Roberto Firmino as a false nine in the absence of Divock Origi and I'm not sure that would've been a match that would have suited Sturridge, given how we played. Klopp is not infallible, he will get things wrong from time to time and perhaps deviating from his natural approach and playing more inhibited was a mistake. He is honest, humble and big enough to know in himself if he's got it wrong and will certainly look to put it right.
His post-match press conference suggested to me that he will be up for the second leg in a big way. He has not got this close to the Europa League final to just give it up with a whimper. You can guarantee he will be pumped up for the return at Anfield and will be getting that across to the players. It just needs the fans to do the same, to deliver an atmosphere like the second leg against Dortmund.
As much as we'd like to have come away with a clean sheet and an away goal, it's not what we got and now we're up against it. But, we don't do easy, we don't do simple or straightforward; we revel in adversity. So, just like Jürgen, we prefer a ball-out, good old fashioned gun fight at high noon. Villarreal celebrated at the end of the first leg, we've shown we are capable of coming back from a deficit and it's time to believe we can do it again and be the ones doing the celebrating this time.