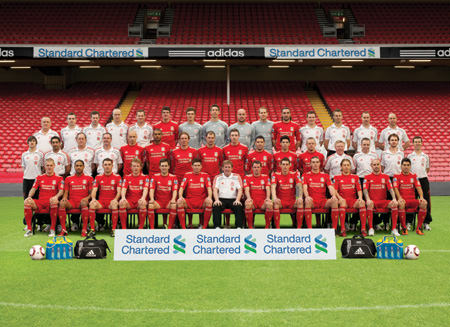 What Liverpool FC need (Part IV) – A Winger
We could sit here all day, and debate what areas of our current squad needs strengthening. We could also discuss potential targets, and how realistic a chance of a certain team accepting a bid, and a certain player joining.
In fact, I have read many a debate on the the forums here (Anfield Index Forum), I've had many a discussion over a beer, and hear various shouts on the terraces at match days. In these discussions, I think there is a general consensus of what areas we desperately need, and most seem to agree. So, this 4 part series will concentrate on the following:

The format will be simple. I will analyse who we currently have, and why it does need strengthening. And then, I will look at options in the Premier League who could potentially step up. Now, these are not players I have selected. Also, these may not be the players that we sign. However, we have been strongly linked with all 4 "options" and there is no secret of our interest. We may sign them, we may not. I am certainly not saying we will.
Also, of the "Current Squad Options", I will only include players who have the position as their position (or played consistently in that role). Players like Wilson and Carragher wont be included at left back, for example.
A winger. Something we have needed for far too long. An area of the pitch where we have had square pegs in round holes. In recent years, only Pennant and Riera could fit into the traditional "winger" definition, and neither were consistently at the level that we would need, to take us to the level we are aiming for.
So, why do we need a Winger? And why, after more signings than I can think of, from Leonhardsen to Babel, have we not had a traditional winger of high quality, since Steve McManaman in the 90's.
What is a Winger?
Before I explain why we need one, I think here it is important to define what a winger is, and what key qualities one needs. I refer to the Wikipedia definition:
"Wingers often try to use pace to exploit extra space available on the flanks that can be made available by their team-mates dominating the centre ground. In sports where the main method of scoring involves attacking a small goal (by whatever name) in the centre of the field, a common tactic is to cross the ball to a central team-mate."
In the 60's we had Callaghan. In the 70's we had Heighway. In the 80's we had Barnes. In the 90's we had McManaman. These guys all could dribble with the ball under control, had blistering pace, and could deliver a final ball that made it easy for someone to get on the end of, and knock in for a simple goal.
There has been no winger to define the previous decade, for a couple of reasons really.
Firstly, the winger role, has evolved. Our best "wide midfielders" of the last 10 years, have been the likes of Luis Garcia, Benayoun, Smicer, and Kuyt. Many of whose starting position was out wide, but often did their best work in the centre. While they could deliver a decent ball, they are not renowned for getting down the wing, to the byline, and deliver a dangerous ball into the box. But still, we had some success with them in the side, so why do we "need" a traditional winger now?
Well, lets look at some our rivals. Manchester United have Nani, Arsenal have Walcott, Manchester City have Adam Johnson , and Spurs have Lennon and Bale. These are all examples of good players, all who have pace, all who can cross, and all who can beat a full back.
Manchester United also have Giggs (older Giggs), Arsenal have Nasri and Arsharvin, and Manchester City have David Silva. These guys are more "21st century wingers". What I mean is, these are all excellent footballers, who have a little bit more to their game, than the traditional qualities. They can beat a man, and they can create opportunities. But they have so much more than that. Only Spurs lack this option out wide, but they can (and have done) played Modric out wide, who will give that extra bit of guile, if needed.
Only Chelsea is missing from these top teams. They have Malouda, Kalou, and Benayoun as their "wide" options. All of which probably fall into the modern winger category. However, Chelsea when they were at their best (around 04-06), they had Robben, Duff, and Cole. A mix of old and new (in terms of winger style).
So, in the main, the best sides have a mix of traditional wingers, and modern wingers. Depending on the game, who they are playing against, and what the team needs, will depend who plays. You may see both types, you may see one or the other. For too long though, we haven't had that option of a traditional winger, and to take us to the next level, I do feel we need.
Here I will analyse our current "wide" players, none who really fit in the traditional winger category, but it will demonstrate what is missing from our squad. And then, I will look at a potential answer.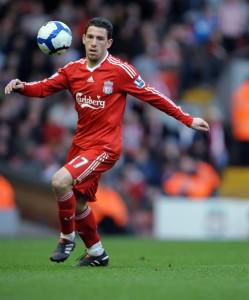 Maxi Rodriguez (Age 30)
As the song goes "Maxi, Maxi Rodriguez, run's down the winger for me". So, fitting that he is the first player we look at. However, in the traditional sense, Maxi doesn't do this so much. He averages a successful dribble every 260 minutes. That is roughly, one successful dribble, every 3 games. Not great at first glance, but what does Maxi give us?
Maxi has an excellent pass completion this season, 83%. His final third pass completion is even more impressive, at 80%. To consistently find a team mate, in the final third of the pitch, is far from easy. But what about the passes themselves, just how creative is he?
In terms of direct assists, Maxi hasn't had one in the Premier League this season. To his credit though, he creates a chance for his teams mates every 57 minutes, which isn't too bad. Of the 32 chances he has created this season, 29 of them have been saved, which says he is playing the right balls, allowing whoever to shoot, but the chances just are not being converted for whatever reason. But still, it would be nice to see a few direct assists from Maxi before the end of the season.
So, lets have a look at a chalkboard for Maxi. As always, it will be a game under Kenny's reign, and I will look at a game which his starting position was "out wide".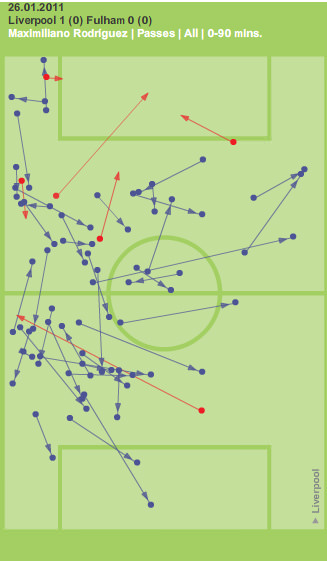 Maxi V Fulham (H) – A passing chalkboard, with 87% pass completion. Impressive at first glance, but lets look a bit deeper…
87% pass completion is excellent from Maxi, lets not take that away from him. But in this example, he failed to find a pass into the box, the whole game. Only 3 failed attempts  (the red arrows pointing into the box). Looking at the successful passes though, and you see that many were short, to retain possession. However, not once did Maxi make it to the byline, and put a delivery into the box.
Maxi has however, scored 6 goals himself in the league this season. That equals a goal every 302 minutes. He has a chance conversion of  11%, and has a shot on goal, roughly every 35 minutes. Not great, but not bad. Against Birmingham recently, he found himself getting in the box much more. Something I would like to see Maxi do going forward. However, he isn't renowned for his goal scoring record. His career record is 1 goal every 4  games. For us this season, he is roughly at that (6 goals in 25 games). So, if he can maintain that ratio, then it will always help.
Now,  it doesn't take a genius to figure out he isn't the "traditional winger" type. What Maxi lacks in blistering pace and creativity though, he more than makes up for in his ball retention. This, like Lucas, should not be under estimated. In a team which, going forward, will rely on possession of the ball, pass and move, Maxi will be a good option to have in our squad.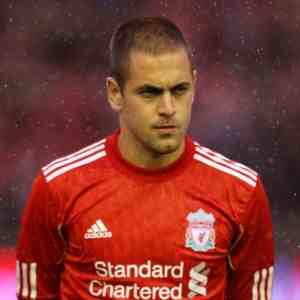 Joe Cole (Age 29)
When Joe first burst onto the scene, he was regarded as the brightest English talent for many a year. His generations "Jack Wilshere" for those who are a bit younger than I. However, I think it i fair to say, he hasn't quiet lived up to his billing.
The problem with Cole has been, injuries. When he finally gets a good solid 18 months under his belt, something happens, and he is out of action for a while. A struggle to find fitness and form, means that a poor spell can go on longer than just the injury itself. This is the story of Joe's career, and in the main, the story of his Liverpool career.
Just 8 Premier League starts for Cole this season, with 8 appearances from the bench too. It just isn't enough from Joe, which is such a shame. There is no doubt, when he gets his head on it and finds his form, he can be excellent. But, at his age now, do we have time to wait for Joe to come good? Lets have a look at the all important stats.
He may not be the quickest, but he averages a successful dribble every 102 minutes. Much better than Maxi, in fact, almost 3 times as good. But what about the other areas?
Joe has a very good 78% pass completion, which for an advanced player, is solid. His final third pass completion is 73%. Again, respectable. However, a chance created every 102 minutes, isn't so impressive (to his credit though, he has 1 direct assist).
So far then, Maxi seems to be doing everything Joe can do, but better. But how do their roles differ on the pitch, and what positions will Cole take up, that Maxi doesn't? A chalkboard should tell us this.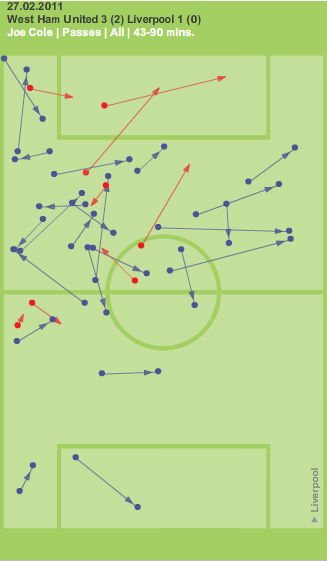 Joe Cole V West Ham – he came on for the injured Martin Kelly on 43 minutes.
As the chalkboards (and AnfieldIndex Opta Stats) are available for the Premier League only, I struggled to find a match in which Cole played a significant role in (with Dalglish as manager). Against West Ham, he came on the pitch on 43 minutes. In that time, he attempted just as many balls into the box as Maxi did in a full 90. His pass completion of 75% is roughly in line with his season accumulative stats.
The most striking thing about this chalkboard (and Maxi's) is how similar they are. Of course, over 90 minutes, Maxi attempted more passes. However, the areas of the pitch they happened in, and their general range, are very much the same.
As an attacking threat himself, Joe Cole averages a goal every 358 minutes. If we assumed he played the same minutes this season as Maxi, he would have 5 goals. So, in terms of goals, not really that much between them. His chance conversion rate is like Maxi 11%, and Cole has a shot every 38 minutes. His goal/game ratio is slightly better than his career, where he averages a goal every 8 games. Never in a full season (all competitions) has he ever had a better ratio than 1 in 4, his best being a goal every 4.18 games.
So all in all, Maxi and Cole offer us very similar qualities, but also the same limitations. Considering their ages, and style of play, I feel there is only room for one of Maxi or Cole in our squad. If you consider we will likely be making an addition, then something has to give.
Maxi appears to do everything that Cole does, and in many of the key areas, he has been better this season. Of course as I mentioned at the start about Joe Cole, much of his poor season can be down to his fitness. This is a trait consistent throughout his career. If he could stay fit, then maybe he would equal (or better) what Maxi can do. However, at his age now, we can't afford to wait for him to come good. If we can get a fair price for Cole, then I feel he may be surplus to requirements.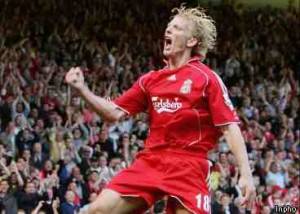 Dirk Kuyt (Age 30)
Dirk Kuyt. Probably the definition of a square peg in a round hole. However, he doesn't half do a bad job at it does he?
Now, when looking at his season statistics, it is worthwhile remembering, he has played up top at times too. So, much of his passing, shots, created chances, and goals, may have not come from him starting in the wide areas. However, in 2008/2009, when Kuyt played consistently out "wide", he had arguably his best season, so it is a role he knows well.
Unlike the others, he isn't even a modern day winger. He is more of a forward, who has been played out wide. This is a role he has done on the international stage too with Holland, and over the years, he has kept many a "future Dutch superstar" warming the bench.
His dribble skills are not his best attribute, but that is not his game. He averages a successful dribble every 111 minutes, which isn't too far from Cole, and much better than Maxi. Considering they are more like "modern day wingers" Kuyt isn't doing such a bad job, when compared with his team mates.
A 71% pass completion is the worst of the 3, but like I said above, you have to factor in when he plays up top too (where you would expect it to drop). His final third pass completion, as always as you get further up the pitch, drops to 67%. So his ball retention isn't so great over the full season. But Kuyt more than makes up for it.
He has 6 direct assists this season, the most for us in the Premier League. He creates a chance every 51 minutes, which puts him slightly better than Maxi. However, why does Dirk have 6 assists and Maxi has none? I don't think it is bad luck on Maxi's part, and I don't think Kuyt is lucky. Maybe Kuyt is creating the better chances for his team mates (at the end of the day, they are aiming for the same players).
So, the all important Chalkboard. Again, I will look at a game that Kuyt played under Dalglish, and played from the right hand side.
Kuyt' passing V Sunderland (A). How does this differ to Maxi and Cole then?
His pass completion against Sunderland was around his season average, 73%. However, Dirk seems to hug the touchline (with the ball), better than his team mates do. He has less tendency to drift inside. Now, without the ball, I think we all want to see Kuyt making his way into the box, because that is his natural instinct. But still, when playing out wide, it is important he doesn't drift too much. Meaning he is always an option, if he stays out wide.
He also attempted 3 passes/crosses into the box. One was succesful, which is better than the other two examples we looked at, but still not great. To his credit, he got a direct assist (and that pass led Suarez into the box), but for the purpose of crosses into the box, it doesn't count (as technically, the dot is outside, just).
So, from his passing season stats, and the chalkboard, he may give away the ball a bit more (not hugely different to Cole), but, will give us so much more in terms of creativity. He creates much more for his team mates (in terms of direct assists), and of course, he scores more too.
Now again, just to stress the point, many of Kuyt's goals may have come as a "forward". But for the purpose of this piece, I will look at them anyway. Kuyt has 11 goals this season, and a chance conversion of 20%, which is pretty good. He averages a goal every 223 minutes, or, a goal every 2.5 games this season. This ratio is the same as his career statistic (and remember, much of his career has been played up front for various clubs). So, Kuyt is still doing pretty well.
NOTE: Against Sunderland, where he played from the right, Kuyt had 2 shots (excluding the penalty), so a shot every 45 minutes. He scored of course, and got an assist. And, he scored the penalty (which goes down as a chance), so his chance/goal conversion was 33%. Impressive, but the penalty is a "free shot" remember. He created 2 chances during open play, one being the direct assist (so a chance every 45 minutes).
I put this brief here, to show his accumulative season stats are not as deceptive as you may think. Now, it would take me a long time to go through every game Kuyt played up top, and when he played from the right. However,  I would guess the following.
– His pass completion would be better from the right, than up top (only marginal)
– His goal/minute ratio would be less, but still better than Cole and Maxi
– His chance created/minute ratio would be similar
– His shot conversion would be similar
So Dirk Kuyt. I believe he has a key role to play in our squad going forward, and whoever we sign, will struggle to keep him out of the side. Of course, there is room for improvement here, and like the others I've already mentioned, he does lack a few of the key qualities a "traditional winger" needs.
Other Squad Options
We actually have very few. Only Jovanovic springs to mind, and he has hardly set the world on fire. He has struggled to make a big impact for Liverpool, and under Kenny, has been cast aside in the main.
Pacheco flirted with opportunities under Hodgson, but failed to impress out wide. He only had one or two mind. He is now currently on loan at Norwich, where he is steadily impressing. He may return to join the squad next season. If he does though, then he still isn't the "traditional winger", and his future may be down the middle.
Beyond those two, we have little or no one.
Next season, Andy Carroll will lead the line. You would expect Suarez to partner him. However, as mentioned in my Suarez and Carroll – The Partnership and its Progression posts, Suarez will roam, and in the main, has operated from the left (with Kuyt on the right). So, while Suarez wont be in the "winger" category, he may well take up the position (but more advanced), meaning we have another "winger" on the opposite side.
Finally, we have some promising youth players, but they are too young to be thrown in just yet. So, like my other reviews, the future looks relatively bright. But we need an option for the now.
What should we be looking for?
So, Maxi, Cole and Kuyt. Maxi has excellent ball retention. Cole likes to dribble. Kuyt is a goal threat. None of the three have blistering pace. So, the question is, what should we be looking for? Is it too much to ask for excellent ball retention? Creativity? A goal threat? Dribble skills? As well as a bit of pace too?
Well, as much as it pains me to do it, the best example of a more "traditional" winger is Nani. While I did refer to him as a traditional winger, he does have qualities of both the new and old. But he is this season, the best example I can think of to look at. I will also look at 3 other players from our rival teams, Adam Johnson, Aaron Lennon, and Theo Walcott. So, how do they fair in the key stats that we have looked at, against our current squad options?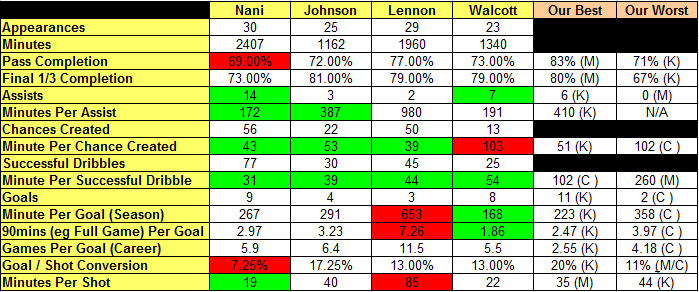 A table showing some key "winger" stats. K = Kuyt, C = Cole, M = Maxi. Green indicates "better than our best". Red indicates "Worse than our worst".
One of the key things a traditional winger needs, is the ability to dribble. Every single player is better than our "best" dribbler here. I don't think you needed the stats to see this, but still, it shows that a player who can carry the ball, and carry it well, is something we are really lacking.
Everywhere else is a bit of a mixed bag. In no other area does every traditional winger, do better than our best, so, we aren't doing to bad. The "best" is no doubt Nani, due to his sheer amount of green, and he only has two red stats.
His pass completion is worse than ours, but, Nani improves in the final third. His number of assists, and chances created, more than makes up for the odd stray pass though. He also has a poor goal/shot conversion, but he has by far the most shots. Many of these are from outside the box however, and he still has a decent goal return.
This shows though, no one is perfect (at least in the Premier League). No one will excel in every single area, and every players has a weakness. But, these so called "weaknesses" can be counteracted, by productivity.
Anyway, now that we have seen some of the best traditional wingers in the League currently, who will solve our problem? Who can beat a man with pace and dribble skills, yet still maintain a fairly high standard across the other statistics I have looked at? As always, there has been a link with this player, and one we may or may not act up on. However, lets see if he could be the answer…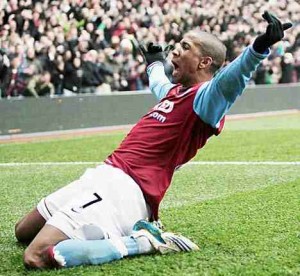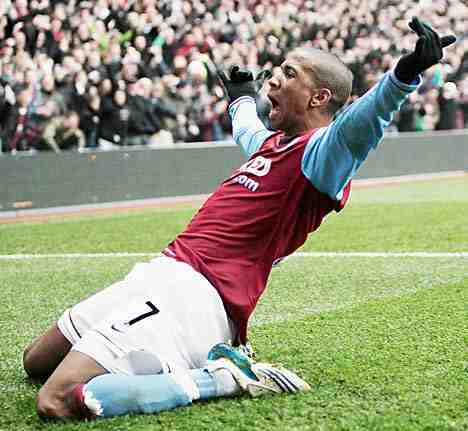 Ashley Young – is he the answer?
A player who we were heavily linked with in the January Transfer Window (by Tony Barrett in The Times). A player whose contract is due to expire at the end of next season. And a player who is 25 (aged 26 at the start of next season) who is probably ready for his next big career move.
It is fair to say, Young has some what stagnated at Villa. This is now his 5th season with them, and despite Villa flirting with a "top 4" push a few season ago, they always seemed to fall when the going got tough. They now find themselves struggling at the wrong end of the table, and Young maybe looking for that next career move. So for me, in that sense, he could be an ideal signing for us.
This season, in the main, he has played a new role with Villa. He has been playing off the striker, or more of a "free role". So, some of these statistics may not be true of a "winger", or his performance as a "winger" should I say. But, we will have a look anyway.
Ashley Young's season statistics, compared with our current options
As with the other players I looked at earlier, Young is better than our best in some areas, but worse than our worst in others.
The key stat we lacked though, the successful dribbles. Young hasn't excelled in that area this season, and I can't look at his accumulative of previous seasons. Now, I have seen Young play, and I know he has the pace to beat a man, and I also know he is good with the ball at his feet. When he playing more advanced though, maybe that is why he is dribbling less?
Now unfortunately, Young didn't play against us at Anfield, so I can't look at that game. So, I will look at one from this season (when he has played in his "free role"). Maybe this will give us some answers?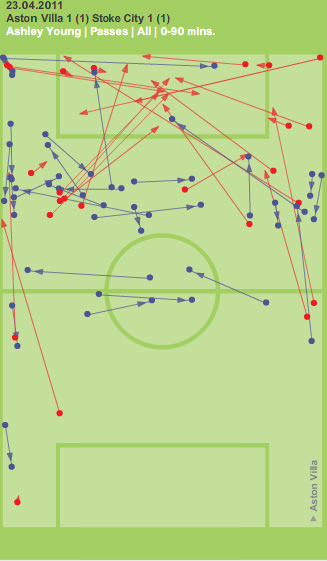 Ashley Young V Stoke in his "free role" this season

Against Stoke, you can see Young was popping up all over the pitch. His pass completion was pretty poor, at just 53%. But look how many of the poor passses were crosses, and many from deep. This I think would have been a tactic employed, as opposed to his main game. Like most quality players, his short passing game was very accurate.
While his crossing didn't find its target (i.e a Villa player), the delivery seems to be fairly consistent. Look how many arrows group on (or around) the penalty spot and 6 yard box. Now against Stoke, his delivery would have been into a very big, and robust defence. His targets were Emile Heskey, and Darren Bent. Who between them, won only 38% of their aerial duels.
So, if we give Young the benefit of the doubt, he was putting a solid delivery into the box. However, when his targets were winning just over 1/3rd of the aerial duels, he didn't have much of a target to aim for. Also, the fact he was crossing many from deep (unlike him, when I have seen him), maybe why he doesn't have so many successful dribbles this season. And against Stoke, he had none.
I think it is only fair I look at a game from last season, when Young was playing his more traditional role, out wide. How does that compare?
Young V Stoke in his "wide role", last season
Again, the chalkboard speaks a thousand words. This time, most of this play was down the left hand side (although he did have a direct assist from the right). His pass completion was up to 74%, which is much better. His delivery was consistent in its direction, to the penalty spot/surrounding areas, and would have been tough to defend against. His crossing was (in the main) from further up the field this time, and 3 of his crosses into the box, came from beyond the 18 yard line, and one of those was the assist. Unfortunately, there is no way for me to see how many dribbles he made in this game, or in the whole of last season, but I would certainly expect it to be much more than it was this season.
Summary
In my eyes, Ashley Young has all the raw materials to solve our "traditional winger" problem. He has pace, something that we do certainly lack in the wide areas. He would compliment well what we have already, as his main qualities are what we lack. He can provide solid delivery into the box, and providing his target(s) win their share of the crosses, then he will provide many assists I am sure.  I unfortunately have no evidence to support his dribble skills, and if he can average 2-3 successful dribbles per game (like Nani and others). But the evidence doesn't disprove he can't and wont, because his role has changed for Villa this season. With the right coaching, and tactics, he could be very useful for us.
Ashley Young may or may not be who we sign. We may look abroad, and other names I am sure are on the radar. But Young would be a good option I feel. He wouldn't (shouldn't) cost too much, due to his contract having just 12 months left to run come the summer. There will be competition for his signature, but I feel we will offer a solid proposal to him, and certainly a better one than what Villa have going for them at the moment.
A final advantage, is that he can also play different roles. He can play from the left, right, and the centre. When he plays a free role for Villa (in the one game I looked at mind), he looked long a bit too early at times, but I doubt under the coaching and guidance of Kenny Dalglish, that will be the case.
Overall Summary of all parts 1-4
So there you have it, I have looked at what I feel are the 4 key areas the squad needs changing. I have identified 4 players who could solve our problems. Remember, these players were selected by me, but also by the media. All 4 players have been directly linked to us by a respectable journalist. So I haven't just picked these players out of thin air. The idea was to prove/disprove if the particular player would be the answer.
But once again, let me stress this. We may not buy these players, but I would be disappointed if we didn't address the 4 key areas I have looked at.
Providing we add to these key areas, then we really do have a solid squad. Blended in with what we have already, and the plethora of youth talent coming through the Academy, it will set us up nicely for a bright future.
I look forward to re-visiting this over the summer, and after the transfer window, to see what problems had been solved, and what areas we may still lack.
Thank you to AnfieldIndex and Opta for the Stats, as well as the Guardian Chalkboards. Without them, this task would have been impossible. And of course, thanks to you, for taking the time to read.