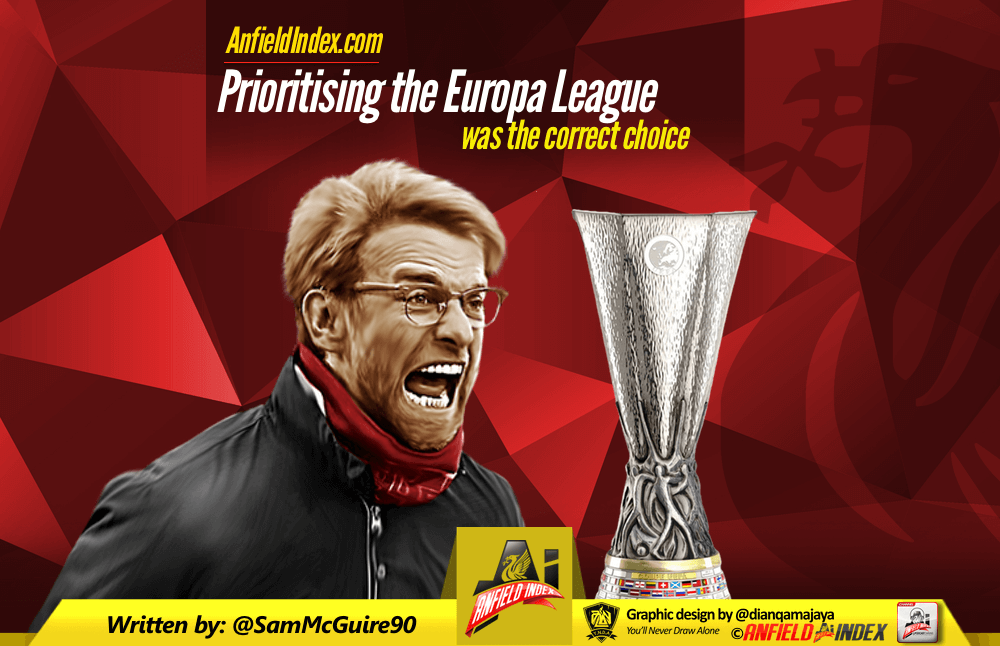 Prioritising the Europa League was the correct choice

The last ten days haven't been Jurgen Klopp's most memorable as Liverpool manager. He saw his Reds throw away a 2-0 lead at home to Newcastle to draw 2-2, then had the misfortune of watching on as a series of individual errors undone what would've been an excellent European semi-final away draw and then to round off a miserable week relegation threatened Swansea dismantled a shadow Liverpool side securing a 3-1 victory.
The frequency of fixtures coupled with injuries to several key players has really had an impact on the season. Liverpool went from one defeat (inside of 90 minutes) in seventeen matches to two defeats inside of a week. Hopes of finishing fourth have been dented with the team just picking up 1 point from the last 6 on offer and the teams aspirations of a Europa League final appearance in Basel now hang on a thread as the impenetrable Villarreal side come to Anfield knowing a clean sheet sees them through.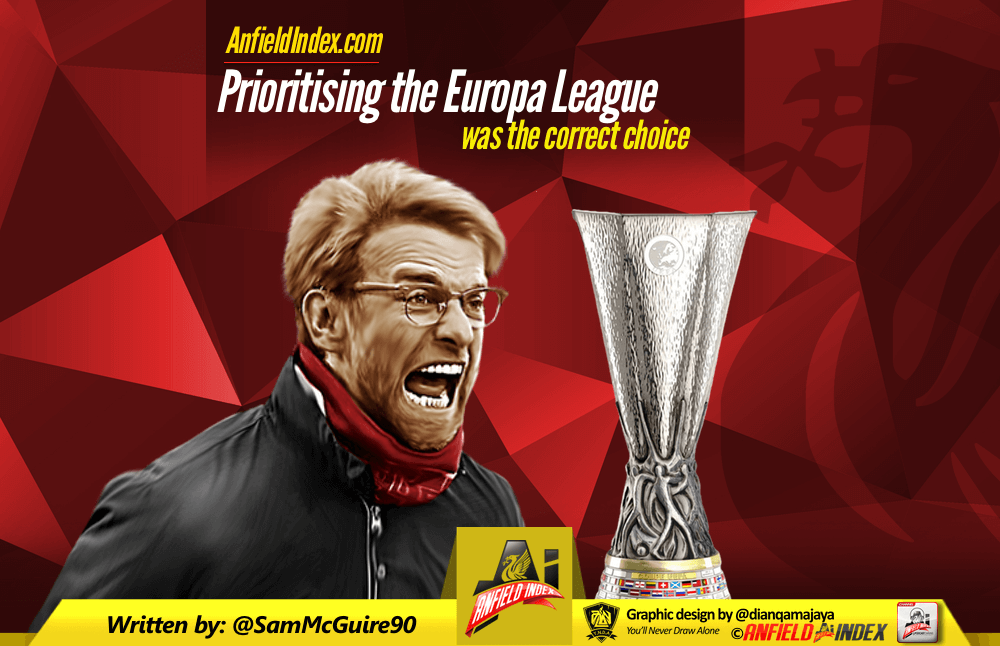 The Klopp freight train is swaying on the tracks just when it looked as though a smooth finish was in sight.
Rightly or wrongly, fans are a little restless after a few bad results. Questions are being asked of Jurgen Klopp, the ability of the team, Daniel Sturridge's future and just how worthwhile that Europa League run was.
The Europa League question is a funny one. Has it been worthwhile?
The obvious answer is yes but it's clear to see why people are now questioning it.
Liverpool currently find themselves in 8th position in the Premier League. They're two points behind Southampton with a game in hand, five points off Manchester United in fifth and nine points off Manchester City (with a game in hand) in fourth. It's all theoretical but you have to imagine had Liverpool not played weakened sides against Newcastle and Swansea then these games would have seen the Reds pick up six points as opposed to the one point they did pick up. Had they done so they would now be in 5th place, four points off City with a game in hand and a reasonably good chance of finishing in a Champions League position.
However football isn't played on paper and although generally speaking Liverpool fans would assume victories against Newcastle and Swansea were almost guaranteed given their positions it's not that straight forward. Both clubs were fighting relegation, Swansea weren't guaranteed survival until their victory today. Both sides weren't going to just turn up to make up the numbers. They needed the points as much as Liverpool did.
The team never had enough strength in depth to navigate their way deep into a European competition and to challenge for 4th spot so for Klopp to have got this far is testament to his managerial abilities.
The German was astute. Early on in his tenure he realised the Europa League was Liverpool's best chance of getting Champions League football next season and rightly prioritised the competition to the detriment of the Premier League. You won't find a Liverpool fan in the world who would crticise Klopp for fielding a weakened side at home to Stoke four days before that 4-3 victory against Dortmund.
Wins against Stoke and Bournemouth with weaker starting XI's complimented the 'stronger XI' picking up big wins against Dortmund and Everton. It was a nice trade off. Squad rotation had been worthwhile, and more importantly it was working, but with more of the squad disappearing – Origi, Can and Henderson picking up injuries and Sakho picking up a ban – the quality of squad available is deteriorating.
Had Liverpool had a full complement of players to choose from you would imagine the likes of Martin Skrtel, Kevin Stewart, Pedro Chirivella, Sheyi Ojo, Jordon Ibe and Lucas wouldn't have racked any minutes today, or at least not as many as they eventually did.
Given how the past week or so has gone it's understandable to see some fans react how they have. Fourth spot would have been in touching distance had everything went our way in the league and we may not have had as many injuries to deal with had there not been as many games to contend with.
We're Liverpool football club though. We're famous for our European Cup wins, not for finishing fourth. We aren't Arsenal. Although the aim is to finish in the top 4 on a regular basis you can't pass up European opportunities when they present themselves. This season was an opportunity that Klopp's grasped with both hands.
The experience in Europe is priceless. The winning mentality that these players now have after victories against Manchester United and Dortmund is something that can be built upon. It's been a learning curve and one that was necessary after being so poor in Europe since 2010. None of this squad has the European experience associated with Liverpool. Klopp has the experience but have any of the playing personnel got experience of a European cup semi-final? Will this benefit them next season? Without doubt.
This cup run reignited the fire at Anfield. It's changed the mentality of not just the players but the fans. It aided Klopp as he set about turning doubters into believers.
The beauty of the European competitions is that you get second chances. You're able to rectify your mistakes from the first leg a week later. Liverpool may be 1-0 down but it's not an impossible task when Anfield is a cauldron of passion on a European night. Their fate is in their own hands.