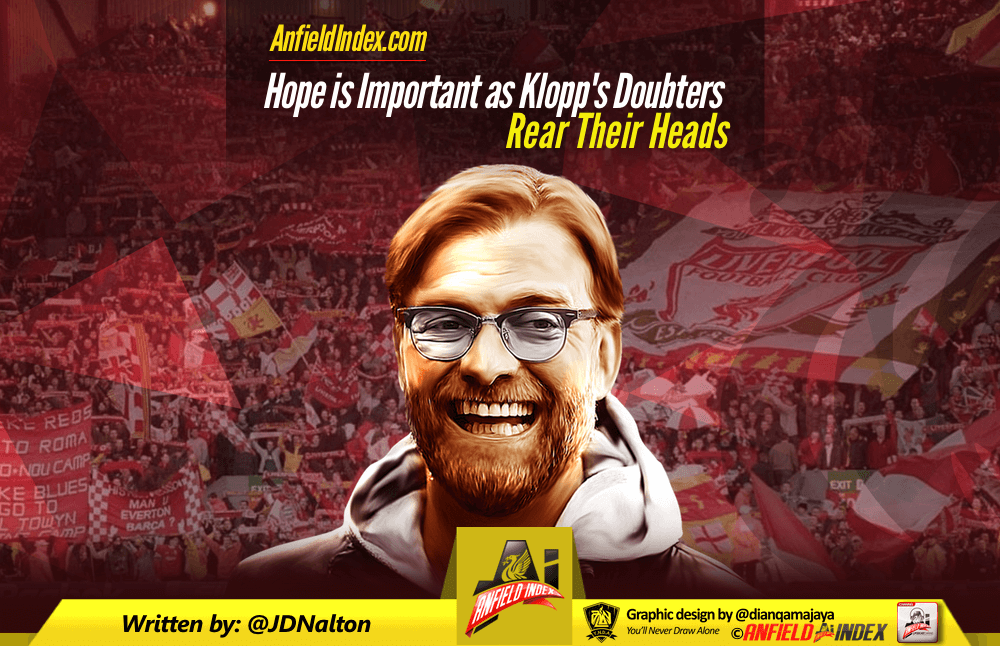 Hope is Important as Klopp's Doubters Rear Their Heads
Jurgen Klopp's first challenge at Liverpool was to instil his ideas and philosophies on a squad of players left to him following the departure of Brendan Rodgers…
…OK, maybe his first challenge was the journey from John Lennon Airport to the city centre, and the subsequent negotiation of the selfie requests on the streets surrounding his hotel on Hope Street.
An apt name, Hope Street. It's a road which connects the Anglican and Catholic cathedrals in a city where the two faiths are still prominent, but it's Liverpool's third religion which is in need of hope as it continues to struggle to live up to historic highs.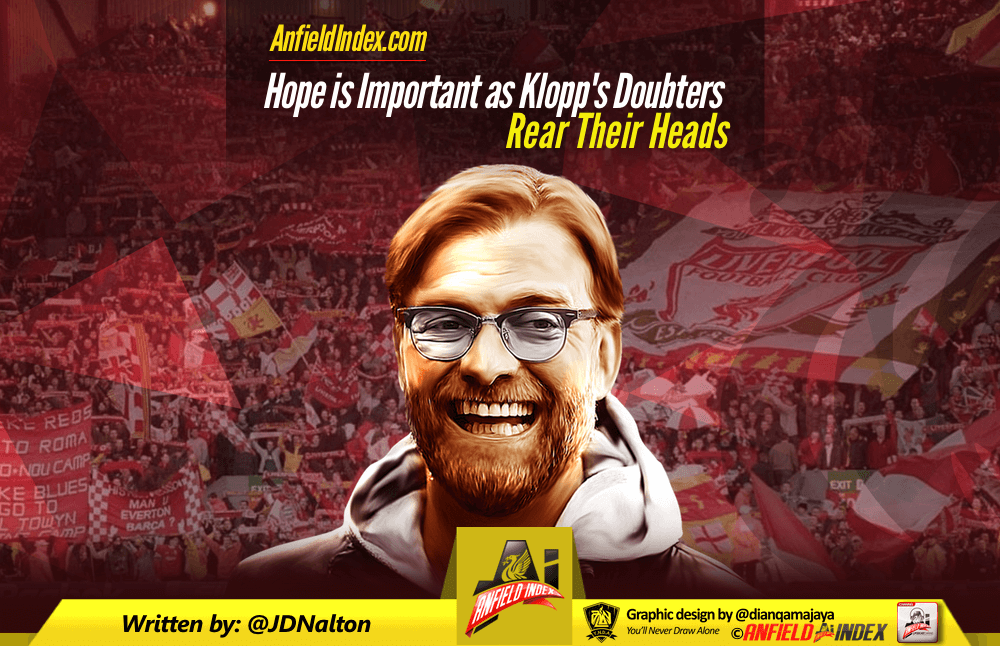 While the atmosphere inside the city's two other major theatres of worship – Anfield and Goodison Park – can be as quiet as an empty church, the city is still awash with football passion and conversation, and both sets of supporters long for past glories.
Klopp provided the red half of Merseyside with a good dollop of hope when he arrived at the club, and the fan-base needed no encouragement when it came to imagining the success which could be achieved under their new manager.
Since the German's arrival in October, it's safe to say that a lot of his ideas are beginning to show, and their effectiveness is also having a positive effect on the team.
Though this group of players weren't recruited by the man himself, the manager appears to have worked out who fits his system and who doesn't. Certain players have flourished, while others have struggled and fallen out of favour, but almost all of them have had fair chance and there's now a clear picture of which positions the team needs to fill for next season.
Challenge number one has been met and, given the squad's adaptation to the style and the club's progress in the Europa League, it could be said that it's been passed, but not yet with honours.
In order to pass with honours, Klopp's men need to overturn a one goal deficit against Villarreal on Thursday, while also avoiding the concession of an away goal which would change the tie significantly.
The games in this competition against Manchester United and Dortmund have already proven that this side have something about them under Klopp, and the comeback against his former club at Anfield has already gone down as one of those games in Liverpool's history. Creating this kind of entry into the history books isn't easy at this club, and it takes a special player, and/or manager to do so.
In many ways this weekend's game against Swansea was just as important in the grand scheme of things. The 1-0 loss at Villarreal, and the subsequent 3-1 collapse in south Wales, has led many (rather than the usual few) to question Klopp's decisions for the first time.
The game harked back to times in the not so distant past where a calamitous Liverpool defence would have to rely on a breathtaking attack if it were to dig itself out of a hole, but under the new manager the team are required to work as a unit, and this collective responsibility is something which should be beneficial in the long run. Cracks are now being repaired, rather than papered over.
The decision to leave Daniel Sturridge out in the first leg against Villarreal ruffled a few feathers, Ibe's introduction from the bench in Spain was also criticised, while the entire performance at the Liberty Stadium attracted further ire.
If we go back to that hope-filled October, one of the remarks which Klopp made in his early interviews with the media was that he wanted to "turn doubters into believers".
Progressing to the Europa League final by beating Villarreal on Thursday could convert a few more non-believers, especially given all the questions asked and doubts raised during the past week, but that Liverpool have got this far in the competition should give fans every reason to believe going into next season, even if this first year of hope isn't passed with honours.