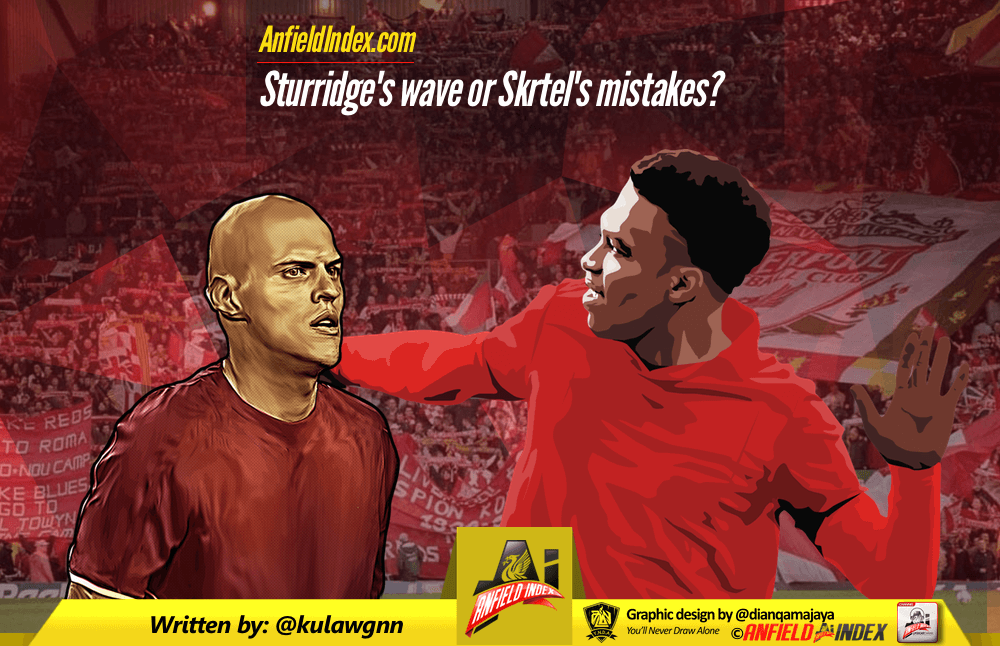 Sturridge's wave or Skrtel's mistakes?

"A good living leads to forgetfulness"– A Ghanaian Proverb
This came to mind on one of the many days Twitter's machine guns and RPGs were set in motion in the Daniel Sturridge battle. For a striker who owns an impressive record that put into shade Suarez, Owen and Fowler, celebrating him should be a chore among fans rather than the sporadic chant of his name when he scores. He should be venerated with universal accord within the club's fan base. Poor Sturridge! He is too insensitive to the fans that supported him through his injury for him to earn his acclaim. Daniel Sturridge has treated Liverpool fans to many brilliant moments. I still have images of him dancing through the Villa defence and stuffing the ball at the roof of the net with his right foot; the long range chip against West Brom at Anfield; the lob over Tim Howard in the derby rout of 2014. So many brilliant moments that can easily lead me to digress. However it seems the "good living" afforded us by Origi's positive form this season has led most to forget about the brilliance of this exceptional talent. Already some fans are placing Origi on a higher pedestal than him; clearly forgetting Sturridge's record.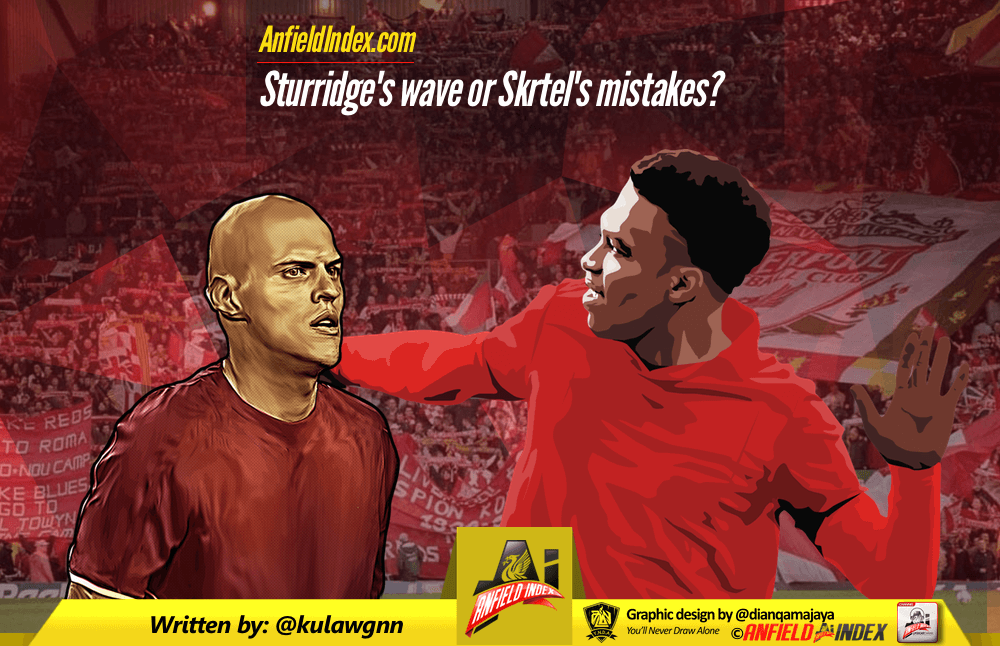 The desire to examine and criticise even the minutest of Sturridge's performance on and off filed by his opponents in the fan base is amazing. At Liberty Stadium it was not his poor pressing stats (disproven by many AI pods) or the lack of energy in his game that drew the ire of fans who would not mind having him sold. The players who contributed most to the abysmal defeat to Swansea which probably annoyed Sturridge had a free pass as he was pummelled. Why? They waved! Having waved the white flag throughout the match these players were just continuing what they had done throughout the 90 minutes. I am not downplaying appreciating fans for their support. But no way should Sturridge's refusal to wave at the fans be interpreted as disrespect to the fans. Someone who gets out of his car to do the "Studge" dance with fans on the streets, signs jerseys and club souvenirs can hardly be regarded as disrespectful. It is very possible for a player to be so upset with a performance that all he wants to do is get home and flush out the result out of his system and focus on the next match. What will fans rather have? Sturridge's wave or Lucas not sleeping on the ball to cause a goal? Do fans prefer more Sturridge not waving to Skrtel spreading nerves and incompetence in LFC's defence?
Over the last few summers Liverpool has lost talented players who forced their way out of the club. When it seemed the club will be immune from losing top talent this summer, some fans have other ideas. Rather than another top player force his way out, some fans are eager to push Sturridge out of the door. These fans may seek confirmation that Sturridge does not want to be in LFC in the striker's " ..He's not Liverpool till I die" comment. But mostly fans hang on to player's words when it suits their agenda. Sterling spoke about wanting the Kop to sing his name in the future and left the summer afterwards. Suarez said positive words about the club but forced his way out of the club. A week ago Sturridge said he was looking forward to scoring 100 goals for LFC. The fact is Sturridge is a player Liverpool needs who does not need some of the unfair treatment some fans give him. The fans who want him out seem confident the club can get better realistic alternatives. Even if that is possible, great teams emerge from consistently adding on to quality not just replacing them.
Some of these fans point to Sturridge's injury frustration to call for him to be sold. But his treatment induced by his poor fitness confirms the bias against him. Jon Flanagan also had a long lay-off with injury, but his recovery was greeted with clamour for a new to be given him. Sturridge has stayed injury free for two months now, scoring goals and helping the team to a semi-final in the Europa Cup. Yet there is a significant number of fans will be happy if he is sold. Is it because he is not Scouse enough? Flanagan was treated with a lot more sympathy during his injury hell and was seen a determined fellow working hard to overcome his injuries. Sturridge on the other hand was unfairly seen as some as lacking the mental toughness to get through the nightmare of injuries. Without sounding disrespectful to Flanagan, if he had the motivation to overcome his injuries, Sturridge's would be greater given that he has more talent all things being equal. Sturridge is yet to peak, has a world class goal to game ratio for Liverpool and has the potential to be in the top 5 of strikers in Europe. Nobody can fault Sturridge for getting green with jealousy when Suarez, Aguero, Kane and co are getting the acclaim. This is because he has the talent to match these players. But for Flanagan, being available for selection is perhaps a sufficient situation. Such is the gulf in the talent of the two.
Fans have been disappointed with the length of time the team has been without Sturridge. But a lot of these fans should also admit to worsening the relationship between player-fans which the headline-seizing journalists are cashing in. Sturridge is a great asset rivals will queue to own. So why the disregard and unfair treatment? Because Skrtel waved after messing up? Or because he got injured as long as Flanagan who some fans clamoured for contract extension for?
Lately the other side of the divide has been banging on Klopp not fancying Sturridge because he has kept the striker on the bench for some key games. Klopp was the man who was so awed with Sturridge's talent he avoided watching him in training when the striker was not fully fit. So why wouldn't he fancy him now that he is fit and scoring? Origi's emergence has given Klopp options and new dimensions. However a Klopp-Sturridge feud is being read into every team selection. It is great Klopp has options and even better that Sturridge is not happy being left on the bench. Here is a talent that together with Klopp can propel LFC to some wonderful things. He needs to be celebrated and adored and not lampooned and doubted every step of the way.