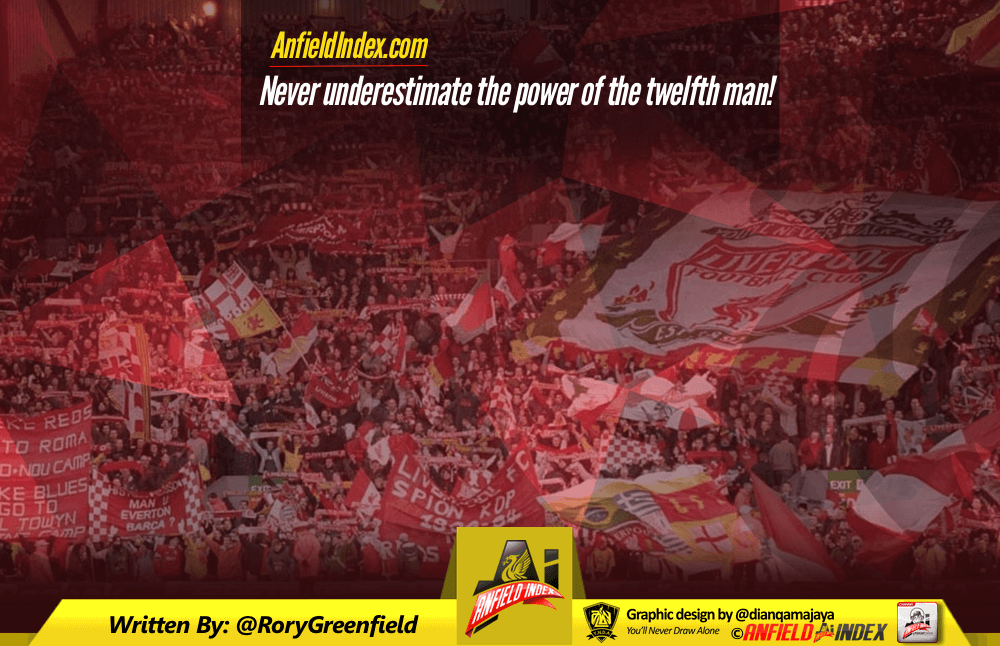 Never underestimate the power of the twelfth man!

When the unlikeliest of victories happened, just over two weeks ago, Jürgen Klopp could do no wrong. He was the new saviour, the miracle worker, who coaxed every ounce of every players ability, heart and fight, to battle back against the odds and claim victory, against his beloved former club. The supporters were elated, not just at the victory, but the prospect of what we may become. Supporters united, bonds were formed and bread was broken. But just like any fractured family, it just takes one spark, for the fighting to begin once again.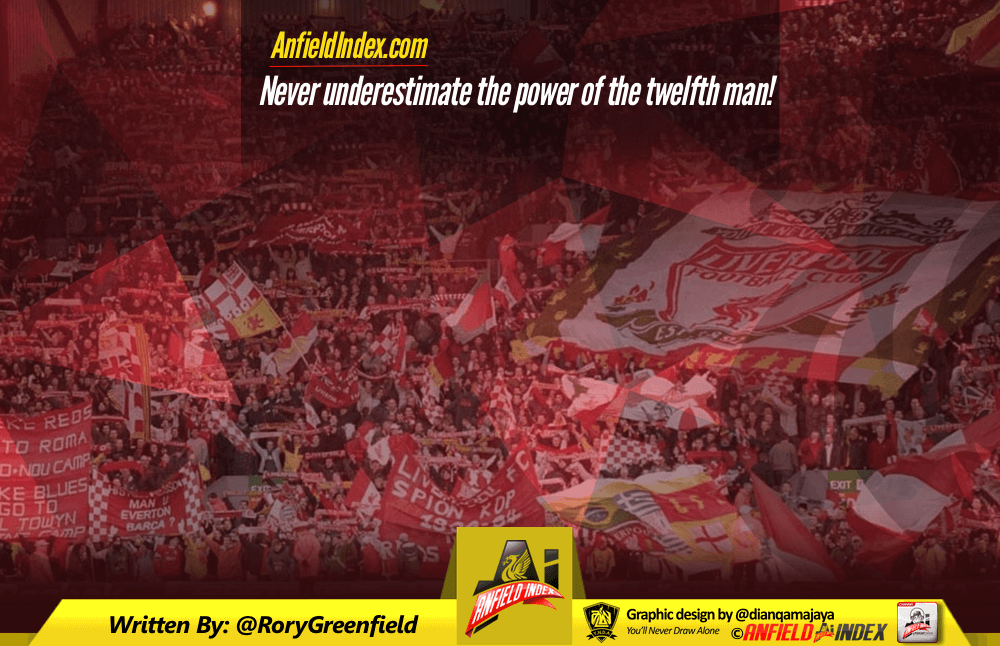 It's with a heavy heart that I write this article, because deep down, I just want the club backed with its entire support. No false defences, no clear divides. At the end of the day, when we all started supporting this club, we surely did it for the right reasons? We wanted success right? We wanted to throw our support behind just one club? Crucially, above all else we wanted to connect with something, with someone. Whether it was discussing the match in the playground, or down the pub, or now over social media, it's surely all about the connection?
Nobody I know in the real world starts a conversation, to start an argument, it's just not natural. Most discuss to find a common ground, something that unifies them with another, because that feels good. Or others do it to start a debate, to enhance their standpoint or to learn from another's, who they hold in esteem. Not many light a match to watch something burn. For me that holds no interest and no rewards, because above all else I want to be part of a fanbase, not segregate myself from it. When you support a club, you should enjoy the connection with fellow supporters, embrace it. Not drive a wedge between it, because then it really holds no benefit to anyone, most importantly the club you support.
I've argued for a long time, the importance that a determined and driven fanbase can have for the club, as has a man that knows a little more about the game than I do, Jürgen Klopp. Why do you think he wants to build a positive atmosphere? Because, you just need to look at the influence it can have on players. The aptly named twelfth man, can deliver just that. It can make the home side feel like they have the numerical advantage, it can make them appear quicker, stronger and more determined to succeed. In the same instance it can make the opposition feel suffocated, create fear and unbalance, it can change the entire complexion of the game.
In the same circumstances negative support can breed nervousness and fear for the home side. Creating an inability for players to express themselves, at the risk of making a mistake. It can give the away side, the impetus to press high, to attack, knowing that they can capitalise on the fear and uncertainty. Supporters need to start believing that these players under Jürgen's management can achieve the improbable, surely the second half vs Dortmund taught everyone that? Yes, we're far from perfect and there is plenty of work to be done in the summer to build a more capable and consistent squad. But in any one off game, this team with the spirit created, can beat almost anyone.
As we go into a pivotal week for this football club, with the prospect of a Europa League Final place up for grabs, it's vital that the fanbase come together and start trusting the manager. No he's not the messiah, of course he'll make mistakes at times, but he's the closest thing we have to perfect manager for this club, right now. If you're truthful the squad we have is decidedly average, a mishmash of different styles and different substance, with very few game changers. However, if league wins over City (twice), Chelsea, Everton, plus victories over United and Dortmund in the Europa League have taught me anything, it's not the big occasions we should fear, including Villarreal on Thursday.
It's easy to think support ends, when the final whistle blows and the ground empties. But that couldn't be further from the truth. Traditionally football has been about local support, but that's such a narrow minded view of what makes a strong fanbase. Liverpool are a globally adored club, supporters from every corner of the world, watch matches at all hours of the day. They commit so much to the club I support and I genuinely feel they offer as much to the club, as anyone from Liverpool, or from those that attend games.
Those that see Liverpool live may argue they have the advantage of having a different viewpoint, they can analyse performances and tactics in a different way. Whilst that holds some truth, it doesn't mean that others without this luxury, have any less of an opinion, or understanding. I've leant just as much from international supporters, as I have local. Liverpool supporters need to remember this and respect that football has evolved, far beyond the four corners of the ground. I'm proud to be a small part, of a much bigger community. I'm proud to cheer on my club, with supporters from all areas of the world.
It's time for Liverpool supporters to stop questioning every decision, over analysing every team selection, substitution or shift in body language. We've become obsessed with the future. Signings, departures, stadium developments, academy prospects and even ownership changes. All of that can be assessed in time, but when we've still got pivotal games to play this season, the focus must surely be on the game in hand. Despite the feelings towards certain players, right now that's the best we've got. If they play to their limits and lose, then I'll still be proud, just as I would have done if we'd lost to Dortmund.
It's difficult as a support to admit your team is second best, but the truth is we're extremely far from building a competitive consistent squad. For some players the game vs Villarreal, could be their last in a red shirt. With everything considered, let's just give them every ounce we have left as supporters, then accept what happens, happens. I believe we'll win, I have unequivocal faith. Why, because of Klopp. But if you don't, put agendas to one side, respect those 11 players that start the match, and if you're in the stadium or not, be every inch of the twelfth man, the club deserves.
The next time you choose to argue, insult or abuse another supporter, remember that deep down we'll started supporting this club for the same reasons, we've invested time, energy and all of our emotion, into the same platform. It's a unifying force for each and every supporter and we'll always share that common interest, as we're not so different from one another. The sooner everyone starts accepting that, the sooner our club gets the support it deserves. I'm proud to be a Liverpool supporter, I always have been and always will be. Never be ashamed to show that emotion, it's something that connects each and every one of us.