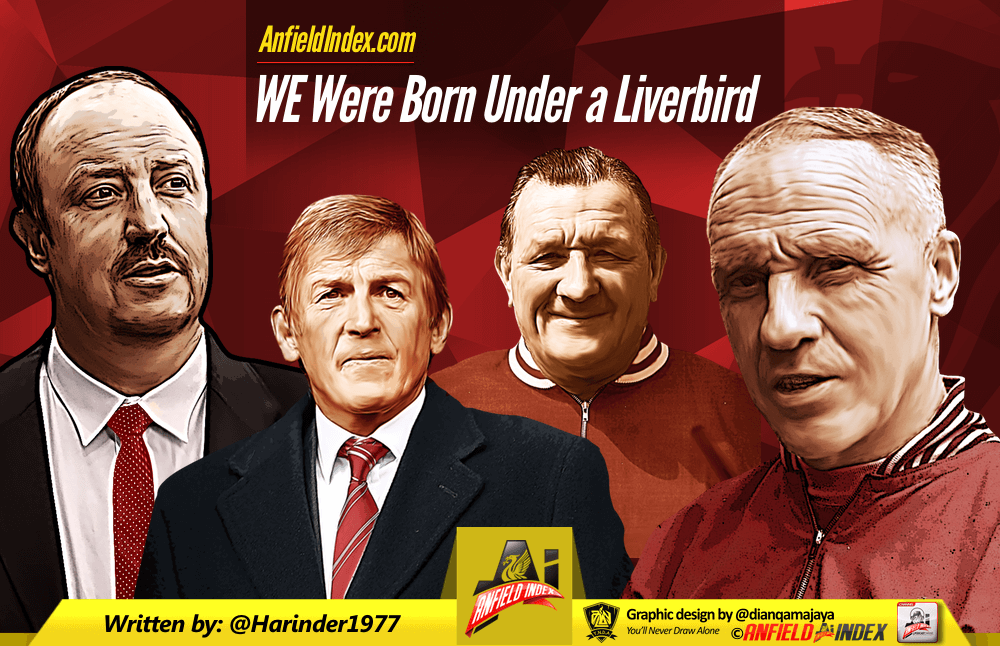 WE Were Born Under a Liverbird
All of us really. Many may not be born in Liverpool but somehow, some way know that a Liverbird was around us in some shape or form before we could walk. A wise man told me it's not where you've come from but where you're at. So where are you at? Are we ready to stand and be counted? Many a time in the annals of history, Liverpool FC has needed to reach towards the Kop and the rest of Anfield for its unfaltering and die hard support to provide the push to get over what others considered insurmountable challenges. It's a not a new thing or something only there since Olympiakos in the 2004-2005 season or a few weeks back against Dortmund. It's been there many a time before and if you didn't know before, it's recognised by the club. Just take a look below. How many other teams do that? How many other teams have understood the value of when facing adversity or staring down into the deep abyss of defeat, it can rely on a voice so powerful that it can shake foundations? Look at what we can do. Look at what we can inspire. Look at what you have inspired. If ever you do the stadium tour, or have done in history, there is a point where some of our European history is written upon special shirt templates and shown for all to take in. The words to the song this article takes it's title from is a really nice way to delve into what they say and the matches they highlight. It's also the song we sung most at Villarreal last week. There was a strange one about Everton boys at home watching Eastenders but the less said about that one the better!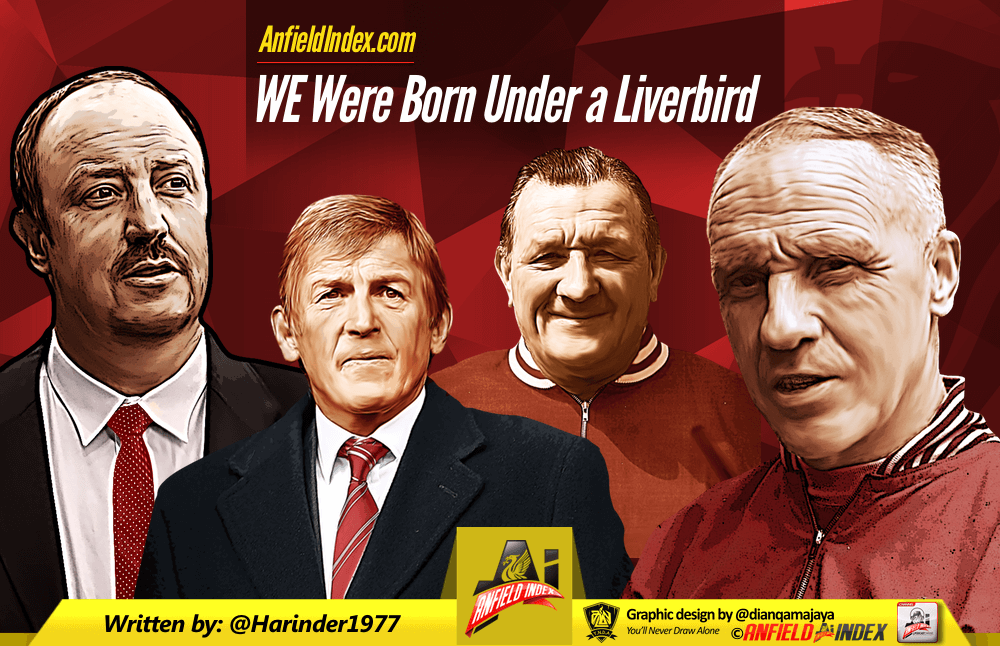 "Shankly made us famous…"
Tuesday 4 May 1965 – European Cup Semi final first leg against Inter Milan. We won 3-1 that night and if you think the referee is an expletive nowadays then you've seen nothing yet. The previous year Inter had bribed the ref to do them a solid. The away leg was lost 3-0 and even then the late great Bill Shankly knew that Liverpool had made some history. His own words were ""All right, we've lost, but see what you have done. Inter Milan are the unofficial champions of the world and all these people are going mad because they are so pleased that they have beaten Liverpool. That's the standard you have raised yourselves up to."

We were never easy opposition back then either!
"Paisley made us sing…"
Wednesday 16 March 1977 – European Cup Quarter Final second leg against St. Etienne. Another 3-1 win and we had 1-0 deficit to overturn from the the first away leg. Sound's a bit familiar, eh? Well you could say that and if it is a similarity that will echo what happens next you'll be glad to know we won the European Cup this year for the first time. What did Bob Paisley have to say?  "I thought my lads showed a tremendous amount of character when those two goals were needed. I never at any time was pessimistic. I'm ever an optimist and while there is a chance you just keep going – that's the way Liverpool play."
"Rafa gave us Istanbul…"
Tuesday 3rd May 2005. European Cup Semi final second  leg and there are no words if you don't know what happened that night! That's 11 years ago today. Rafa gave us Chelsea just before that epic night where we won it for the fifth time. We all probably know where we were that day too. I was nestled in the paddock a few blocks away from the Kop and we were electric that night. Anfield charged and ready to accept the ball over the line thanks to Luis Garcia. We probably willed it passed the post too, Gudjohnsen! Istanbul followed and just like each of the matches used as examples they all point to one simple thing. Belief.
It's okay to be a little scared. Life would not be the rollercoaster it is if we simply went through it with everything being plain sailing. What is not ok is turning your back when the chips are down. That is cowardice. Nothing more nothing less. We are not those fans. They can be found ten a penny up and down the country as they knock another one out into the blogs needing pill enhancement adverts to line some coffers or tweet a bit more abuse as their following of symbiotic morons carry on with mutualistic irrelevance.
Just ask yourself this. When did you decide it was ok to be like that? If never then welcome to Liverpool Football Club and take pride in the fan that you are and the fan that you will go on to raise as a parent. If you think otherwise and believe that sheiks and oligarchs are the way forward for a soulless existence or sod the team/manager when we aren't winning then so be it. I don't need to change your mind. I don't need to agree with your values.
Most importantly, Liverpool Football Club don't really need you. Those who care come to the forefront. They did so in 1989 and carried on against an establishment designed to break them and hide the truth. We know who won. They did so in 2005 when commentators in Istanbul wrote off the match as "Game, well and truly over", or journalists wrote "Can they claw their way back? No chance, going on their dreadful first half performance…". We know who won. They did so in 2010 when the fight against the cancers raged on and there was a need for real fans. We know who won.
We talk of players not being arsed or not caring for the shirt on their back. Show the world we never stopped. Showing and being counted in your support is one thing. Not giving that support a voice is criminal. We are not in desperate times, these are not desperate measures. This is who we are. We are Liverpool Football Club. We are the fans of this club. We have that ability to be the real twelfth man. If you don't believe that with every part of who you are then don't pretend your way through life as a die hard Liverpool fan because simply put you aren't. That may seem harsh but in the cold light of day when has this club been about numbers of fans? No. of twitter followers does not equal no. of real fans. There wasn't a twitter/social media need when the history of those images were being written. We can help write the next one on Thursday just like we did with 4-3.
We are 1-0 down on aggregate before we begin. At the end of the 90 minutes we're either in the final or not. Win, lose or draw I'm here for our team and our club because in the end, we'll always win.
Don't look at Villarreal as something to fear. We have nothing to lose. They have done nothing to deserve the stature of being allowed to feel that they will win simply by turning up because we just might not. The more this is projected the more it allows them to make it a reality. They have no right to be louder than us in our home ground. They have only the right to come and endure 90 minutes odd of what we are about and what we are really made of. Make them hear every single syllable such that it hits them like the hurricane Fabio Capello spoke of in 2001-2002.
Oh. Simple formation for this match so no need to post one. 11 players on the pitch. Us all around. Someone who epitomised winning repeatedly said "We've just got to realise that if we stick together and believe in what we're doing, then we've got a better chance."
If you don't want to believe me then at least believe him. The last line of the song… I didn't forget it.
"…And Kenny is our King!"