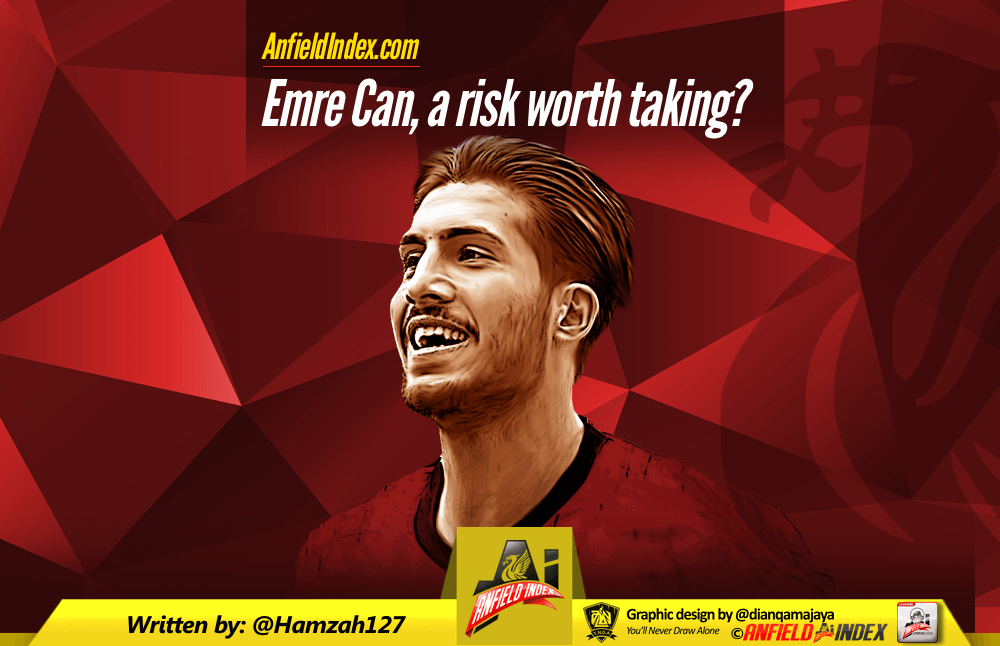 Emre Can, a risk worth taking?
Less than a month ago, Liverpool had beaten Borussia Dortmund at Anfield in one of the most spectacular games in recent memory. Subsequently, Liverpool became favourites to win the Europa League and secure a Champions League spot, under the guidance of Jürgen Klopp. The following two league victories, against Bournemouth and Everton, led many to believe that Liverpool would coast their way through the remaining league games and Europa League semi-final matches without the injured Emre Can; but horrorshow displays against Newcastle and Swansea illustrated the lack of steel, composure and conviction the Liverpool midfield has without its enigmatic box-to-box talent, and without his presence in Thursday night's Villarreal encounter, it is foreseeable that Liverpool's midfield will both struggle to break down the opposition, and perhaps crumble in the face of an opposition goal.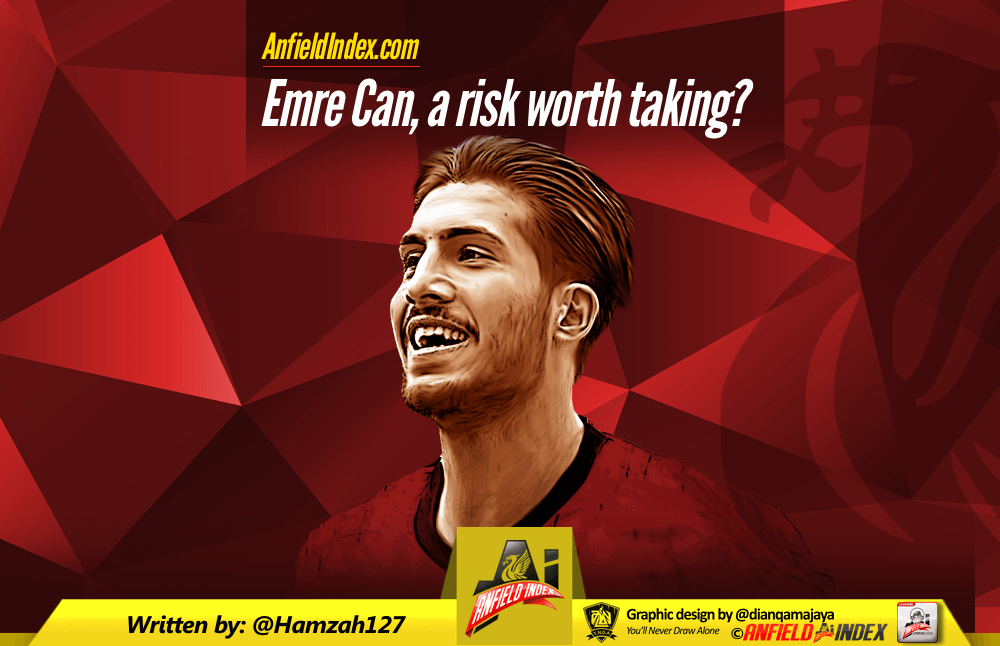 Emre Can is generally accepted to provide both energy and strength to the team, but only in recent games, where he has been absent, has the full extent of his influence on the team been evident. In the Newcastle fixture, despite being extremely comfortable in the first half, the Liverpool midfield was overran and outplayed in the second. Allen, Stewart, and later Lucas, were all outmuscled and caught unaware. The service to Daniel Sturridge was completely lacking; it's notable that since Can has been injured, Daniel Sturridge has not been as involved in play as much as usual, with him becoming isolated when Liverpool's midfield is under pressure. But also, the midfield creativity and composure of the defence too, went haywire without Can in games such as Newcastle at Anfield.
Liverpool lacked the aggression of Can in midfield, but also the counter-attacking, driving intent that he often shows when receiving the ball deep. Opposition teams dislike players running directly through the middle, towards them, as the pressure is suddenly on them, and it usually requires a defender moving up to meet the ball, which thereby creates space in behind, for strikers to exploit.

Liverpool's pressing game also suffers without Can; usually him and Lallana act as triggers for other players to join in the press, but players such as Lucas, Allen and Stewart, whilst all good in their own right, are more passive when it comes to aggressive pressing.
Liverpool also appear to be prone to lapses in concentration generally, but in four of the five games that Can has missed, the Liverpool team has made more errors than usual, specifically in the Bournemouth, Newcastle, Villarreal and Swansea matches, arguably due to the lack of defensive protection that Can provides.
Following the recent news that Can participated in full training on Monday, social media went into overdrive, and it is widely expected that Can will make an appearance on Thursday night. However, Can suffered the ankle injury on the 14th April, and somehow returned to training a mere 18 days later. Whilst this may pay testament to his determination, two major issues arise here: firstly, should Liverpool risk playing Can, when there is a high possibility he will injure himself again, especially as his box-to-box role is more likely to put him at risk of doing so; but also, is Can even physically fit enough to participate to his full capacity, in a monumental European game, having only trained in three full sessions before the match?
The first issue is one of management. Ankle ligament injuries are notorious for becoming a recurrent problem if the ligaments are not fully rested, and 18 days of rest appears an exceptionally short rest period, especially so when early indications were that Can only had a chance of returning in late May. Additionally, with Can expected to play in the European Championships this summer, the chances of Can's ankle getting the full recovery time it needs are slim, thus it would indeed be a risk for Can to play, and the potential consequences are profound, which may well harm both Liverpool and Can's prospects next season.
If Can were to play against Villarreal, it would make sense for him to be rested in the remaining 'dead rubber' matches in the league. So that if Liverpool do make it to the Europa League final he would be fit and that he would also be available for Germany in the European Championships too.
The second issue is that if Can is passed fit to play on Thursday, to what extent is he 'fit', and subsequently what role could he play for Liverpool in the game? If Can could play 60 minutes, that could well be a huge boost for Liverpool, but there is always the potential for the game to go to extra-time, in which Liverpool would be effectively wasting one of the three substitutions available in replacing Can. Similarly, if Can could not cope with the game or got injured during the game, a substitute would be wasted – and we need only look at the 4-3 victory over Dortmund to realise how significant a fresh pair of legs are. When you add in the likeliness that Daniel Sturridge, if he starts, rarely completes a full 90 minutes, there could possibly be a situation where Liverpool could get to 60 minutes and only have one substitute left for the remaining half hour or even hour if there is extra time.
Needless to say though, this is all hypothetical, and Can and Sturridge may well play the full 90, in which Liverpool ease to a 4-0 victory, with Can scooping up the Man of the Match award, due to Klopp being brave enough to select him.
This is where Klopp has to make his judgement call though.
Whilst Villarreal were not particularly deserving of their goal in the first leg, it was clear that neither were they at their best. This season, Villarreal have beaten both Atletico and Real Madrid and drawn with Barcelona, and if they put in one of their better performances then a Liverpool victory is nowhere near a certainty, especially if the midfield gets overrun, as it was against Newcastle.
For all of the connotations of Rodgers' use of the word 'character', it is especially relevant for this Thursday night. Villarreal will look to frustrate Liverpool and hit them on the counter, through utilising Soldado's creative ability in an AM role, and Bakambu's pace as the striker. Liverpool will need a strong resolve and plenty of character to come through this challenge. Fortunately for Liverpool, Can has an abundance of character, and his dutiful defensive capabilities may go a long way in helping stifle the threat of Soldado, so players like Bakambu have less space in behind to attack, and less opportunities to get into attacking positions. Can's pace and strength would give him the edge over someone like Lucas in CM, whilst his ability to cover defensively would certainly be important, as it would allow the full-backs to push up, and would be a safety for if those full-backs got caught out on the counter-attack.
With a team as organised as well as Villarreal are, a variety to the style of Liverpool's play may also be important too. Whilst players such as Allen, Milner or Lucas are all good at retaining the ball and playing short passes; playing longer, more direct or searching passes in behind is a strength of Can's, and one that may allow Liverpool to keep Villarreal constantly under pressure.
Furthermore, when you consider that when Can is playing in a central role, Milner is forced into playing out wide, a position where he has performed much better; Can playing may arguably benefit the team in two ways, as the centre of midfield is occupied by quicker and more creative players and also that Liverpool can get the best out of Milner and his crossing ability from out wide.
Can is not the type of player that managers will look to bring on from the bench, his presence and influence is something that needs to be persistent across the entire game. Whilst it may be a large risk to play Can, the potential benefits of him playing are far too great to be ignored, he has been a key player under Klopp, and is rightly respected as such. For Liverpool to have the best chance of getting to the Europa League final, Can will need to play, but the only concern is whether he will be at his best, and if he can play for long enough for Liverpool to secure the win.