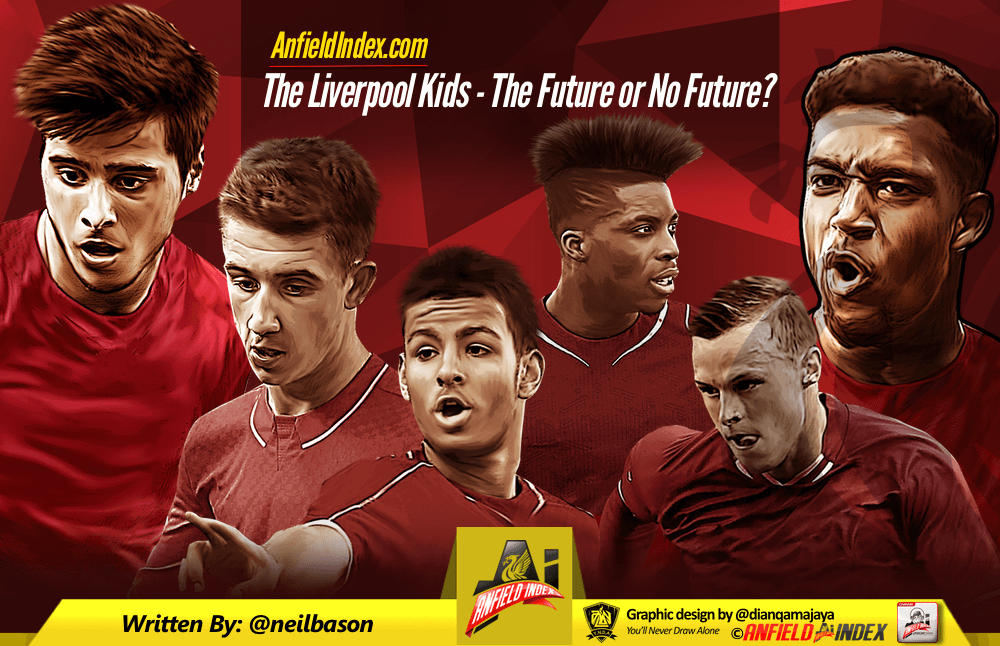 The Liverpool Kids - The Future or No Future?
As seasons go, this one has been something of a bonus for those Liverpool players looking to make the break through proper into fully fledged first team players.
The arrival of Jurgen Klopp offered a fresh start, and the run in the FA Cup a platform on which to grasp that opportunity and show the boss why they warranted more than just a spot in the shadows going forward.
But now as we enter the twilight of a season that on the pitch has been typically built upon the inescapable, and more recent, Liverpool tradition of sparking hope that we've turned a corner before running into another dead end, I have to question what now for the lads knocking on the door?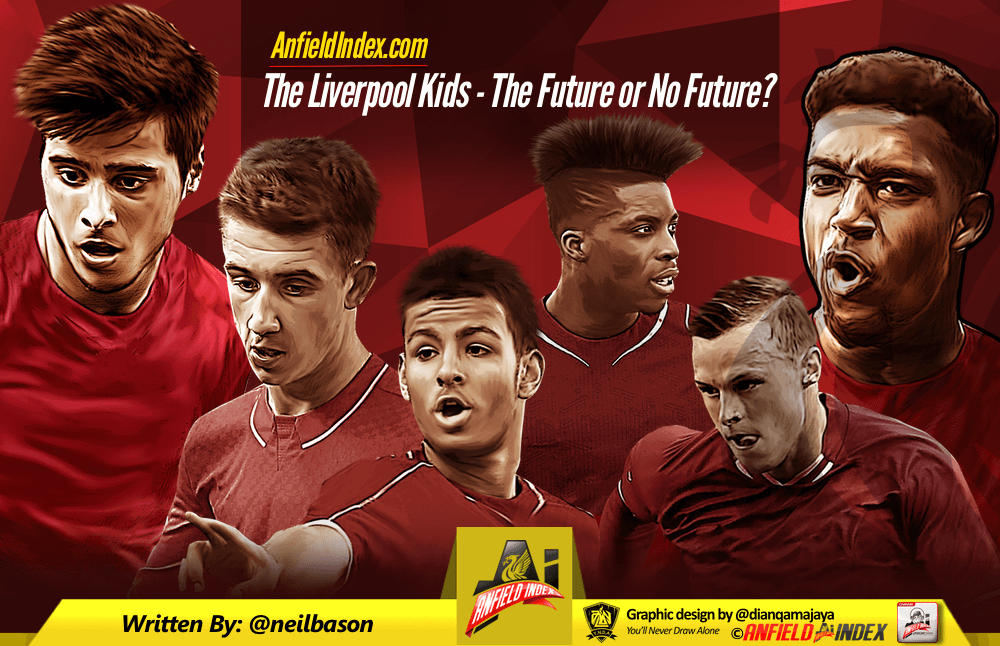 Do we have some genuine players here capable of displacing one of the old guard, or as is so often the case, have we already witnessed the last first team action any of these players will see whilst still at Liverpool?
The worry as I see it, and possibly others do too, is that this season Klopp could experiment at will with little, to no, comebacks. It's always good to see a new manager giving some of the young talent a run in the top flight and as fans I think we all embraced it. When the curtain raises on the new season we can almost certainly expect to see some sizeable changes within the current squad, I think we're all banking on it to be fair. Klopp begins to build his own side and truly put the wheels in motion on the new faster, stronger and basically more, Klopp-like Liverpool, and if history is to be overlooked regarding our managerial changes past, we begin to challenge again season in, season out. Perfect.
But for the lads still lingering in the shadows of the reserves, what next for them? Suddenly the manager has lost the daring moves of the season past where experimentation and putting the kids out for a game or two to take the burden off regular first teamers ahead of a big crunch game was accepted regardless of the result. But next year if we enter this stage of the season treading water in a similar league position it can only be deemed a failure. Klopp can't afford too many mistakes and slips next season, and any kids hoping to make the leap to first team football better hope they've already done enough.
Based upon what I've seen this season, I can honestly say I'm now harbouring serious doubts about so many of them. But let's have a look.
Jordan Ibe
Jordan Ibe is a strange one. Here's a player who looked to have already graduated to the first team only to be dragged back by a series of hugely ineffective performances. This season his contribution has been minimal for a player that looked to have such huge promise. Twenty five games, many fleeting, but ten starts of which he was subbed off in eight doesn't make great reading. The optimism that initially flowed around the ground for Ibe has all but vanished, replaced now by increasing frustration and the realisation that we haven't got another Sterling on our hands. I'd be surprised if he isn't on his way come the transfer window.
Kevin Stewart
I really like Kevin Stewart, this might be based upon the fact that the last Stewart who arrived at Anfield from Tottenham was Paul, and Kevin is a vast improvement over that transfer disaster, but I prefer to think it's because he added some much needed grit to our midfield when we were really crying out for it. In reality he's barely played, but when he has he's shown he can do a job. The problems for Stewart though are that he doesn't offer any improvement over what we already have in there, and he's already 22 and will be on the brink of 23 as the new season gets underway, so he doesn't have the time to mature and grow as a player if he wants to make his mark in the game. As much as I'd love to see him suddenly blossom further still, I can't help feel that a transfer out of Liverpool is probably the best option for both club and player.
Joao Teixeira
Let's face it, as much as we'd all love Teixeira to come good, it's just not going to happen. At 23 he's in a similar boat to Stewart in that I think he has to move if he's any chance of regular first team football. We had Suso, and Suso was twice the player Teixeira is. Too inconsistent and a long way short of being able to challenge any of Coutinho, Firmino or Lallana for a spot in the eleven I suspect this is the last season Teixeira ever pulls on a Liverpool shirt and walks out with the first team.
Brad Smith
Another at the point of now or never. We talk about the youngsters at the club, but like Stewart and Teixeira before him, Smith is also in his early twenties. He has some undoubted qualities, strength, pace and an understanding that his first job is as a defender, but I'm not convinced the belief in him as a future starting Liverpool left back isn't tinged with a little disbelief at some of the positions our current starting left back finds himself in. I think Smith will be starting next season as a Liverpool player, but could easily find himself further down the pecking order as Joe Gomez returns to fitness and Klopp opens the wallet.
Cameron Brannagan
Here we have the first player on the list I'm convinced will make it at the club. Brannagan is a teenager with a football brain that belies his years. I've never failed to be impressed by him whenever I've watched him play, be it in the reserves or the first team. There are always those players that just have a certain something about them that makes you sit up and take note, and Cameron Brannagan is one of those players. Good on the ball, great vision and not afraid of a fifty fifty, we need a few more like this.
Sheyi Ojo
Currently the most exciting prospect waiting in the wings. Young and raw no doubt, but oozing potential and showing glimpses of the sort of attacking flair that get crowds on their feet. Already jumped above the faltering Jordan Ibe in many fan's affections and expectations, but with good reason. Ojo offers skill, speed and a solid work rate that sees him happy to track back and put in a tackle. I wasted his goal against Exeter at Anfield with a broad grin and a touch of awe, sure it was only Exeter, but class is class regardless. A couple of developmental seasons with dips into the first team that show real progress, and I'm firm in the belief that Ojo will become a prominent Liverpool player going forward.
Connor Randall
I'm afraid I can't see it with Connor Randall. He's a decent player and a fairly consistent full back, but currently he's a long way shy of being a player capable of becoming an integral part of a Liverpool defence, and that's a defence that has come in for some serious criticism this season. If as expected, Klopp, works to strengthen the defensive frailties over the summer, then unfortunately I think at 20 Randall currently has too far to travel to become a first team challenger.
Pedro Chirivella
At eighteen it could be argued that Pedro Chirivella could yet blossom into a special player, and you may be right. But, for me we have two eighteen year olds in Ojo and Chirivella who sit at opposite ends of the spectrum. Where Ojo excites, Chirivella only leaves me doubtful. He looks very lightweight and severely lacking in pace, his passing is hit and miss and unless he has a serious blossoming of his talents he doesn't have a future at Liverpool for me.
Besides these few players there are of course others that will knock on the first team door, Ryan Kent, Jordan Rossiter, Danny Ward, but like the lads above the biggest issue they face now may be that the biggest window of opportunity could be just about to close.