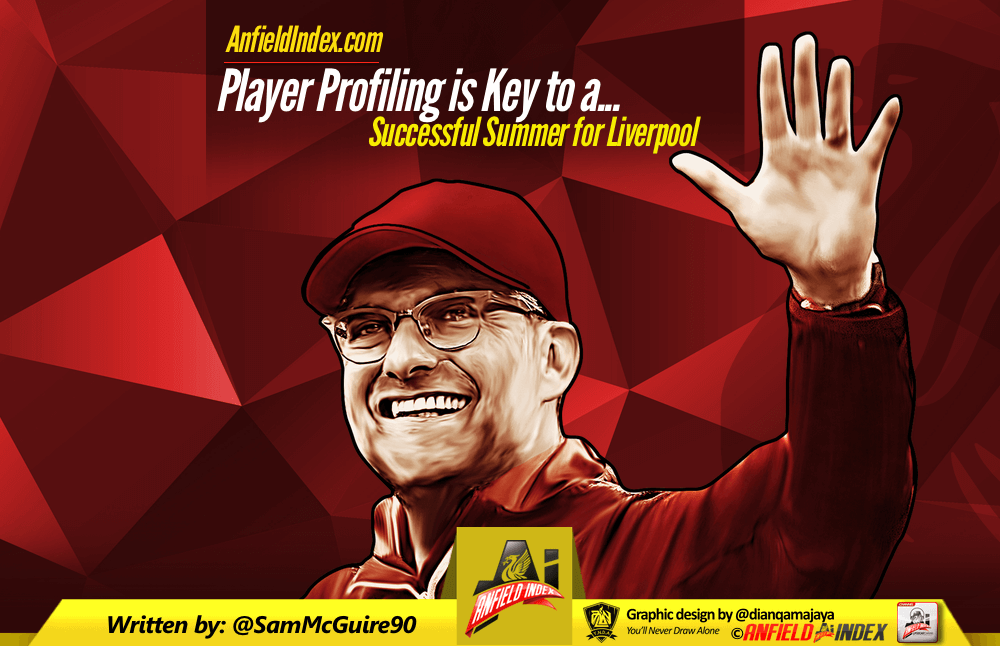 Player Profiling is Key to a Successful Summer for Liverpool
The transfer window, and the weeks leading up to it, is football fans' equivalent of Christmas as a child. Mystique surrounds the bi-yearly event. The hours spent talking about players you'd sign for your club becomes relevant. Reassurance, vindication and acknowledgement is up for grabs, if Liverpool sign a player you've put a case forward for then it's a kind of pat on the back we, humans, crave deep down. A kind of 'ha, my suggestions aren't that crazy after all' feeling.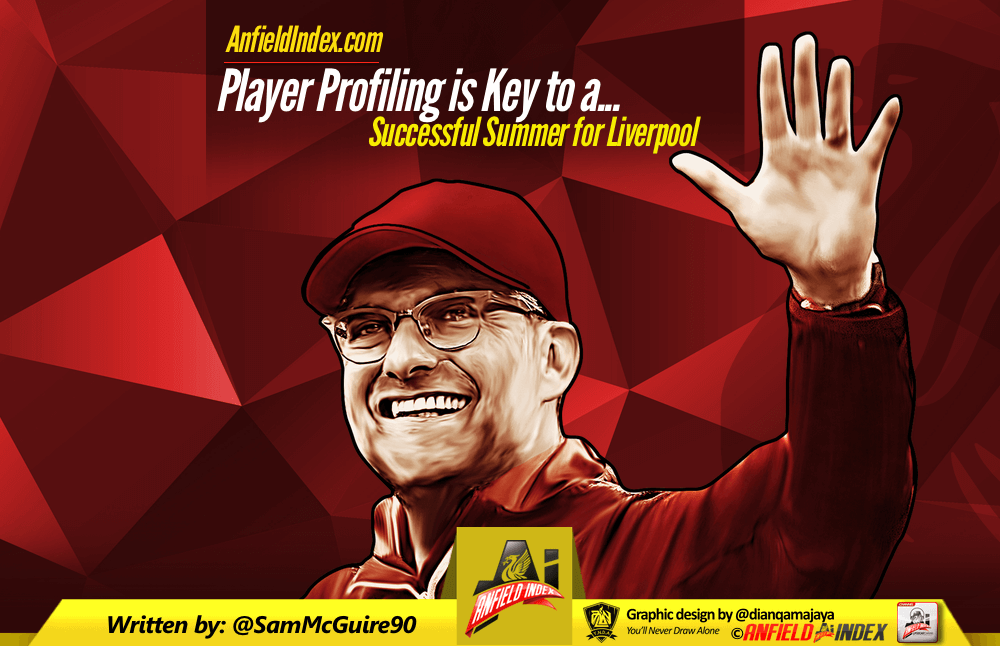 More often than not though the excitement surrounding the transfer window turns into disappointment. The buzz falls a little flat. The hope turns into acceptance. Liverpool fans have been let down in the summer window. Fans' knowledge of the game didn't really have to expand beyond the English Premier League – a market with over inflated prices and next to no value for money.
You don't have to own your scouting agency to know Christian Benteke was never worth £32.5 million to Liverpool FC. You don't need any coaching experience to know the club let the fans down after selling Luis Suarez, failing to convince Alexis Sanchez to sign before settling with Mario Balotelli. Or how in the world Dejan Lovren was plan B after Javi Martinez was plan A.
Plenty of mistakes were made in the transfer market under previous manager Brendan Rodgers, as well as many other areas. Mistakes that can't be repeated with Jurgen Klopp now in charge or the club will risk falling behind their rivals, again.
The Committee
The summer of 2016 will be the first time fans will see the much maligned transfer committee in full effect.  Fans got used to seeing a schizophrenic approach in the market. The committee, looking for undervalued players with plenty of potential, and Brendan Rodgers, looking for players for the now, were an awful fit.
It felt for periods as though the Liverpool scouting database was filtered to 'Premier League only'. It wasn't being fully utilised.
Profile is King
Jurgen Klopp will give those on the committee a profile of a player he thinks will improve the squad and they will come back to him with a list of players they feel tick all the boxes. A profile is more important than naming a specific position or area of the pitch the needs improving. Just look at Marcel Schmelzer at Dortmund, Klopp wanted a left-back and despite being an attacker Schmezler's strengths met the requirements listed and he was converted into a left-back.
The devil is in the detail. If you ask for a PlayStation game and then open one on Christmas Day and it's not one you'd envisaged it's your own fault for not specifying which one. It's the same when putting together a list of potential targets, the more detail provided the easier it is to narrow down the list.
Football isn't played on paper and people may give stats too much importance but there are ways to spot trends and patterns that help identify players who may suit your needs. There was a presentation done by Opta in the summer of 2015 which used various types of stats to look for players that Liverpool should have targeted to fill the Luis Suarez shaped hole in their team.
Interestingly enough two of the names on that list happened to be Roberto Firmino and Alex Teixeira. Their goal involvement coupled with their off the ball work for their sides at the time had a similar impact to Suarez's on Liverpool. Look at them on paper and they're completely different but their impact on the side is similar.
Linked Players and Contingency Plans
There will no doubt be a meltdown if Liverpool don't sign Mario Gotze or a ter-Stegen. Fans have a right to be this way having seen the gulf in quality between the primary targets and then the secondary targets in the past. The disappointment isn't because the back-up options haven't been from Champions League clubs (although there will be a select few that yearn for a marquee signing) it's the fact they've been completely different players to what's needed when looking to strengthen the squad.
With this in mind there is a debate to be had that deciding upon an acceptable plan B target is harder than identifying a plan A target.
Finding a plan A player is easy. Many Liverpool fans want teenage sensation Ousmane Dembele to join the club this summer to help strengthen the attack. The player, linked in the French media, is seen as the final piece of the jigsaw in the attack. His pace, goal scoring threat from out wide as well as his versatility make him ideal for a Klopp attacker.
Half of Europe seem to be courting the player though so a contingency plan is necessary.
Hatem Ben Arfa and Sofiane Boufal are just two names being linked with moves if they do miss out on Dembele. Both players are having impressive seasons for their respective clubs. Nice, Ben Arfa's club, are defying odds and challenging for Champions League qualification. Lille, Boufal's club, are currently on a bit of a resurgence and could still qualify for Europe. They also finished as runners up in the French Cup.
Both players are versatile. Both are goal scoring threats from out wide. Both have an abundance of pace. Both would, on paper, add another dimension to the Liverpool attack. Personal opinions of the players aside you can't deny both have a similar profile to that of Ousmane Dembele.
However, Ben Arfa is 29 and Boufal is 22.
You then have to consider the mentality of the player and whether their personality would suit that of the squads. An opportunity like this would be Ben Arfa's last chance at a big club after a chequered past. Would this be a big enough incentive to keep him on the right track? Boufal's career is on the upward trajectory. His transition from lower league side Angers to Lille has been seamless. The next move in his career is a big one – does he move to one of Europe's elite to be a squad player and see his career peter out or does he move to a Liverpool side, play weekly, improve and have the opportunity to be a starter for one of Europe's elite? Whether it be with a rejuvenated Liverpool under Klopp or with another side having moved on like Luis Suarez.
That's just scratching the surface. It's a lot harder than most fans like to acknowledge. The questions are endless and the debate back and forth could go on.
The committee will really have to earn their money as Liverpool look to strengthen this summer.