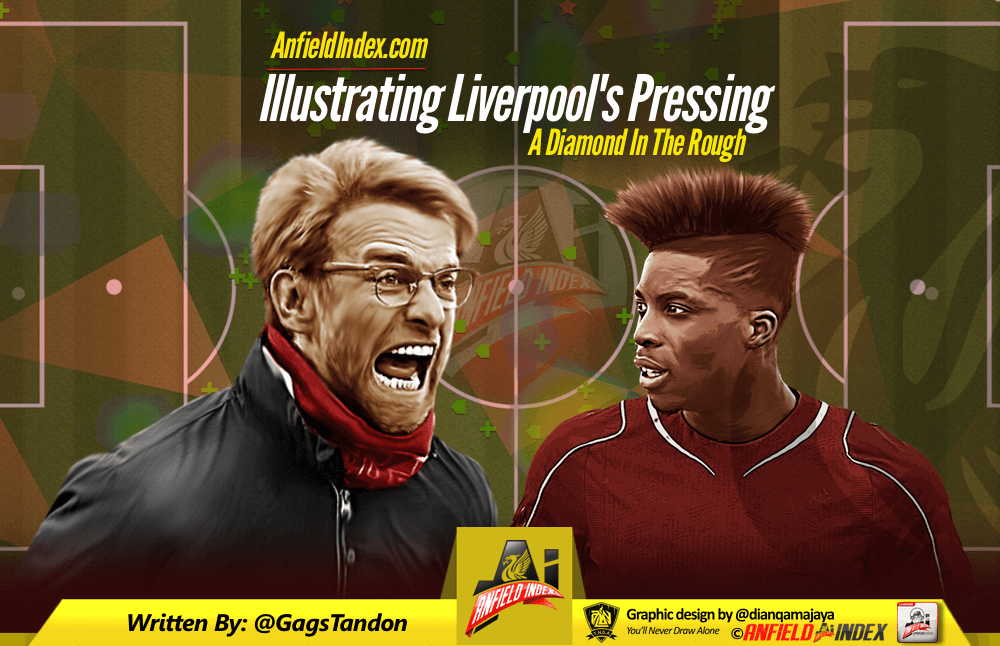 Diamond in the Rough - Illustrating Liverpool's Pressing vs Swansea

As you may already know I collect pressing stats for every Liverpool Premier League game, I know – what a crazy thing to do – but it's popular, people enjoy the discussions resulting from the stats collection and we're learning a lot about some of the players at Liverpool Football Club. Twitter was adamant that the stats for this game shouldn't be collected, the game should be binned and that I should take the day off from doing this painful task of watching that terrible Liverpool performance again. My view on that is that once you've started something you should continue it and complete your task, I've committed to collecting these stats so I should do the right thing and collect them. And I did. Watching Liverpool play Swansea for a second time was like shoving a needle into my eye, it was horrific. However, there was one positive from the game – the diamond in the rough: Sheyi Ojo.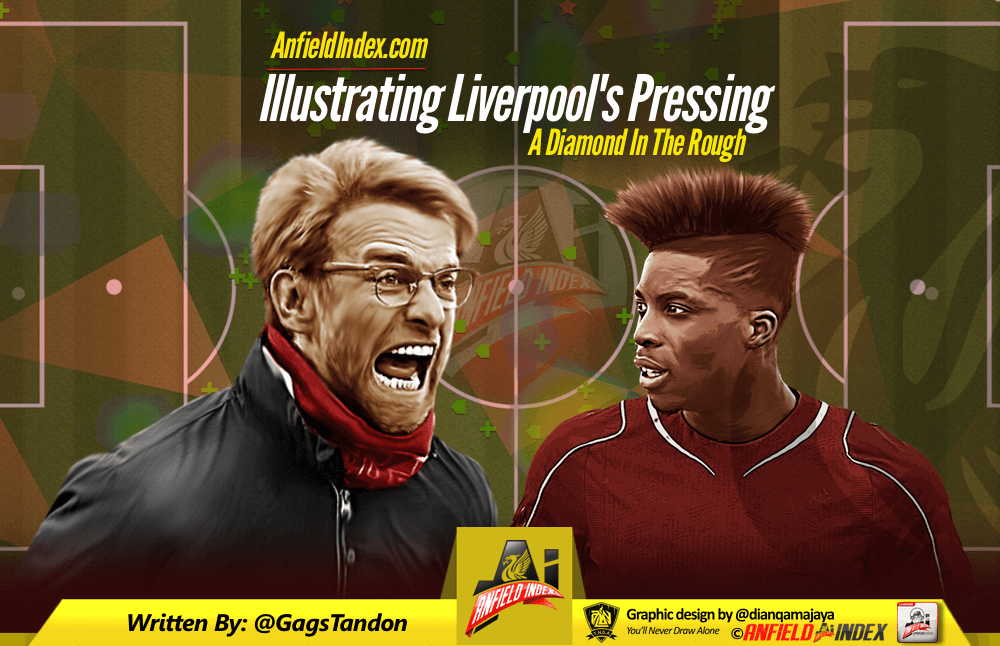 When you try to imagine Jurgen Klopp's ideal player you think a creative player that presses like a machine, some regular listeners of the Under Pressure Podcast will think of Roberto Firmino at this point and you're totally right, but we need more than one. We may just have another coming through the ranks and yes, it's way too early to be making any judgements, whether positive or negative, on Sheyi Ojo but the early signs are very promising.
He's already created two goals for Liverpool (one from a corner!), played 244 minutes and created a chance every 41 minutes. Interestingly that isn't even the best part as his early pressing numbers are impressive. He's already been top presser in the two games he has started, he's pressed 86 times so far for Liverpool at a rate of 2.84 minutes per press, has 84% pressing efficiency and averages 31.7 pressing actions per 90 minutes. The table below shows how impressive that is compared to Liverpool's top pressers this season, it's second only to Roberto Firmino (Bobby as Simon Brundish refers to him below). I know, I know, it's such a small sample size and you're asking yourself why I'm even discussing this but from re-watching these last few games I can see something in Ojo and I'm hopeful he will play many more games next season and be able to find himself on the list below. You'll also find his pressing maps below too which show how disciplined he is with his pressing. The Swansea game map illustrate's his pressing on both flanks but he was switched over at half time so again this is demonstrated.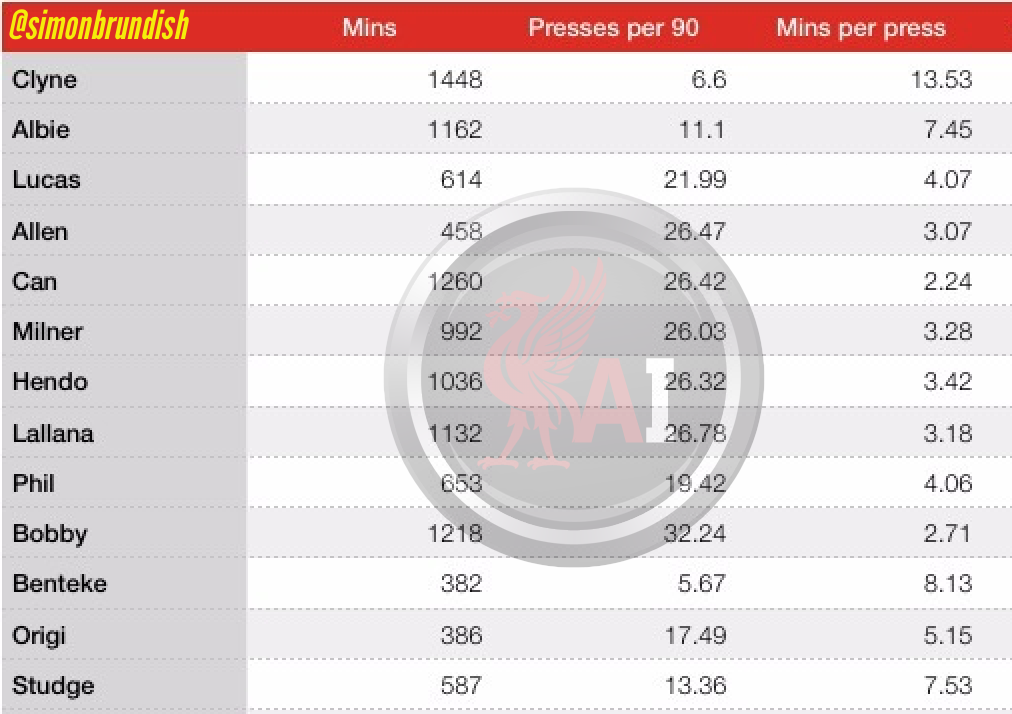 Ojo Pressing Vs Swansea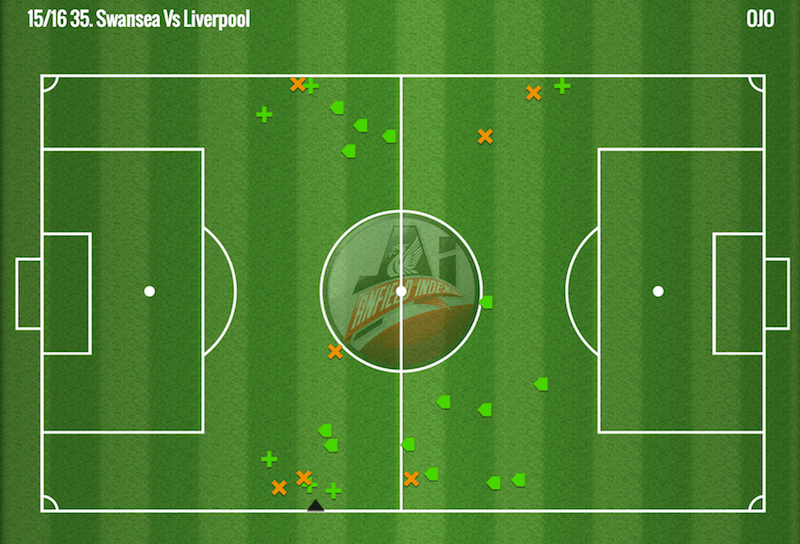 Ojo Vs Bournemouth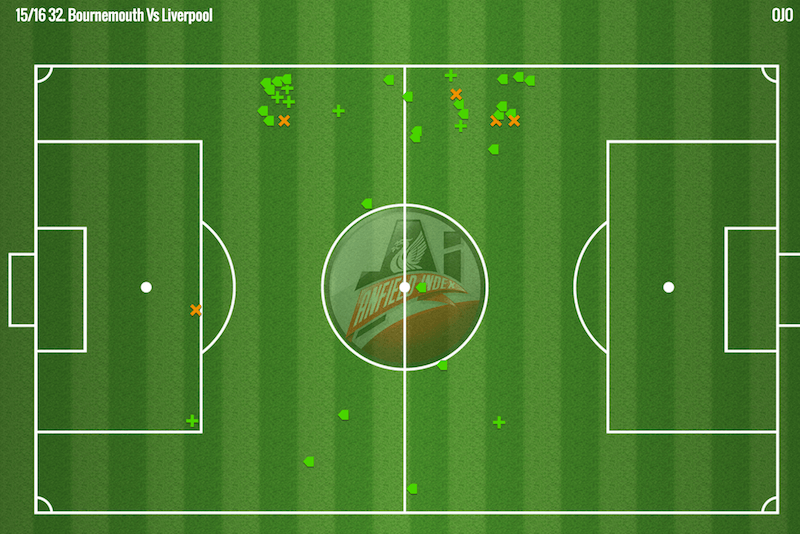 Ojo Vs Stoke City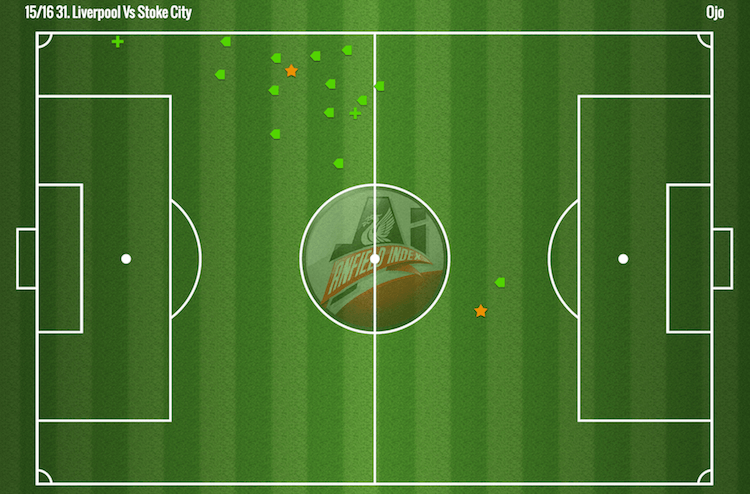 From my point of view that was the only positive from the Swansea game but you can hear myself and Simon Brundish discuss this game in much more detail by listening to the podcast below.
The podcast embedded above has all the analysis and the images below support the content so please do have a listen and any feedback either on this article on the @AnfieldIndex Twitter account is appreciated!
Daniel Sturridge is also discussed in detail with so many supporters doubting his quality at the moment we thought a discussion on his importance to the side was important.
Team Pressing Stats vs Swansea

Liverpool Pressing Vs Swansea