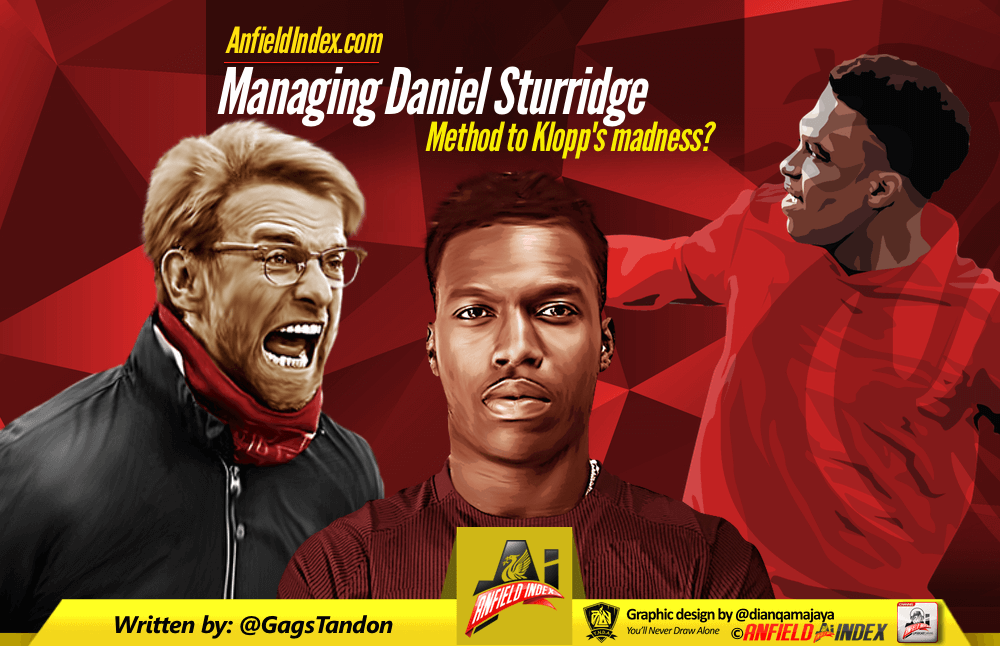 Managing Daniel Sturridge - Method to Klopp's Madness?
For the best part of a fortnight now Daniel Sturridge and Jurgen Klopp have dominated this website, our podcasts and social media.
So many questions were being asked about the pair, from why Jurgen hadn't played Sturridge in the first leg against Villarreal to whether Sturridge was at odds with Klopp, the fans and the club. Well, finally Daniel Sturridge has spoken out on the particular subject and in the interview he gave to the Liverpool Echo he's put all of these rumours to bed.
The prolific goalscorer stated that he's happy at the club, has never been unhappy and he believes many are playing devil's advocate when he's not in the side.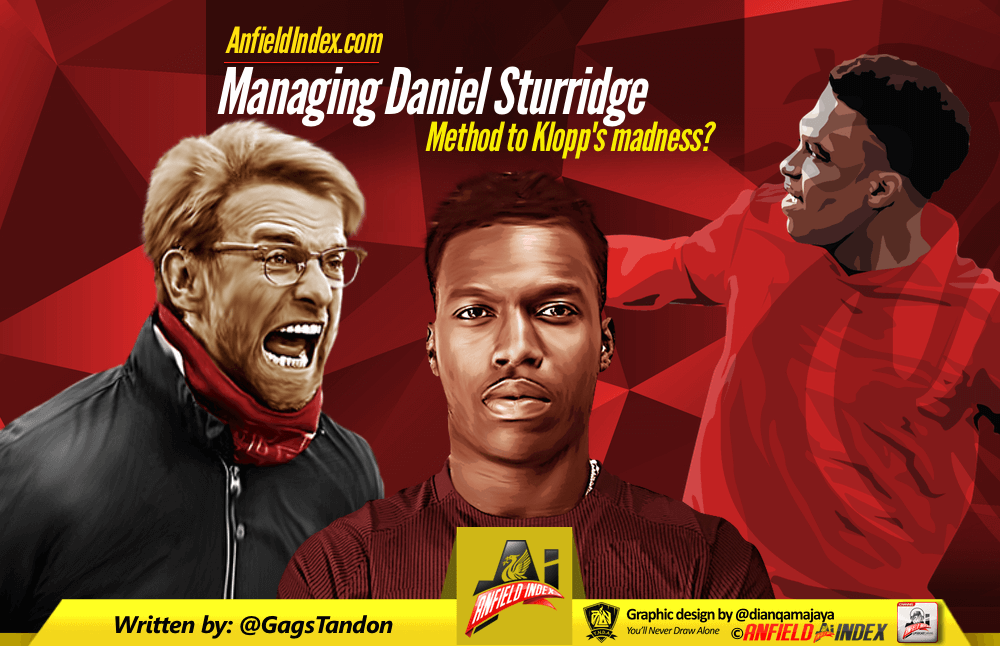 It's refreshing to read that Sturridge understands that it's a squad game and appreciates that he won't get picked every game. Many supporters want to make huge issues out of the minutes that Sturridge plays but we all know he's coming back from a serious set of injuries. The last thing the team needs is for Sturridge to be out for a long spell, again. If he's playing a set number of minutes a week and its working, I'm of the opinion it's been the right course of action all along. There's been a logical explanation and Daniel has played one game per week since he's returned to fitness. The Villarreal game at home was the first time that he's played two games in a week since his return and that was totally justified for how huge that game was.
We all get frustrated in our day jobs and footballers aren't any different. Players will walk off in a huff when they are not happy with their performance or even the performance of the team, I'm sure we've all been there in our own profession and we sometimes forget that these players are actually human beings. Our star striker will get frustrated and he will get annoyed, but that doesn't mean his mood is aimed at the fans, the manager or the club, it is what it is.
One concern of many supporters was the usage of Daniel Sturridge, let's have a look at how he has been used since his return from injury.
Let's start with February where Sturridge was eased back in with a substitutes performance where he played 31 minutes. He then went on to start four matches in a row:
14th Feb – Aston Villa (played 62 minutes), scored 1 goal
18th Feb – Augsburg (played 68 minutes)
25th Feb – Augsburg (played 66 minutes)
28th Feb – Manchester City (played 120 minutes)
So the only full game was against City in the Capital One Cup Final and it's almost certain would have been substituted had it not been for Sakho's early injury in the game.
Sturridge was visibly limping at the end of the game and Klopp even stated that the only players that took penalties were those that could still walk at the end of extra time. In the four game stretch above Sturridge had four days rest, seven days rest and then three days rest. The important part was the week off in between to be able to play two games per week. The cup final seems to have taken a lot out of Sturridge as he was then rested for a few games.
2nd Mar – Manchester City (rested)
6th Mar – Crystal Palace (unused substitute)
Sturridge's next start was against United in the Europa League 1st leg, a huge game, the biggest of the season at that point in time. It had been twelve days since his last involvement.
10th March – Manchester United (played 64 minutes), scored 1 goal
17th March – Manchester United (played 68 minutes)
20th March – Southampton (played 70 minutes), scored 1 goal
Sturridge had another seven days rest between the two Manchester United legs and then started two games in a row with only a three day rest but he completed none of these games and there was an international break on the horizon so the risk to play Sturridge twice in a week could have been calculated here, especially with Harry Kane and Jamie Vardy, the in-form Premier League strikers, in the England squad. The risk worked as Sturridge played only 58 minutes for England over the next few weeks.
The fixture list then saw Liverpool with Spurs at home on the 2nd April, twelve days since Sturridge started against Southampton. This next set of fixtures for Liverpool FC comprised of 10 games in 34 days, so 3.4 days between games. Judging by the use of Sturridge so far his time has been managed to ensure that he only plays two games a week when there can be a break in between.
2nd April – Spurs (played 72 minutes), 1 assist
7th April – Dortmund (played 6 minutes, used substitute)
10th April – Stoke (played 90 minutes), 1 goal
14th April – Dortmund (played 28 minutes)
17th April – Bournemouth (played 90 minutes), 1 goal
20th April – Everton (played 36 minutes, used substitute), 1 goal
23rd April – Newcastle (played 90 minutes), 1 goal
28th April – Villarreal (unused substitute)
1st May – Swansea (played 90 minutes)
5th May – Villarreal (played 90 minutes), 1 goal
Sturridge never started two games in a row throughout the month of April and the only time he started two games in a row were for Swansea and the 2nd leg against Villarreal which occurred after a full seven day break due to the fact he was an unused substitute against Villarreal. It's impossible to say for sure but it could have been a part of the plan all along. There's some sort of a trend here, only twice has Daniel Sturridge started back-to-back games with only a three day gap and on both occasions there was a twelve day gap beforehand. The first one after the cup final where he was rested and then the international break where he didn't even play an hour for England.
I'm just trying to point out that there seems to be method to the madness of Jurgen Klopp!
After analysing the numbers I've found that the average number of days between Sturridge starting a game for Liverpool since his return from injury is 6.67 days. That's a week of rest for Daniel after every game and shows that his time has been managed.
If you're still reading, I know, I know, it's taken me a while to get to the point on Sturridge's usage but it actually serves a purpose for the Jurgen Klopp part of this article too.
I think the numbers above point to Jurgen Klopp having a plan for Daniel Sturridge and managing his minutes since his return. The managing of his star striker has also wielded amazing results as Sturridge has scored five and assisted one in the seven starts he's made since the last twelve day break he had.
There's been a lot of assumptions and conjecture lately but let's talk facts.
The management of Daniel Sturridge's playing time has worked and brought the best out of the striker and Jurgen Klopp has miraculously got this Liverpool squad to two Cup Finals in seven months. I'm not saying you should treat Klopp like a messiah but I do think you should place some trust into the managers decisions going forward before jumping off of a cliff and making assumptions. We should also realise that Daniel Sturridge is vital to this Liverpool team and I predict him to start two more games this season, Liverpool's last game at home this season against Chelsea and the Europa League Final against Sevilla.