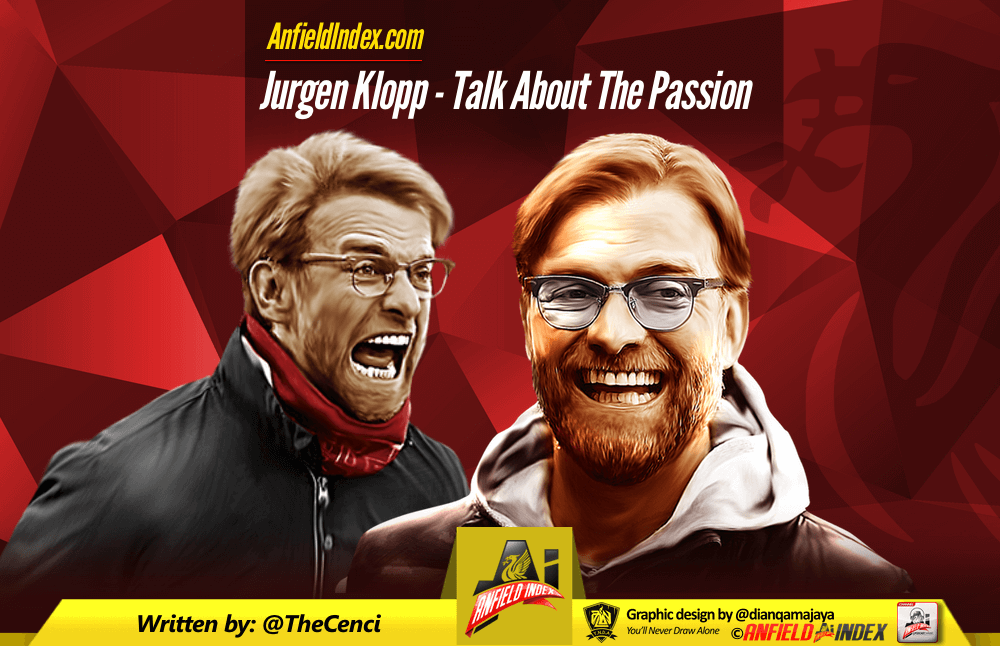 Jurgen Klopp - Talk About The Passion
There's a video from the Villareal game going around at the moment. It shows Jurgen Klopp watching James Milner throw himself wholeheartedly into the shins of a Villareal player in the last minute. Jurgen leaps up at this and does that strange arm thing he likes to do. He then turns to the crowd and urges them on to be as enthusiastic about that tackle as he is.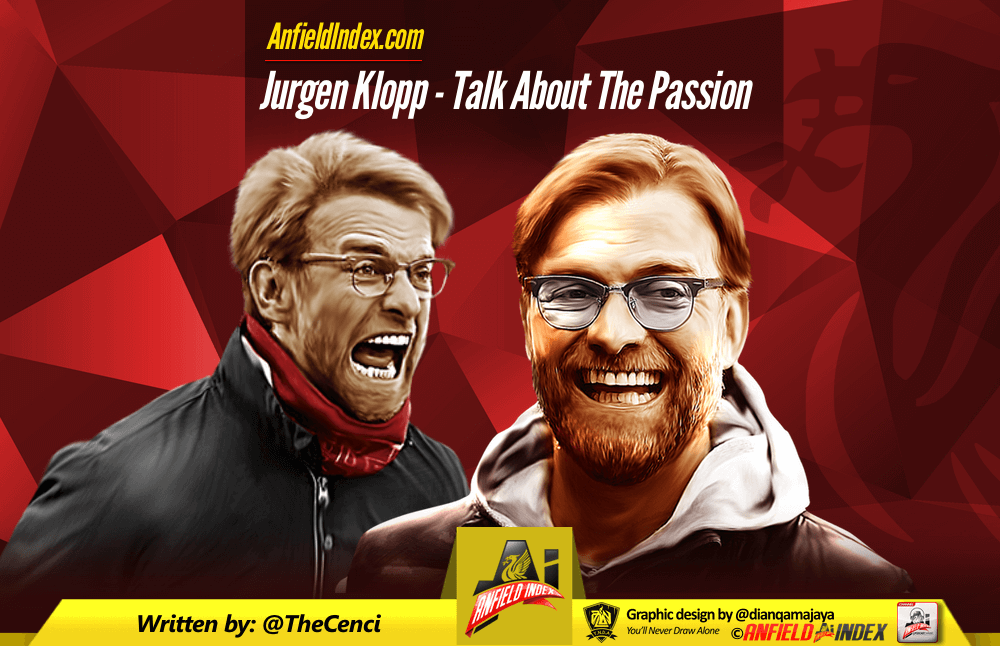 I'll be honest here. I'm not a fan of managers or players aggressively telling the fans to do something. When Gerrard did it after our opener in Istanbul I wrinkled my nose in disgust. No offence, mate, but that sort of thing doesn't look great if it were you who had just had your arse handed to you by Milan and not us, so it wasn't us who were letting the side down. In any case, our lot paid a fortune to be there so don't tell them how to support, eh?

Still, it did the trick.
Jurgen has only been here for a matter of months and he's already won us over. We had a similar thing in 2005 with Rafa when, curiously, we ended the manager's first season in charge with a terrible domestic campaign, a loss in the League Cup Final and a European final. That was an odd year too. Following the drudgery of Gerard Houllier's final season the Reds were keen to throw ourselves into something new and before too long people were running around the streets carrying paintings of the manager before final after final.
Not that Benitez and Klopp are anything like similar. The coolest thing Rafa did was sit Buddha-like on the turf to watch the penalties against Chelsea in 2007 and I can't see Klopp doing that. He prefers to watch things from 12-15ft higher than that, ideally with his arms flailing in different directions.
But the important thing is that there has been a connection between the manager and the fans. I'll be slaughtered for this but I was never a fan of Brendan's attitude to goals. Sticking both arms in the air with a stern face was never for me. In fact, I'm against the whole idea of 'cool' celebrations altogether. Steve McManaman was a bastard for this. A goal, a drop of the head so his hair would cover his face and a single raised finger as if in awe of his own genius. Sod off, lad. You've just scored for Liverpool, mate, not managed to throw a playing card into a top hat from across the room. This means something and you're not above it. Don't be a tit.
That said, Sturridge's wriggly arm thing is a bit cool, but at least he's got a smile on his face at the same time. His celebration the other night was much better, though it will never match the stare at the Everton end after his impossible lob over Tim Howard in 2014. As he later put it 'Sometimes you just have to tell Everton what time it is'.
Managers can't always do the same thing from the sidelines, but they have their moments. Gerard's 'No. Fucking. Way' open-mouthed expression to Gary Mac after the 44 yard derby winner will live long in the memory and Kenny was just…well, Kenny.
If Klopp has a difference to most passionate managers, it's that he's not afraid to bollock the crowd too. His criticism of the Main Stand and Paddock when a lot of people left following Palace's winner last autumn was brave in the extreme. When most managers pick on the crowd it's usually followed by a brief chat with the CEO and a taxi at the gate. Thing is, he was right on this occasion. Anfield is little more than a cinema most of the time and it doesn't do us any good. If his words woke us up a bit we might get better results. Ask Villareal if we made a difference on Thursday.
(Side note: During one of the last Rafa games in 2010 I was a few rows from the back of the Kop watching a turgid 0-0 when one lad at the end of the row, inaccessible to the stewards, chose to stand up. The stewards up there tend to walk around and tell people to sit as it spoils the view for others behind them. This lad, however, was slumped against the wall of the stand as he was in the last seati, not getting in anyone's way. The steward kept shouting 'Eh, mate! Mate! Can you sit down? Mate! EH!' while the lad stood obliviously watching Riise pass to the Centenary Stand time and again. A friend of the standing lad grew bored of this and shouted over to the steward 'Leave him alone, mate. He's trying to get some sleep.' Well, quite.
Last November, I heard James Milner call a linesman a 'tit' for giving a throw-in the wrong way. I was fifty feet away from him at the time. Anfield isn't always noisy and I'm glad the manager will deliver a few home truths from time to time.)
The best goal celebration? The one after the second goal on Thursday. That is to say, none at all. No running around. Nothing but a nod and a frown at how that strike may affect the game. Villareal would have to come out and play and, what with it being Emre's first game in a while, that may mean changes. As it happens he went berserk to Lallana's goal. Game over then.
Jurgen's biggest test, though he may not realise it, is to unite us. This is no easy task. We've been a support at war with itself for far too long, going back to the Rafa fallout. You were either in the pro or anti camp then depending on your tastes. Kenny's sacking split us further and then Brendan was the most likely man to lead us to the Promised Land or a fraud who had got lucky once. In fact, it was only dear old Roy Hodgson who brought us altogether and that was due to sheer exasperation of both his appointment and managerial bona fides. The fans chose to vote with their feet to usurp him.
And the manager is doing the right thing. We want to see the passion. We want to see him launch his ridiculous frame into the sky with his fists pumping ten to the dozen. We want to see him on the pitch at the end, hugging his boys. We want to see him grinning inanely at the Kop when the game is over. But, best of all, we want to see him before kick-off, in the centre circle, watching the opposition warm up just in case they're doing something which might surprise us. He's always working and the mad, wacky character thing is just something that comes with it, not the majority of it. Just wackiness gets you nowhere. For example, last season I sat in a press conference listening to Ian Holloway talking about how much money it cost to take his wife to see Charlie and the Chocolate Factory. His Millwall side had just played out a goalless draw at neighbours Charlton. The press room all laughed and noted down the story for their pieces the next day. They loved it. Good old Olly. Always for copy. I bet the Millwall fans were laughing too. They hadn't won in twelve games. I pointed this out to him to audible gasps. The sheer temerity to point out that the Emperor was naked.
The job is always the most important thing, not the quirks.
And Jurgen delivers that. That's why we love him. Sure, he's made mistakes. The centre mid pairing at Swansea was a silly idea and not playing Sturridge in the first leg was an error as Villareal looked toothless at the best of the times and just needed Alberto Moreno to be Alberto Moreno before they could squeeze an advantage, but he's doing great things with another man's squad.
What's more, he's made going to the match a thing of joy again. We're all in this together again rather than sat in clusters, picking fights with each other. He's his own man but he represents us on the bench, kicking every ball and diving into every tackle. If anything, the next few seasons should be a laugh, particularly when he builds the team to his own image.
Up Jurgen's Reds!