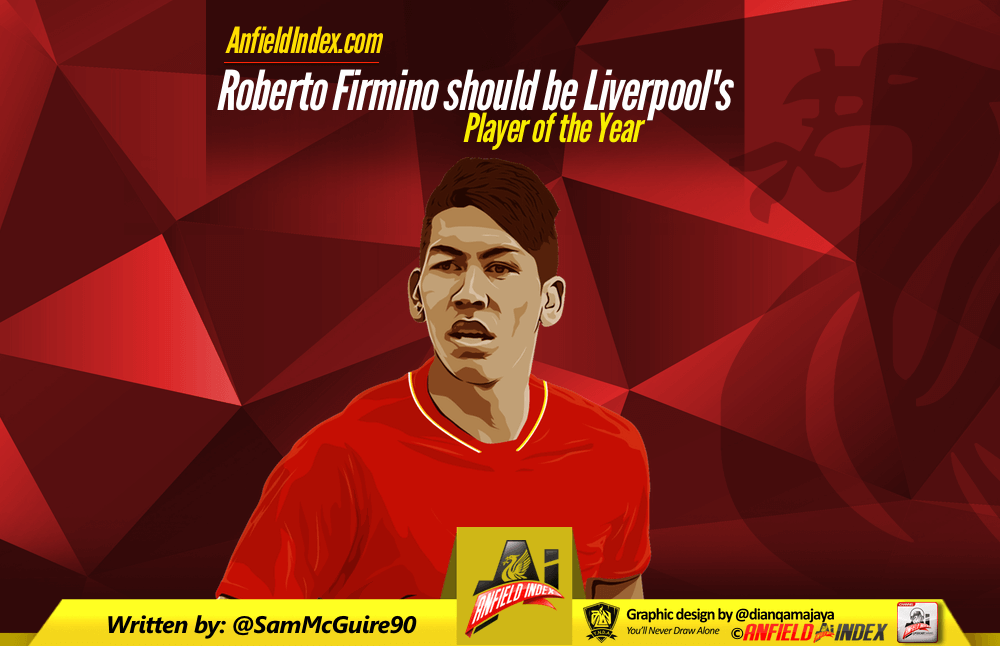 Roberto Firmino should be Liverpool's Player of the Year
When Liverpool announced the signing of Roberto Firmino it was met with faux excitement. Many got caught up in the hysteria surrounding the deal and got a little carried away with themselves despite never seeing him play 90 minutes. It was a whirlwind 48 hours from when the news broke that Liverpool were keen on the player to the club announcing his arrival.
It was easy to get caught in the buzz.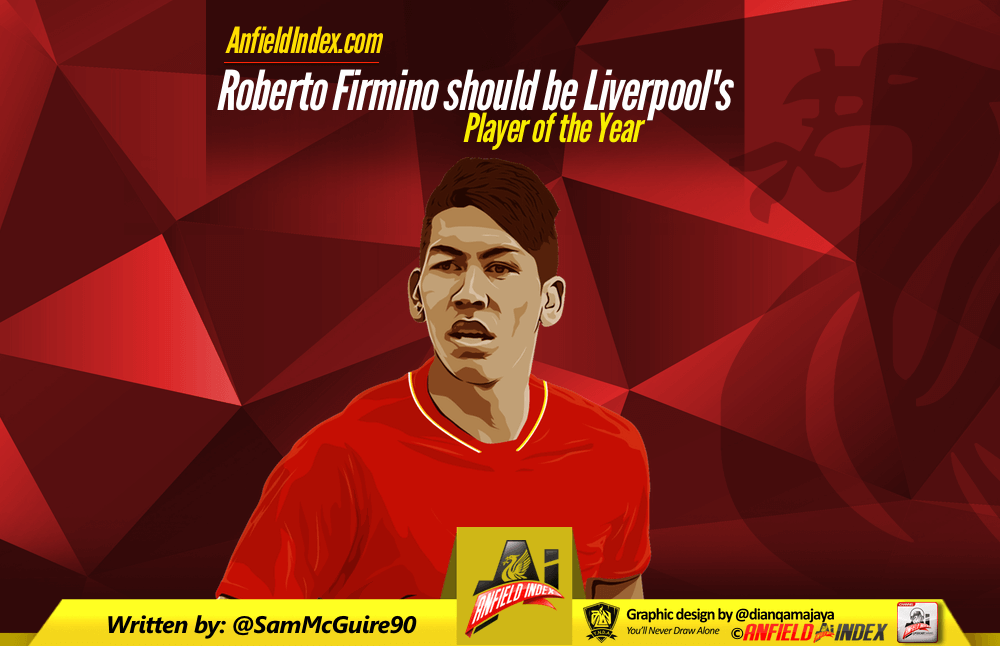 This did no favours for the newly acquired Brazilian, who not only had to adapt to a new country, a new language and a new team he also had to justify his price tag and live up to the expectations and the hype that accompany such a fee. Like with everything else in modern football he was afforded very little patience and large sections of the fan base expected results from the off.
He was a victim of his own success.
Not just that though, he was also a victim to the politics on Twitter.
There are groups of people on Twitter who dislike one another, who go out of their way to vilify the other group and show them up on social media. They won't openly admit it but their opinion on a player will be shaped by whether or not the other group/individual rates the player.
Early on in his Liverpool career there were quips from certain people calling Firmino a flop. You could tell they'd been getting antsy having to hold it in. After all, you have to wait a suitable amount of time before clearly showing your bias agenda towards a player so it doesn't look blatantly obvious.
"How can you value what this fella says when he rated Firmino from the Fraudesliga"
It's a big game of one-upmanship.
Firmino had all of this to contend with as well as being misused by then Liverpool manager Brendan Rodgers. Firmino is a special talent. He's unique but to get the most out of him he needs to be played centrally. Centrally is where you'll maximise his strengths to their full capabilities. Yet Rodgers decided to use the player as a right-midfielder and then as an almost right wing-back away at Old Trafford.  A stark contrast to being fully utilised at Hoffenheim.
He'd do a job those roles but it wouldn't be a £21 million job.
Despite such a disjointed start he could have had an assist on his full debut had Christian Benteke put away that chance after the number 11 had fired the ball across the box and left the big Belgian with a simple tap in. Then on his first home start for Liverpool he saw a 25 yard effort cannon back off the woodwork against West Ham.
Had lady luck been on his side his first two starts would have saw him with an assist and a goal to his name.
His next start, against Norwich, saw him break a bone in his back and he wouldn't play again for another month. During his absence Liverpool had a change of manager and with that Firmino's season took a change for the better.
In his first three starts under Klopp Firmino had 2 assists to his name, one in the Chelsea victory and one in the away match at Rubin Kazan. Two important wins for Liverpool and two big performances from the ever improving Firmino.
His first goal for the club arrived in his fourth start under Klopp, the 4-1 victory at the Etihad in which the attacking trio of Firmino, Lallana and Coutinho blew away the home side. He then assisted the winning goal against Leicester on Boxing Day. Firmino's influence on the team was evident as the games progressed and it was reaching boiling point.
It was against Arsenal, in January, when Firmino finally announced himself to the larger Premier League audience. Two wonderful goals in a 3-3 draw followed up by yet another double and an assist in a 5-4 win against Norwich. Since then the talented attacker has grabbed a goal and an assist against both Sunderland and Manchester City. He has goals against Crystal Palace, Manchester United, Bournemouth and Watford to go along with assists against Aston Villa and Villarreal.
Eleven goals and nine assists in all competitions. All in open play. £21 million (the fee upfront) in the modern, inflated transfer market seems like a steal.
He's a hybrid.
There's not a player in world football today like Roberto Firmino.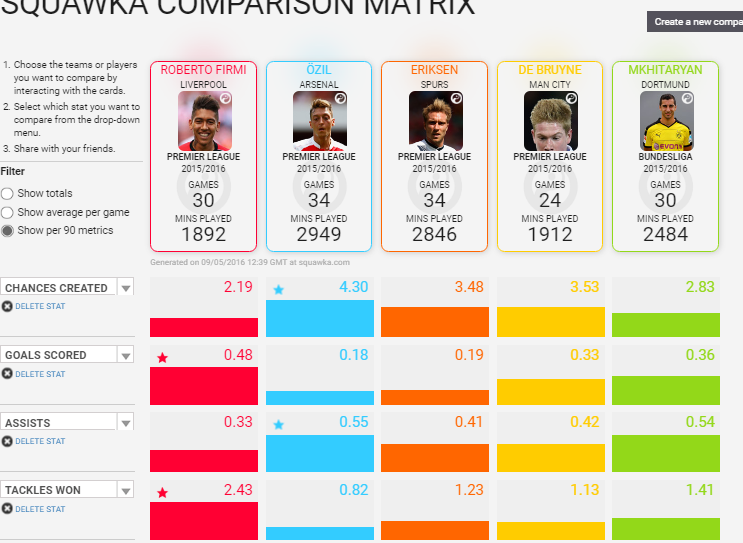 Roberto Firmino doesn't just contribute in attacking sense he also doesn't shirk his defensive responsibilities. The above Squawka comparison shows how Firmino fares when compared against Mesut Ozil, Christain Eriksen, Kevin De Bruyne and Henrikh Mkhitaryan (who is having the season of his career for Dortmund).
Firstly you have to acknowledge the other four players have been playing for title challenging teams. All, with the exception of Eriksen, cost more than Roberto Firmino.
What's interesting from the comparison is the fact Firmino leads the way for goals scored and tackles won per 90. It's not really a regular occurrence to have such a talented attacker who not only does the dirty work but one that does it so well.
Firmino's chances created and assists per 90 aren't embarrassing when compared to these players either. The stat's show he's an all-rounder; he creates, he scores and he does defensive work. He's abnormal.  But he's perfect for Klopp.
You'll also note that Firmino has only played 1892 Premier League minutes this season. He's about 1000 minutes off what he averaged for Hoffenheim in his final two seasons there, 2918 and 2916, but despite such a drop off in minutes he's still posting impressive goal involvement figures.
| | | | |
| --- | --- | --- | --- |
| Season | Goals | Assists | Goal Involvement |
| 2013/14 | 16 | 11 | 27 |
| 2014/15 | 7 | 10 | 17 |
| 2014/15 (1000 minutes less) | 10 | 7 | 17 |
It's criminal but that he's still grossly underrated by fans who always seem to want more. Take time to appreciate what you've got.
His debut season with the club and he has goals against Chelsea, United, City and Arsenal. When was the last time that happened? Of course he's had his inconsistent moments but that's to be expected with him still being young, he's still adapting and he's had a lot to adjust to this season with new managers and injuries. When he's had to deliver he's stepped up. Just look at the home leg against Villarreal as an example, Firmino played a part in all three goals.
There's been a lot of talk about who should be Liverpool's player of the season over the past week but for me there's no other candidate. Given the circumstances Roberto Firmino has had an exceptional season.