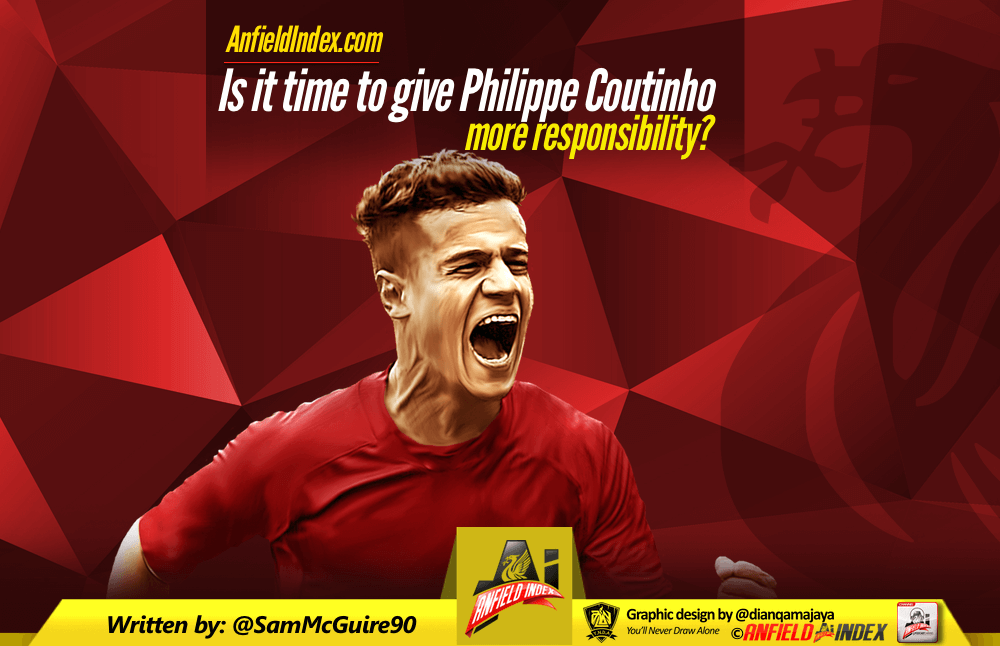 Is it time to give Philippe Coutinho more responsibility?

Should Liverpool give Philippe Coutinho a vice-captaincy role?
Jurgen Klopp's appointment was the catalyst for evolution of this current Liverpool squad. From meek, mild mannered pushovers with a brittle mentality to what we as supporters now get to watch on a regular basis; a ravenous squad with an appetite for winning who never actually know then they're defeated.
It's been quite the transformation.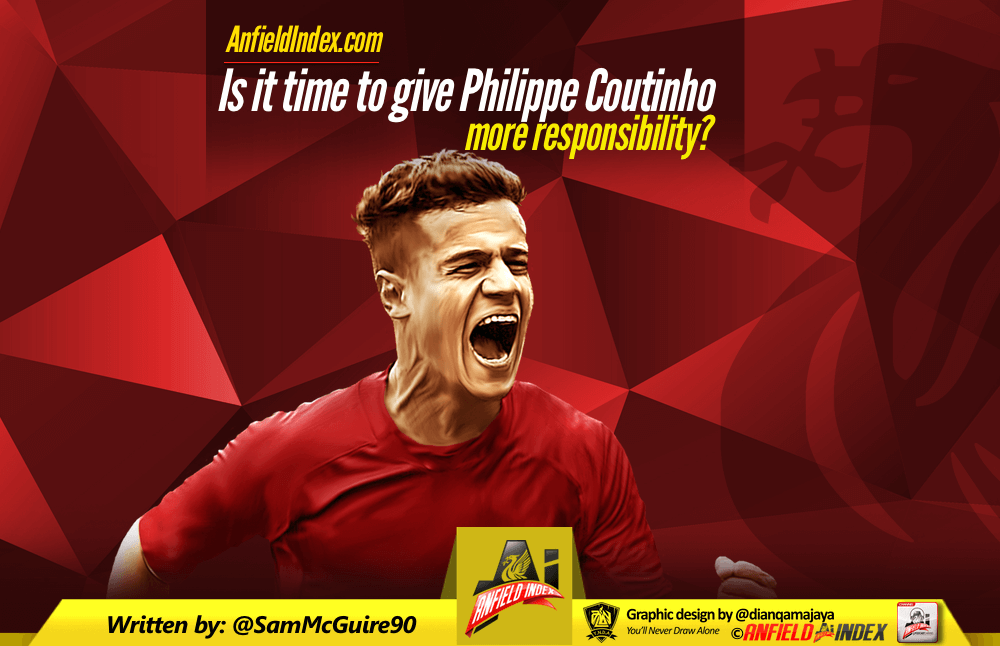 There's been growth throughout, not just as a team on the whole but on an individual level. Players have embraced the Jurgen Klopp way of football, none more so than our very own magician, Philippe Coutinho.
The Brazilian maestro started the 2015/16 season how he finished 2014/15. He scored a match winning worldie against Stoke on the opening day of the season to give the Reds all 3 points. It's something fans became accustomed with during the 2014/15 season . No not the little no10 scoring goals he has no right to be scoring, but the fact he was lining up shots from 20/30/40 yards out. More often than not these shots end up being pulled wide or blazed over, yet the frustrated Coutinho persisted with it much to the annoyance of fans. He has undoubted ability when striking a ball but his execution at times is far below what's expected of him and his lack of consistency when shooting has been a gripe for many fans.
Law of averages dictate that if you take enough shots you're bound to score one or two, these goals shouldn't give the player license to carry on but for far too long that's what happened with Coutinho.
Whether ex-Liverpool manager Brendan Rodgers enabled the player to do this is unknown but Coutinho carried on like this for over 12 months under his guidance.
Jurgen Klopp arrived and Coutinho's game changed.
The 23 year old now sacrifices individual plaudits and acclaim for the good of the team. The occasional 40 yard effort creeps into his game but it's not as noticeable now. Playing in a more reserved role now on the left of midfield, the player knows, understands and appreciates the importance of his role within the system.
His relationship with Alberto Moreno goes under the radar. Moreno's willingness to overlap and keep the width allows Coutinho to drift in field and be a creative menace. Likewise, Coutinho's intelligence, awareness and tenacity means he's competent to assist Moreno defensively and is able to do so. It's takes a mature and committed player to not shirk such responsibility, especially when you're an attacking midfielder being asked to help out defensively.
People refuse to give him credit for that side of his game because that's not what they expect from him. Perhaps he was overrated in 2014/15 but this season he's been shamefully underrated because people expect so much from him. If he's not waltzing past 4 players and making a fool of at least 2 of them then he's not having an effective game in their eyes.  Some fans, not all, seem to prefer individual Coutinho as opposed to the new, shiny looking team Coutinho.
Despite this, less individual brilliance, Coutinho is having his most prolific season to date with 12 goals and 6 assists. That amount of open play goals from a midfielder shouldn't be ignored, it's some feat. Less memorable goals in terms of worldies but more goals, and this with the player in a much more reserved role which has benefitted the team. I know which I prefer.  For context his best season to date before this one was 13/14 when he had 5 goals and 7 assists.
It may seem questionable to heap more responsibility on Coutinho after how he dealt with it last season. Coutinho seemed to struggle with the pressure of carrying the Liverpool team. It was a bit of a theme with past Liverpool squads before Klopp arrived to be overly reliant on one particular player. The increased pressure of single handedly having to fire Liverpool into the top 4 nearly broke Coutinho as a player.  Luis Suarez was sold to Barcelona, Daniel Sturridge was out injured, Steven Gerrard on his last legs and Raheem Sterling had his head turned by Manchester City. Coutinho was the player fans latched onto.
Klopp's Liverpool is different. It's very much a team orientated game. Less reliant on individuals, it's the perfect environment for Coutinho to flourish. There was talk in the summer of Coutinho needing an assistant so he could thrive in the spotlight, now  the spotlight isn't directly on him and sometimes it's him taking the assistants role to great effect.  Without an understanding of the importance of a team game it's hard for a player to completely fulfil their potential.
He's already showing leadership qualities. Just look at Liverpool's Europa League run. Against Manchester United the threat of losing the 2-0 home leg advantage was very real. United were already 1-0 up and were troubling Liverpool who looked a little disjointed in attack. Coutinho then takes it upon himself to score a out of nowhere and it was down to sheer excellence and nothing more.
Against Dortmund Coutinho scored to make it 3-2 on the night and he ran back to halfway line for kick-off doing his best Steven Gerrard impression. It had echoes of the Gerrard's celebration against AC Milan in the Champions League final. Keep believing.
Then against Villarreal the same thing occurred. The ball is bundle home for Liverpool's first and Coutinho runs for the ball, grabs Firmino and they both run to celebrate with Sturridge. The camera then shows Coutinho encouraging the fans to be even louder.
He has hunger, desire and a winning mentality in abundance. He's got fight in him and he's a player fans will get behind, so why not give him a vice-captaincy role and see how it helps him grow as a player. All the signs are there that he's ready to take on such a role.