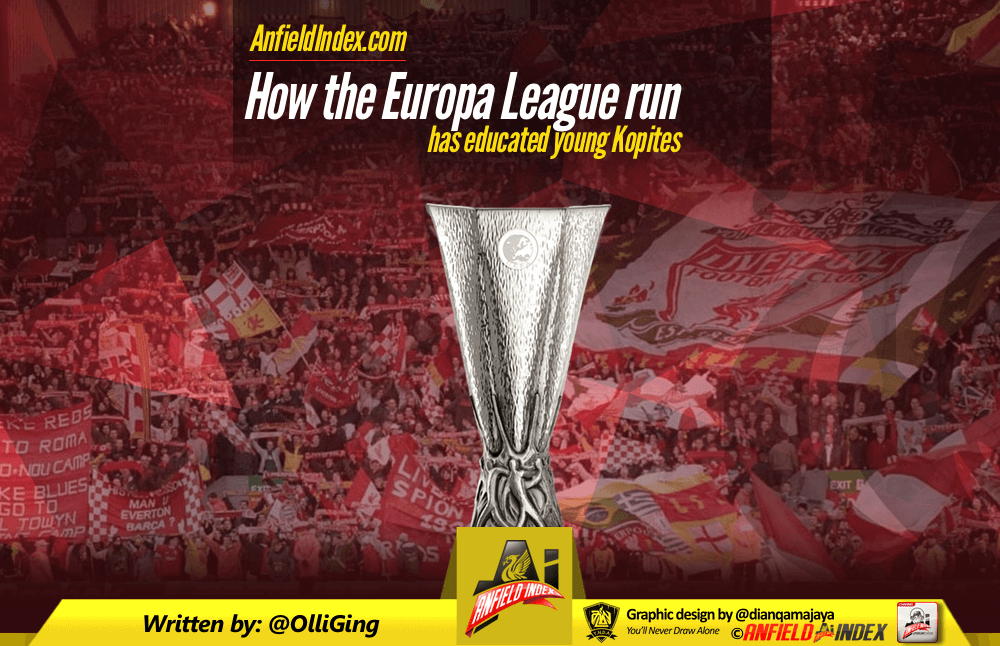 How the Europa League run has educated young Kopites

Liverpool FC, European Elite.
That's one of many banners that hang amongst the Kop on European nights, and one of the easiest to understand.
We are Liverpool. Whether rival fans like it or not, we are a club known for its European exploits. Five European Cup's, three UEFA Cup's and three Super Cup's do little to dispute that statement. European Elite, indeed.
The big positive is that everyone knows it, and all Liverpool fans understand it. Or at least, I thought I did.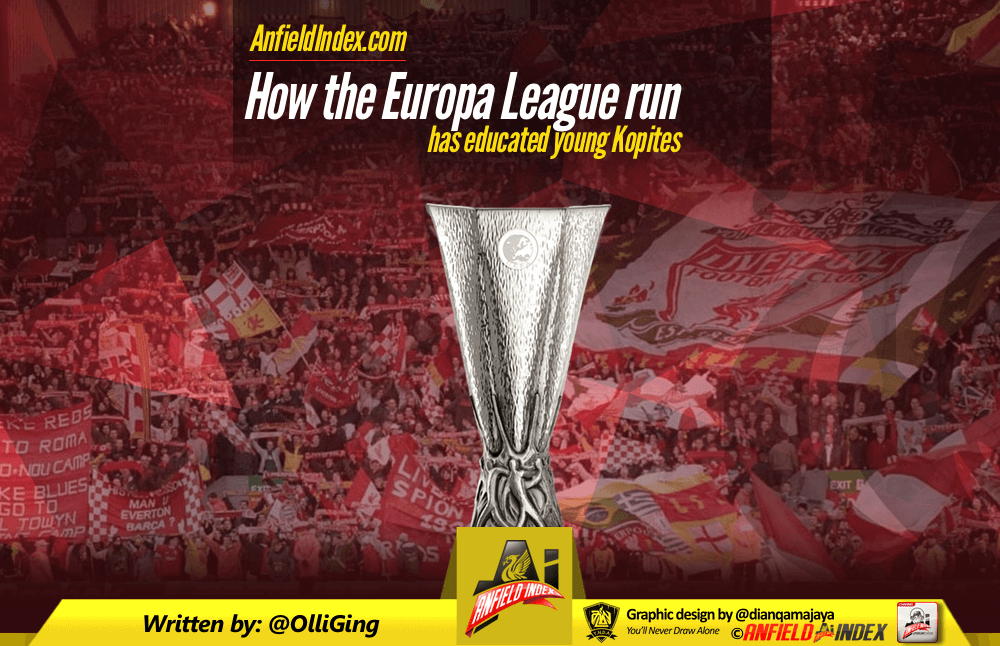 Whenever past European nights are fondly looked at, those old enough will remember the real glory days. Liverpool gobbled up four European Cup's in an eight-year spell from 1976-1984, putting the club firmly on the map in regards to the rest of the world.
Whilst Bill Shankly was the man who shaped the future of the club, Bob Paisley was the man in Europe – one of only two managers to have won the European Cup on three separate occasions.
Still, those achievements aren't always focused on when the mass media look to cast their minds back to Liverpool's European history ahead of an upcoming tie. 1984 was 32 years ago, leaving a large majority of Reds fans with no memory of those glorious days.
Due to this, it's the post millennium European era that's looked at, namely the Rafa Benitez years.
So often ahead of a high profile fixture at Anfield you'll hear phrases such as, "can the Kop recreate an atmosphere similar to that against Chelsea in 2005?", or "can the impossible be done, such as against Olympiakos in that famous season?". Everyone remembers those nights, don't they? Actually, not quite everyone.
I thought understood what it meant. I thought I understood the history. But, as it turns out, only to an extent.
17 now, I was only six when the 'Miracle of Istanbul' took place. Five, when Gerrard scored that dramatic goal against Olympiakos. I simply don't remember, whether or not it inspired me to be a Liverpool fan or not.
If anything, my first lasting memory of watching the Reds is being glued to the television as Gerrard again did the impossible in 06', rescuing us against West Ham in the FA Cup final.
There were more impressive European ties in the years to come, and I fondly remember gloating at school the day after we'd seen off Barcelona, Real Madrid and Chelsea once more in various knock-out ties. I was old enough to be able to see the difference between winning and losing, but understanding the significance of how everything we were doing was against the odds? Not a chance.
Our European success has been fairly barren since then, but I'd slipped into the mode of believing that I knew what we were about, European wise. I knew the history, had witnessed a small chunk of it, however young, and thought that I couldn't be taught anything more.
That was until this season, which has changed everything.
Never before had I witnessed European football at Anfield, but this season I feel like I've been fully immersed in everything we're about on the continental stage, having been to just three games.
Firstly, it's not always going to be perfect. That was evident in my first European night on L4, a 1-1 draw against Rubin Kazan. It was Klopp's first home game, so being there was special, but the game was forgettable. We went behind, blushes spared by Emre Can's equaliser. The lesson learned that day? We can't shock the world every week, and I left thinking that better times would be ahead.
They certainly would be, with my next visit the home leg against Manchester United. What a night. The atmosphere was booming, even for a first leg, and I left delighted as Sturridge's penalty and Firmino's strike gave us a 2-0 win. The lesson learned that night? Backed by the Anfield crowd, Liverpool can overpower whoever they like at home.
What will unfortunately turn out to be my final visit of the season came last month. Yes, I was lucky enough to sit (although there wasn't much sitting) in the Kop for Dortmund at home. What a night. I don't need to tell you what happened, everyone sat up and took notice that night. The scenes when Lovren scored the winner will never be forgotten by me, grown men diving over each-other in a dramatic outburst of passion, unity. The lesson on that famous evening? The impossible is possible for Liverpool in Europe.
Those three lessons, did I know them before embarking on this season's European journey? Probably. Did I understand them? Unlikely.
I sure do now.
I can't help but think that it'll be the same for a number of Liverpool fans around my age, witnessing Jurgen Klopp put us back on the European map. It's the first time for a lot of us, and it's marvellous to watch.
On behalf of all the up and coming Kopites, let's hope and pray that we finish the job in Basel next week.