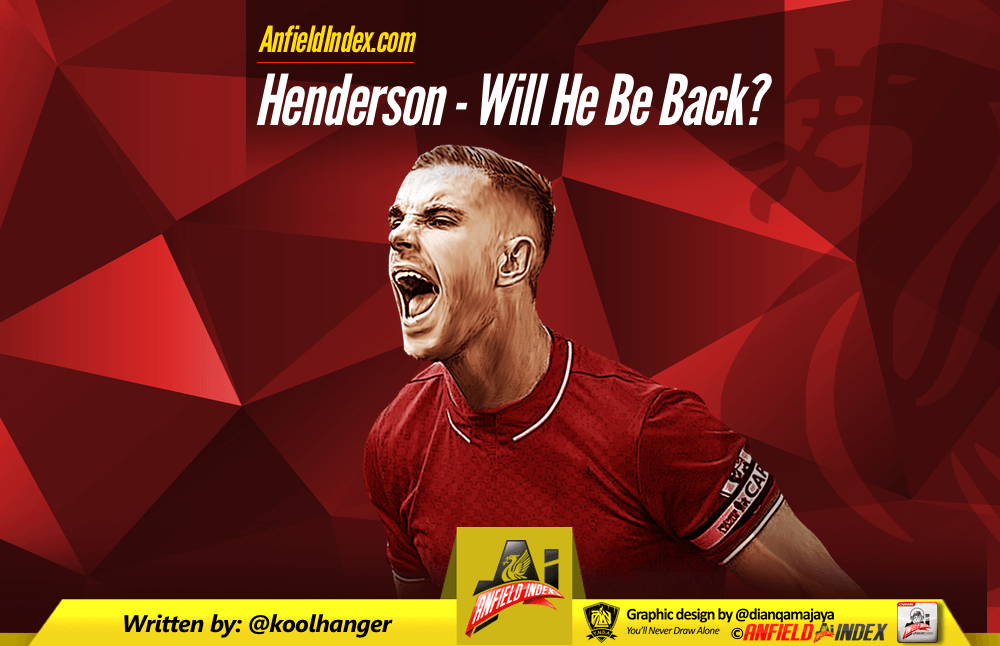 Henderson - Will He Be Back?
To Infinity and Beyond…
I feel I've let our captain down.  His story is similar to that of Woody in Toy Story.  The arrival of Buzz Lightyear, coupled with an injury-ravaged campaign has meant that Jordan Henderson has been pushed to the back of my mind.  
In this case, our Buzz Lightyear may well be Bobby Firmino in his debut season, a rapidly developing Emre Can or an ever-dangerous Philippe Coutinho.  Heroes have been emerging at Anfield over the last few months on the back of a fantastic charge in the Europa League.  Henderson may not be fit for the final next Wednesday, but even if he was would Klopp pick our club captain?  Milner has been doing much of the job that Henderson does, while adding plenty of assists too.  So what can Jordan offer us?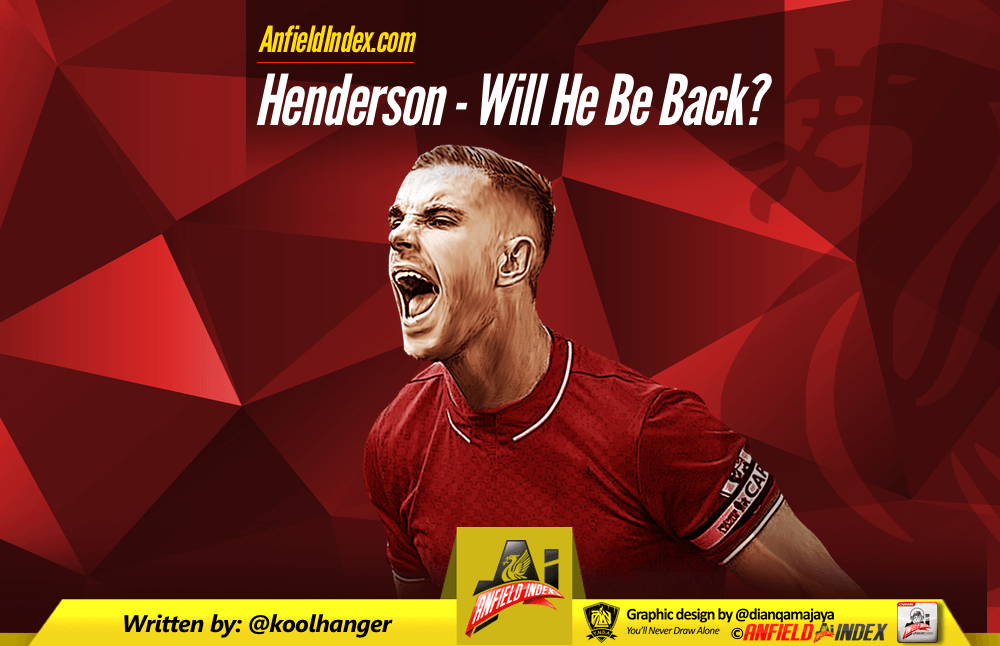 Overawed upon Arrival?
Arriving at Melwood in June 2011, Jordan Henderson had a lot to live up to.  Kenny Dalglish and Damien Comolli had just convinced the Red's relatively new owners, Fenway Sports Group, to splash £16 million on the Sunderland native.  The move was completed a week before Henderson's twenty-first birthday.  
Jordan had already made his debut with the Senior England team the previous November.  He partnered his future club teammate, Gerrard, in the midfield for that 2-1 defeat at home to France.  It was a night when Fabio Capello expected him to perform the duties of a defensive midfielder, not a role Jordan was familiar with.
He came up short that night, as would many twenty year olds on their Wembley debuts.  Jordan was already a potential victim of the English media's desire for every aspiring youngster to be the next Owen or Gascoigne.
Roots
Born and reared in Sunderland, Henderson went on to sign his first professional contract for his home-town club in 2008.  He made his debut later that year as a substitute in a 5-0 away defeat to Chelsea. From January 2009 he gained some vital first-team experience with a loan move to Coventry City. Plying his trade in the Championship, Henderson scored his first senior goal a month later for the Sky Blues. Jordan returned to Sunderland that April after fracturing the fifth metatarsal bone in his foot.
For both of the following two seasons Henderson was named as Sunderland's Young Player of the Year. Steve Bruce, his manager at the time, described Jordan as "The best young British footballer there is".  He was held in very high esteem by the Sunderland board and coaching staff.  Upon the completion of his move to Anfield, Niall Quinn commented that "Jordan is a credit to himself, his family and Sunderland's Academy and everyone here wishes him the very best for the future".  Quinn, the Sunderland chairman at the time, must have been delighted with the return the club were getting on one of the products of their youth system.
Welcome to the Jungle
At Anfield, Henderson would have to adjust to being constantly in the media spotlight, the transition was never going to be easy.  Joining at the same time as Stewart Downing (£20m) and less than six months after the failing Andy Carroll (£35m), Henderson found himself the subject of constant scrutiny. Dalglish and Comolli's transfers were being put under the microscope as the team struggled to gel significantly in the 2011/12 season.
Henderson was deployed to the right of midfield for most of that season.  He made 48 appearances and scored 2 goals that season.  When Dalglish was replaced by Brendan Rodgers in the summer of 2012 his place was under serious threat.  Rodgers tried to offload Henderson to Fulham with the aim of bringing in Clint Dempsey in a swap plus cash deal.  Thankfully it fell through.  Henderson was clearly hurt at the time,
"When the manager told me I could go to Fulham it was a bit of a shock at first.  What he said came as a sort of bolt from the blue.  I worked really hard to come to a club like Liverpool and I didn't want to leave in a hurry."  
The following season Henderson only started 16 league games under Rodgers.
In 2013/14 Henderson became a first-team regular for the Reds.  November 2013 saw Henderson win his first England call-up for 18 months.  It is no coincidence this was after he was allowed the chance to show what he could do in his favoured CM position from August that year.
December 2013 saw Jordan put in a superb performance in Liverpool's 5-0 trouncing of Spurs at White Hart Lane.  This was significant as Gerrard was injured and the onus was mainly on him to ensure the skipper wasn't missed.  Rodgers said of Henderson after the game "It was a great buy by Kenny".  Things were looking up for Jordan.  His club manager was beginning to get an idea of just how important a player Henderson could be.
I don't want to dwell too long on the rest of that 2013/14 season.  We all know what happened, how close we came.  Henderson was red-carded against City in the run-in of our title charge.  The straight red card meant it was a three match suspension.  Speaking after the City game, Rodgers said
"Even though we'll lose him on the field we can't lose his personality off the field as well which is why he'll still travel and be a part of what we're doing."
A New Role
That September, when Daniel Agger left the club, Henderson was appointed vice-captain and Rodgers labelled him as the "moral conscience" of the team.
Unfortunately, the 2014/15 season is only memorable for one thing – Gerrard's swansong.  Everything else fell to pieces.  As well as the incredible Luis Suarez leaving, the rest of the team lost the belief and trust they once had in Brendan Rodgers.
Stevie left in the summer of 2015 and Henderson was promoted to club captain.  As big a Jordan fan as I am, I never felt he was captain material.  He lacks the commanding tone needed from a captain. Speaking to Neil Jones from the Liverpool Echo in 2013, Jordan was asked about why some fans feel his game is too passive, and lacks authority.  "They're probably right, aren't they?" admitted Henderson. This isn't a dig at the player.  Jordan performs better as a soldier, not as a General.
What does Henderson offer us?
Having watched Jordan play over the last five years it is evident that his favourite and most effective role is as a more dynamic, central midfielder.  His best quality does seem to be his engine and he times his breaks forward from the midfield to great effect.  Henderson's stamina and endurance can distract us from the fact that he is very good on the ball and a great first-time passer.  Let me rephrase that – Henderson sees a great first-time pass.  His vision and anticipation are excellent, but the technique in his passing may not always reach the standard he would like.  
Every team needs players like Henderson and Milner; they keep things ticking over in the middle of the park and feed the silky-skilled virtuoso's up front.  Their importance can not be overlooked in holding a team's shape, and the defence behind them will always feel more at ease knowing they have a grafter in front of them.  Players like Henderson always seem to have something left in the tank as well, helping to keep the tempo high when the team needs it most.
Judging a Book by its Cover
When Henderson signed for Liverpool many Reds fans (probably just me) were worried about how this "pretty boy" with his Joe-90 like shiny exterior would fit into their midfield.  Was he a battler?  Could he show a real passion and fighting spirit?
The best compliment I can pay Jordan is this; the characteristics he displays on the pitch are in complete contrast with what I was expecting when I first seen the man.
What Now?
Henderson may well be gone this summer, if rumours are to be believed.  But what are the other options?  I don't think he embodies what Klopp wants in a long-term captain, but he does possess the professional attitude, work rate and reliability our manager wants from his midfielders.  
I think our midfield is going to be built around Emre Can, who is becoming an absolute powerhouse for us.  Which means Henderson is looking at having to prove himself all over again.
Now is the test for Jordan.  Time to step up to the next level.  He's done it before when Rodgers didn't believe in him.  
Now it's time to turn Klopp from a doubter to a believer.