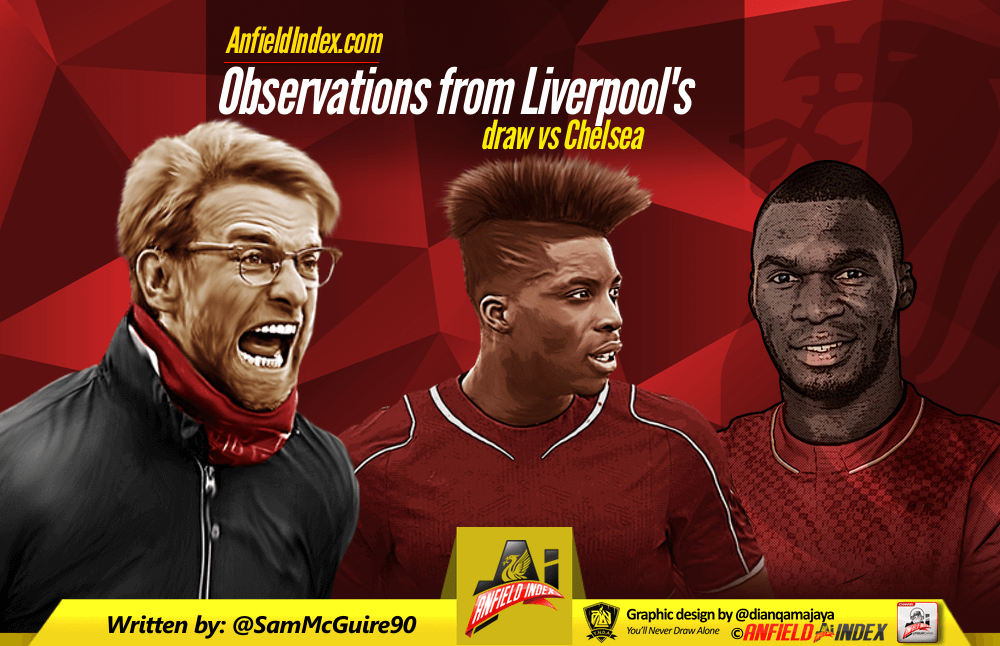 Observations from Liverpool's draw with Chelsea
Liverpool ended their Anfield season with a well-deserved point against Chelsea. It had an end of season "nobody can be arsed but we have to play it" feel mixed in with a "we've a Cup final in a week's time and there's no chance I'm risking an injury" mentality. It wasn't one for the neutrals.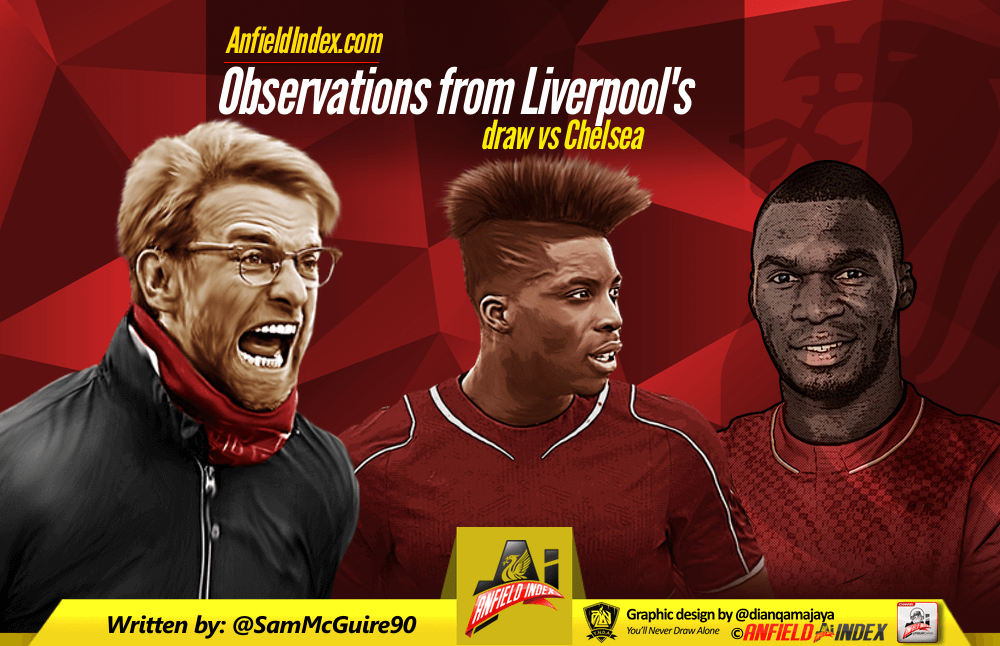 Chelsea didn't help proceedings by rocking up with a game plan that Jose Mourinho would have thought up during his naked alone time. Stifle the opposition. Suffocate them. Grind a result out. Bore them into submission. Quieten the crowd. Don't let them play. That's just what Chelsea did. The team that put Villarreal to the sword less than a week ago looked fairly bereft of ideas for the most part against a Chelsea side with nothing to play for.

Let's start with the most obvious of positives – Liverpool got through the game without picking up any injuries. The starting XI tonight is most likely going to be the one that starts against Sevilla in a week's time in the Europa League final, so to see them all finish the game without any knocks, strains or breaks is something to be elated about. Emre Can got another 90 minutes under his belt as he works his way back to fitness following on from the injury. Positives.
The never say die attitude. Klopp has instilled a fighting mentality since his appointment and although it was a dead rubber in terms of importance, the Reds didn't give up and eventually got an equaliser. It wasn't a pretty goal, but it didn't have to be. Liverpool avoided defeat and scored yet another injury time goal. It's the thirteenth time this season that Liverpool have came back from a losing position to take something from the game. It's also the sixth time this season Liverpool have scored in injury time to earn at least a point in a match under the German. The fighting spirit is alive and kicking.
Sheyi Ojo. The talented youngster came on with not a lot of time remaining but looked right at home immediately. He continued his impressive run of form and picked up another assist (if credited with it) as Chelsea 'keeper Begovic parried his cross straight into Benteke's path. It takes his tally to four Premier League assists; quite the achievement given the fact he has not played many minutes. His work rate, output and the abundance of talent he has makes him an attractive squad player for Jurgen Klopp next season.
Keepers getting too much protection. This isn't a fresh observation but it was hard to ignore tonight. Goalkeepers get far too much protection from referees. The officials allow a mini royal rumble to occur in the penalty area during set pieces and rarely call for a foul. However, if a player sneezes on the 'keeper, it's a foul. There used to be a time when teams would 'target' a keeper that flapped. It was a tactic. Now officials almost feel sorry for them and go out of their way to stop the embarrassment. The 'keepers have no incentive to improve their handling because they know they can just fall over and the officials will award them a free-kick. It's bollocks.