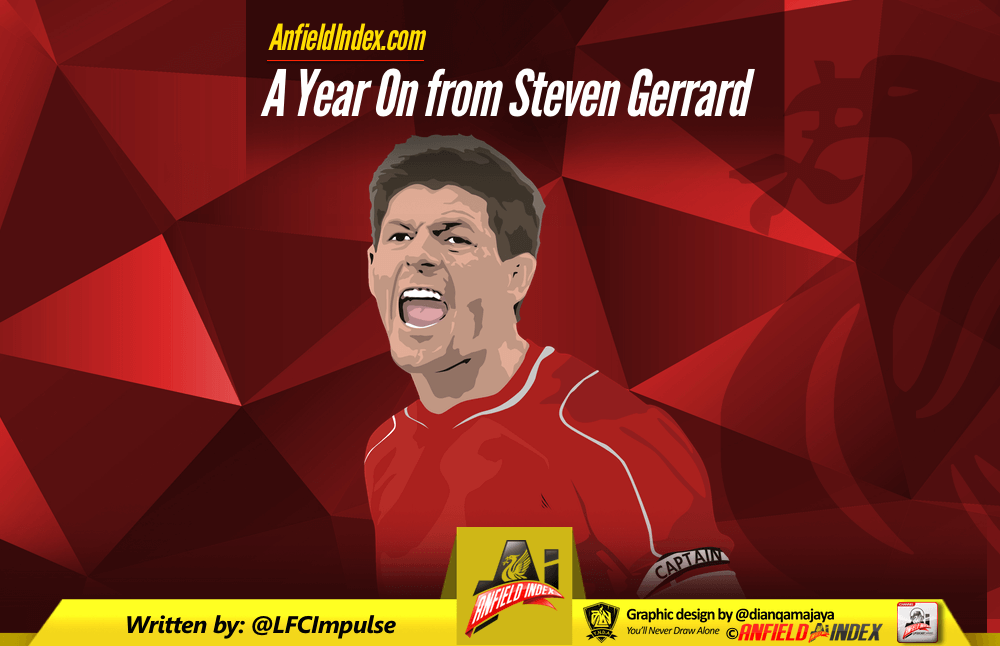 A Year On from Steven Gerrard
"Liverpool Football Club has been such a huge part of all our lives for so long and saying goodbye is going to be difficult, but I feel it's something that's in the best interests of all involved, including my family and the club itself."
– Steven Gerrard, January 2015
The words that plagued Liverpool fans and impartial Premier League fans alike over a year ago; Steven Gerrard announced his departure from Liverpool FC and top-flight English football in favour of luxurious, luscious Los Angeles. His self-proclaimed obligation and debt owed by him as former club captain to his career-long and childhood club could not overcome his love for the game.
In simplistic terms, Gerrard was simply unwilling to take a back seat as his footballing career was slowly ticking down; to squeeze every last drop from professional football that he can wring out. While drastic, this announcement was one that sparked a lot of changes at Liverpool over the course of the next season, one that dominoes into more and more positive changes.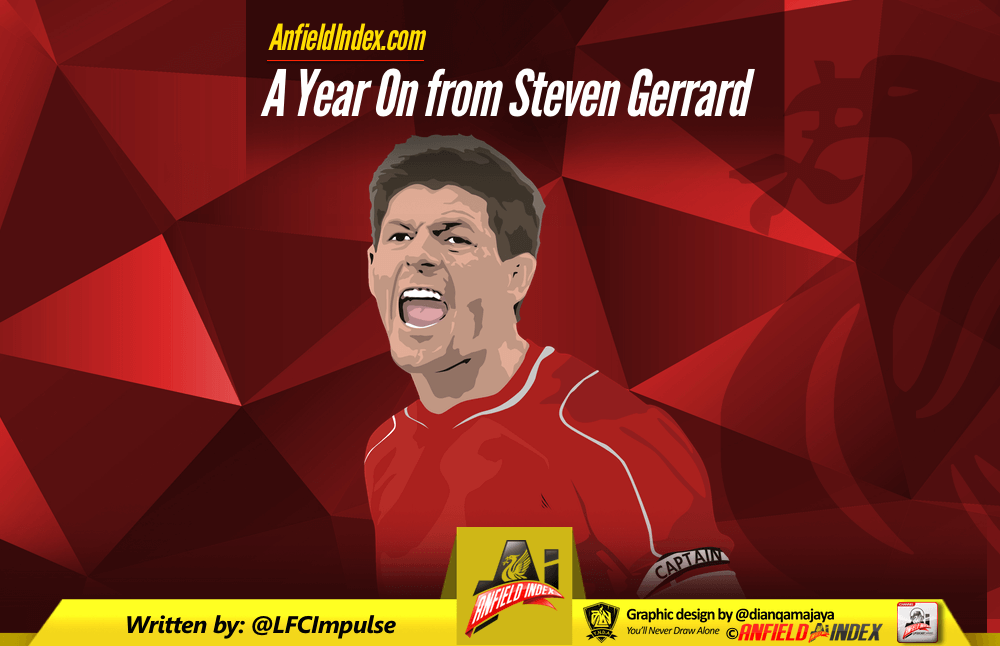 Positive Distinctions
The man he wished he could've worked with in the earlier stages of his career parted ways with Liverpool football club. His boyhood club is still looking for anyone who could impact the team in a similar style to the man Gerrard deemed to be the greatest teammate he's ever played with, though there have been glimpses of it from the newer signings. In turn, the man who deemed Gerrard as the best player he's ever played with has almost, for the second time in his career, won the trophy that Gerrard himself lifted in Istanbul.
The arrival of Jürgen Klopp – the man that Steven Gerrard should be wishing had arrived sooner – has brought fresh ideas and a very dynamic playing style compared to what we have been accustomed to. "Death by football" and "tiki-taka", followed by counter-attacking football on Uruguayan steroids have been scrapped to an extent. The pressing style implemented by the man who saw out Gerrard's Liverpool career had its knobs turned to 'frenzy' mode.
The reignited squad running on German fuel has seen some unfamiliar scoreboards. Jürgen Klopp inspired a win against Chelsea in Stamford Bridge – a convincing 3-1 win, at that – something that his predecessor failed to do. The Reds did the double over Manchester City, perhaps in a revengeful fashion from the heartbreak of seeing them lift the title that they should've lifted, with a 7-1 aggregate score over the two fixtures. Those coupled with some awe-inspiring wins thrown into the mix including a dominating 6-0 win over Aston Villa and a 4-0 win over neighbours Everton, too.
In just 7 months, Liverpool has been involved in 2 cup finals whereby there were moments where even Stevie's magic would've been useful. Losing out in penalties to Manchester City in the Capital One Cup and not capitalising on first-half chances against three-peat chasers Sevilla in the Europa League should not be bats swung at the club, but instead, should be seen as further signs of positive change. The road to each respective final wasn't a walk in the park either, with a stunning 6-1 win over Southampton in the former competition, and knocking out the likes of Manchester United and Borussia Dortmund in the latter.
It was no yellow brick road indeed, with the Reds always being the underdogs, but needless to say, a lot has changed since that faithful day in January of 2015…
Familiar Rings
…yet many things have stayed the same for the Reds.
Without a single fragment of doubt, Liverpool has played some marvellous football under Gerrard's captaincy – the 13/14 season, the 08/09 season, the famous thunderbolts in the FA Cup, and of course, Istanbul and all the glory that came with it. Even under Klopp, the 'Liverpool Way' of playing football still persists within the squad but at an intensified rate. However, such an attacking-centric style of play comes with its downsides, with haunting memories of defensive frailties from the recent past still creeping up every now and then.
Hard-to-take losses against "lesser" sides is nothing new to the Kop. Those against Hull City and Aston Villa from recent seasons can be seen with the heavy losses to Swansea, Watford, and the now-relegate Newcastle doesn't seem too dissimilar. Going down from winning positions – especially that against Southampton from a what should've been a comfortable win – is nothing new to the club labelled as 'bottlers'.
Playing devil's advocate – this normal anomaly happens to all teams to a certain extent; they should never be 6-1 losses to Stoke City, though.
Just as with the many, many seasons where Steven Gerrard ruled the pitch, next year is still 'our year', as cliché as it sounds. Stevie, or no Stevie, Liverpool FC will continue to live on. Many would argue that greater greats have left the club and yet Anfield still remains intact, and with that, so will its goals and aspirations. With or without him, the club will always, always aim to win titles and trophies, or at the very least – build towards it.
Liverpool is still very much on the hunt for its first ever Premier League title along with consistent appearances in the Champions League once again with hopes of claiming European success. Anything extra – domestic cups especially – is a bonus. This hasn't changed for decades and if trends are to be trusted, this won't stray off course anytime soon.
Beyond 'A Year On'
"It is my sincere hope and wish that one day I can return to serve Liverpool again, in whatever capacity best helps the club."
Perhaps it wasn't sayonara when Steven Gerrard left the club but rather, au revoir – until we meet again. Steven Gerrard's could regret that he did not carry any of the Liverpool sides to a Premier League title finish, or that he wasn't able to bring back regular Champions League football in recent years, or that he wasn't able to help convince some top-tier players to stay. In the end, his biggest regret could be that he did not become the one-club man everyone expected him to be, but yet to many, he will be the one man we associate this club to; forever and always.
Much like how some supporters have greats that they tell stories about to their kids and grandkids, Steven Gerrard will be that great that Liverpool fans who were dubbed as 90's kids and millennials will tell the tale of. Maybe Gerrard and the Premier League will be what Brian Clough is to the England national team managerial role – both deserving of it in one way or another, but will forever remain as a dream to both.
However, the same can also be said about Liverpool FC. Being one of the most recognised clubs in the world, with a reach of global proportions, cabinets of trophies and decades' worth of accolades, a Red can only hope that a Liverpool without a Premier League trophy will only be 'a phase' sooner rather than later. Regardless, the learning process and development for Liverpool under the tutelage of Jürgen Klopp is far from its final stretch.
It's been a bumpy roller-coaster year with a Steven Gerrard-less Liverpool FC yet the club's ambitions are as strong and as undying as ever, in Stevie's presence, or not.