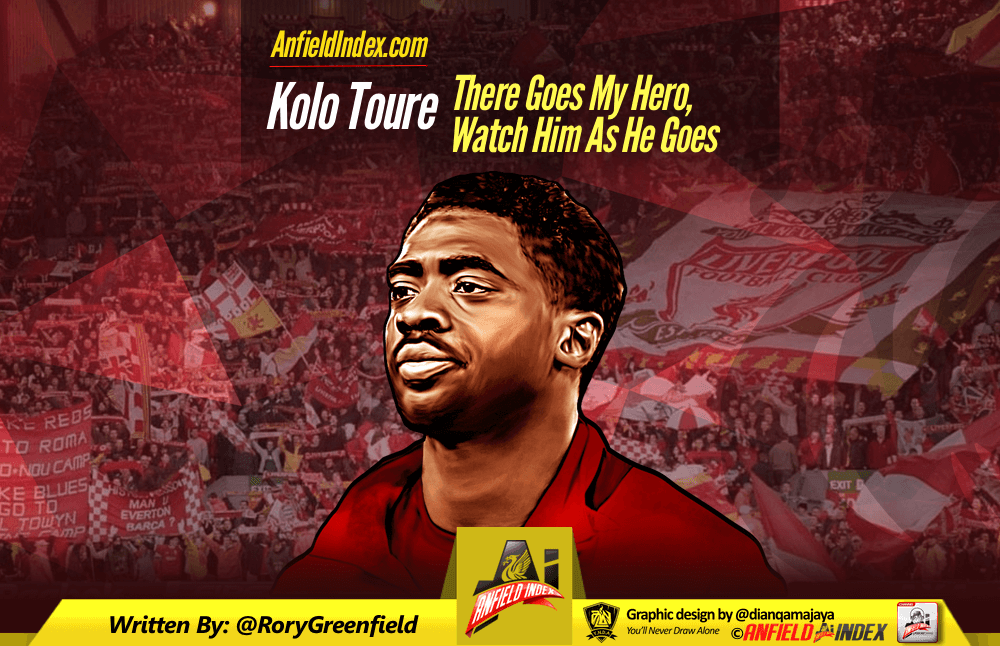 Kolo Toure - There Goes My Hero, Watch Him As He Goes
The words 'Mamadou Sakho' and 'drugs test' must resonate with all Liverpool supporters as a moment where they feared for our subsequent defensive collapse as the season came to an end. The imperious French international had finally won round any remaining doubters and was being lauded as a future captain. When the news broke, I personally didn't want to believe or accept it. However I should have feared not, one man had other ideas and has considerably helped to soften the blow. That man is Kolo Toure. Imperious in both legs vs Villareal, he's showing that experience, determination and intelligence still prevails, even in the twilight of his stellar career.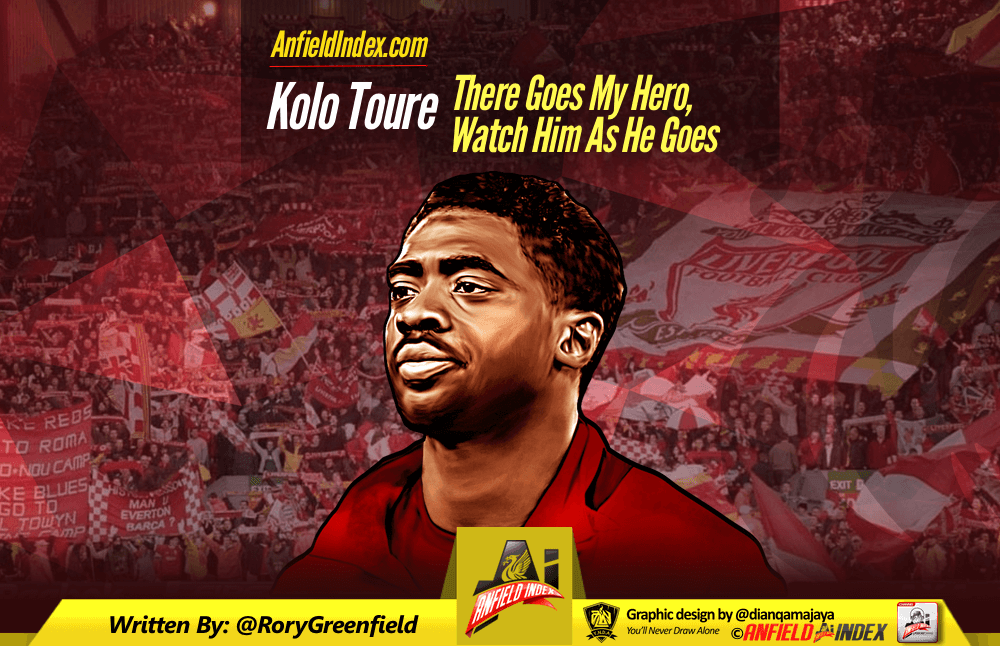 He's been a rock whenever called upon this season. A player whose never fazed, no matter the occasion. People talk about experience, but it's nothing without the quality to combine with it. Kolo has this quality, he's always had it. It's that anticipation and reading of the game, which means those slightly slower legs are still rarely exposed. He's an extremely calm presence, confident in his actions and positive in his convictions.
For such a kind, gentle figure of a man, Kolo's proven a divisive figure in his time at Liverpool Football club. Much maligned by some and universally adored by others. It's a shame he's struggled to be taken seriously on the grounds of his genuine ability, not just his beaming smile or moments of slapstick comedy gold. He's reached cult hero status, which has brought some praise, but I'd argue it's doing his performances some disservice, because baring a few lapses, he's been a great servant for the club.

Despite the fact his career is littered with awards and accolades, you'd be forgiven if you've forgotten that Kolo was an 'invincible'. A mainstay at Arsenal in that exceptional side, who delivered that exceptional season. Having been brought for just £150,000 to the Premier League by Arsenal, you could be argue he's been one of the most successful signings in the Premier League era. With over 350 Premier League appearances and 115 international appearances for the Ivory Coast, his record is exemplary. He's had over a decade of top level experience, played and excelled in all major tournaments and captained both club and country. He's picked up 10 major honours, including two league titles and two F.A Cups. So to dismiss his status as a top player, a consummate professional, is down right scandalous.
Even at his age, in the twilight of his career, Kolo can definitely still play. He's strong, athletic, composed on the ball, an excellent reader of the game and above all else 100% fully committed, each and every minute he's on the pitch. Which is why it's sad that his cult figure status means his actual ability is over shadowed. When that insane team was picked by Brendan Rodgers to play at the Bernabeu, it felt like he'd rolled back the years. He delivered an excellent performance, trying to lead that disjointed team, which had no right to be so competitive on the night.
His first season at Liverpool alongside Agger for the first half a dozen games, was arguably the most consistent and commanding partnership we witnessed under Brendan Rodgers. When paired with Sakho and more recently Lovren, it's clear he's a stable presence, who invites the best out of his partner. I must admit I'm delighted that these performances are finally starting to get some deserved recognition. He's far from conventional, but he's a player I genuinely admire. I always have, and frankly always will.
Despite what may supporters believe, he's far from the weak link in our defence. In fact, when we line up to play Sevilla in the Europa League Final, it's his experience and quality that we'll rely on at the back. He's been in these games before, like very few others in this squad. That big game experience is vital and I truly believe, he'll prove pivotal in the outcome of this monumental game.
It'll be with nothing but fond memories when I wave goodbye to Kolo in the summer. He's been a valuable member of the squad and personally given me many moments of joy, during some very difficult times. People will say there is no room for sentimentality in football, perhaps brand me as idealist or fantasist, but for a player in the twilight of his career, Kolo has proven his class, time and time again. He's proven to be a key character in a dressing room that was lacking personality, experience and leadership.
He's a player I'd happily welcome back as an ambassador or in a coaching role in the future. He's a player not just supporters, but players and coaches respect and admire. His positive approach to the game is incredibly infectious. He'll make an excellent coach in the future, his experience, knowledge and positively is rarely matched in the modern game. I can't help but smile, when I watch Kolo play and deep down, isn't that why we'll began to watch football in the first place?