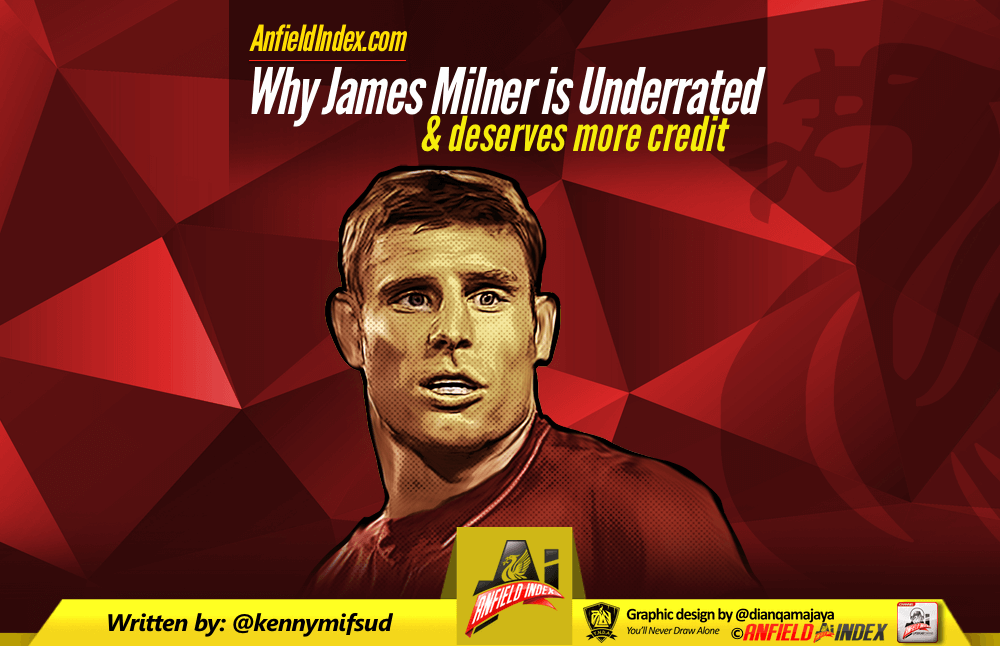 Why James Milner is underrated & deserves more credit

Ex City and Villa all rounder James Milner arrived at Anfield bearing no outstanding pressure on his shoulders, definitely not as much as the likes of Benteke, Lallana etc.. A free transfer from a Man.City team who's fan-base were left raging at the prospect of 'Boring James Milner' departing. What could possibly go wrong?
His wage bill. £120,000 a week is a staggering amount for a players who was seemingly brought in as 'back up' for Henderson, Can, etc… Heck, just a few thousand more would have kept Sterling at the club. (Yeah, thank God we DID NOT go down that route) The season has passed by and with two matches left to play, I can gladly say I prefer a 30 year old Milner to a 21 year old Sterling at Liverpool. Every day of the week.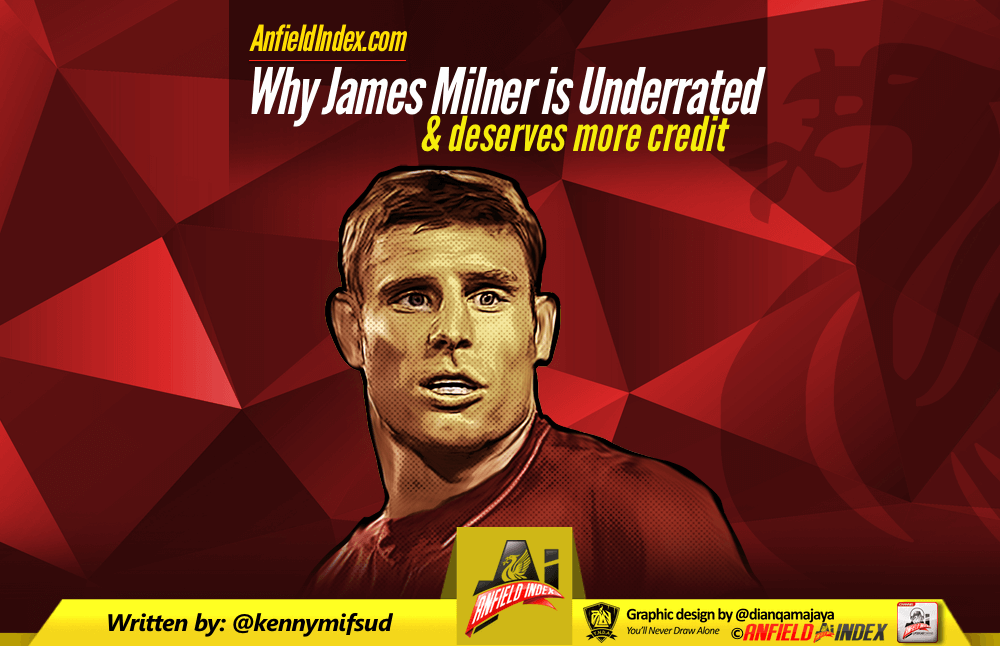 King Of Assists.
Although pretty poor (like the rest of the squad is) at corners, Milner's crossing abilities have improved massively and have aided the team greatly, most notably in the dying seconds of our second leg quarter final against Dortmund.
"Boring James Milner" has 16 assists this campaign, a few less than Mesut Ozil… an attacking midfielder. The criticality of these assists is another major factor as most of these crosses have arrived in key times during matches determining the outcome and result. Heck, we would NOT be heading to Basel next Wednesday had it not been for Milner's THREE ASSISTS that night. Significant.
He's Taken The Armband With Pride.
He may not possess the vocal skills of a Steven Gerrard, nor his last minute winners either, but Milner's experience alone has guided Liverpool on to a climatic season finale. I myself grieved Henderson's injury earlier on in the season with the rest of the supporters, yet Milner has taken the bull by the horns and ushered his side on. This quote alone shows just how much of a leader James Milner is:
"Hendo will lift (the trophy) if we win it. Hendo will lift it even if he isn't in the squad."
"To be honest, I don't like doing it (captaining Liverpool) because it means Hendo is injured and not playing and he's our captain and a top player."
What a lad.
He's A 7/10 Player – Hence Why He Is So Underrated.
Absolutely NIL amount of mathematics and equations can solve exactly why Milner is so massively underrated in the Premier League. He scores goals, nets a ton of assists and works with his heart on his sleeves. James is what we call a '7/10 player,' a man who never does anything out of the ordinary to  'WOW' the crowd, yet scarcely makes an error leading to a chance for the opposition. He gets on with the job in hand and does most of the 'dirty work' , which leads to other players getting all the praise and plaudits.
The stats are there for all to see however. Milner SHOULD GET more recognition for his contribution to the Liverpool cause.
Lastly, He's Actually A Decent Spot-Kick Taker As Well!
On par with Mario Balotelli in 'never missing a penalty kick', with the only difference being the fact he actually works his socks off on the pitch. Mario? Ha Ha Ha!
Milner has netted the winner from the spot on three occasions this season. (Bordeaux, Swansea, Augsburg) Had two of the three not gone in, we may not be sitting in the Europa League final. He score's crucial goals at crucial stages.
We can definitely rely on James from 12 yards out. m(Let's hope we've learned from our mistakes during the Capital One Cup final against City)
James Milner's leadership and experience is epitomised once again in a recent post-match interview against Chelsea:
"It's disappointing not to win the game, we wanted to win. They're obviously a good team and I know we can play better than we did (…) We were a yard of two off it tonight, for whatever reason."
"It's a bit disappointing, but we've shown that character again to keep going until the end."
That quote came after our recent 1-1 draw with Chelsea. Nothing much to play for in the league, yet Milner still spoke like a true captain who's never happy with a draw and think's there is always room for improvement.
So, after reading this article, would you change your Liverpool Player of the Season vote?