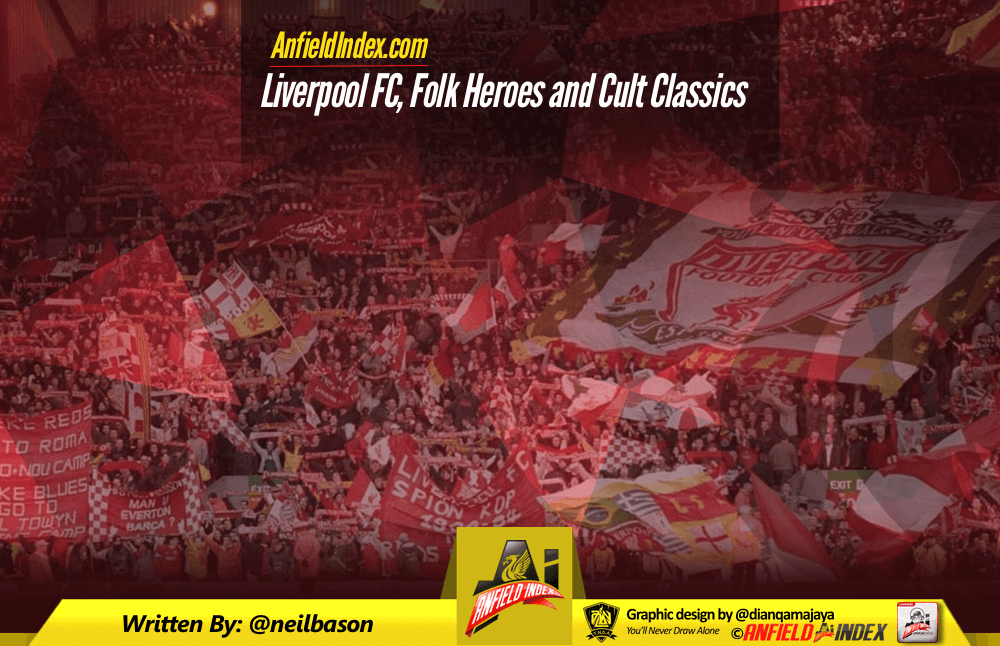 Liverpool FC, Folk Heroes and Cult Classics
Brace yourself, as that dreaded time of year is upon us. From roughly now, until early September, we're about to be inundated by daily updates on which name, big, medium, or never heard of him, is about to be photographed leaning awkwardly against a wall at Melwood, or holding the obligatory red and white scarf above his head after signing on the dotted line for Liverpool.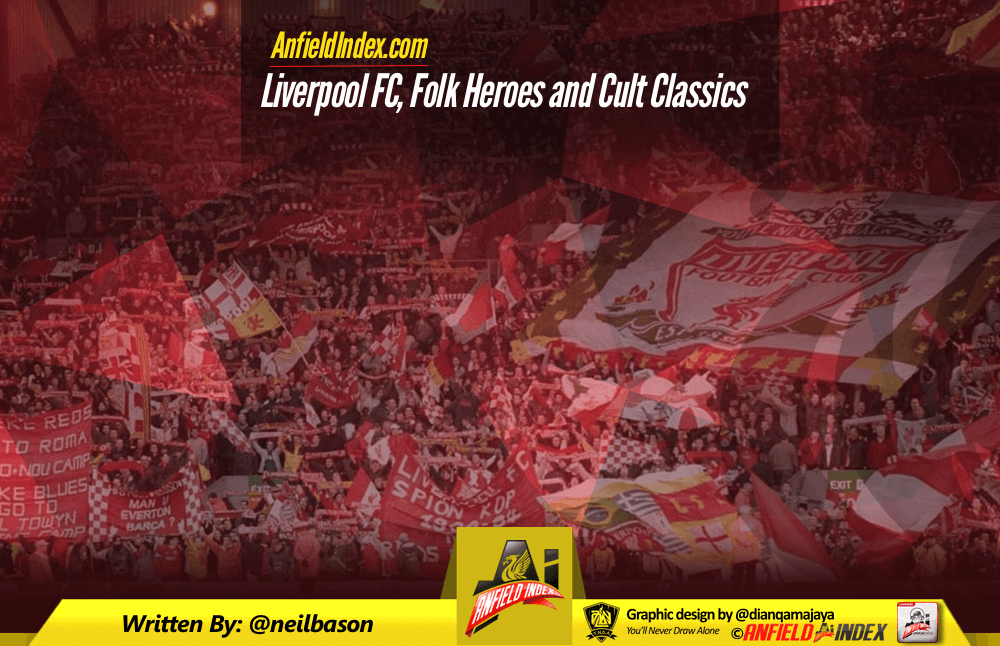 It's the most wonderful time of the year, as long as you enjoy scrambling around for YouTube clips of the latest link that invariably make the lad look like prime time Pelé.

Many names will surface, no doubt materialising through the clouded crystal balls of shady in-the-knows huddled elusively in the dark corners of Twitter waiting for the opportunity to strike.
Some will sign, that much is set in stone. But from there everything else is a mystery. I think it was Forrest Gump who summed up the transfer window best, when he said, "The window is like a box of chocolates, you never know what you're gonna get. Once Liverpool signed Paul Stewart, the footballer equivalent of the coffee chocolate. And he arrived looking like he'd eaten the whole damn box… Jenny." Forrest Gump references are still relevant aren't they?
Anyway, whoever arrives at Anfield this summer has four potential paths to walk. These aren't mutually exclusive paths, they can intertwine and overlap. They are: club legend, success, failure, and folk hero. The legends are few and far between: Dalglish, Gerrard, Rush. The successes are frequent: Alonso, Suarez, and Hyypia. The failures are pretty fruitful: Morientes, Aquilani, and Cheyrou. But for now at least, forget the others, because I want to talk folk heroes.
The club folk hero is something I utterly love. Players who in reality often have pretty mediocre careers at the club, but they always have one moment or something about them that will forever elevate them to an almost godlike status… okay, fondly remembered status then. Some as I mentioned will overlap. Riise for example I would consider a success, but he also has that thunderbolt free-kick against Man Utd that means he has acquired the folk hero status too, and a song to boot. So from here I herald my own folk heroes of Liverpool Football Club, some I'm sure you'll agree, others I'm sure you won't, but for the reasons below each of these players will always raise a smile upon my face whenever I remember their time in red.
Titi Camara
One season, 33 games, 9 goals, a bagful of tricks, a catchy chant, and that goal against West Ham in '99 the day after losing his Dad. Titi Camara made his mark on the club and he made his mark on me. I've always loved a player who takes to the pitch like it's the school playground or local park kickabout. Players who are unafraid to try things with the ball, who entertain the watching fans, and who play with a seemingly unrivalled exuberance and joy for the game. This is what I saw in Titi every time I watched him play. Sure it didn't always come off and he didn't always shine, but he was always one of those rare players who made me edge just a little further forward in my seat every time the ball landed at his feet.
The moment he shed tears after hitting the winner against the Hammers cemented his place in Liverpool folklore, but for me Titi Camara was much, much more than a one moment folk hero, he was a player who epitomised my own love of the beautiful game and the magical flair it exudes.
Neil Mellor
Neil Mellor was one of those players who generated a buzz from his performances in the youth and reserve sides. Banging in goals for fun a few steps down from the firsts, he became a player much was expected of. And when he first stepped out into the ranks of the first team I watched with expectation and hope. Sadly the form of his youth failed to bridge the sizeable gap between that place and the realm of the elite as he struggled to make any real telling impact on the side and always looked marginally out of his depth as a Liverpool player proper.
Yet despite his shortcomings, Neil Mellor has two matches, and three moments that have established him as a true folk hero.
Against Olympiakos, December 8th, 2004, Anfield, he first knocked home from close range to keep the tie alive, and then went on to produce what basically amounts to the most important cushioned header in the history of the club, the ball landed in the path of Steven Gerrard, and the rest truly is history.
The other piece of magic that made Mellor a folk hero actually came just ten days earlier. Arsenal were the visitors to Anfield that day and with what was as good as the last kick of the game, Neil Mellor blasted home an absolute beauty past the scrambling Jens Lehmann to send fans and players into utter euphoric delirium!
In the space of a week and a half, and regardless of the remainder of his time at Liverpool never quite reaching expectation, Mellor had cemented a place in the hearts of the fans, and the pages of our club's history.
Vladimir Smicer
Vladimir Smicer arrived at Liverpool from Lens in 1999 for the sum of £4.2 million. He came as an attacking midfielder with a building reputation and a French League winners medal to his name. But at Liverpool, his boyhood club by all accounts, it never really happened for him.
Watching on I found it hard to feel disappointed at Smicer's displays. He always seemed a little lightweight and lacking in, either the confidence, or the ability to regularly beat his man. I was also not a great fan of his haircut back then, which when taking players to your heart is pretty pivotal.
I liked him as a person, but he had failed to ignite any flames as a player. Until he stepped onto the pitch in what would be his last ever game for Liverpool at the Ataturk Stadium, Istanbul.
For myself, Vladimir Smicer as a Liverpool player I would always remember, or one I would instantly forget, came down to one single right foot strike from the edge of the area that whistled low past Dida and nestled into the bottom corner of the Milan net. He later tucked away his penalty too, but his legend was built and secured on that one fleeting moment and a few seconds of action. The fact that it came in his final match for a club he genuinely loved was fitting, and it warms my heart that Vladi will never be forgotten.
https://www.youtube.com/watch?v=BzcvoTAxYLM
Neil Ruddock
Don't hate me. I went back and forth with this one. I honestly don't really like the fella, I never thought he was good for the club, he was a thug, and he was a limited centre half with a loud London exterior. But, when he stuck his head where it hurt to claw us back from humiliation against the Mancs at Anfield in 1994, I'll be honest, I fuckin' loved him!
I never missed Ruddock when he left and never looked forward to his performances when he was with us, but because of that one brave header in the 79th minute against our fiercest rivals, I will always smile when his name is mentioned. A Liverpool folk hero? Almost certainly not. But one fan's folk hero, for me yes… just. Something of a cult, and no, that's not a spelling mistake.
https://www.youtube.com/watch?v=MxCx1oDEoZs
This is of course just a snapshot of the many Liverpool folk heroes and cult players that have blessed us over the decades. To be honest the topic is more the subject of a book than a brief web feature, but I've had a bash at it anyway. I'm interested to hear who your own heroes are, especially those more obscure ones.