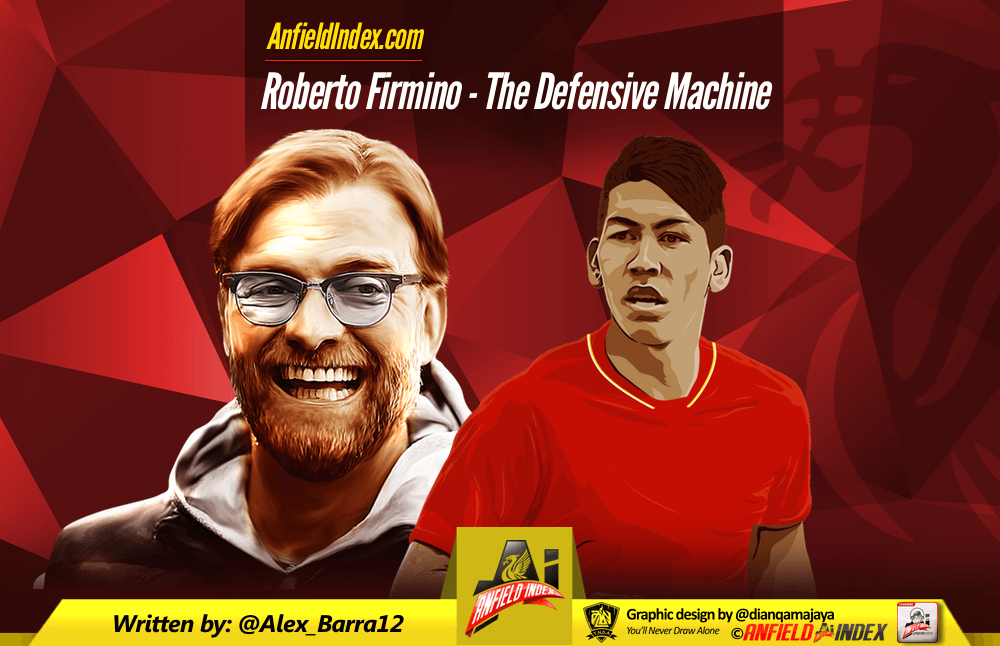 Roberto Firmino - The Defensive Machine
In 2013/14, Luis Suarez made 1.1 tackles per game.
In 2015/16, Roberto Firmino has made 2 tackles per game.
Let's not dilly-dally, nor wander aimlessly around the point. It's right there, staring at you in the face, the full, gargantuan influence that Roberto Firmino had had on this Liverpool team, even in a season which most have deemed Europa league focused and building for the future. The sheer scope of Firmino's ability has been on show this season, not merely displaying the promising attacking signs that Jurgen Klopp has time to work with and nurture into samba magic, but furthermore the weapon at the big German's disposal; the Brazilian's phenomenal; near-mechanical ability to harrow and harass a defence.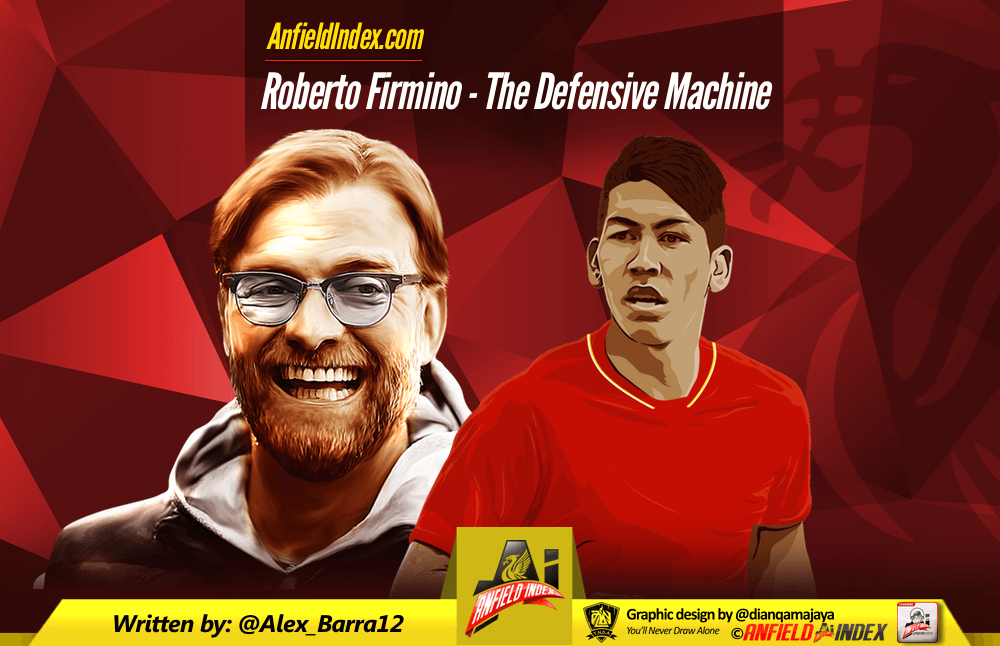 Per the exceptional work done by Anfield Index's supreme overlord (he paid me to say that) Gags Tandon, Simon Brundish, Dan Kennett, Dan Rhodes and others, this season has seen the implementation of pressing stats to the site. As a collective, Liverpool have shown dramatic improvement in their desire to win the ball back far up the pitch and put in the running to be classed as a Jurgen Klopp team. The move has seen players like Phil Coutinho and even the much-maligned Daniel Sturridge look to improve their workrates, while the engines of Emre Can, Alberto Moreno and Nathanial Clyne – in different ways – have all been refined, sharpened, and put to good use where it's best in order to maximise the collective pressing machine.
But within that machine, the heart is pumping fastest of all. That heart is Roberto Firmino.
Below are the stats collected by the aforementioned Under Pressure Podcast, thanks to Gags Tandon and Simon Brundish for the graph which these stats derive from.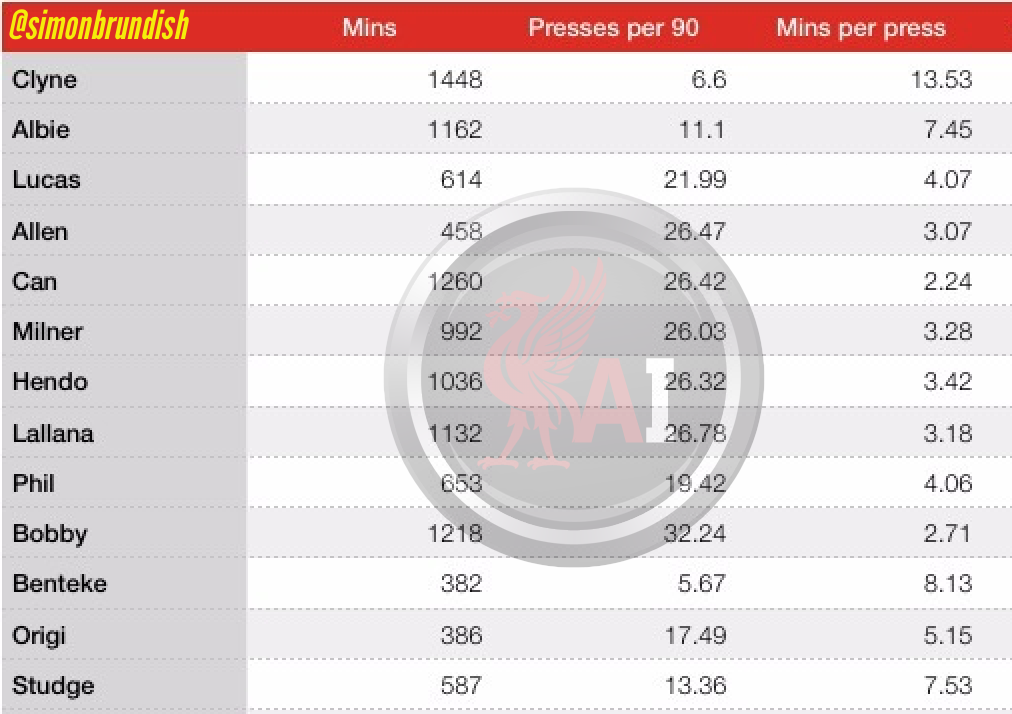 He makes a press every 2.71 minutes. That means every 2.71 minutes a defender is going to be struck with fear that should the ball land at his feet, a turnover, and possibly chance, is only one small mistake away.
He makes 32.24 presses per 90 minutes. That is sheer insanity. The closest person under Liverpool's banner that even comes close to that is Adam Lallana with 26.78. Firmino's defensive work is simply brilliant.
Granted, he sometimes operates in a slightly more withdrawn positon to Suarez's in 2013/14, but the difference is slight at best, and the roles end up being very similar. When Suarez operated wide, for instance, alongside Daniel Sturridge and Raheem Sterling, there would be a wave of dogged, foot-biting urgency about the team; instigated and led by the mercurial Uruguayan himself. It was manic, disorganised, but it worked so well to disorient and dislodge teams that it was so abundantly clear who the key cog was; Suarez; always nipping about, relentless in his quest to win back the ball. He was a phenomenon, never giving up on a lost ball.
Firmino has that same innate desire; with the bonus of organised chaos all around him. Watch Jurgen on the touchline, and you'll see him motion Firmino to push up when the opposition defence is attempting to play a relatively high line. For example, Manchester United in the Europa League, Manchester City in the Premier League; even (and especially) during Villareal's trip to Anfield.
Firmino was the beating heart of the machine that obliterated the Yellow Submarine.
Every time their centre halves were looking for an out; an option to pass into midfield where their counter attack could begin; Firmino was on them, shutting their influence out of the game entirely.
Even at El Madrigal, Firmino played a near-flawless performance as the "false 9" centre half, though he was tasked more with winning the ball back than creating chances. When he was let loose on Anfield, Villareal's defence were torn apart. It was a hallmark performance of a player who was somehow lambasted early on in the season.
Yet the trends have pervaded all the way through.
Manchester City, his "welcoming party", per se, put into perspective just how immense this Brazilian wonder-worker can be. In a different way to his compatriot wearing the number 10, sure, but no less magical.
If we're counting simply Premier League games, Firmino's numbers become even more impressive. 2.2 tackles per game, accompanied by 0.5 interceptions. Though he's played 1000 less Premier League minutes, those numbers are double that of Suarez in 2013/14. Double.
Firmino doesn't possess the sheer goalscoring prowess that the Uruguayan does, but then with Daniel Sturridge or even Mario Gotze beside him providing that killer instinct, he doesn't have to.
The other key factor in all of this is Jurgen Klopp; and his ability to unlock the ability and potential of players who work under him. Not only has he unlocked Roberto Firmino, but the Brazilian is the perfect embodiment of what Klopp looks for in an attacker. The partnership looks to be a prosperous one, and here's to it continuing.
Because one thing we can be assured of, no matter what happens in the summer, no matter what team enters the fray of the 2016/17 season, is that Roberto Firmino will be running around manically, like the machine that he is.
(All stats via WhoScored unless otherwise stated.)