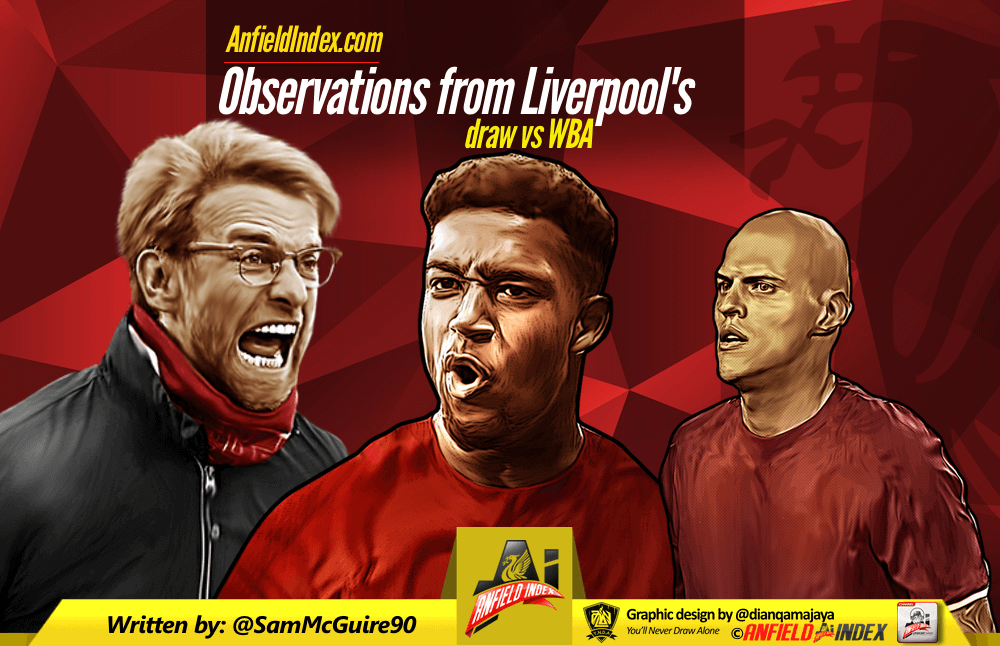 Observations from Liverpool's draw at West Brom
It was never going to be a thrilling, meaningful match as Liverpool finished their season away to West Bromwich Albion. There was little to play for as far as the fans were concerned, with all eyes being firmly fixed on the Europa League final this upcoming Wednesday. If anything, the threat of a Europa League play-off against West Ham meant many fans wanted a defeat today. Jurgen Klopp's team selection, resting the expected starting XI, seemed to imply something similar – it's all about Wednesday – and this match was nothing more than a speed bump en route to Basel.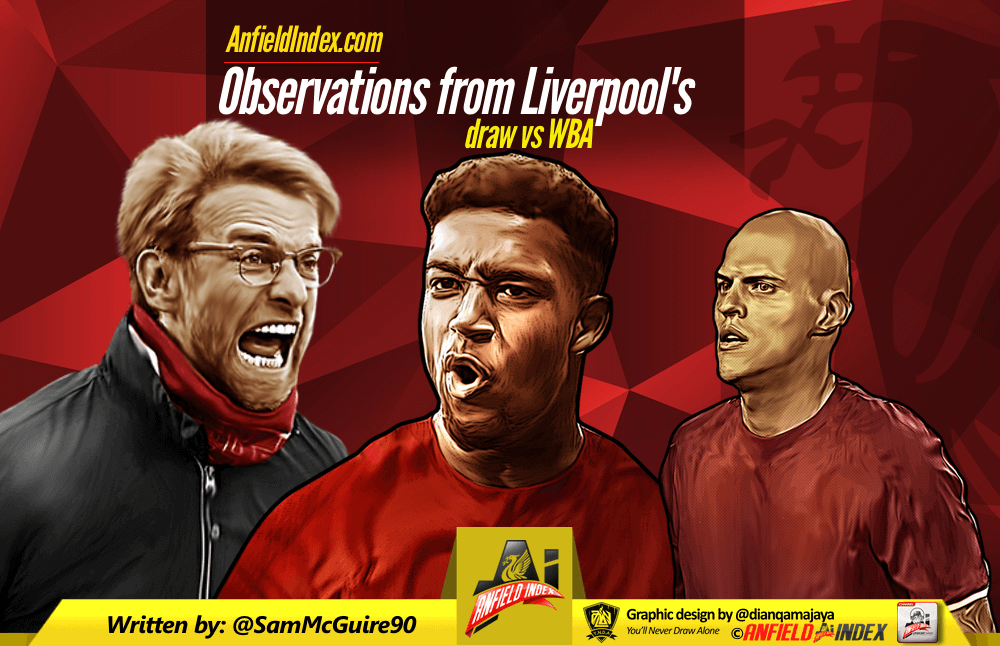 It was a dead rubber of a match but that doesn't mean there weren't positives to be taken from it.

Coming from behind. For the second time this week Liverpool came from behind to get something from the game. This takes the total to fourteen games this season in which the Reds have taken something from a game after trailing. Different personnel, different situations, different opposition and yet the entire squad is showing new found belief under Klopp. Heads don't go down when they go behind and it's something that will get into the psyche of the opposition moving forward next season.
The Danny Ings return. His first appearance under Jurgen Klopp after returning early from his knee injury. The travelling Kop gave him a warm welcome. It's said that Jurgen Klopp has been impressed with the 'Hampshire Tevez' in training and he could play a key part in the squad next season as Liverpool look to challenge on all fronts.  Liverpool captain, Jordan Henderson, also returned from the injury he picked up at the away leg against Dortmund and the squad looks a little healthier going into the final.
Jordon Ibe's goal. There has been a lot of talk surrounding the future of Jordon Ibe lately. Should he be sold? Would a loan do his development good or should the club persist with him? His performances have been fairly mixed under Klopp and he's often failed to impress, but his goal today was superb and just showcased what a talent he is. Driving into space, he didn't get a rush of blood to the head as he made his way into the area and finished superbly. It was a purposeful and positive run, something he should do more often.
Cameron Brannagan. The talented 20-year-old finally made his Premier League debut. The academy coaches rave about him and there are high hopes for him going into the 2016/17 season. He had a fairly solid debut and there were some impressive touches and passes. He was unfortunate not to score after a mazy run into the area following from good work by Sheyi Ojo.
Goodbyes. This may be the final time Liverpool fans get to see Martin Skrtel and Adam Bogdan in Liverpool shirts. It's a sign that the mediocrity era at the club may come to an end as Klopp looks to rid the squad of players who aren't good enough. It's a sign of his defensive qualities when my lasting memory of Skrtel is those two goals against Arsenal in 13/14 and nothing related to actual defensive work. Thanks for your service, but time to move on.