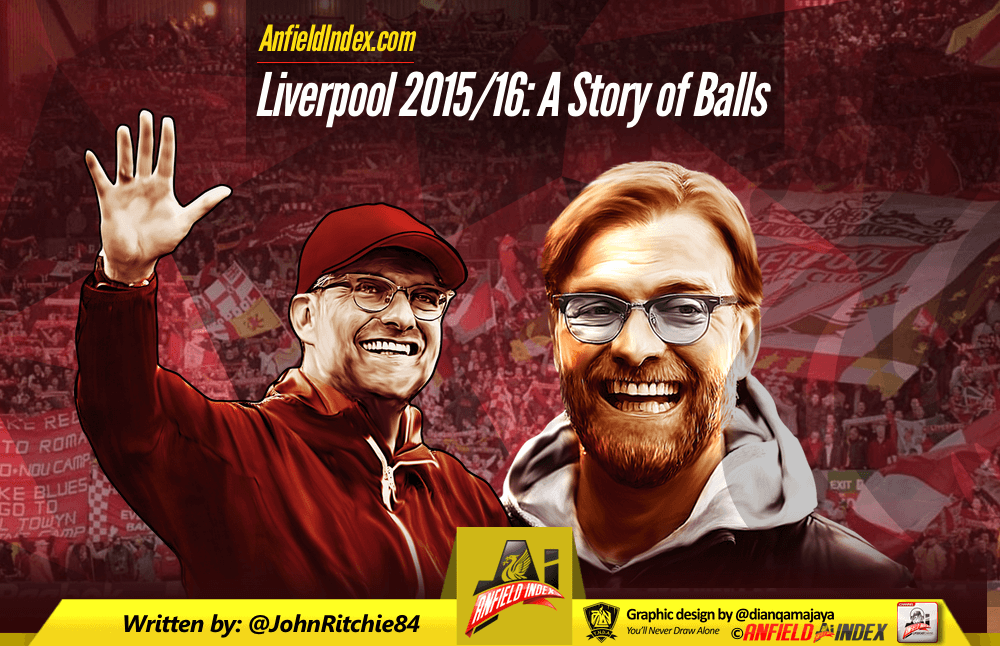 Liverpool 2015/16: A Story of Balls
It's been a strange old season. A season defined by decisions, emotion, joy, despair and P45's. One, where it was never about the league. Instead, it was about contrast. Contrast of squad depth, incredible performances, managerial appointments and injury. All of these events have lead to this point, 15th of May 2016. Liverpool are 8th in the table and currently out of Europe.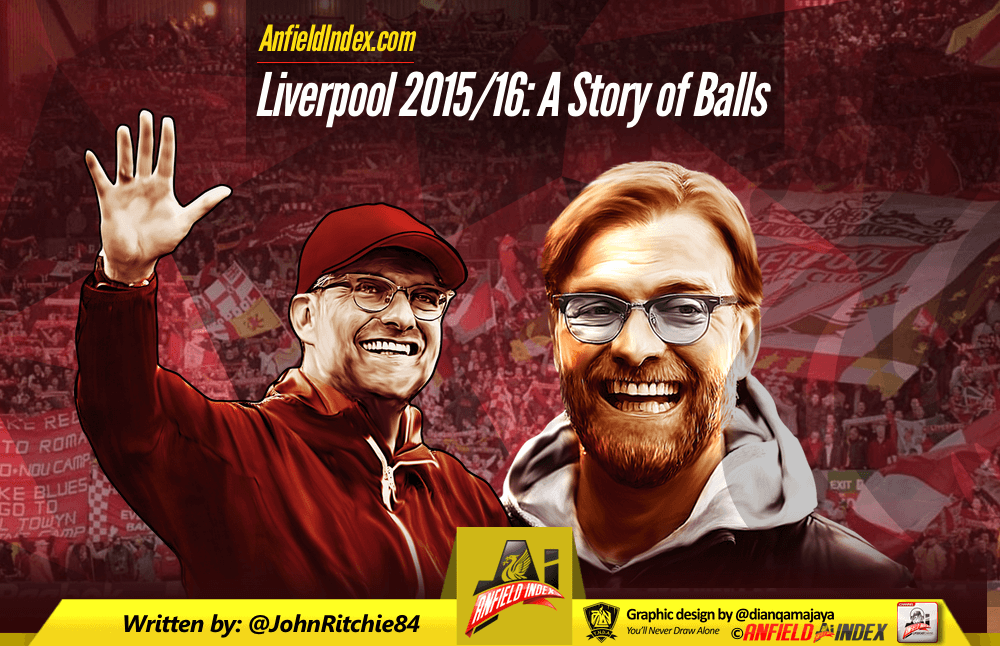 Yet I'm decidedly not arsed. Indeed, such is my not arsedness about drawing 1-1 against West Brom, that I'm sat here relatively content and optimistic about what is around the corner. There's a final, there's the potential chance of the champions league, but most of all, regardless, there's Jurgen Klopp

To summarise the season, I thought it would be helpful if I could share a bit of a story. This particular story is 16 years old, and if you do think I'm smoking some rather strong substance, then I offer my apologies now.
I was 15, and I absolutely fancied this girl for what seemed like years. It all began when I started high school a few years before. Every night we'd all meet up and talk, skate, chase, hide, play music with our big group of friends. I remember once she managed to hit a tennis ball into the sea and me desperate to impress, decided to swim out to the Firth of Forth (the gateway to the North Sea) and get it for her. The sea was really choppy that night and with strong undercurrents, it wasn't the wisest things to do. I remember, rather than blue, it looked black and dangerous, and as the waves kept taking the ball further, I remember being scared that maybe I'd bit off more than I could chew.
Never the less, being a strong swimmer, I got the ball and managed to swim back. She thanked me, but had to run home and get tea. There's me sat on my arse, fucking soaked to the bone, feeling like Cesar returning triumphantly to Rome after once more extending the Empire, and with one foul swoop "I've got to get my tea now", I resemble Simon Mignolet, trying to defend a corner.
It took me years to pluck up the courage to chat to her about my feelings. To say the words "Will you go out with me" or "gees a snog" as was in the fashionable term in the East of Scotland at the time (again, a reminder, I was 15). But eventually, through a friend, we managed to have at least one kiss. Then it went tits up. I ended up moving a few miles down the road, and then we lost touch.
Years later, I found out she had felt the same, but couldn't pluck up the courage to say anything. By that time, it was too late. The door had firmly shut.
The reason I think this story is helpful in the context or the current season, is quite simply, the central truth that flows through both this season and my past. By not having the balls to take what's on a plate, you end up making the wrong choice.
Liverpool, for a long time, haven't quite had big enough balls to get over the line. In the last five games, fifteen points have been on offer, and we've taken just five. We're six points off the top four and now next season essentially relies on being able to qualify for Europe, through the back the door.
It's a huge gamble Klopp and his staff have taken. The league has been sacrificed to win the Europa League. Lose, and we'll remember this season for different reasons. Amazing memories too. The Dortmund game at Anfield, and making Manchester United looking like a shower of a team over two legs. Win and we get the glory, plus the great memories in between and the reunion for the competition where we've been the supreme club in England. Lose, and well, we start again. We go on, as we always seem to do.
In doing this, Klopp has shown he has balls of steel. He's willing to learn about his squad and his willing to save the best till last. Football is a funny game and nothing is guaranteed, but be assured, should Liverpool perform in the way we know they can, we'll tear Seville apart. Equally, those seasoned "observers" of the Red Men will know that we're equally capable of turning up and losing the plot. We do it regularly enough.
The club has also shown balls. Sacking Brendan Rodgers and going all out for Klopp. It was a gamble but it worked. Now, the biggest clubs across the world look to the likes of Liverpool with Klopp and Manchester City with Guardiola, and look on in envy. They've also had the balls to admit when they're wrong. The U-turn on ticket prices the case in point.
Performance wise, we're showing something when it comes to knockout competitions. Two finals in seven months takes me back to the Houlier era, and for those who remember Fagan or Paisley, there's something in that too. We're competitive, if not consistent, in the competitions we play in.
Interestingly, the manager told Jonathan Northcroft of the Sunday Times of the challenges he faced when coming to Liverpool. "It's quite difficult for this squad. It's history. Nice wonderful. But two years ago when they lost the championship in game before the end… So there were histories when I came here and there was more to feel from that one (losing the title) than the other part of history. That was the big problem".
Again, we're back to balls. This has been the managers biggest challenge. The feelings of losing out on the title and more recently, the league cup final. None of that should matter anymore, but it does. Wednesday night is a chance to put some of the demons of the past behind them. It's a chance for us to finally conquer the doubts and believe.
This season, if it's going to teach us anything, is that balls are required. Just look and Leicester winning the title. Flip the coin and look at Spurs, capitulating on the last day to a team already relegated, which in turn allowed Arsenal to claim "Progress" and leapfrogging them into second.
We've seen balls a plenty this season We've been treated to memorable performances and come back's that equal St Etienne. We've seen some horror shows to. Too many goals conceded from winning positions. Points dropped needlessly. That story has been said too often of Liverpool the past few years. But it's time to put an end to that now.
There's one final performance to come, and balls are required. Big one's. Players wont want to be looking back in a few years time and think "if only I'd run that extra yard, or if I did this, or that". There are too many players, playing for a future for that to happen. They know it, Jurgen knows it, and we know it.
It's time for the team to show they can put the ghost of the past behind them, not worrying about what could have been before, and going out on an incredible high.  It's our chance to start afresh without regrets. Hopefully, we can look back at 2015/16 as a season where we grew a pair and cast aside the regrets of the past.