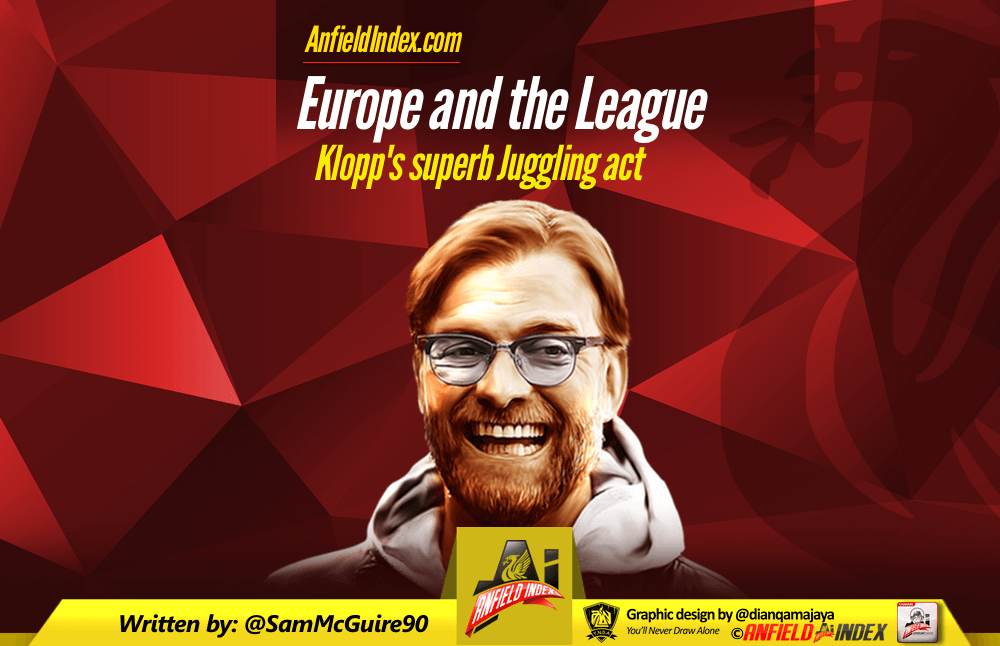 Europe and the League - Klopp's superb Juggling act
Liverpool's Premier League season petered out towards the end with all efforts going towards setting the players up to have the best chance possible of winning the Europa League. Reds boss Jurgen Klopp decided to field weakened sides in six of the last eight league fixtures, fully utilising the youngsters within the squad to enable the 'first teamers' longer breaks between games. Four wins, three draws and a single defeat isn't a bad return all things considered.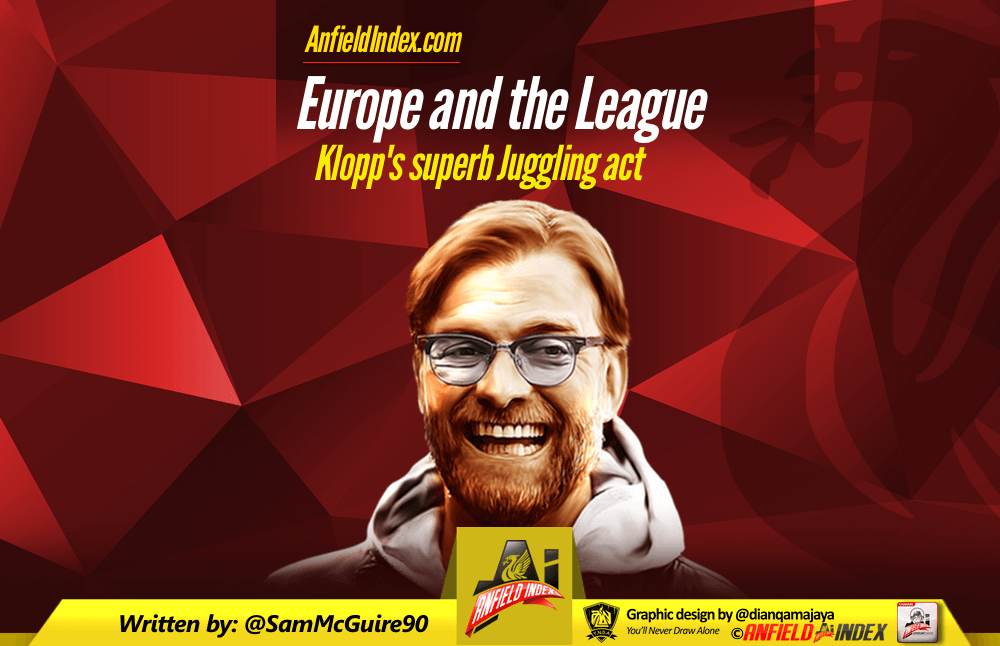 It worked, to some extent, as Liverpool now find themselves in the final of the Europa League. Our first European final in 9 years.
At the beginning of the season would Liverpool fans have taken an eighth place league finish if it meant reaching a domestic cup final and a European final? You'd imagine the majority would have jumped at the chance. Yet now this is a realisation there are some fans unhappy with the season. They're underwhelmed with the league standing citing an eighth place finish as unacceptable for a club of Liverpool's prestige. They seem to be looking at it as if it's entirely black and white with no grey areas when it's anything but. Context is needed when judging a season and looking at it solely on a league finish is extremely counterproductive.
Yes, if the club finished higher up in the league they would have received more prize money, but would it have been worth it? Would Liverpool have been 5 points better off had they played their strongest XI in games against Swansea and Newcastle? I'd say there's a solid chance they'd have taken maximum points but would they be sat in a Europa League final with the chance of playing in the Champions League group stages next season? It's extremely doubtful.
Do fans still regret finishing fifth in 2005 despite the Champions League triumph? Will people remember the eighth place finish if the Reds go on to lift the Europa League? Nope.
The Liverpool squad was never deep enough, or good enough, to balance playing full strengths sides in all competitions. Previous management saw to that but Klopp took every competition seriously, as a Liverpool manager should. He shouldn't be criticised for doing so. He was simply working with the players at his disposal, getting more out of them than they've shown in the past yet people expected  even more than that.
"Why couldn't they perform like they did against City/Dortmund/Chelsea every week? Why is the league form spluttering?".
If you expected Liverpool to play like they did in the dismantling for City in the other 29 league games Klopp was in charge for then you're bound to be disappointed. That was him squeezing the best out of the players all the while he was improving their fitness too. Quite the achievement. Instead of being excited about what Klopp could get out of these players, players he's not even had a pre season with, you were picking apart the losses to the likes of Watford and Newcastle.
"It can't be Rodgers team when we perform badly but Klopp's when we win."
It can and it is. This isn't Klopp's side yet he's getting more out of them than the manager who put it together. Clear signs of improvement. Rodgers had this side for eight league games and in those games the Reds beat Aston Villa, Stoke and Bournemouth by a single goal. Drew with Norwich (at home), Everton and Arsenal and lost emphatically to West Ham (at home) and Manchester United. Twelve points taken and a minus two goal difference.
In the reverse fixtures under Klopp Liverpool took fifteen points, scoring 24 goals and conceding 12. There's a marked difference in Liverpool under Klopp but there will still be an inconsistency in their play. Rome wasn't built in a day.
"Yeah but Rodgers finished 6th last season. Klopp finished 7th with BVB and now 8th with Liverpool."
For context here, Rodgers' Liverpool (with no Cup finals) finished with 62 points. Klopp's Liverpool finished on 60 points with two cup finals. It's futile to even try and suggest that 2014/15 was better than the 2015/16 season, so don't even bother trying to justify such an opinion.
Arsenal syndrome.
For years now opposition fans have taken the piss out of Arsenal and their fans for 'celebrating' the fact they've finished fourth. The whole 'congrats on the fourth place cup' stems from Arsenal players taking selfies and looking extremely overjoyed when they'd won no silverware but went on like they'd won the Champions League.
A fourth place finish gets you into the qualifying rounds of the Champions League. You can still fail to progress from that so are these celebrations not a little premature? A Europa League victory takes you straight into the group stages, and even if you lose you get much needed experience playing in a European Cup final. Something that helps you grow as a player.
The media have brainwashed players and fans into believing a top 4 finish is the mark of a successful season. When did league position > trophy become a thing?
We aren't Arsenal. Liverpool exist to win trophies and if that means sacrificing league positions whilst Klopp get's the balance of the squad in order then I'm all for it. The more finals you get to the higher the chance you've got of winning something. Doesn't take a rocket scientist to work that one out.
It's silverware that breeds a winning mentality and it's what all clubs should aspire for. Give them a taste for success and it's usually the kick start for bigger, better things. For far too long Liverpool have been perpetual bottlers and this Europa League run has helped vanquish some demons.
It comes down to the number two. Two league positions lower than last season, two points worse off but two cup finals under his belt. Klopp's juggled his way through his debut season and deserves so many plaudits.