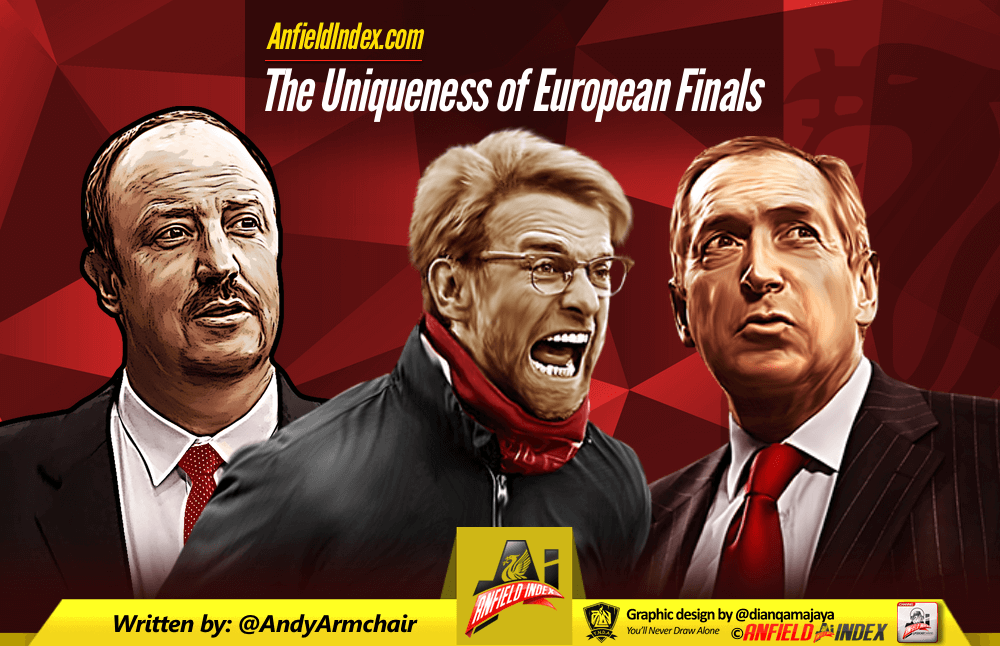 The Uniqueness of European Finals
The 1984 European Cup final was the first I can recall watching Liverpool in; I was only 8 years old at the time and staying at my Grandparents' house. I vaguely remember throwing a tantrum because I was sent to bed during the second half, despite my protestations that Liverpool were my favourite team and I simply had to watch them play on the telly. Unfortunately, my family were not as into football as I was, even at such a tender age.
I think perhaps I should point out that live televised matches were a big deal in the 1980's.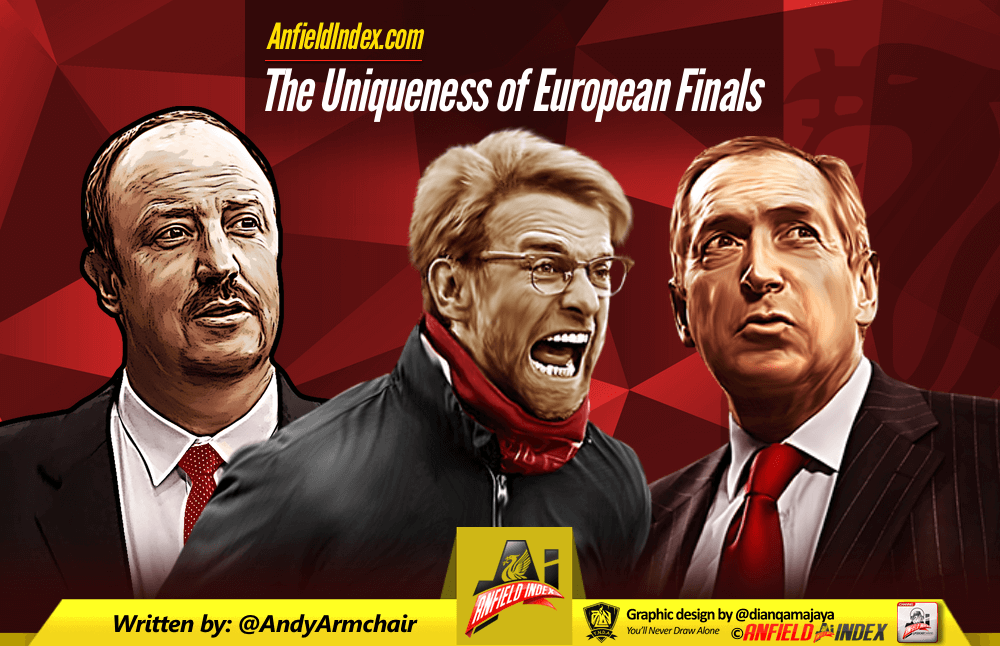 Anyway, even though I managed to sneak back down stairs a few times, I missed Liverpool win that game and lift the cup. Not seeing the end of that game bothered me for quite some time and by the following year I was going to be allowed to stay up and determined not to miss any of the game. Sadly, that was Heysel and I struggled to comprehend why rival fans would fight and throw objects at each other; so when part of the stadium collapsed and fans tragically died, I was even less capable of digesting those distressing scenes. My overriding memory of that game was Juventus scoring a dodgy goal, but in hindsight, the match was irrelevant.
By the time Liverpool next reached a European final I was into my mid-twenties and was able to really savour an incredible night. I was never a big fan of Gerard Houllier and much of the football we played under him, but that was a memorable season to say the least and it's hard to be churlish about winning three trophies, even if my favourite player at the time, Robbie Fowler, was being marginalised. We rode our luck in all three finals that year, but that probably just added to the drama and they didn't come more dramatic than the UEFA Cup final against Alaves. I think it was only beer that got me through that game; yes beer, so much beer.
The city of Dortmund has played a significant role in my life and it seems almost poetic to me that it is also intertwined with my team. Winning the UEFA Cup 5-4 on a golden goal at the Westfalen Stadion was mind blowing, but very Liverpool. It's a wonder I'm not on blood pressure medication yet.
Istanbul took more beers than Dortmund. The 2005 Champions League final saw me fill the fireplace with empty bottles. I actually ran out of beer by the time we went to penalties, but I wasn't drunk, I was too much of a nervous wreck by that point. To go from the misery and utter despondency of the first half to the throat-wrecking adrenaline rush of the second half was something I am not sure I'll ever be able to articulate. Extra time was a different type of drama to the 5-4 UEFA Cup win over Alaves, a nerve-wracking agony. The penalty shoot-out was delirium, pure unadulterated joy. That was an unbelievable night, one of the greatest ever. Even though it had only been 4 years since our previous European trophy, winning the Champions League that night felt so much different and not just because it was the Champions League/European Cup as appose to the UEFA Cup. It was all about the story, the route to the final that was more like a script for a Hollywood movie. It was winning the trophy for the fifth time, it was what the club had been through in the twenty years since the last European Cup final.
Getting back there just two years later against AC Milan again was great, but didn't quite feel the same and sadly, neither was the outcome. Much as decades before, Liverpool were a formidable force in European football, so little did we think that it would be another nine years before we reached another European final and that is where the Europa League fits into this story, it may not be as glamorous or prestigious as its sibling competition, but reaching the final feels special. Perhaps in 2007 we'd already become a tad complacent about European finals, it was our third in six years, but absence makes the heart grow fonder. This one has the storybook route to the final, a charismatic manager and a sense of excitement and anticipation. Win or lose, we feel like we are back on the map, back in business. Sky Sports News got it wrong when they said Liverpool are potentially just one game away from next season's Champions League, that's totally the wrong perspective, we are potentially just one game from winning another European Trophy because that's what these nights are about. The magic, the mystique, European finals are to be enjoyed and appreciated. I'm off to get the beers in.