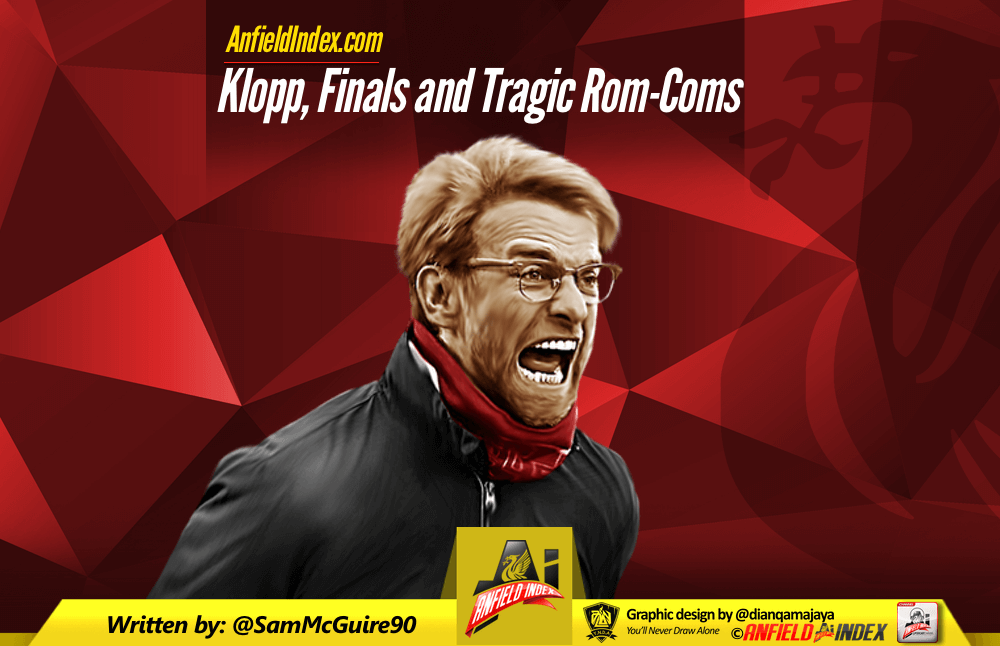 Klopp, Finals and Tragic Rom-Coms

It wasn't supposed to be like this. Liverpool's fairytale season wasn't supposed to end in heartache. Of all the movies out there it seems we took inspiration from Titanic, one of the few rom–coms that ends in tragedy.
The scene was set.
It could've been a remake of the movie "She's all that". Jurgen Klopp steps in and replaces Fredde Prince Junior as the cool high school jock and Liverpool play the role of pretty but not in an obvious way Rachel Leigh Cook. The popular guy shouldn't have an interest in us. But he does.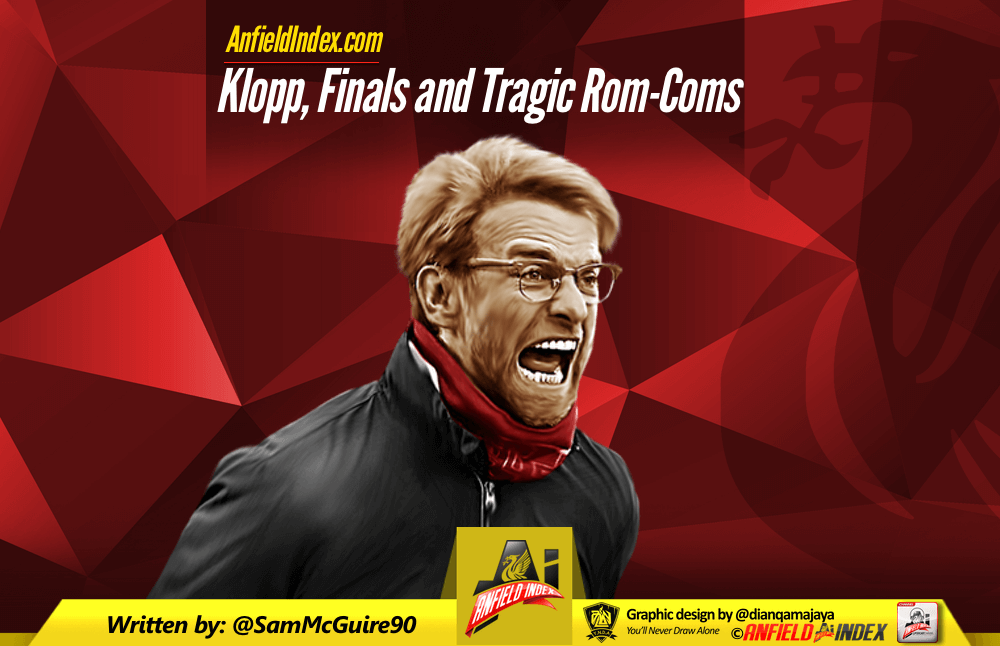 It's the relationship Liverpool fans dreamed about but never thought they'd see in real life. But it happens. What's more, the relationship works better than expected. There are fond memories you'll be able to tell your Grandkids about with the victories against Villarreal and Dortmund. The only thing missing from this perfect remake is winning a trophy and an airport scene.
The two missing elements were supposed to go hand in hand as Jurgen Klopp returned to John Lennon Airport with the Europa League.
Liverpool fans didn't get the happy ending they expected. The one they thought they deserved. The one we deserved.
It loosely followed the Titanic plot. There was dancing. There were people out there doing their best to make the relationship not work (I'm looking at you Barney Ronay, cursing us with those 'drug fuelled Champions League place' jibes), there was even a "draw me like one of your French ladies" scenes in which Jurgen Klopp treated Liverpool like his very own Dortmund side in that thrilling 4-3 victory against his old club.
It wasn't to be though and just like Jack in Titanic the squad's fight gave way just when it mattered most.
Rose definitely dwelt on that. It's something both players and fans can't do. They can't let the two cup final defeats in a season haunt them. It can't fester and become a shadow. A mental block in Klopp's quest to build a dynasty at the club. Use the victories on the way to the final as a guide to show what can be done.
It's easy as a fan to go back to thinking negatively. We've seen it all before.  Players going into hiding when they're tasked with standing up and being counted. This Liverpool squad are known as perpetual bottlers. The 2013/14 season was fun but when the pressure was on the team they crumbled in the Chelsea and Crystal Palace games. Liverpool fans experienced blue balls in the 2014/15 season. There was so much hype going into the game that just leant itself to fans assuming it would be a routine victory. The Reds always used to turn up when it mattered most.
It didn't go to plan though. Rodgers side failed to turn up in big games against Manchester United, when 4th was very much on the table, Aston Villa in the FA Cup Semi-Final, Chelsea in the League Cup semi-final and even Besiktas away from home when Liverpool were 1-0 up from the Anfield leg. The seed of doubt was well and truly embedded in the fan base now.
Then Jurgen Klopp came along. Losing finals is nothing to be proud of but under the German the club has at least made the final. There were ample opportunities for Liverpool to bottle games in the lead up to both finals.
Few fans would have batted an eyelid had Stoke scored a second at Anfield in the second leg of the League Cup semi-final. It didn't happen though. Then in the Europa League, 2-1 up on aggregate against United but with the home side dominant in the first half at Old Trafford it would've been easy for Liverpool to cave in. They didn't. Dortmund on the night go 3-1 up at Anfield and Liverpool need 3 unanswered goals to progress. Oh surprise, surprise Liverpool fail to turn up when it matters most eh? It defied logic but Liverpool got the job done. The Europa League semi-final first leg against Villarreal didn't go as planned yet despite the disadvantage the Reds once again came back from behind and won.
Klopp is slowly changing the mentality of the players and the fans. He's already got this team to two finals in seven months. A team with no real experience of winning in Europe or getting to finals. He deserves all the plaudits for this. Now the team has experienced losing in a final they'll appreciate winning it that little more. He will have identified where the problems lie and the need for characters and leaders in the team if they're to take the next step.
It will be third time lucky for Liverpool and Klopp next season when they win a trophy.