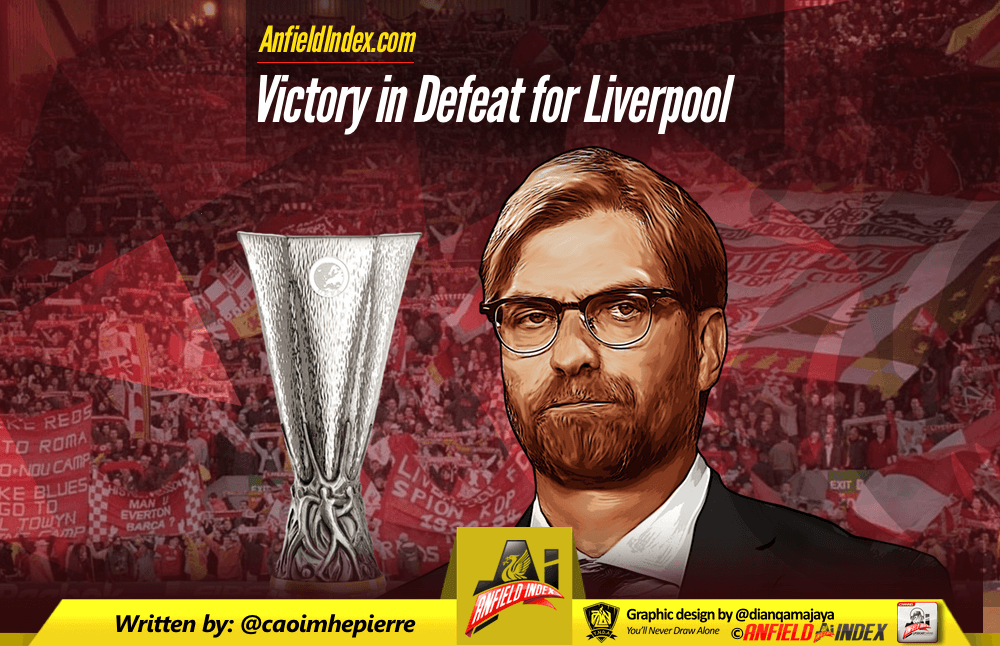 Victory in Defeat for Liverpool
Our second half capitulation against Sevilla in Basel was very painful viewing. Almost 24 hours on from the loss and our heads still replaying the Sturridge worldy and how different it could have been if not for that offside interaction and penalty claim. Then Moreno's inability to make a tackle and thus, breath-taking destruction of our European dream. We all woke up with that feeling of complete and utter loss for the second time this year. Some have still not slept much travelling back from Switzerland. Loss in a European Final is impossibly sickening, the glory was ours to be had but the players and even Klopp looked after the third went it, like all was lost. The players seemed to be wading through sinking sand, struggling to play our own game of pressing and fast football. Three goals in 20 minutes resigned us to another Final defeat, no cup glory and no European football next year.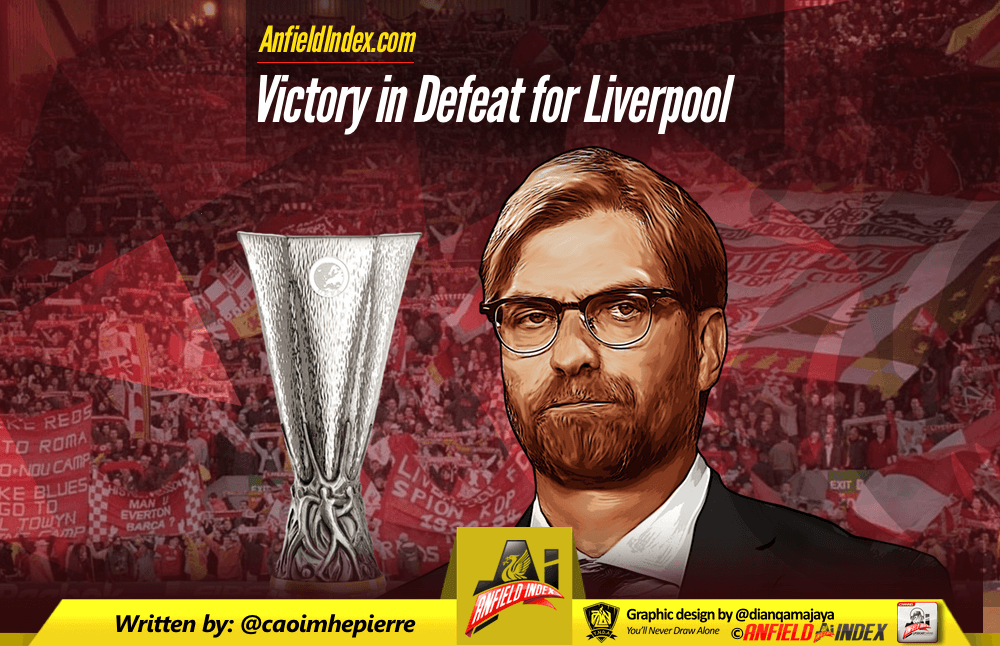 Sevilla FC our opponents, a team who in brushing us aside won their 5th UEFA Cup and third in consecutive seasons. A phenomenal achievement which seems now routine for the Spanish side. Despite this European dominance, Sevilla never really seem to offer much of a top four challenge in La Liga finishing this campaign 7th yet 8 points adrift of 6th placed Celta Vigo. Their aim now must be to kick on, climb the table next season and push to cement themselves as the 4th best side in La Liga, as the top 3 seem more than comfortable. Automatic qualification for Champions League does seem attainable for a side with great quality and a 29 goal man, Kevin Gameiro. Maybe, instead of winning another Europa League which does seem likely. They should aim to get out of their group in the Champions League and enjoy what would be an impressive run to maybe a QF of the CL. All advantageously feasible for a side who seem to be enjoying Cup football as they prepare to face Liga champs Barcelona in the Copa del Rey final this weekend in Madrid.

But that's more than enough about them. Our season is deemed a failure after last evening's loss and largely it is. However, it's important to note that last season under Rodgers we made it to two semi-finals and lost them both. This year we made it to two finals (one in Europe) and lost them both. Baby steps of success, maybe next year a cup double is on the cards. Who knows, but what we do know is our German Manager Klopp has implemented an incredible feeling of belief and positivity into Liverpool FC and in the fans and players, alike. His smiling energy seems to have uplifted us and gave us some great memories in his short tenure, just over half a century of games in charge and the destruction of some of England and Europe's best teams.
Yes, no European football is hard to take! We love getting on the road with the Reds, we love winning European cups too. But this is a great opportunity for Klopp to build a team honed specifically for domestic glory. A lighter squad is instead needed which means his transfer targets may change slightly but not entirely. He will have players in mind who he thinks can help us shore up defence and bolster attack us and achieve that thirsted for, success. He did build a team in Dortmund that was able to knock the might of Munich off its Bundesliga perch.
Also, Jurgen must now after this campaign have an idea of who is staying and who is no longer needed at Liverpool. It is an exciting time to be a Red, especially reading about the pre-season boot camp. A tough regime which will have all players fit and healthy for the start of the season. With Bayern Munich's nutritionist and fitness coach already pinched by Klopp the players are sure to be in 'gut' condition come August. No midweek European games will give Klopp more time to focus and an increase in time at Melwood. I don't want to join the transfer speculation committee that's not what I'm here to do, I have trust Klopp will deliver on that front. The main change for me after the release of deadwood has to be choosing a new Captain. Henderson has struggled with injury and Milner has gave his all but a new direction is needed. Personally, I hope he gives Emre Can the responsibility. A fellow German who never showed his full capabilities last night but is sure to impress this summer with Germany in the Euro's. Can, likely to play as right back for the World Cup winners, highlighting his versatility and defensive strength. He has impressed in his time at Liverpool picking up the Young Player of the Season Award. He is physically strong, an excellent passer, presser and tackler. As well as an emotional player which we saw from his tears in the St Jakob-Park, he is a man who can lead us for many years.
Liverpool should take a lot of inspiration from unlikely Champions Leicester City, who deserve a mention in any article for that incredible fact alone but specifically in terms of proving that any team can achieve success with a bit of hard work and grit. Liverpool is as Mayor Joe described "the gritty city" and when the whistle blew last night my thoughts turned to the 96 and their families. To that incredible verdict and their victory after a long, 27 year battle in the search for JUSTICE FOR THE 96. Our brothers and sisters who loved their team were unlawfully killed, the survivors finally exonerated, the blame pointed in the right direction at last. The struggle for outing the real TRUTH was realised and was front page news internationally. This season shall be remembered for some extraordinary moments on the pitch, both domestically and in European competition. We was on the losing end in Switzerland and have been more than once this season but the most important moment came in Warrington when the Jury gave the verdict.
Our love and support for our team and for the 96, the families and survivors is forever, we march on together into the light of a new Anfield era, with the number of those lost etched in our hearts and proudly on our shirts. Now the search of the families with our full support turns to that all important; accountability. Meanwhile, on the field we will go again in the hope of getting our hands on that allusive and illustrious Premier League Title.