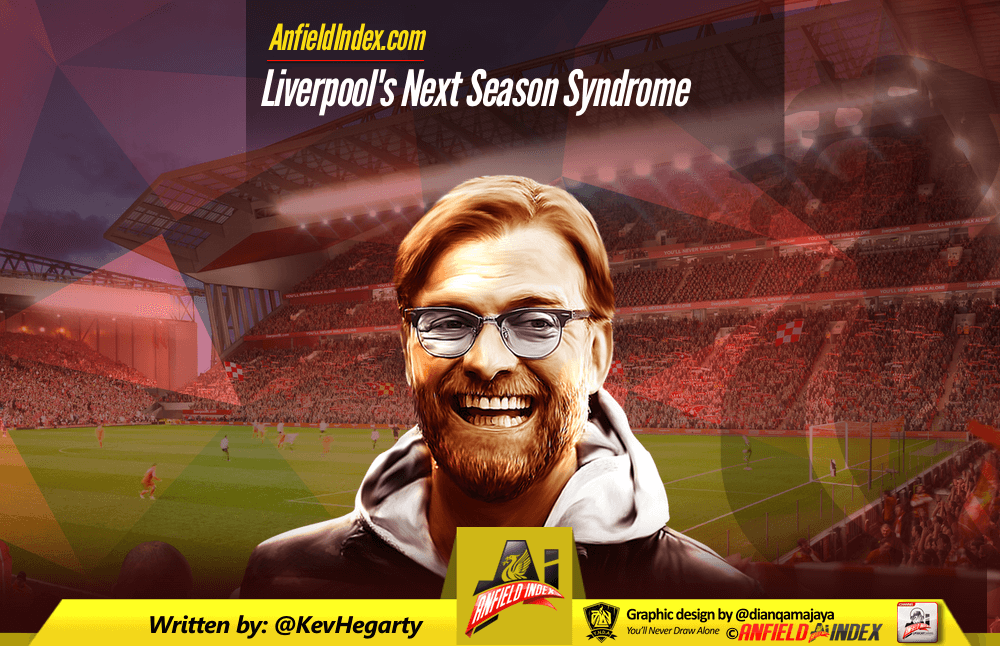 Liverpool's Next Season Syndrome

"Next season is our year."
"We'll be better next season."
"Just wait until after the summer."
"The push for Champions League is next year."
You've heard them all. I've heard them all. I've said most of them, or the like. Such is the life of a Liverpool Football Club supporter. Recently, always just within touching distance of what we want.
But that's not true. We haven't been in touching distance in years (with the exception of the exceptional in 2013/2014). A few cup finals here and there. Nothing to write home about, because… well… we didn't win those.
Most have (and I include myself in this) LNSS: "Liverpool Next Season Syndrome".
It's a horrible ailment where you're filled with hope until it all falls apart again and you hear yourself proclaim, "Well yeah, this season is over, BUT NEXT SEASON…"
A bit like Sisyphus. Cursed to push his boulder all the way to the top of the hill, only to have it roll back down when he reached the top.
Not a great situation to be in as a fan.
This season in the league is Liverpool's joint-worst finish since the Premier League's inception. Now, I happen to be one of those people who think football started before 1992. But regardless, it's still awful.
That being said, do we have a case for next season?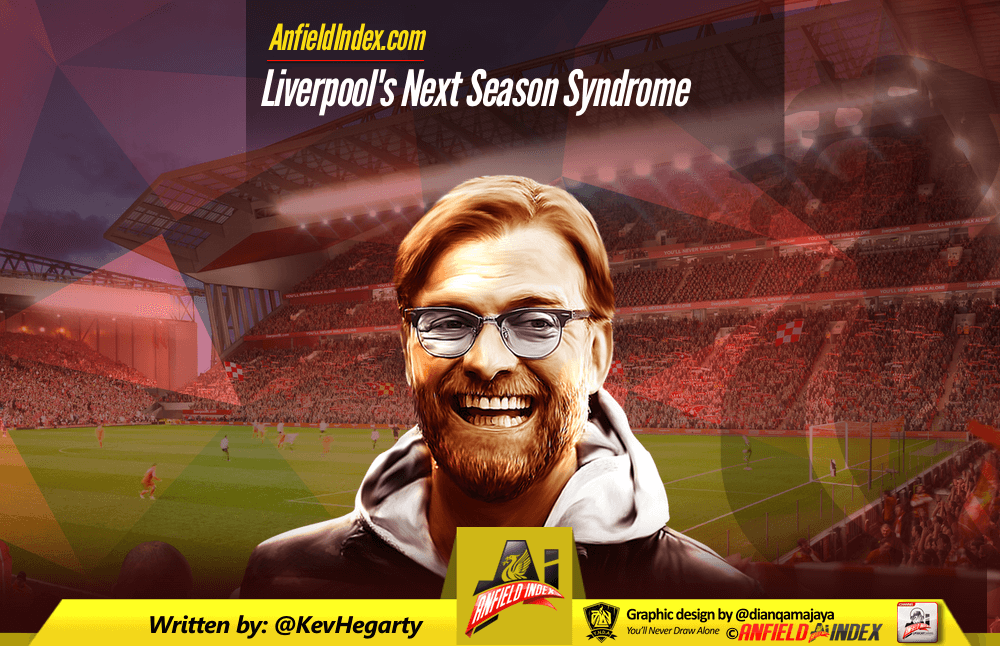 Let's take a look at some numbers.
Total Shots: Liverpool had 16.6 shots per 90 minutes this season. That's pretty good. Second in the league, behind Tottenham. Total shots include those that are on target, blocked, and missed. Total shots is a good starting metric for a team I think. It's not the be all and end all, as the argument is usually "well a team could take 30 shots a match from halfway". True. But highly unlikely. I think there is a little to be said for relationships between total shots and league position. Again, not be all and end all. But a good starting point.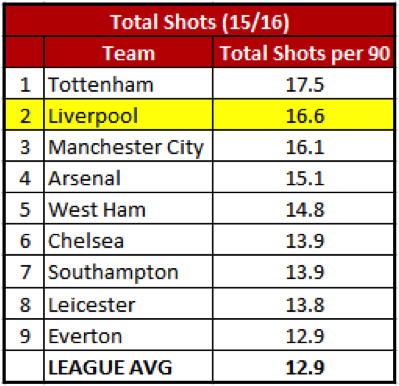 Shots on Target: Liverpool had 5.3 shots on target per 90 minutes this season. Also decent. That's fourth in the table behind Tottenham, Manchester City, and Arsenal, and above West Ham and Leicester. It follows that the more shots you have on target, the more goals you should be able to score. Now, you could hit every single shot directly at the keeper and not score any all season, but again, highly unlikely.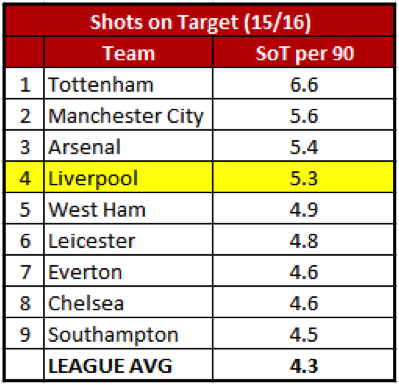 Total Shot Ratio: I'll use the StatsBomb definition to explain..
A ratio to explain how teams fare against their average competition in the shots battle. Ex: If Manchester City has 20 shots in the match and Newcastle have 10, City's TSR for that match is .67, Newcastle's is .33. In hockey, this is called Corsi.
Liverpool this season had a TSR of 61.2, which is second only to Manchester City, and just above Tottenham. The argument against here would be Leicester (as it could be for a lot of stats this season) who was just above league average in this metric, but Leicester did so many things successfully that didn't make sense to me that I don't think the exception gets rid of a "rule" here. For further reading, James Grayson has some great work on the correlation between TSR and league position & goal difference. At its most basic level, it's a metric for controlling the ball. And that should give you a better chance of winning matches.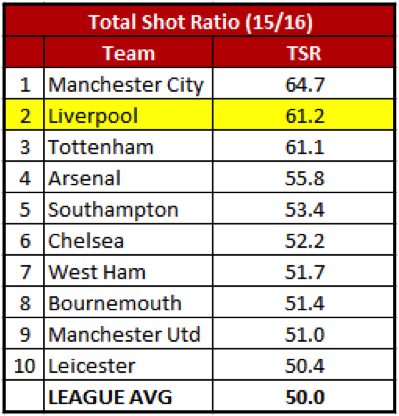 "But… but… we finished 8th!"
Indeed we did. There are many reasons why. Maybe I'll write another post to attempt to explain some of them (or just link you to people who actually understand them). But for now, I'll leave you with this little snippet:
Save Percentage. Scoring Percentage. Injuries.
Liverpool had a Save Percentage of 62.4.
The only teams below that are Norwich, Aston Villa, and Bournemouth. I don't think it's a coincidence we have been linked to goalkeepers and defenders for over a year now.
Liverpool finished 12th in Scoring Percentage. Just put it in the net, basically.
Liverpool finished 19th for Injuries. Last but one. Second bottom. Next to last. However you want to put it. Only Newcastle had it worse. Remember all the hamstring issues? Yeah, those were fun.
My assumption is that these are, in part, the reason why Liverpool finished 8th. Probably a few reasons of many. Could be the "bounce of the ball", but my personal thinking is, injuries aside, it's quality of player. Some haven't fulfilled potential (yet?) and some aren't good enough.
So finally, how does Liverpool look since Klopp took over?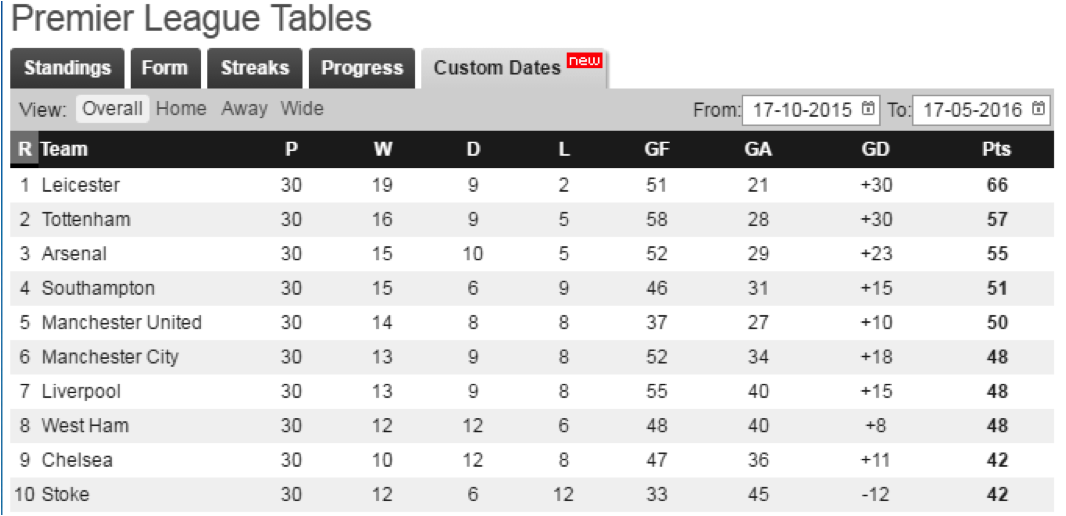 This table is from WhoScored.com using their very useful Custom Dates function.
A bit better than where we actually finished, but not quite there yet.
Obviously these are relatively small sample sizes (a full season actually isn't a lot of data), and obviously these are not all the metrics that can/should be looked at, and the league table tends not to lie when it comes down to it. In addition, all of this should be taken with a grain of salt as I'm not a football statistician; I just play one in my own head. But, given the way things look, on paper at least, Liverpool should be in pretty good stead for next season with some quality position upgrades. I'm not saying we will win the league. I think we are a way from even competing, and even then, we need to outperform about 4 or 5 teams to get to that hallowed number 1 position in any given May. But to come in, no preseason, change the way a team thinks and plays, manage an injury crisis, end up in two cup finals, and probably most amazingly of all – make this fan believe that Adam Lallana can have use in this squad and that Dejan Lovren is even a footballer still. That's a decent first part-season, all things considered.
Now, add the advantage of having Jurgen Klopp as almost an X-Factor in the transfer window. Especially now that we know there is no Champions League on offer from us. Add in (hopefully) recruiting players that fit a specific system. And add in Klopp & his team having a preseason to mold the team on the training ground – to drill them into a machine. You can put all that into a syringe and inject that into us and we may be onto something.
So, is "Liverpool Next Season Syndrome" cured?
No. I'm still saying it, and I'd imagine you are as well. But, in Jurgen Klopp and his team, we may be on the road to recovery.
---
My Name is Kevin Hegarty, and I have LNSS.
All stats, unless otherwise stated, are from the wonderful Objective Football website. Used here with permission. And you should be talking to him to gain a better understanding of what they mean and how they can be used. There is a ton of data on this site. Check it out.
You should definitely also be reading StatsBomb and James Grayson's blog if you're interested that type of thing, as I am.
And finally, you can find non-football related stuff from me over at Bulengusa.com.