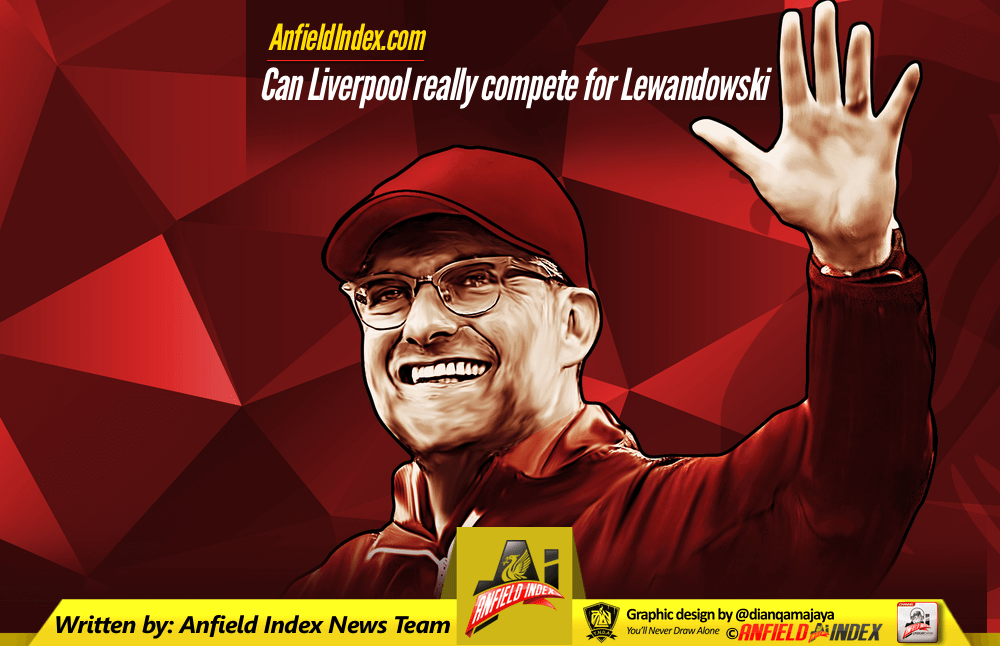 Can Liverpool really compete for Lewandowski?

Robert Lewandowski was the top marksman in the Bundesliga again with an incredible 30 league goals in 32 games for Bayern Munich. The 27 year-old striker has his critics in certain quarters but he is a true world class player at the top of his game.
There is no doubt Lewandowski is reaching the peak of his powers as his record for club and country illustrates. The lethal centre forward was the top scorer in Euro 2016 qualifying with a remarkable 13 goals in 10 matches for a Poland side, who, at best, would consider advancing from the group stages this summer a successful tournament.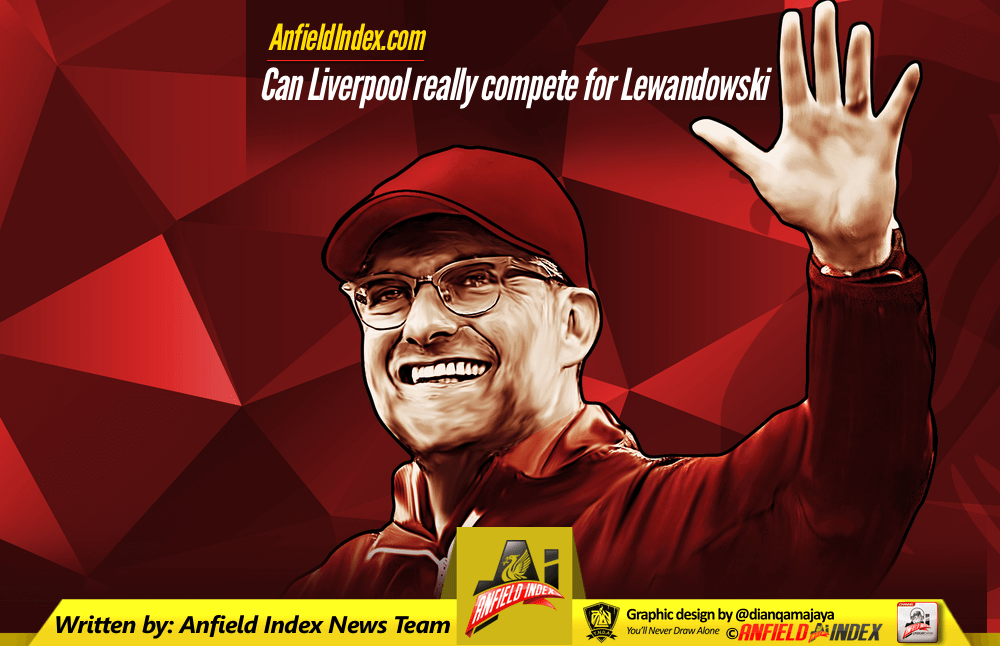 On his way?
Nevertheless, there is a feeling around the Bavarian club that their number nine could be on his way this summer as the club looks to rebuild after the Pep Guardiola era. And there will be no shortage of admirers with a host of Premier League clubs ready to flex their financial muscles if Bayern indicate they are willing to do business.
Liverpool have been mooted as a surprise destination for Lewandowski as Klopp and the Anfield hierarchy are reportedly preparing a bid to lure away the Bayern striker that would send shockwaves around the continent.
But is a move to Merseyside really on the cards for Lewandowski? There are plenty of reasons why Liverpool cannot, at this point in time, persuade a striker of his calibre in joining the Premier League's eighth best club.
Despite their brief flirtation with the Premier League trophy two years ago, Liverpool have been a Europa League team at best for the past seven or eight years. It's hardly a step up for Lewandowski who is accustomed to winning titles and competing in Champions League finals.
In this day and age, it's rare to see a world class striker in their prime move to a club that hasn't played regular Champions League football for the best part of a decade. It just doesn't happen.
Money, money, money
Another stumbling block would be the salary package Lewandowski would be demanding; can Liverpool match the offers he would receive from such clubs as Manchester City, Manchester United, Real Madrid and Paris Saint-German? Probably not.
But for every reason against the likelihood of the rangy Polish striker joining Liverpool, there is an almost compelling reason why he WOULD sign for the club.
Jurgen Klopp is the main driving force behind a potential deal. The German coach signed Lewandowski six years ago for Borussia Dortmund after he scored 18 goals and won the title with Lech Poznan.
The pair enjoyed a fruitful relationship at Dortmund where they won back-to-back domestic titles and came within a whisker of winning the Champions League in 2013. If any manager in world football could persuade Lewandowski of joining their club; then it's Jurgen Klopp.
Secondly, Liverpool are a team on an upwards curve with the current side improving every match and with new signings sure to strengthen the club over the summer. This could be the ideal time for the Polish striker to join the Klopp revolution and propel the Anfield club into regular title challengers.
Back among the elite
There is also the challenge of getting Liverpool to dine at the top table of European football once again. Leading the line and ending Liverpool's domestic title drought would ensure legendary status for Lewandowski – the lure of such a challenge with his former mentor by his side could prove to be an attractive proposition – regardless of other offers on the table.
Finally, the Liverpool fans and atmosphere could also act as a magnetic force in the current Bayern number nine signing for Liverpool. The Kop like to revere their players, especially the strikers. Rush, Fowler, Torres and Suarez enjoyed adulation for Liverpool on a regular basis and still do (maybe less so Torres), but the point remains – Lewandowski could be swayed by etching his name into Anfield folklore.
However, the stark reality is that Lewandowski would be risking his reputation and the best years of his career by signing for Liverpool. Despite all of the theoretical positives, it's a massive gamble especially when offers from Real Madrid and Manchester City would be much more attractive in the short-term.