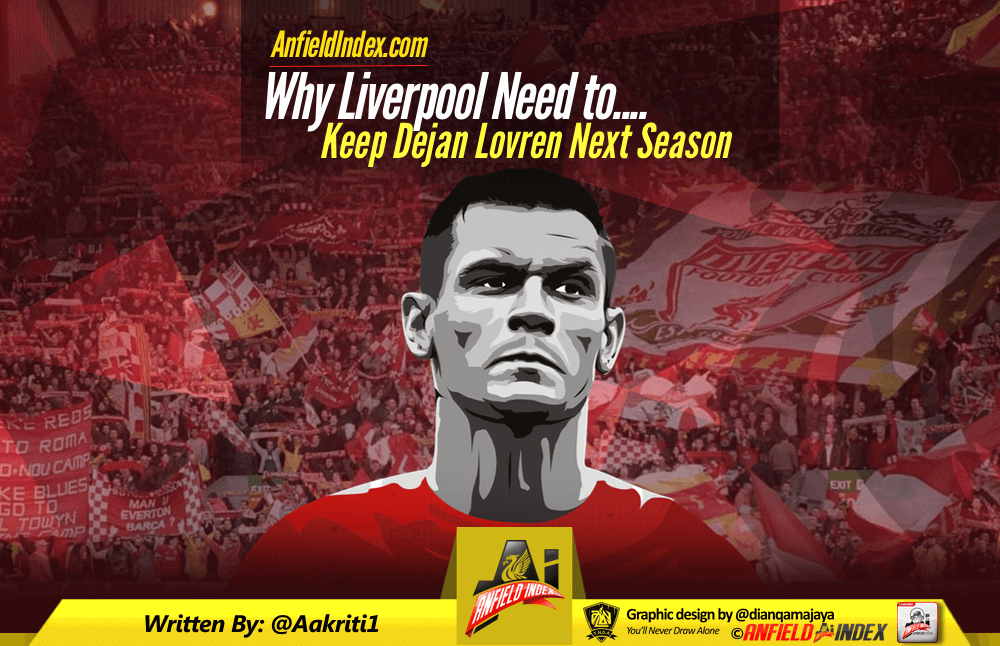 Why Liverpool Need to Keep Dejan Lovren Next Season

Dejan Lovren started the season as one of the most maligned players and in the eyes of the fans, the fifth choice centre back, behind Martin Skrtel, Mamadou Sakho, Kolo Toure and harshly even Joe Gomez (Gomez came as a centre-back even though he can operate on the flanks and started the season as first choice left-back till an unfortunate injury ruled him out for the rest of the season). While Liverpool got rid of Lambert, Lovren and Lallana were the two Southampton buys from last season still at the club, still very expensive, and still annoying for the fans who were keen to see the back of Brendan Rodgers as well as the former Southampton duo. Rodgers has always divided opinion among the fans but they were united in agreement that the now Celtic manager's transfer acumen hasn't been great and Lovren and Lallana both illustrated that. Liverpool spent £20million to lure Lovren from Southampton ahead of the 2014-15 season, but doubts over the Croatia international's ability to succeed on Merseyside were raised following a number of costly errors.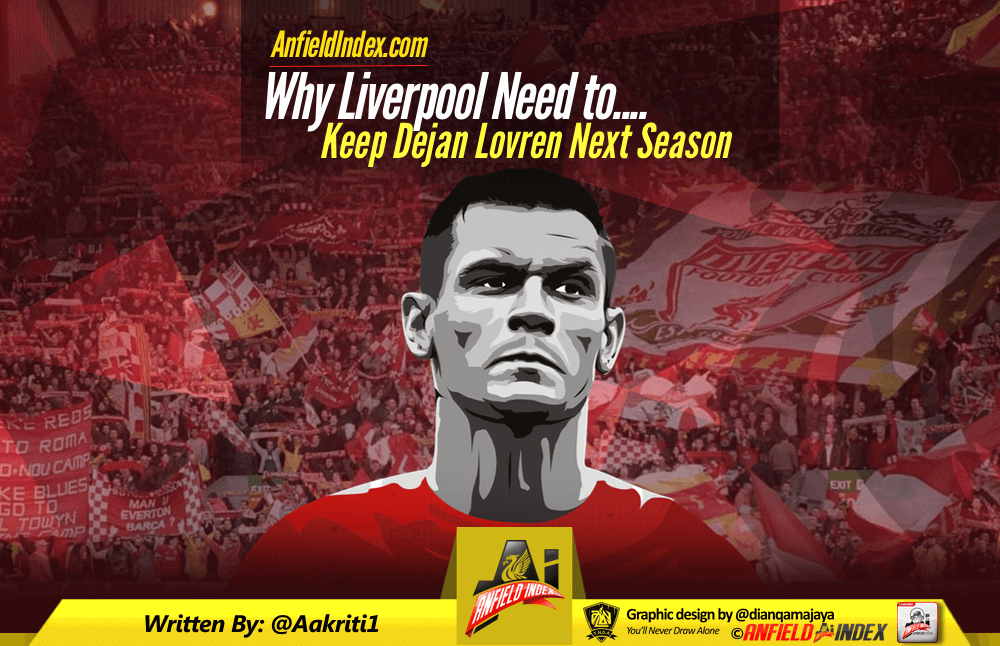 Since Klopp has taken over, however, things have changed for Lovren, the Croatian centre-back has gone from arguably fifth choice, or at best fourth choice, to the manager's preferred centre-back.
Klopp took over Liverpool in October and his comments on Lovren in December expressed his surprise at the reputation the Croatian had amassed in his first season at the club. On 28th December, Klopp said,  "I heard the supporters were not too happy with the performances of Dejan when he came in. I can't say anything about this. Since I came here he gets better and better. He has shown how strong he is and for me I'm not surprised about this. I knew about his quality. I was surprised a little bit about what everybody told me about him."
If Lovren's 2014/15 performances were marred by lapses in concentration, positional errors and zero command in the box, his performances under Klopp have largely been what Rodgers wanted from him in the first place. "He is a dominant, No. 1 centre-half, who reads the game well, offers good guidance to the back four and the rest of the team—and shows his qualities with his range of passing too," Rodgers said upon signing Lovren. What's interesting however is that Klopp also had Sakho doing the same and it was the Frenchman who has been the defensive leader at the back and giving a good vocal presence, which meant Lovren could focus on the basic stuff: short passes, no-nonsense defending and not trying anything too spectacular.
The problem with Lovren was the massive dearth in confidence. He was making basic errors which an international player shouldn't be making. It wasn't his first season in top flight football, and the errors had more to do with how down on confidence he was, than his football skills. The fact that Liverpool didn't use a defensive midfielder was also an issue. At Southampton he had Wanyama and Schneiderlin; at Croatia, he had Rakitic and Modric. Rodgers also preferred to use him with Skrtel and the Slovakian himself is not the most composed or solid player at the back. Moreno not shining too brightly on the left flank also hurt Lovren's performances although of course, it would be silly to blame the Spaniard solely as full-backs are required to move forward and give width to the team's efforts.
Klopp using Sakho and Lovren definitely seemed to be the game-changer. The two "LCBs" were able to operate in tandem and interestingly, Lovren seems to do much better playing on the right, something the German manager must surely have noticed as well.
Finding consistency, and belief, Lovren has improved significantly from the tremulous 2014/15 campaign to which he said was "bottom" and he "could not go any deeper". After Sakho's unwarranted act and subsequent suspension, Lovren's performances did dip a little as he partnered Skrtel, Lucas and Kolo Toure at the back. He still needs to improve on certain aspects of his game and considering Liverpool's defensive situation, Matip isn't the only centre-back that will be coming in the summer. Lovren might not find himself as a first-choice again and I wouldn't argue his case either. For Liverpool to compete on the top level, they need players who don't have moments of misgivings.
However, Lovren's 15-16 campaign under Klopp means he should be kept. He will be a valuable squad player and perhaps will be able to form a good chemistry with Matip or whoever else is brought. He's 26 years old and for a defender it means he can still do much better. Had his performances not improved at all in his second season, he should have been sold, and he has admitted so himself. But the improved performances under Klopp means he deserves at least one more season — whether that is as a valuable squad player or as a first choice defender, remains up for question depending upon Liverpool's summer window.