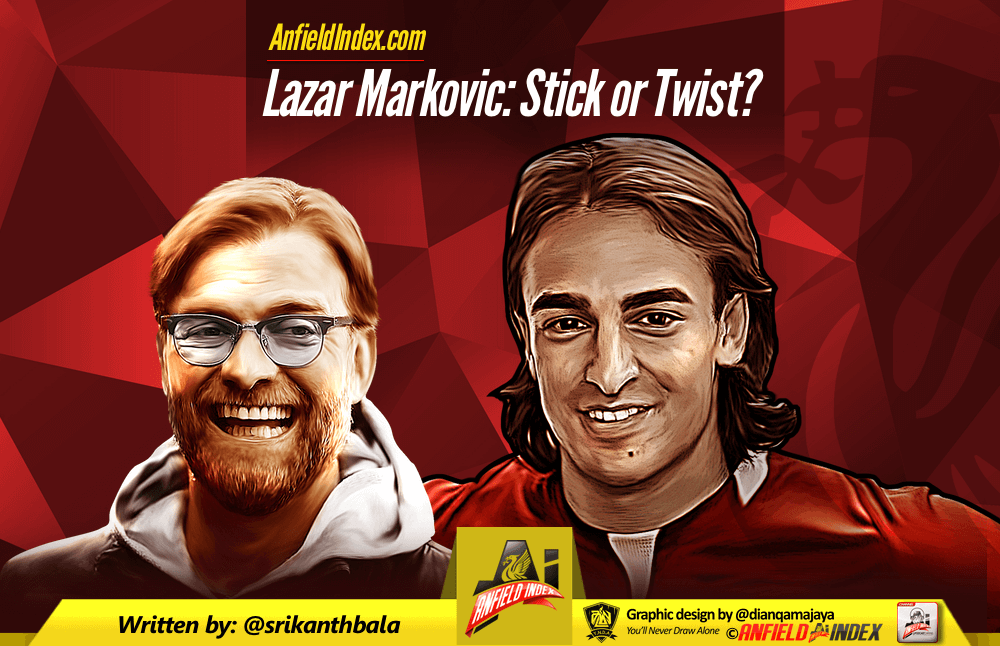 Lazar Markovic: Stick or Twist?

Lazar Markovic arrived at Liverpool couple of years ago under a lot of hype and an equally high fee, which was a bone of contention amongst most fans. A 20 million pound fee for a youngster with limited top-league experience was a gamble by itself. Talking about gambling fancy signing up with the best online casinos? Check out www.toponlinecasinos.co.uk.
The hype was not unjustified though. His talent was recognised in the annual IBWM 100 list in 2013 and 2014. He was always rumoured to be going to Chelsea for a couple of years since 2011, and when he ultimately landed at Liverpool, it did surprise quite a few people.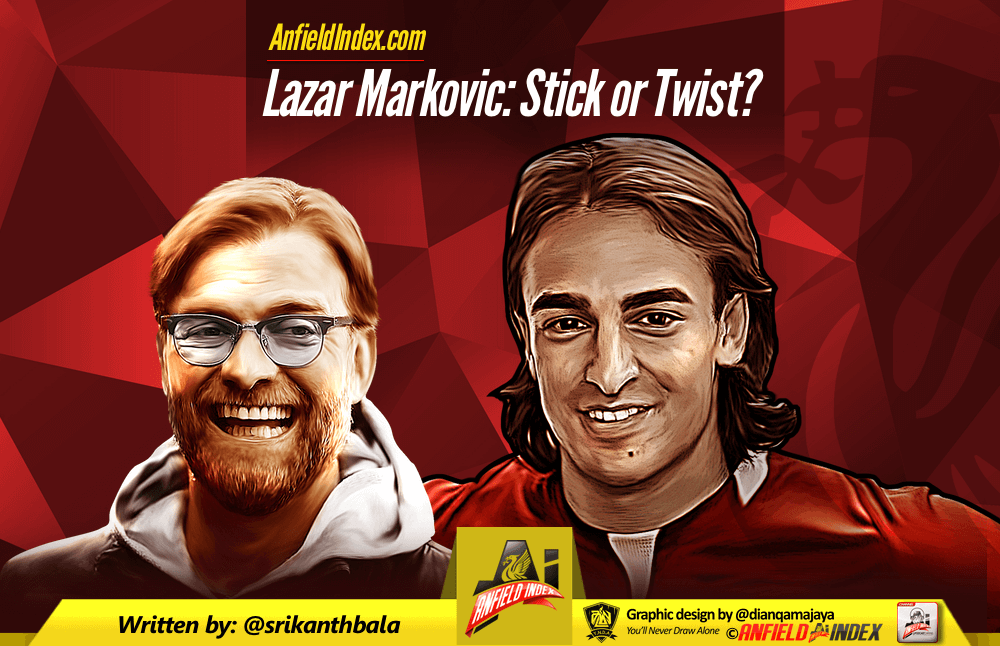 It is fair to say that his debut season at Liverpool did not go to plan, at-least his own plan. In an interview in August 2014, the following were his responses to couple of the questions.
Q: So, does he expect to win the title this campaign with his new club, Liverpool?

The answer is emphatic. "Of course.

Q: Does he expect to establish himself as one of the Premier League's best players?

"Most likely. I am hoping so and I believe I will,"
It is clear to see he arrived with a bucket-load of confidence, and it was very apparent that he had the talent to back up his words. But something went wrong, as the season progressed. His performances oscillated across games, and sometimes within games.
He started very brightly against Villa, then dropped off, then again shone in a wonderful performance against Sunderland, then dropped off. It was quite clear that the adaptation to the league was going to take more time than the player had anticipated. Markovic was used to succeeding though. He won winners' medals at both Partizan and at Benfica in his solitary season there.
The Benfica comparison is also something worthwhile to note, as there were calls for him to be dropped after a spell of below average performances following a debut goal. But Jorge Jesus, the manager of Benfica was patient and persisted with him and then the goal against Sporting happened, and his season just went upwards from there which was ultimately tempered by a red card in the Europa League.
It is quite clear that he tends to drift in-and-out of games; a moment of spark followed by minutes of non-existence. But in a squad lacking natural width, it was quite baffling that the player got loaned out after a pretty solid pre-season.
Markovic at Fenerbahce
So how has his season panned out at Fenerbahce? In polite terms, one can term it unsatisfactory. He was constantly inflicted by injuries, resulting in a stop-start season. He would play a couple of games, then get injured and be sidelined for a month. This meant that he had to be eased in for a few games to regain his match fitness, thus reducing the number of games where he could make an actual impact.
Quite similar to the start of his Liverpool career, he impressed on debut, using his pace and trickery to outwit three defenders and lay the ball for Nani to score. Then the injury curse struck, resulting him spending time on the sidelines.
The period post November was his best period last season, where he consistently started on the right wing,allowing him to use his acceleration to the maximum. This best period was captured by an excellent goal against Celtic in the Europa league which exhibited all his key strengths; pace,power,composure in finishing.
Unfortunately that was his major highlight as he was injured again and after a couple of start-stops his season ended prematurely.
Markovic at Liverpool in 2016/17 ?
There were couple of interesting quotes from Klopp when Markovic returned to the club as part of his rehabilitation.
"We are short on wingers. Everybody who is involved in pre-season can have a part to play."

"We will talk about things, we will speak about next season while he is here.I will say at the start of pre-season, 'Welcome, and then it's up to you'.
Markovic provides Klopp with a bonafide wide position option on the right and his key tenets of pace and power could be right down Klopp's alley. Markovic could provide a more direct option to the measured playing style of Lallana in certain games. Another key trait of Markovic is his ability to defend from the front when the ball gets turned over. He played as a right wing-back under Rodgers for a few games, and it was notable to see the huge defensive effort Markovic put in.
Liverpool have been linked to a few wide players in this upcoming transfer window, but in Markovic, Klopp can welcome back a player, who,as the cliche goes will be 'like a new signing'. Markovic playing regularly at Liverpool gives him a chance to revive his career here, and also provides Liverpool an opportunity to retain his economic value if they wish to sell him in the next couple of years. Thus Markovic staying at Liverpool makes sense football and business-wise.
In an interview in October 2014, a few months into his Liverpool career, he said
My team-mate is the legendary Steven Gerrard, the fans love me and Anfield is great. But, as I said, I just need a little bit more time.
Time, a word he repeated at-least a couple of more times during that short interview. He deserves time, as he is a player who can excite and frustrate in equal measures, and sometimes within minutes. He is a big-game player, considering how he has stepped up against big opponents in the past. If he settles down, we could have a superstar amongst us. But it is also time that Markovic steps up and performs at a high level, consistently.