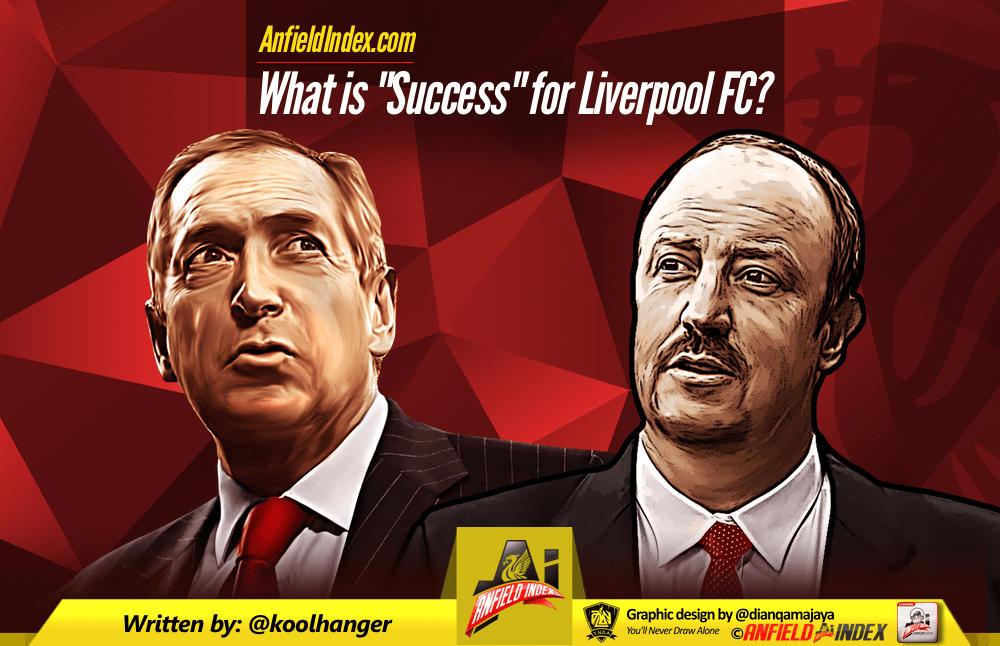 What is "Success" for Liverpool FC?
Back to the Future
As the dust settles on another domestic season we get an opportunity to assess where our great club is at, and the journey we can reasonably expect it to bring us on in the season to come.  As discussed on the LFC Daytrippers pod last week, some fans are happy to just enjoy watching their team play an exciting brand of football.  Any success achieved along the way is treated as a bonus.  The big deal is to be able to sit and be entertained by your team on a Saturday or Sunday afternoon.  These are the fans who remember that above all, football is a sport, the old romantics.  To understand this point of view it's worth hearing of my friends decision from around 1999.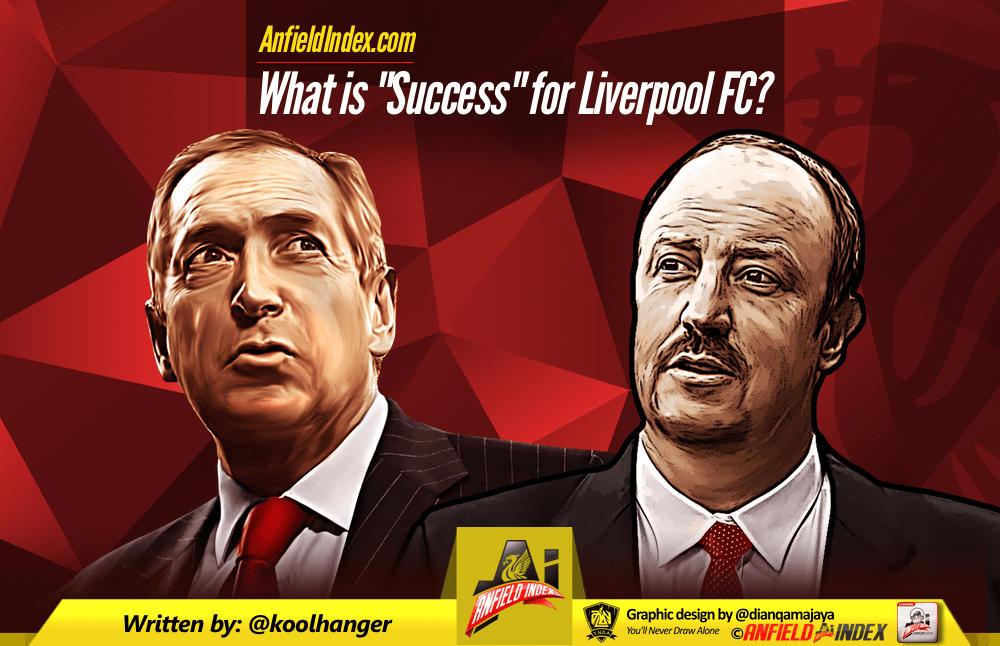 A Foreign Imposter
It was the time of Gerard Houllier, and a new continental influence at Anfield and Melwood.  More significantly, perhaps, it was the end of Roy Evans' tenure and the era of the "bootroom boys".  Houllier brought with him a very defensive, pragmatic approach.  With Heskey and Owen up front we depended on long balls for Owen to chase or highballs for Heskey to win.  We no longer had the passion or technique of the 90's when McManaman, Barnes, an emerging Jamie Redknapp and pre-injury Robbie Fowler ran the show.  Roy's time in charge almost brought us the ideal of successful AND entertaining football.  Much like the 2013/14 season under Brendan Rodgers, when Suarez et al just blew everyone else away.  That was all to change under the new French boss.  
My friend is a very principled man.  He did not believe in the football that Houllier's men were presenting to us every week.  He gave up on his boyhood club, not because he wanted to, but because he had to.  This was not the Liverpool he knew and loved.  This style of football was not what he wanted to watch, or endure.  
Houllier's time is considered a successful period for Liverpool FC.  There's no denying he dragged us into the 21st century with the introduction of scientific sports fitness approaches at Melwood and a complete turnaround in the diets of all professionals at the club. Steven Gerrard can never seem to praise him enough.  This may be because Houllier was the manager present at the time of his breakthrough but I think Steven feels his fitness and game time were managed very well during his very early years by the Frenchman. Houllier led us to the famous cup treble of 2001, and to another League Cup triumph in 2003 against United.  He also took us to third and second placed finishes in the Premier League.  
Success?
This brings me to the reason for this tangent.  What is success?  Is the answer completely subjective or is success a black and white matter?  If you asked my friend about Houllier's time at the club, he would remember it through a grimace, thinking of the man who ruined his love for his team.  Others would point to the trophies Houllier delivered and how he put us back "on the map" in European football.  
I remember the trophies.  In 2001 we had the late comeback against Arsenal at the Millennium Stadium, the Alaves thriller, and Fowler's cracker in the League Cup final.  The main memory from 2003 is Roy Keane struggling to foul Michael Owen before the little striker put the winner past Barthez, in Cardiff again.
I feel we needed so much of Houllier's approach at the time, mainly the behind-the-scenes sports science changes, but I wouldn't like to see us revert back to such a style of football again.
What is the Aim?
So, now that Klopp is entering into his first summer transfer window, along with his first preseason and first full domestic season at the helm of the Reds, what can we expect?  More importantly, what does he expect?
At the risk of getting a little giddy, I can't help thinking back to the last season we didn't have any European competition.  2013/14 was spectacular.  Rodgers nearly brought home the league title after a 24 year wait.  By the end of next season the gap will be 27 years.  Can Klopp take us that extra step?
I fear he faces more challenges than Rodgers did, however.  Conte at Chelsea, Guardiola at City, Mourinho at United, Wenger spending money at Arsenal, and Pochettino building on this season at Spurs.  Plus no Suarez or Sterling for Klopp's Reds.  
Leicester have made the whole of the Premier League wake up and believe, not just sleeping giants like Liverpool.
A realistic target for this season has to be top four in the Premier League.  Champions League qualification needs to be our starting base for August 2017.  Any other silverware would be welcome – we love a good cup run, but the league has to take precedence above all else.
Getting Back to the Big Kids Table
Not since the days of Rafa have we been a major force in Europe.  Our Champions League venture under Rodgers was a non-event.  This season we restored some of our pride on the Continental stage with victories over United, Dortmund and Villarreal but now it's time to get back where the best clubs belong. Klopp has a good CL record so if we can get the top four finish this term then we may become a regular fixture in Europe's top competition again.
I think Klopp will unite fans, both the success-seekers (I'm in that category) and the romantics like my friend.  Dortmund were always ferocious under him and then became successful.  Let's see how he gels the current Reds with his summer additions.
So whether you simply want to enjoy watching your team again, or you crave for success, trophies, victory parades, and all that comes with it; Klopp is the man for the job.
In his first press conference as Liverpool manager last October Klopp said he would hope or "expect" to bring the league title to Anfield within four years.  That's what I'm holding out for.  That would be the definition of success.
"Charisma is the transference of enthusiasm" – Ralph Archbold