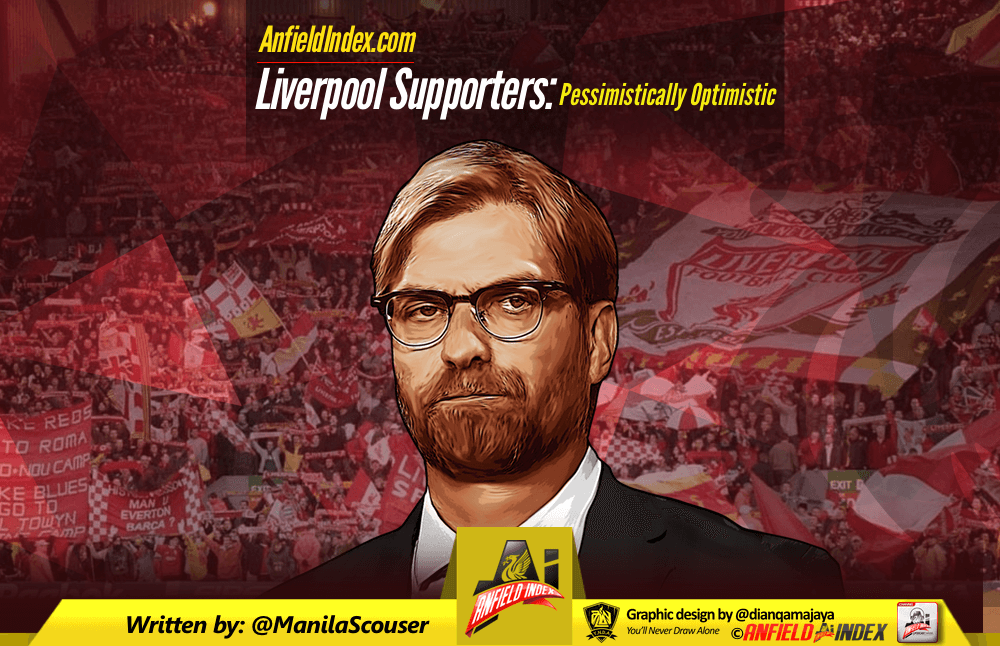 Liverpool Supporters: Pessimistically Optimistic
Liverpool Football Club is a massive club, to say the least. The supporters are those who know it better than anyone. After all, we're the ones who have witnessed the highs and lows over decades and decades. Players, managers, and staff come and go. But it's us fans, who are the constant in the equation.
A little over seven months ago, Jurgen Klopp has replaced Brendan Rodgers, who was in the drivers seat for three and a half seasons, and had seemingly lost the dressing room and the support of the fans.
The first thing Klopp told us was: "We have to change. From doubters, to believers."

We understood what he meant. But did we really understand the whole essence of it?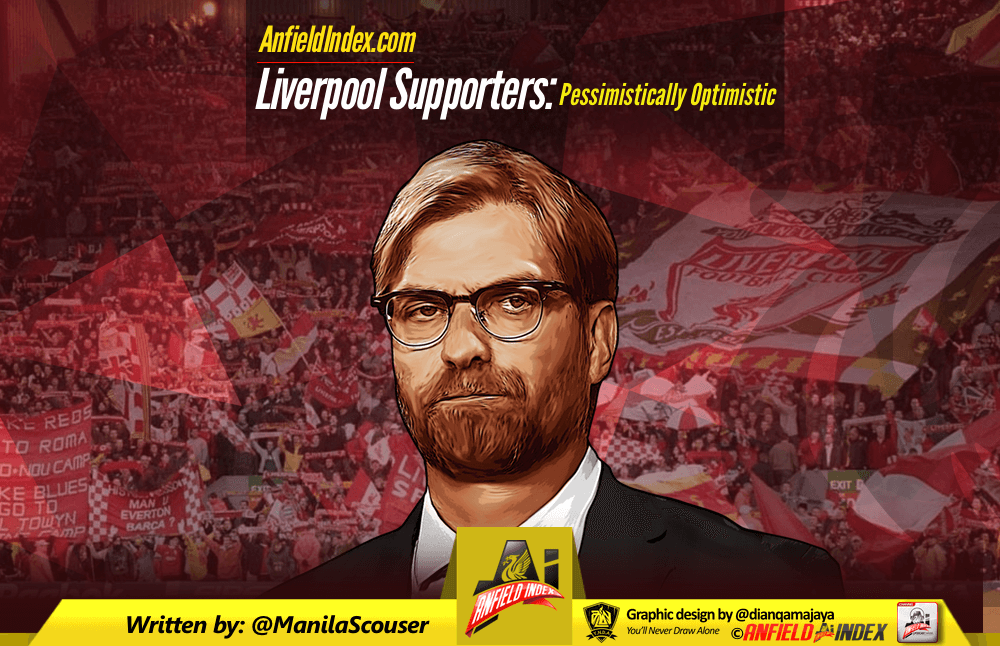 He took over a football club that seemed crushed to pieces, dead in its core. The players were a disaster, and us supporters were just as bad. Concede a goal and the players can never muster up an ounce of fight to take something from the game, and we knew it.
In fact, the players knew that we knew, and from there it was just a steady decline. At one point I remember a moment of absolute silence, Anfield just felt like a recording studio when I was there to watch LFC vs. FC Sion in the Europa League group stages. It was so horrible that I could hear a guy sneeze ten rows above me.
Klopp took over and there was slowly a sense of belief building in the atmosphere. He asked us to show us what Anfield noise is like, and we obliged. He urged us to stay until the final whistle, and we did. And we were somewhat rewarded for it. Liverpool (2-2) West Brom was the trigger.
But after giving his words of wisdom some thought, I don't think he asked us to just support the players on the pitch and believe something can happen. I think he's asked us to believe in all things Liverpool, and especially to believe in him.
I mean, let's face it. We're so pessimistically optimistic, or optimistically pessimistic about everything. From the owners, to transfers, and probably all the way down to how the grass is being cut at Melwood.
"Coutinho is world class. But two years down the line he's off to Barcelona or Real Madrid cause we can't compete." 

"Mario Goetze will never come to Liverpool cause we're not in Europe. But imagine if he does. Boss tha."

"What's the point in even trying when we know we're not getting Lewandowski." 
It's a circle that keeps going and going, and only we can stop it. There will always be disappointment during success, that's how it is. But don't get me wrong, we have the right to comment by all means, and express our emotions if we've failed to sign Lionel Messi, sold Luis Suarez, or lost a European final. But we need to believe in his system.
Truth is, some things are out of control. And we also need to learn acceptance.
We must accept that we can't always get what we want. We must accept that there's no such thing as a perfect game. Because football is either a game of errors, or moments of brilliance.
Last but not least, we must be patient. Accept that we are in a period of transition, and these things take time. Liverpool is a sleeping European giant that's been in a coma for almost a decade and needs to be awaken, and Klopp is waking us up. But there must be belief and patience that things will get better. As cliché as it sounds, Rome really wasn't built in a day.