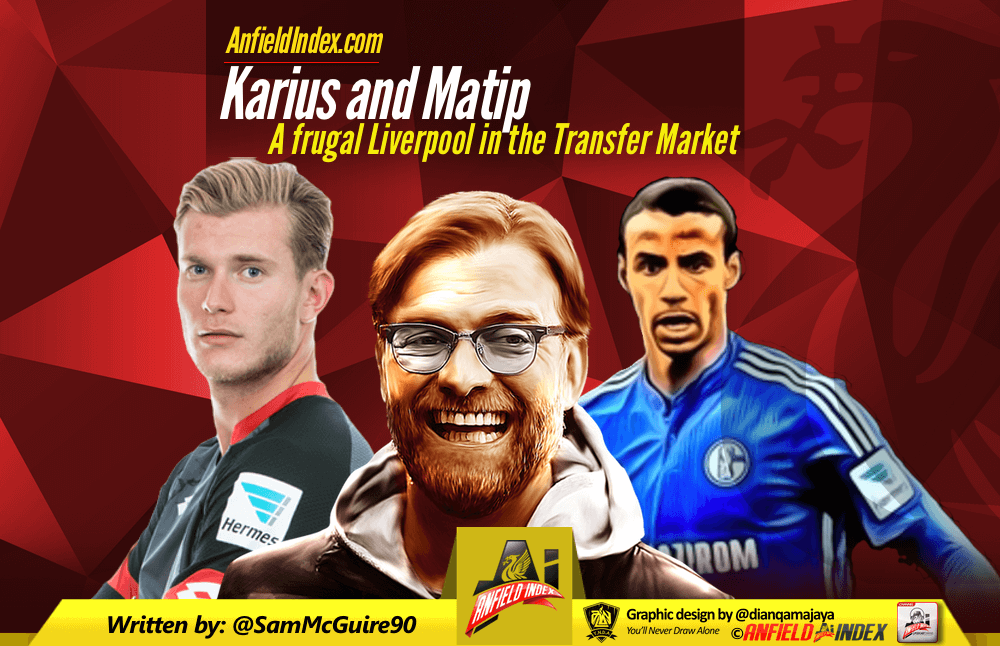 Karius and Matip - A frugal Liverpool in the Transfer Market
For as long as I can remember Liverpool have been wasteful in the transfer market. We're the type of club who are more than happy to pay over the odds for an average, solid squad player but drag our feet when it comes to pay the big money for a game changer.
Nothing in football is a given but if you do your due diligence, profile the players correctly and identify ones who meet your requirements it's a safe bet to suggest they'll be a relative success. We've been a bit erratic, to say the least, in the transfer market over the past few seasons. From attempting to beat the system and repeat the success stories of Philippe Coutinho and Daniel Sturridge by signing the likes of Iago Aspas, Luis Alberto and Tiago Ilori to the more confusing recruitment drive of signing players for inflated fees off the back of a successful season and hoping they can push on – Christian Benteke, Adam Lallana and Simon Mignolet.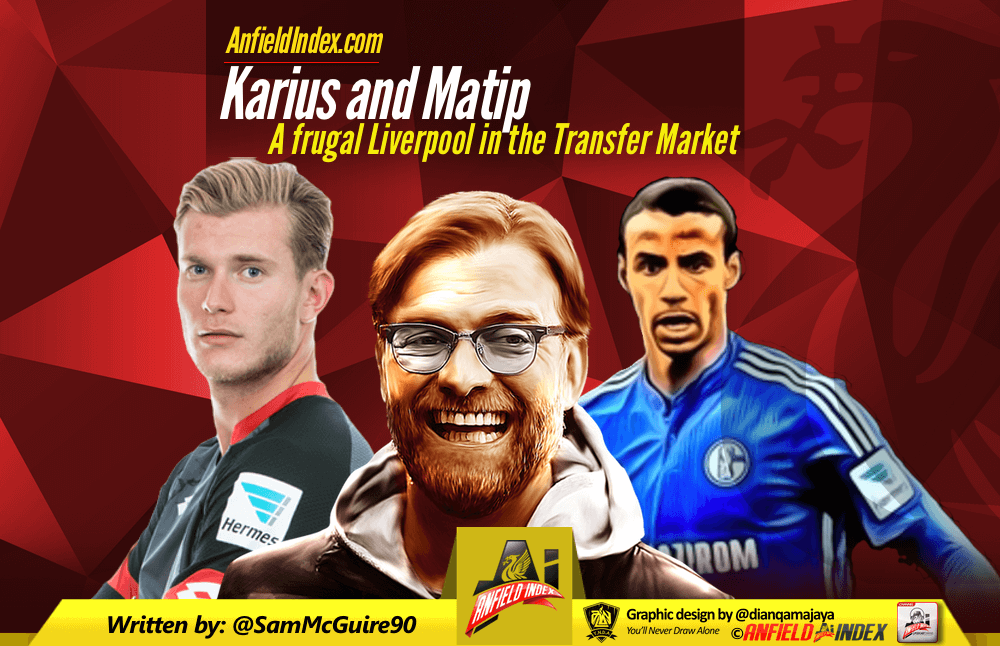 Despite this idea of trying to find a bargain Liverpool seem to spend a fair amount of money every single summer with a varied hit rate.
There's an assumption that spending money leads to success. To some extent that is true. There's also an argument to be made that the greater the net spend the more success you have. Again, to an extent that is true. Leicester and Southampton have showed you don't t break the bank to be a success, you also need to fully monetise  your deadwood and maximise your profits.
Liverpool fans seem to think Liverpool need to spend hundreds of millions to compete for the title. Given the right scouting and profiling it is possible to buy the much needed players to balance the team for a cheap price in the market. Player procurement is a skill and it's one that's often overlooked. Liverpool's three most important players last season cost a combined £30 million; Emre Can, Daniel Sturridge and Philippe Coutinho.
Unearth three more talents like that for the same price and there's a solid six players there for around the £60 million mark. Money reigns supreme in the football world but knowledge is not far behind that.
Jurgen Klopp's first summer at the helm of Liverpool has started off in a positive manner. There are many issues to address in the squad but the German has already addressed two of those before the month of May is even out. Loris Karius signed from Mainz for £4.7 million and Joel Matip arrived on a free transfer from Schalke. These two join winter signing Marko Grujic which means Klopp has brought in three improvements on the current squad for less than £10 million.
For added context here Southampton paid £13 million for Virgil Van Dijk. He's not similar to Matip in terms of talent but experience in Europe and age they're similar. West Brom paid £8 million for James Chester, a player inferior to Matip in every way imaginable. Getting him on a free is shrewd business.
David Dea cost £19 million when he joined Manchester United from Atletico. Thibaut Courtios cost Chelsea £9 million when he signed from Genk. Karius was a quarter of the price of De Gea and almost half the price of Courtois. If he gets close to either of them then we've robbed Mainz and I'd almost feel guilty.
Chelsea paid £8 million for Marco Van Ginkel and he failed to make an impression in the league before moving back to Holland. Grujic cost almost half of that so there is literally no risk in that signing at all. There's no pressure on him and not much is expected of him because of the fee so it's almost guaranteed the club will turn a profit on him.
The business is even more impressive if reports are to be believed and Liverpool are going to sell Sergi Canos, Jerome Sinclair and Martin Skrtel for a combined £14 million. Meaning three in and three out at Anfield with a + £4 million in the bank.
Fans may moan at the losses of academy kids Canos and Sinclair but this is the purpose of the academy. To develop players, bring them through and if they're good enough to use them but if they're not they get sold to supplement the transfer budget. £8 million for those two is good business when you consider the fact it's unlikely they'll feature much next season especially considering Liverpool don't have Europe to contend with.
Liverpool have an abundance of deadwood who could be sold this summer. A bulked up squad isn't necessary with so few games to be played and it's a chance to make money on players such as Adam Bogdan, Andre Wisdom, Tiago Ilori, Mario Balotelli, Luis Alberto and Brad Smith. Then there's talk of Joe Allen and Christian Benteke leaving. Suddenly Liverpool have raised £50 million from the sales of squad players. The Reds could improve their squad by selling off the average players they've amassed over the years.
It's not beyond the realms of imagination that Liverpool finish the transfer window with not only a better squad but profit. It's something almost unheard of at Liverpool. Let's hope Klopp starts as he means to go on.